Thailand Honeymoon Tour Packages
Complete Guide To a Thailand Honeymoon | Destinations & Itinerary
A honeymoon has a special meaning for every new couple. In Thailand, which honeymoon places are the most suitable destinations for romance? How to make your honeymoon unforgettable and wonderful in Thailand? UME Travel chooses the best honey destination to help you spend an unforgettable honeymoon in Thailand.
Why is Thailand Perfect for romance?
Extravagant honeymoon resorts right on the beach and hotels with oriental decorations, sea-view rooms, and private beach.

The idyllic island, stunning landscape, and blissful beaches around the Andaman Sea.

Cultural charm in Bangkok and Chiang Mai. Let the thousand-year-old temples witness your love.

Or just enjoy lazy days on the palm-lined and white-sand beaches. All-inclusive meals on the hotel, Club Med available.

A lot of sweet activities between you and your sweetheart – cooking together, bath with an elephant, etc.
Best time for Honeymoon Tours in Thailand
It has been said that there are only three seasons in Thailand: hot season, hotter season, and hottest season, but it is just a joke as there's no distinguished weather in Thailand expect the hot weather. Normally, there are three seasons in Central & Northern Thailand: hot season, cool season, and wet season, and there are only two monsoon seasons in Southern Thailand.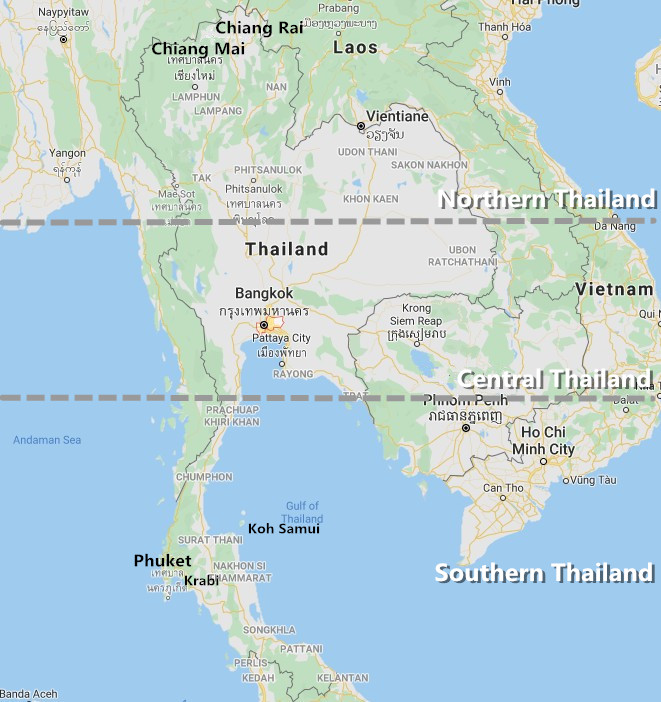 (Map source: google map)
If you are planning a Honeymoon tour to Thailand, you may need to know the weather details as follow:
Central & Northern Thailand (Main cities: Bangkok, Chiang Mai, Chiang Rai)
Hot season (March-May): This is the hottest period in Thailand, but it is not a big problem for you to plan a honeymoon tour. No matter walking in the stores, sitting in the restaurant, or transportation, the air conditions are always kept on high. You won't feel too hot when you shuttle between these locations, you may even want to wear a sweater to keep you warm in the air-conditioned places. 13th April will be the traditional Thai New year (or Songkran Festival, or Water Splashing Festival), it may be a good idea to plan your honeymoon tour in April.

Wet season (May-October): This season coincides with Thailand's off-season for tourism because of the 85% rainfall. But don't worry about the rainy days, because it is usually just a few hours of heavy downpouring and not all-day raining. For honeymoon couples who consider reducing the budget and prefer a less crowded tourism spot, you may like to visit Thailand during this season.

Cool season (November-February): This season coincides with Thailand's peak tourist season. The weather in central & northern Thailand will be relatively cooler than usual, especially in northern Thailand. Local Thai people always like to visit the northern part to enjoy the rare cool weather. Many tourists will also choose to visit Thailand in this season, and it will also be the most expensive period during a year. If you want a budget honeymoon tour, you may consider avoiding these four months.
Southern Thailand (Main Cities: Phuket, Krabi, Koh Samui)
The weather in Southern Thailand is hot all year round, and there are two kinds of weather only, rain or no rain. Here we can divide the monsoons or rainy seasons into two parts Southwest and Northeast.
Southwest (April - October): Phuket, Krabi, Koh Lanta, Khao Lak, Koh Phi Phi are the most popular destinations in this region. It will usually start raining from mid-April to October. The wettest months are May, September, and October, but the island would rarely get continuous days of heavy rainfall. Normally, if you plan a honeymoon trip to southwest Thailand, it is not a big problem traveling in monsoons season, but sometimes boat cruise may be stopped when waves are too big.

Northeast (September - December): Koh Samui, Koh Phangan, and Koh Tao are a triad of popular islands off the coast of Surat Thani in the Gulf of Thailand. The monsoon season doesn't hit Koh Samui until later in the year, with the rains arriving from September to December with peaks in November and trailing off during the start of the new year. But, like the Andaman Coast destinations, it remains hot and mostly humid throughout the year.
Romantic Things to Do for Thailand Honeymoon Tours
Here are some unique Thai honeymoon ideas that will enable you to plan your honeymoon in Thailand soon. Be sure to read our Thailand travel tips before packing your bags!
Around Bangkok
Bangkok is the biggest international terminal. It is every Shopaholic's heaven and is among the most romantic places in Thailand for couples who love oriental culture or simply love building a beautiful Instagram feed. Besides Bangkok, there are also plenty of activities you could do when you travel from Bangkok to its nearby cities like Ayutthaya, Kanchanaburi, Khao Yai, etc.
1. Venice of The East: Romantic Chao Phraya River Dinner Cruise by Rice Barge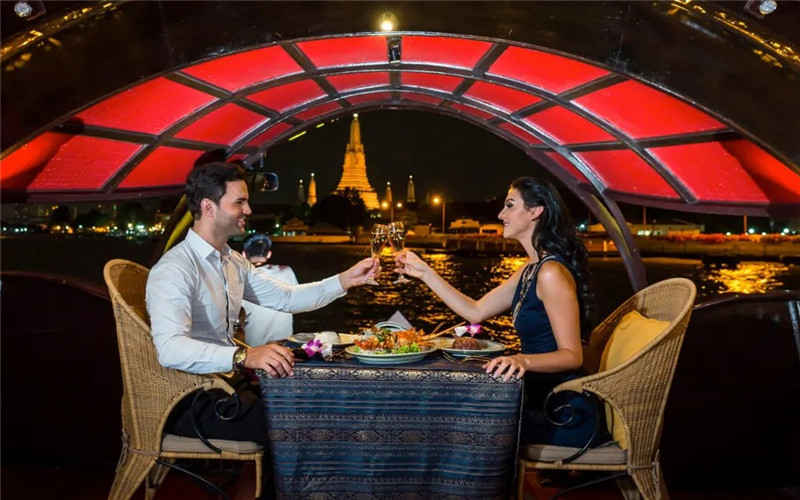 2. Raise a glass to the best rooftop bars in Bangkok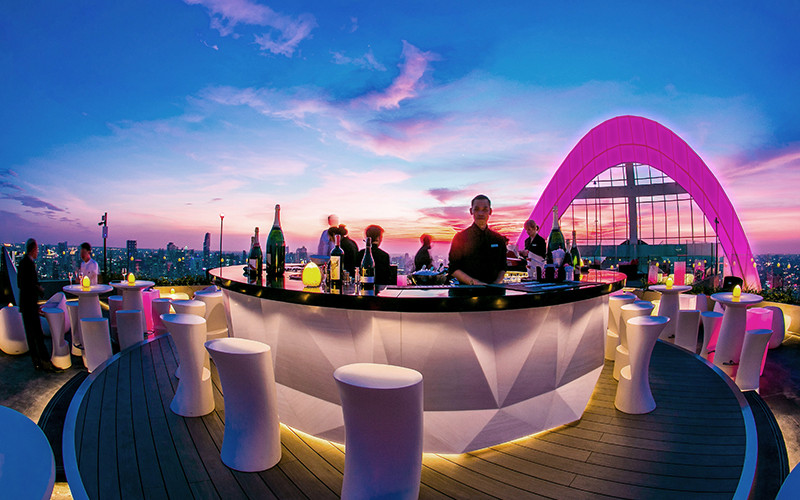 3. Hand in hand stroll around the biggest riverfront night market of Asia - Asiatique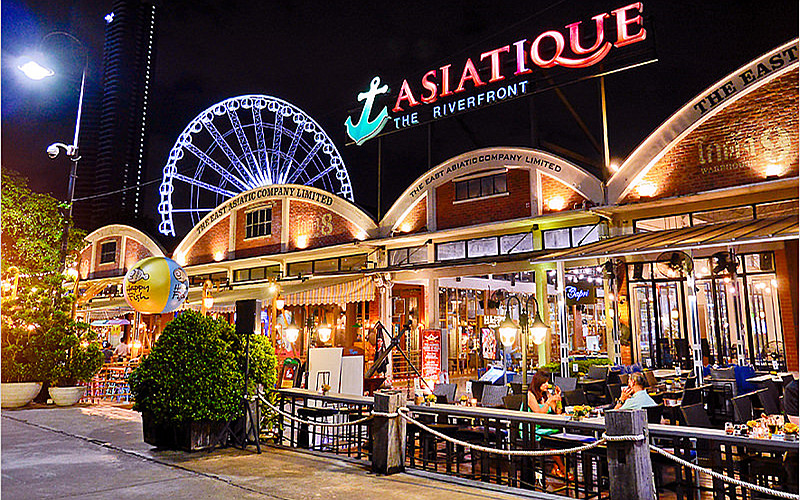 4. Take a local Tuk Tuk to discover the delicious street food at Chinatown
5. Explore the Chatuchak Weekend Market for souvenir & featured crafts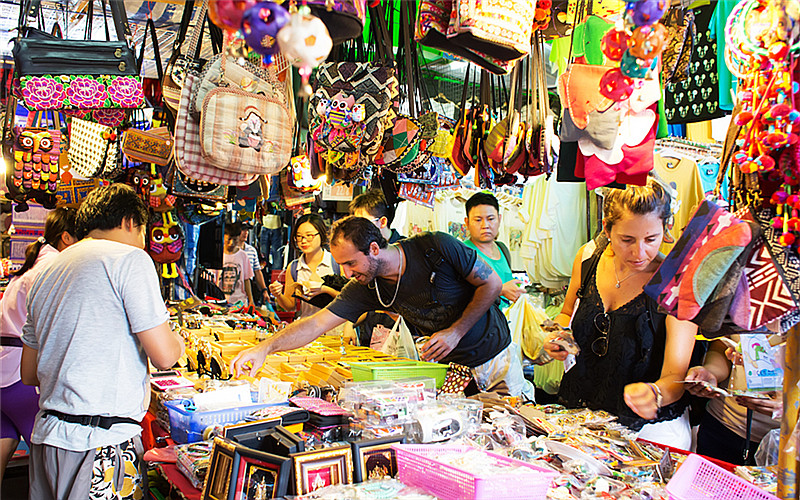 6. Join a Muay Thai Class to enhance tacit understanding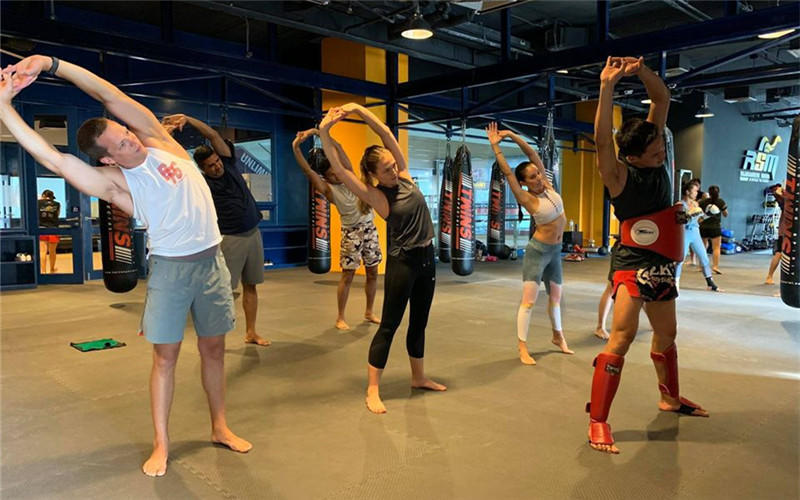 7. Enjoy a paddleboat to shop around at the 100-year old

Floating Market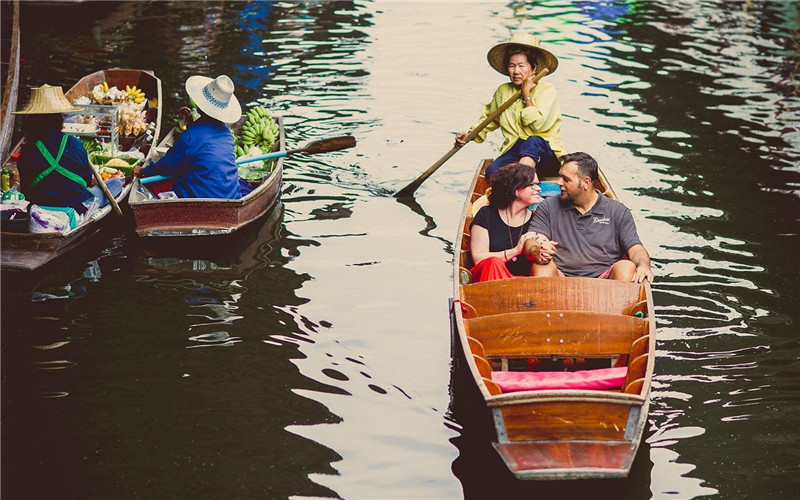 8. Hop on a luxury cruise to the ancient capital –

Ayutthaya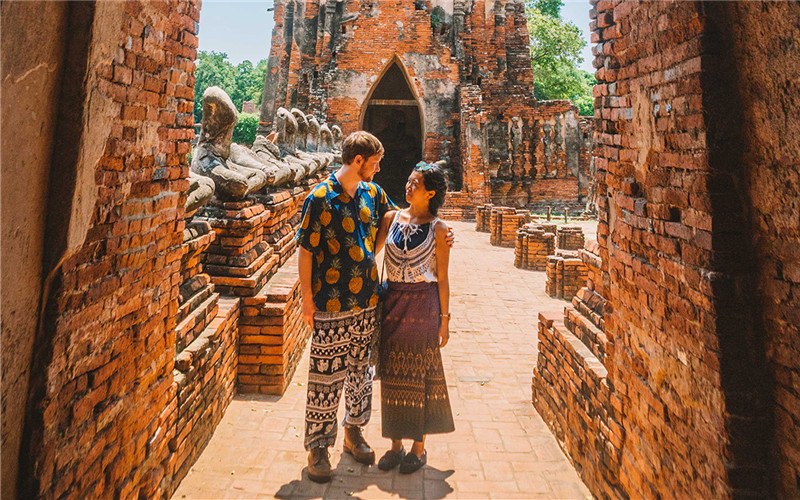 9. Swim with the fishes in the crystal seven-tier Erawan Waterfall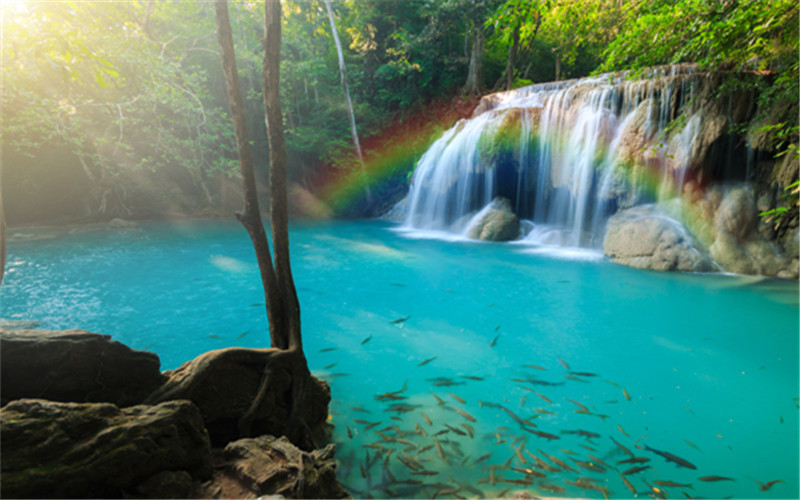 10. Join a driving safari to search for the wild elephant and amazed at the wonder of millions of migrating bats at Khao Yai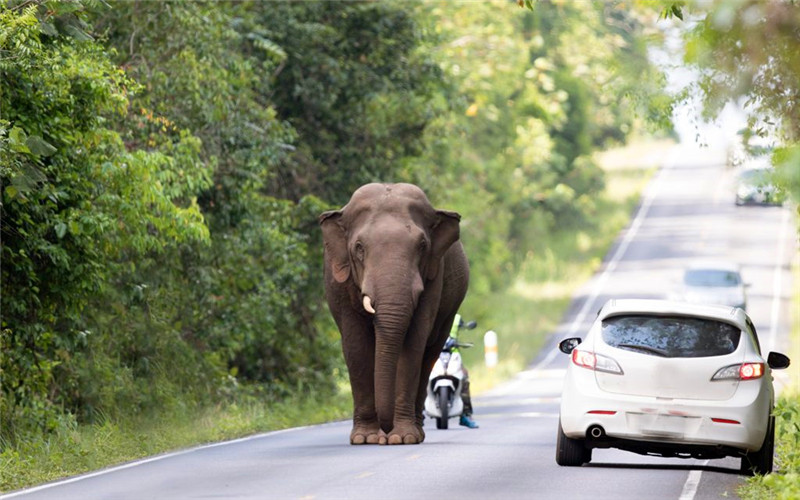 Recommend place to stay:
The Peninsula Bangkok Hotel
Around Chiang Mai
Looking to buck the trend for your honeymoon? Head to the mountainous north of Thailand, which boasts a pristine view at the Doi Inthanon National Park. Chiang Mai, also known as New City, is home to misty mountains and colorful hill tribes. Apart from being a cultural and religious center, this city is also regarded by the locals as "the rose of the north" for its natural charm and beauty. An authentic and down to earth experience of Thailand guaranteed.
1."You're so charming in an apron" - Make an authentic Thai meal for your other half.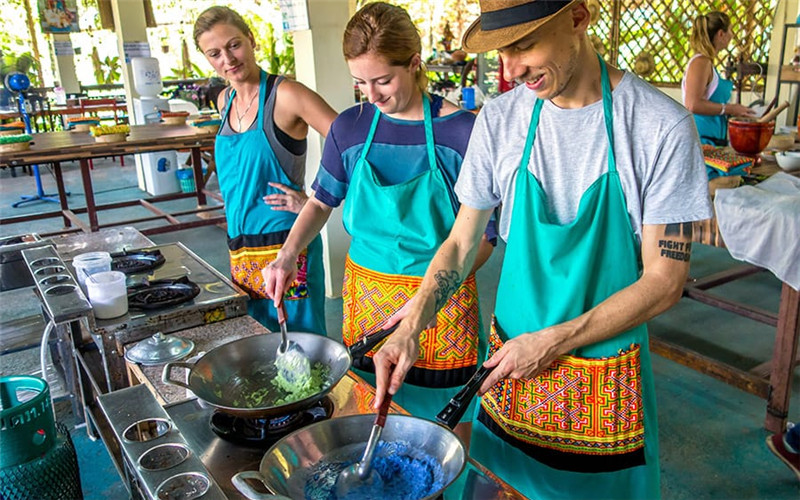 Honeymoon package recommend: 14 days Best of Thailand Culture & Nature Tour
2. Exotic Thai honeymoon blessing at the top of Chiang Mai Doi Suthep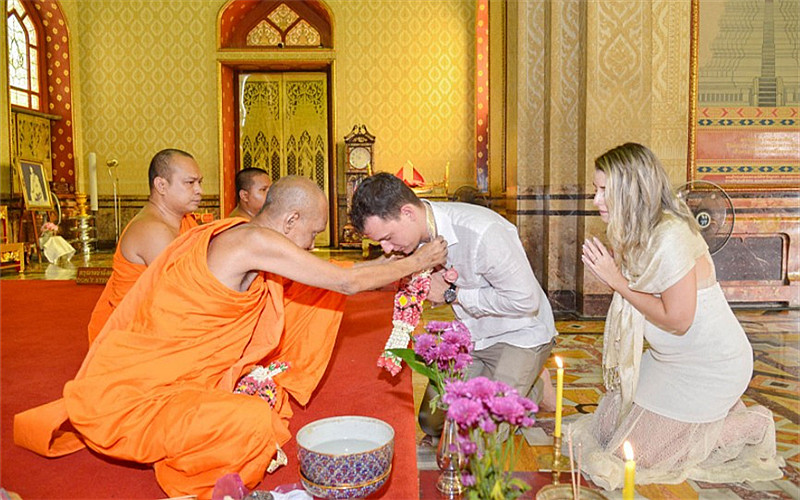 Honeymoon package recommend: 13 days Thailand Romantic Honeymoon
3. Fly your lantern of vow in romantic Loy Krathong Festival & Yee Peng Festival
Honeymoon package recommend: 5 days Chiang Mai Loy Krathong and Yee Peng Lantern Festival
4. Sweet Time - a very hands-on ethical experience with Elephants!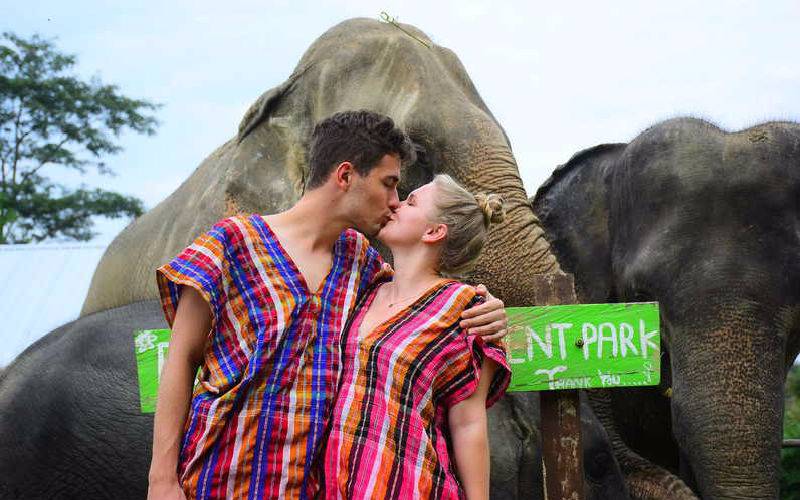 Honeymoon package recommend: 13 days Thailand Romantic Honeymoon
5. A walk in the clouds - trek in Doi Inthanon, the highest mountain of Thailand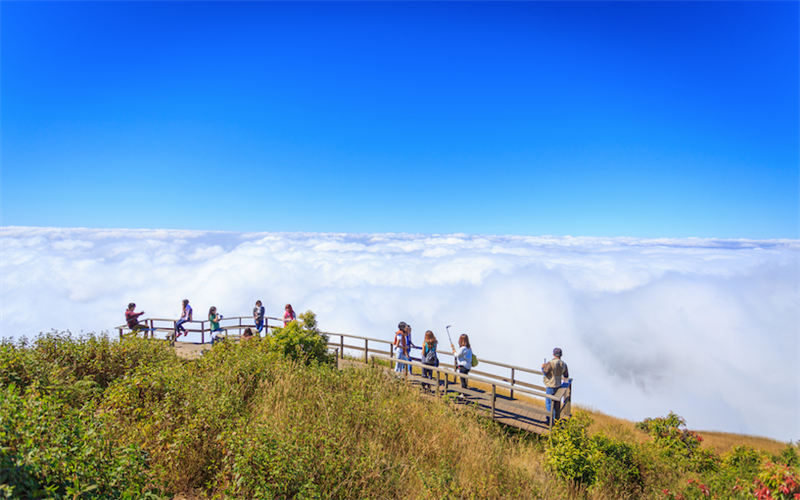 Honeymoon package recommend: 7 days Chiang Rai - Chiang Mai Cultural and Natural Tour
6. Get excited at Chiang Mai's very own Grand Canyon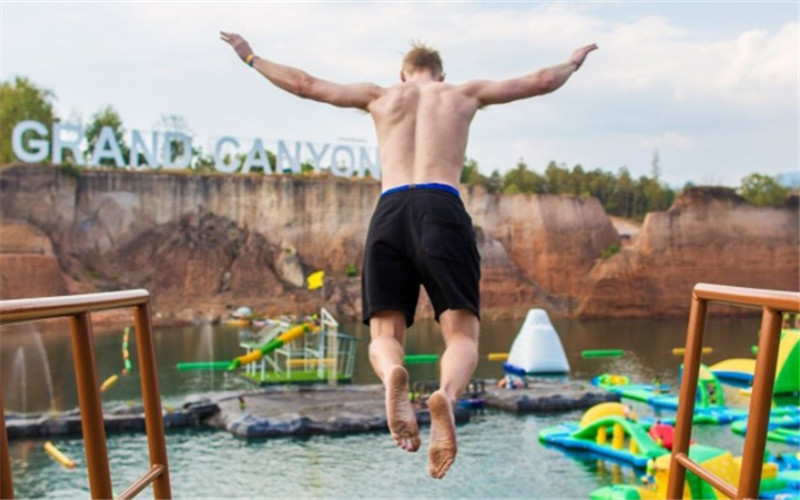 Honeymoon package recommend: 9 days Essential Thailand Tour
7. Have fun bartering at The Night Bazaar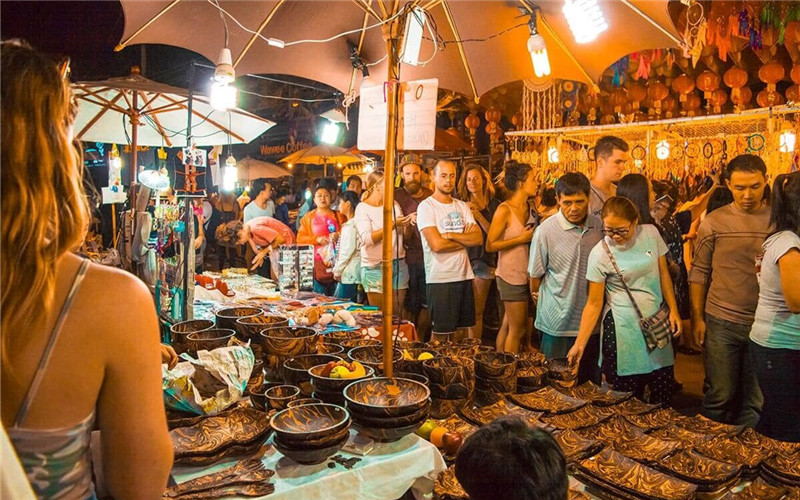 Honeymoon package recommend: 9 days Essential Thailand Tour
8. Together discover the secret of The Long Neck Karen Tribe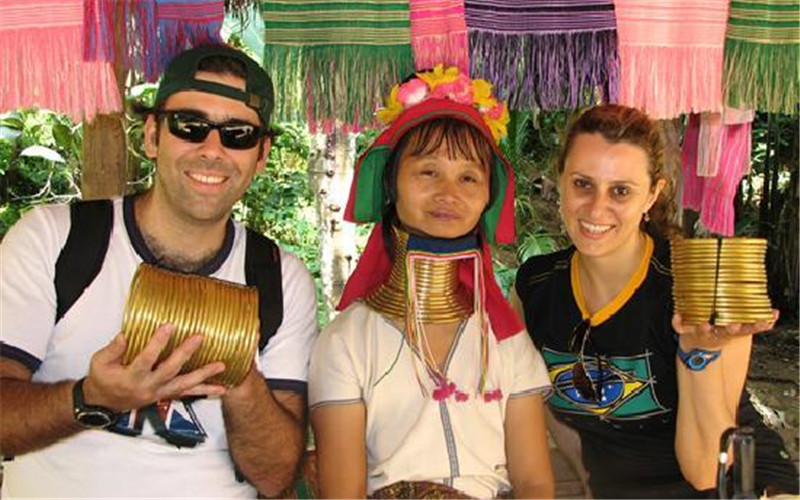 Honeymoon package recommend: 9 days Essential Thailand Tour
9. Have a royal Northern Thai dinner with dance show - Khantoke Dinner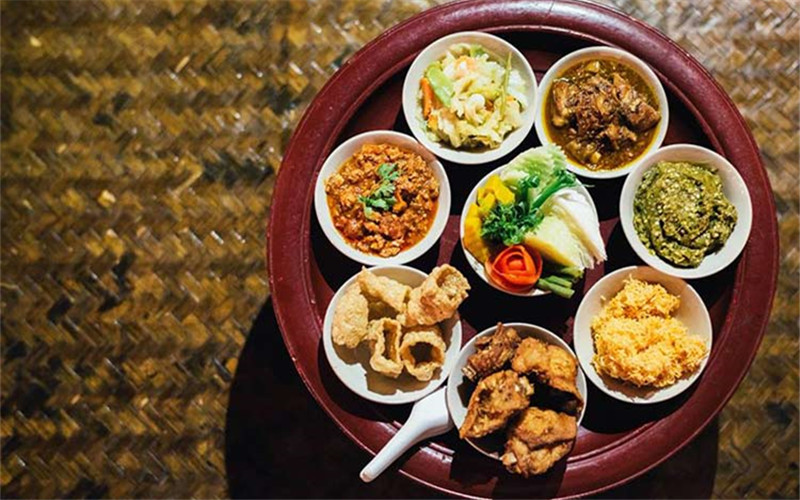 Honeymoon package recommend: 8 days Thailand Adventure Tour with Segway Experience
10. Relax your body on a traditional Thai Massage for honeymoon couples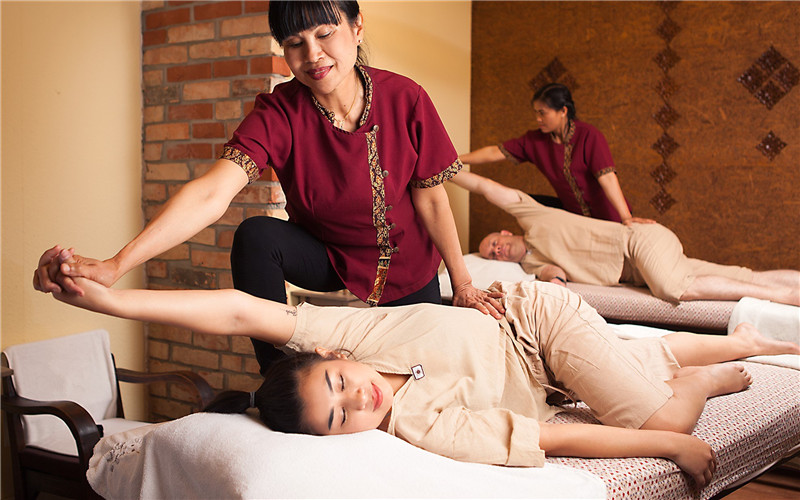 Honeymoon package recommend: 14 days Best of Thailand Culture & Nature Tour
Recommend place to stay:
The Dhara Dhevi Chiang Mai
Turquoise recommends - The Islands for Honeymoon in Thailand
Alternatively, if you and your new husband or wife are not big culture buffs and would rather have a more adventurous honeymoon, you might opt for a trip to southern Thailand. Party animals might want to check out Koh Pha Ngan, divers might want to explore Koh Phi Phi, and nature adventurers might want to trek through Koh Sok National Park. There is something for every honeymoon in Thailand!
Around Phuket
Phuket is the famous beach honeymoon destination in Thailand, featuring a long palm-fringed coastline, high-end seaside resorts, famous island hopping to the nearby islets, upscale restaurants, spas, and busy night bazaars.
1.Capturing priceless honeymoon memories in the sunset beach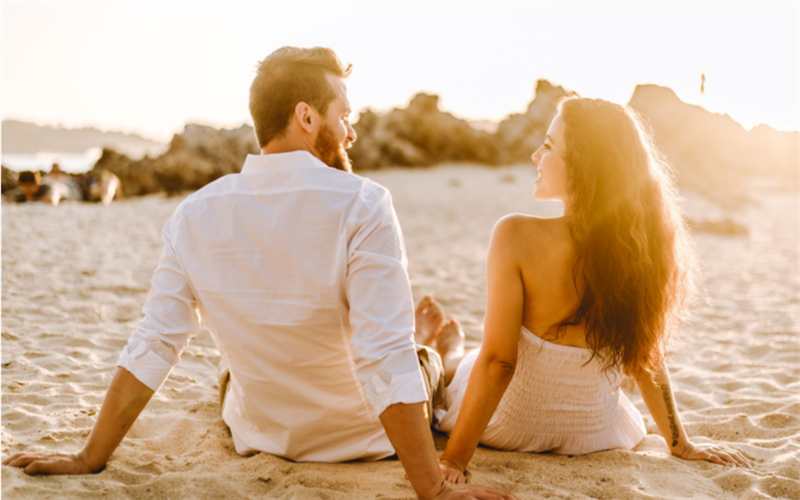 Honeymoon package recommend: 13 days Thailand Romantic Honeymoon
2. After-dark Full moon Party every Saturday on the Paradise Beach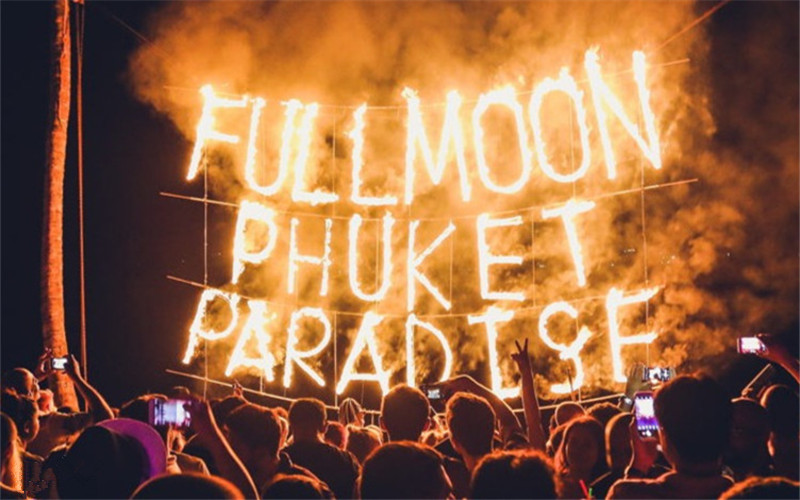 Honeymoon package recommend: 3 days Full Moon Experience Thailand
3. Enjoy a romantic June Bahtra sunset cruise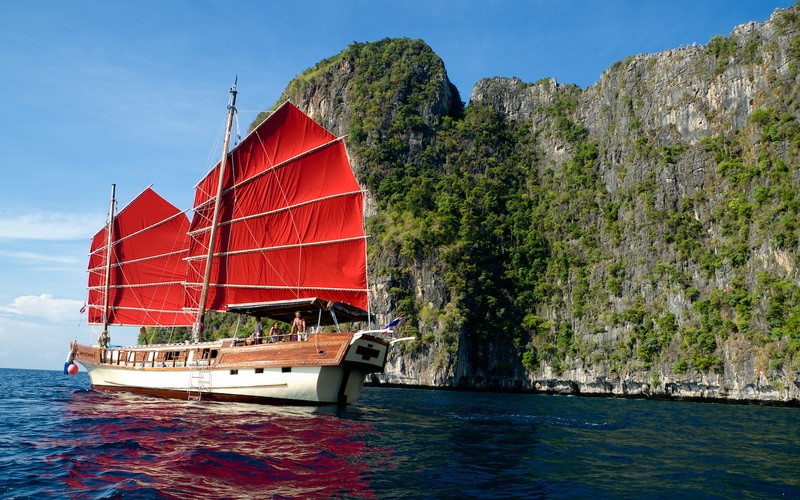 Honeymoon package recommend: 10 days Beaches of Southern Thailand
4. Khao Sok adventurous exploration with canoeing, kayaking, cave discovering, and jungle trekking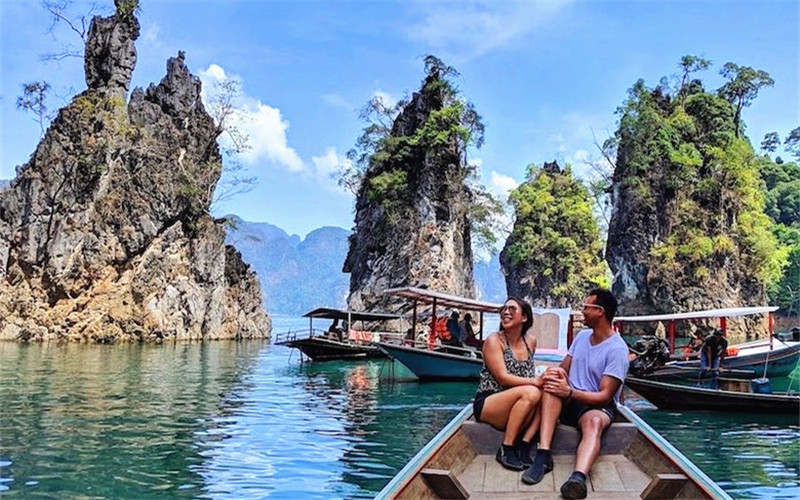 Honeymoon package recommend: 11 days Thailand: Islands of the South
5. Get a traditional Thai Sak Yant tattoo for only you two!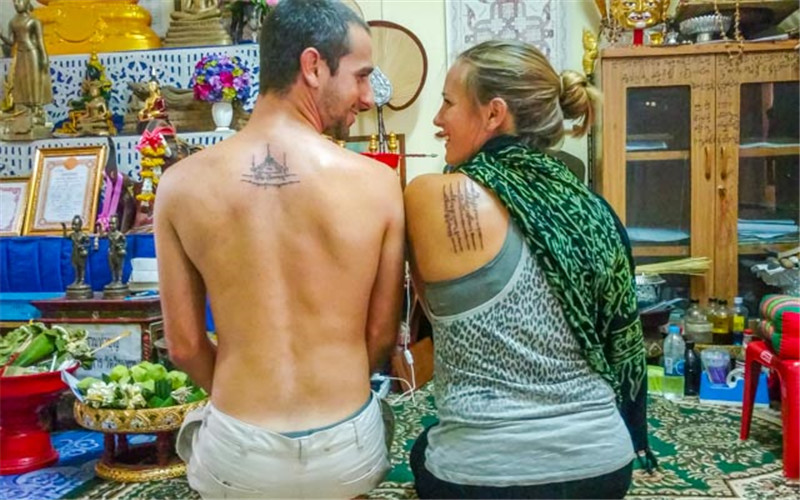 Honeymoon package recommend: 10 days Beaches of Southern Thailand
Recommend place to stay:
Anantara Phuket Layan Resort
Around Koh Phi Phi
For an impeccable honeymoon in Thailand, there's no place better than Phi Phi Islands. In addition to the crystal-clear beaches, the fantastic Thailand honeymoon resorts and villas here add on to the privacy, comfort, and peace that couples get to experience while holidaying here. You can do several day trips from there to similar islands like Phuket.
1. Do a jungle trek to explore the beautiful Phi Phi viewpoint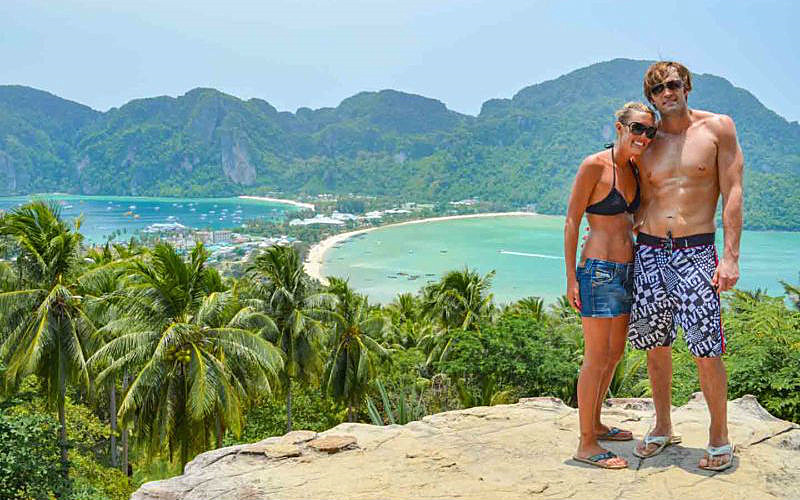 Honeymoon package recommend: 10 days Beaches of Southern Thailand
5. Have a nice cocktail and dinner in the jungle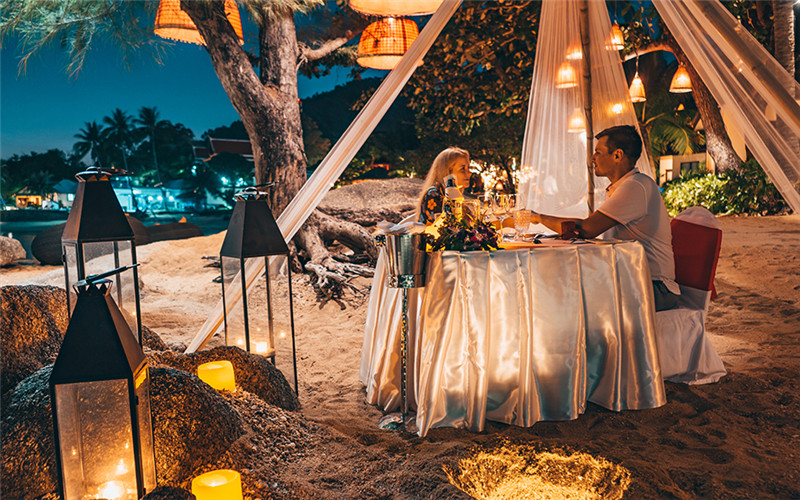 Honeymoon package recommend: 10 days Beaches of Southern Thailand
2. Encounter with wild monkeys on Monkey Beach by a traditional longtail boat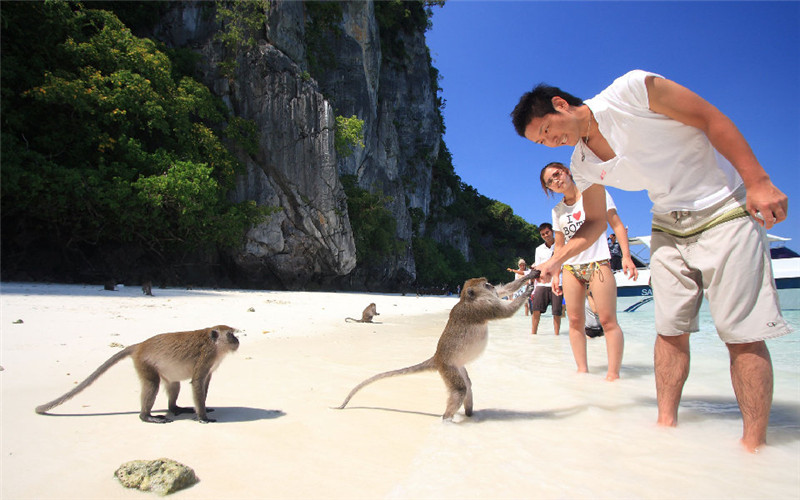 Honeymoon package recommend: 10 days Beaches of Southern Thailand
3. Marvel at the glow of bioluminescent plankton when night falls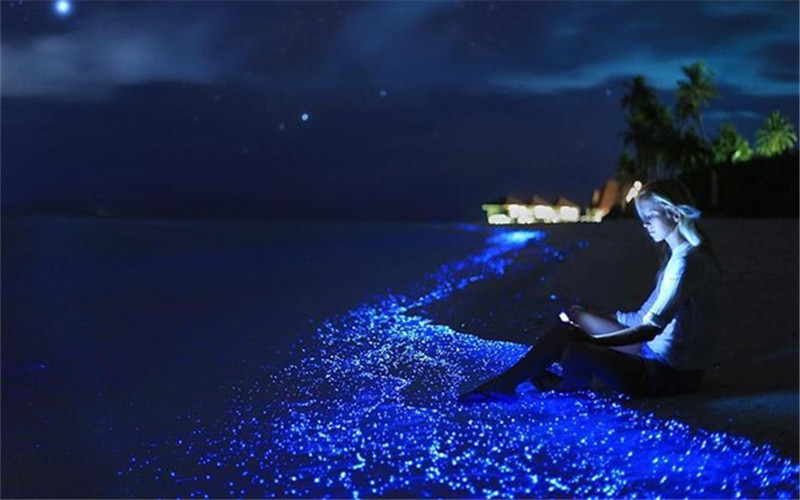 Honeymoon package recommend: 10 days Beaches of Southern Thailand
Recommend place to stay:

Zeavola Resort Phi Phi
Thailand Honeymoon budget & Typical Costs
The biggest cost on a honeymoon in Thailand is the cost of an international flight. Airfare is cheaper in the off-season or booking in advance for about half a year. You can check the lowest fare instantly on Vayama.com.
Once you land in Thailand, everything becomes more affordable. A honeymoon has traditionally included above-average accommodation and hotels, which is still less expensive in Thailand. Absolutely, you can have luxury ones in a relatively higher budget. Private activities based on 2 people is also good compared with group tours, which will ruin your honeymoon atmosphere.
Below is the average spending on a honeymoon in Thailand based on our sample honeymoon itinerary.
Approx honeymoon package cost: $800-$2,500 per person (standard honeymoon package)
Airfare: From $500 (Round trip when booked half a year in advance during low season.)
Tips: 20-100 bath each time (1-3 dollar)
How To Reach Thailand
Phuket airport:
Phuket International Airport, whose airport code is HKT, is the only airport in Phuket. The number of passengers picking up and dropping ranks second in Thailand every year, which is second only to Bangkok Suvarnabhumi International Airport. Phuket International Airport is located in the north of Phuket, near the Andaman Sea, and has the most beautiful sea views in the world.
Entry requirements:
Holders of passports of the United State, Canada, the United Kingdom, and Australia, are granted visa-free travel to Thailand for a period of up to 30 days. A passport that's valid for at least six months from the date of entry and a return ticket.
Flight time:
About 20+ hours from the United States and Canada, 11 hours from the United Kingdom, and 10 hours from Australia.
Special Planning & Inspiration

A romantic candlelit dinner
Set up a picturesque dinner for two while you watch the sunset into the waves. Arrange for you a restaurant that decorates with glimmering candles. Try gifting her/him a gorgeous bouquet with a live band playing aside. Order the most romantic-sounding foods and a great bottle of champagne!
Honeymoon cakes

Champagne

Candlelit dinner



A Sunset Shot on the beach
Do your Instagram be flooded with sunset photos? They are popular for a reason! Hiring a professional photographer for your honeymoon is the perfect way to commemorate your first vacation as a married couple. Allowing a professional eye to catch your sweet memories. It will help you to memorialize this exciting time and create a forever lasting memory that you can keep.
Honeymoon Room Decoration
The most secret place in Thailand that you can call your own paradise! Plan ahead for the perfect honeymoon room decoration without lifting a finger. The sheet will be sprinkled with flesh petals. Maybe also a lovely tower elephant. We know how busy you have been planning your honeymoon so our service sets-up your room at any hotel, bed & breakfast, or vacation rental.
Honeymoon Bridal Suite Style
A hotel suite decorated for honeymooners or have a superior standard can create a cozy feeling ideal for couples and honeymooners: king-sized bed, private balcony with river view or ocean-view, and pool-access room. And a bathtub big enough for two! The most romantic hotel for honeymoon couples also has a private place to cuddle up on together a whole day. You can have an in-room massage,in-bed breakfast, or all-inclusive meal!
We have great ideas for crafting heartfelt tours that will leave both you and your sweetheart a memory of a lifetime!
Honeymoon Romance Packages
Start thinking about your experience. The itineraries in this page are simply suggestions for how you could enjoy some of the same experiences as our specialists. They're just for inspiration, because your trip will be created around your particular tastes. Create an unforgettable and romantic moment now!
Q&A
1. What you need to know before you visit Phuket Thailand during COVID-19?
19 Questions about Phuket Reopen Plan ( Phuket Sandbox ) under COVID 19...Read More.
2. Is Phuket good for honeymoon?
There is no doubt that Phuket is a romantic destination. Its beaches and beautiful water gather together to provide the destination with a postcard-like appeal. Of all the romantic ingredients offered by the island's destination, Phuket's honeymoon is undoubtedly the perfect choice for a couple's tropical escape.
3. Where should I stay in Phuket?
From the bustle area to tropical paradise, there are a lot of choices for different types of honeymooners. Patong Beach in Phuket is the center of the island, as well as its entertainment and nightlife. If you aim to a tropical escape, then head to Kata Beach which is located on the south tip of the island. If you want to total beach life, then stay at the hotels in Khao Lak Beach. This beach is on the northern Phuket. Very convenient to connect your tours to Similan Islands, a wonderful island-hopping destination; and Khao Sok National Park if you want a wild jungle exploration.
Start planning your tailor-made holiday by ​contacting one of our specialists...
Monica

Steven

Natasha

Dan