Best Vietnamese Food
Last Updated: February 04,2020
Vietnamese cuisine is mixed the Chinese and French cuisine thus giving it a unique style of its own so the Vietnamese food is distinct but very delicious. The traditional Vietnamese cooking is greatly admired for its fresh ingredients, minimal use of dairy and oil and it relies on a balance between meats, fresh herbs and a selective use of spices, salt, sugar to reach a good taste so the Vietnamese food is considered one of the healthiest cuisine in the world. Each Vietnamese dish is an explosion of flavors and we've picked ten most popular Vietnamese foods everyone should try.
1. Pho: Vietnamese Noddle Soup
No list of Vietnamese cuisine would be complete without Pho. Pronounced as 'Fu' Pho is an amazing dish which synonymous with Vietnamese food. It appears everywhere from breakfast tables to the curbside and it is really hard for you to miss it from the moment you step into the land to the second you leave. This simple staple consisting of fresh rice noodles, a salty broth, beef or chicken and a sprinkling of herbs, and optional garnish or sliced red chillies, bean sprouts, squeeze of lime, cilantro. It is slightly bizarre but truly unique and it dominates the local diet. You will find day through to night that locals hunker down on a tiny plastic chairs to slurp Pho at tiny plastic tales.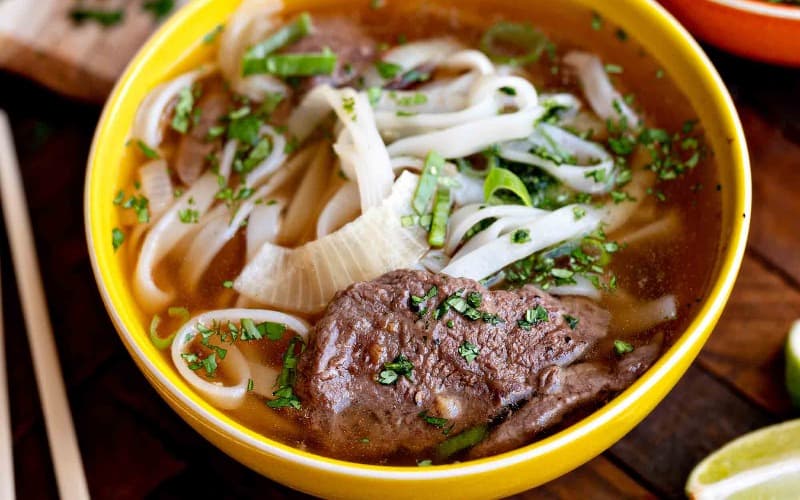 2. Goi Cuon/ Nem Ran: Summer Rolls/ Fried Spring Rolls
These two kinds of roll are different. The Summer Roll is fresh spring roll or salad roll. Traditionally fresh greens, rice or noodles, and choice of fresh meat or prawns are tightly wrapped in a thin rice paper and the rolls also come vegetarian. Before eat it, you can choose to dip some sauces. The sauces are various but the peanut sauce is the most popular. When Summer Rolls dipped with the right sauce, it will be hard to beat and it is really healthy. Fried Spring Roll is more popular. Meat and vegetable rolled in rice paper before deep frying to crisp. It is unhealthy compare with Summer Rolls. Both of them can be easily found in most Vietnamese food menus.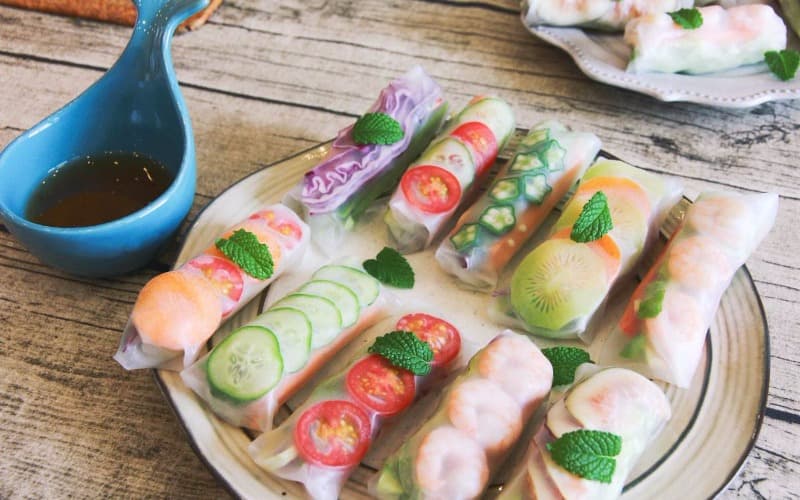 3. Bun Cha: Pork roast on an open charcoal fire
A special Vietnamese food in Hanoi, Bun Cha is the top choice for lunch in the city. You will find it at street kitchens and food shops across the city. Bun Cha is pork barbecued on an open charcoal fire and once they are charred and crispy, served on a bed of cold rice noodles with vegetables and a bowl of fish sauce-heavy broth. Bun cha sets often company with the delicious fried crab spring rolls. Every day after 11 am, when street-side restaurants in Hanoi start grilling up, just follow the clouds of meaty smoke, you will find these street-side restaurants.
4. Banh Mi: Baguettes
Obviously, Baguettes was brought from France, but Vietnamese take it into a different level. It is another staple street food in Vietnam, generally sold at street side stalls. As all baguettes, you can put much of things as you like in them. In the north of Vietnam, chefs stick to put the basic elements of margarine, carbohydrate and fat in the Banh Mi, but in the south of Vietnam, your banh mi may contain a more colorful set filling of cheese, pickled vegetables, cold cuts, Vietnamese sausage, fried egg, fresh cilantro and chili sauce.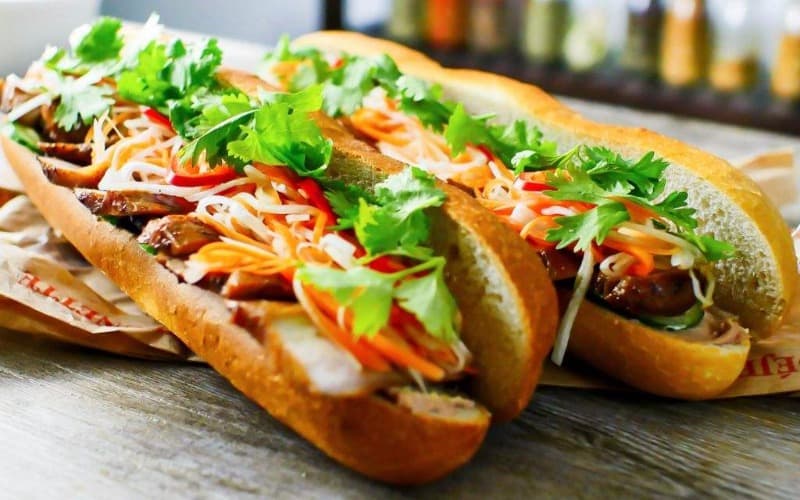 5. Cha ca: Fried morsels of fish
Cha ca is best known in Hanoi and it is also the famous Vietnamese cuisine. Cha ca is considered so special that there is a street called La Vong in Hanoi dedicated to these fried morsels of fish. It sees white fish sautéed in butter with garlic, spring onion, dill and a scattering of peanuts on a hot pan tableside.
6. Banh Xeo: Crepe Wrap
It is a kind of modified French crepes. A good banh xeo is a crispy crepe often containing shrimp, cooked pork, egg, and bean sprouts or fresh herbs, which is then fried and roll up in rice paper or lettuce leaves and dip it in a fish sauce (Nuoc Cham) before eaten. It is characteristic of most authentic Vietnamese cuisines.
7. Cao lau: Pork Noodle
This pork noodle is a feature of Hoi An which is a bit like the various cultures are mixed in this old trading port. The thicker wheat noodles are quite similar to udon noodle of Janpan, the crispy pork and crispy won-ton crackers are feelings of China, while the broth and herbs are Vietnamese. This mixture is distinct Vietnamese food. The authentic Cao lau is made only with water drawn from local Ba Le well. A bowl of piping hot Cao lau will lead to endless aftertastes.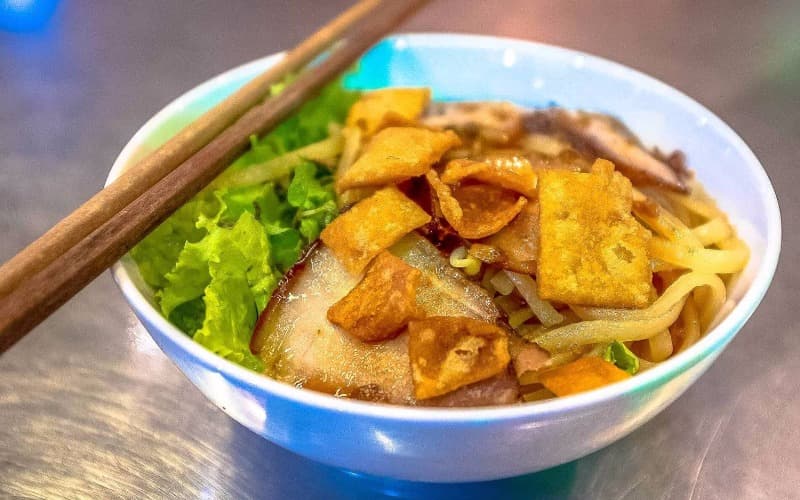 8. Banh khot: Sticky Rice
While sticky rice a common snack sold by the street side throughout Asia, but in Vietnam, people make a meal of it. It is served as the main course Chicken Rice one of the more popular treats. Sticky rice with tender strips of chicken, a handful of fresh vegetables and crispy shallots on the top of it. A dash of soy and sesame splashed on it to flavor.
9. Ca Phe Trung: Egg Coffee
Obviously, coffee is the French influence but it was made into its own distinct coffee culture. In Vietnam, there is a street side café culture selling all sorts of interesting and tasty bean strains. Weasel Coffee bean is a synthetic replication of the famous civet coffee. If you want to find more authentic and local Vietnamese coffee, try Ca Phe Trung – Egg Coffee. It is a whipped egg served over hot coffee. It is really the representative of Vietnamese coffee.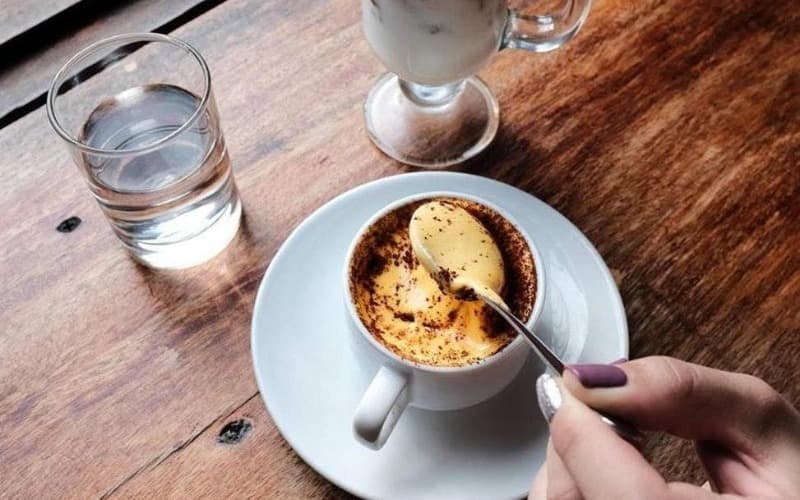 10. Vietnamese Beer
Vietnamese beer might not be the tastiest ones in the world and it would be the cheapest beer in Southeast Asia, possibly in this planet. Around $0.3 you will get a bottle of beer. It is more for the experience than the beer. If $0.3 is too cheap, $0.7 will buy you an upgrade to many of Vietnam's premium beers. When you travel in different places in Vietnam, do try the local beers, Beer Hanoi in Hanoi, Beer Saigon in Saigon (HCMC) and so on.
Explore Vietnamese Food with UME Travel