Over recent years Vietnamese cuisine has grown leaps and bounds in popularity all over the globe. Food lovers most definitely have would have tried two of the most renowned Vietnamese dishes in the world, which are bread rolls and spring rolls. Noodles, rice, fresh herbs and vegetables all have massive roles to play in Vietnamese cuisine, making it an extremely healthy cuisine.
Features
The most popular Vietnamese culinary traditions all have similar fundamental and trademark features, which are:
Food Freshness: the majority of meats are cooked only briefly. Vegetables are consumed fresh, and if they are cooked, they get booked it stir fried only briefly.

Use of vegetables and herbs: vegetables and herbs have become fundamental to numerous Vietnamese dishes, which is why they frequently get used.

Harmony and variety of textures: texture contrasts such as soft with crisp, crunchy watery, rough yet delicate.

Soup and broth based dishes are prevalent in the 3 regions of the country.

Presentation: condiments that accompany Vietnamese meals are typically brightly colored and laid out in a manner that is eye pleasing.
The method of Vietnamese food
Considering Vietnamese are fond of respecting balanced rules, the country's cuisine has a habit of combining taste, color and fragrance. Vietnamese cuisine has always had 5 elements which have been known to contribute balance to the overall dish. Numerous Vietnamese dishes contain 5 fundamental ngũ vị tastes such as: wood (sour), metal (spicy), fire (bitter), water (salty), and earth (sweet). These 5 all correspond to the 5 organs ngũ tạng, which are small intestine, gall bladder, large intestine, urinary bladder and stomach.
Vietnamese cuisine also has 4 nutrient forms ngũ chất which are: liquid it water, powder, mineral elements, fat and protein. Cooks in Vietnam attempt to get 5 colours ngũ sắc which are: white (metal), yellow (earth), green (wood), black (water) and red (fire).
Vietnamese dishes appeal to food lovers via 5 senses năm giác quan: the sound is given off by crisp ingredients, the arrangement of food appeals to the eyes, the tongue detects the 5 spices, herbs give off aromatic fragrances which stimulates the nose. Certain meals such as finger food are able to be discerned simply by touching. It doesn't matter if simple or complex, Vietnamese cuisine provides satisfying mouthfuls during dining.
Common Ingredients and cooking method in Vietnamese food
The northern section of Vietnam has been influenced by its close neighbor China, which has caused the region's inhabitants to make use of soy sauce more than other regions where fish sauce is traditionally used more. Other widespread ingredients used in Vietnamese cuisine include hot chili, black pepper (used primarily in the north), coconut milk, lemongrass, lines, cane sugar and tamarind, which are all supplemented by potatoes and asparagus, which are influenced from the French colonial era.
Cooking methods typically vary from booking or simmering to grilling or frying. Stir-frying with chopsticks and a wok is commonplace. Numerous European influences can be spotted in Vietnamese cuisine, including meats, sauces, pates, cold roast pork, and baguettes. Conversely, the other side of the coin sees in certain regions of the country, a high demand for unique and exotic meats like snake, turtle and dog.
Renowned Vietnamese dishes
Vietnamese cuisine unlike those around the world is renowned for its simplicity. Most of the renowned dishes can be created by the side of the road as well as a 5 star restaurant.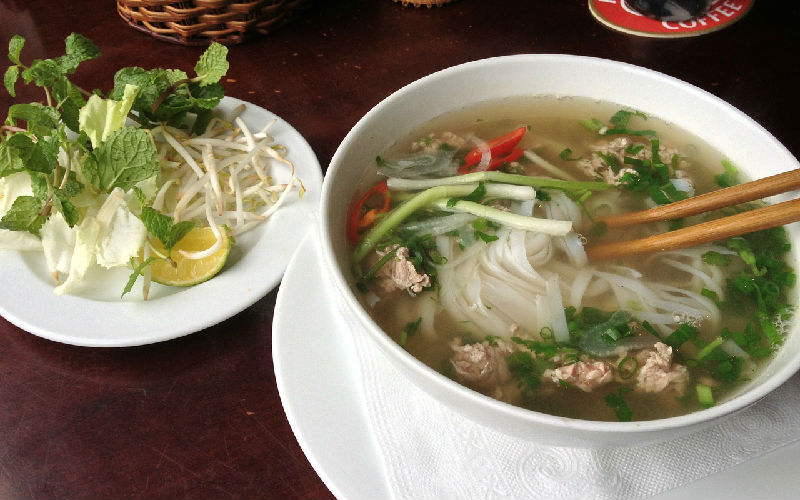 However, it is precisely because of this simplicity, the fresh ingredients, the subtle regional variations that Vietnamese food is so popular.
Cha ca

Cao lau

Banh xeo

Rau muong

Pho

Goi cuon

Nem ran/ cha gio

Bun bo Hue

Ga tan

Banh khot

Banh mi

Xoi
Read more:
Fruits
Vietnam is geographically situated in the tropics zone, which definitely makes it a haven in regards to fruit. The weather in the region is warm with a long duration of sunshine, humidity and an elevated average temperature all year.
New visitors to Vietnam would be shocked at just how much brightly colored fruit is sold for reasonable prices at every street market. As there are numerous fruits available in the region, it also means residents are known for using fruits in numerous varying ways, such as: making juiced, eating raw, preserving jams, mixing salads and numerous other tasty desserts. Below are a couple of the fruits that can be found all over Vietnam:
Măng cụt - Mangostreen

Mango - Xoài

Chôm Chôm - Rambutans

Dứa - Pineapples

Sầu riêng - Durians

Thanh long - Dragon fruit

Đu đủ - Papaya

Vú sữa - Star apple

Hồng Xiêm Sapodilla

Dừa - Coconut

Mít - Jackfruit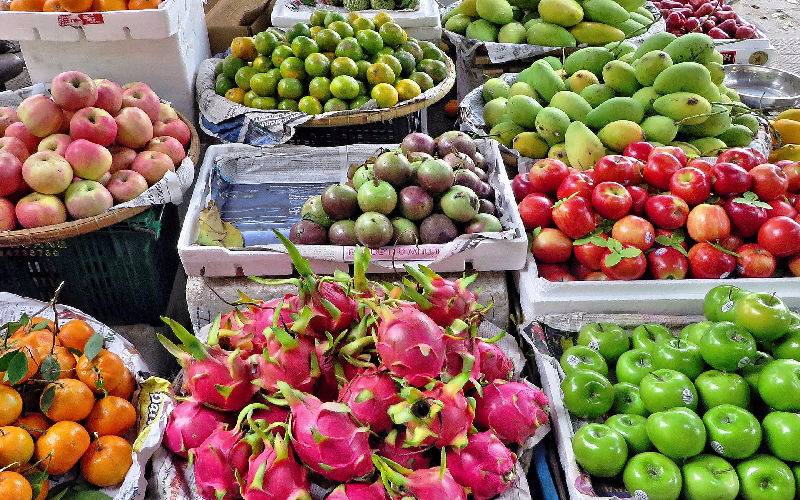 Countries in tropical zone usually are the heaven of fruits! Vietnam is without exception. Read and learn more about Vietnamese fruits!
Drinks
Fresh bottled water, bottled and canned soft drinks, as well as a vast array of beers can be widely purchase all over the nation. The most common beverage is Green tea, which is typically offered to visitors or guests as a courtesy. Australian and French wines have been becoming more popular especially with visitors of French restaurants.
Two of the most famous local beers are Saigon Lager and Saigon Export, however imported beers can be purchased as well, but for twice the amount. Vietnamese makes numerous rice wine varieties called Ruou. Nevertheless, Ruou bottles are extremely potent and usually contain picked snake, with the snake thought to have health benefits.
There is also a vast range of spirits that have been locally distilled. Fruit wines like orange, lemon or apricot are also commonplace, with soft drinks also being made from the numerous tropical fruit varieties. It is imperative to check every bottle of drinking water to ensure that the seal or cap is intact and original.
Sinh Tố (Fruit Smoothie)

Dừa Tươi (Fresh Coconut)

Trà Atisô (Artichoke Tea)

Nước Sâm (Herbal Tea)

Soda Chanh (Lime Soda)

Cà Phê (Coffee)

Bia (Beer)

Nước Mía (Sugar Cane Juice)

Rượu Nếp Cẩm (Sticky Rice Wine)