The Thai New Year: Songkran Festival in Thailand
Last Updated: May 28,2020
The Songkran Festival, also called the Thailand Water Festival, is an important event which marks the start of the Thai New Year. It is the largest celebration in Thailand and takes place for three to seven days in mid-April every year. During this period, the entire country celebrates by hurling water at one another and by enjoying local music, food, and fun! People pour buckets of water, aim water hoses, and fire giant, fluorescent water guns at each other. Not surprisingly, Songkran Festival has become a popular vacation destination for tourists world-wide. In fact, more than a half million visitors join in the fun and indulge in local entertainment every year. This New Year festival welcomes locals and tourists alike with open arms!
What is Songkran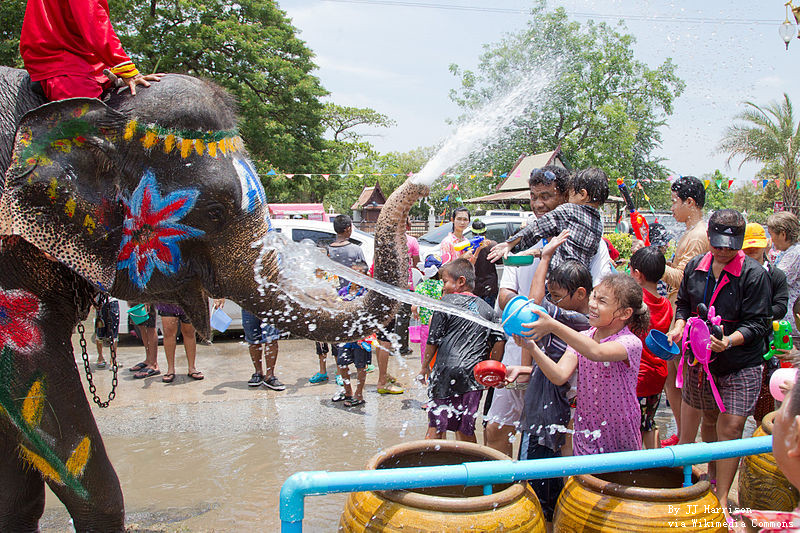 Songkran, derived from the Sanskrit words "astrological passage", is interpreted as "move or change in the position of the Sun" and was originally based on the movement of Aries on the astrological chart. It signifies the start of the Thai New Year and is an occasion for family re-unions, annual house cleaning, and visiting temples.
The first day of the festival is called National Elderly Day. On this day, Thais perform the Rod Nam Dum Hua Ritual. The ritual begins with the youth pouring fragrant water into their elder's palms to show their humility while begging for their elder's blessings. In the temples, people pour water on senior Buddhist monks in a sign of respect and blessing. The chief monk then gives a sermon and blesses those who attend the ritual of Bathing the Buddha Image. This important ritual begins with devout Buddhists pouring fragrant water over Buddha statues - both at temple and at home – creating harmony, inner balance, and an enlightened life.
On the second day of Songkran, or Family Day, family members rise early and give alms to the Buddhist monks. People often dress in colorful, traditional Thai clothing, and after offering food to the monks, honor their ancestors. Merit offerings include sand to the temple for construction and the releasing of fish, birds, and other animals as a sign of respect for nature. A majority of the day is spent relaxing and spending time with family.
The high-spirited celebration of Songkran most definitely involves the water fights! Originally, Thais would pour a bowl of fragrant water on family members, close friends, and neighbors to ask for their blessings. Songkran has made some festive changes! What was once a bowl of water has turned into a bucket, a water gun, and a garden hose. These entertaining water fights are now the spirit of this holiday and celebrated by everyone for miles around!
When is Songkran - 2021 to 2024 Updated!
Prior to 1940, the Songkran Festival was based on the lunar calendar, so the dates of the festival were always changing. Like most other countries, Thailand now celebrates New Year on January 1, and the Songkran Festival is now celebrated in April every year. With the festival covering three days starting on April 13 and ending on April 15, many locals take a holiday from work and stretch the festival into a week. Songkran 2021 will be celebrated April 13 through April 15 (Tuesday through Thursday) . The festival will once again be the biggest water fight in the world! Are you ready for battle in YOUR Songkran?
| Songkran Festival | Date | Day |
| --- | --- | --- |
| Songkran Festival 2020 | 13 Apr to 15 Apr | Mon to Wed |
| Songkran Festival 2021 | 13 Apr to 15 Apr | Tue to Thu |
| Songkran Festival 2022 | 13 Apr to 15 Apr | Wed to Fri |
| Songkran Festival 2023 | 13 Apr to 15 Apr | Thu to Sun |
| Songkran Festival 2024 | 13 Apr to 15 Apr | Sat to Tue |
Detailed Guide to Partying at the Thailand Songkran Festival
1. Songkran in Bangkok
Since Songkran is a festival that honors family, half of the residents of Bangkok will leave the city and return to their hometown for family reunions. Therefore, tourists that fly to the capital city for this colorful festival make up a majority of the party-goers!
During the festival, remaining locals take time from their work while most office buildings, banks, and even family-run shops and restaurants are closed. However, the big shopping malls usually remain open. As the capital city, Bangkok has more places to party than anywhere in Thailand!
The most famous places in Bangkok are:
Silom Road: This entire road is closed off to traffic during the festival, and that is where you will find the largest and wildest crowds! The street, which is 5 km long, is packed on two levels with thousands of young people carrying anything that can spray water!
Khao San Road: This is the gathering place for backpackers from all over the world. During the festival, the entire length of Khao San Road becomes a water-fight battlefield, and you are going to get absolutely wet from head to toe!
Read More About the Songkran Festival in Bangkok
Songkran Music Festival in Bangkok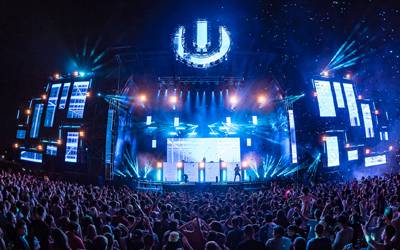 In Bangkok, the Songkran Music Festival is an "unlimited-fun event". It is, no doubt, the biggest celebration of the Songkran festival, and it takes the party to the next level. In this hip and happening music festival, top class DJs from all around the world are in charge of the music! Some of the popular international DJs present in the past have been DJ Snake, Mashd N Kutcher, Sick Individuals, Oliver Heldens, Krewella, and Ummet Ozcan. Also included were TUJAMO and OOKAY. It is popularly known among the locals as S2O; the S stands for Songkran and 2O stands for 2O from H2O…which symbolize the crazy water-play that takes place in this city!
In 2018, the S2O was held in Park Rama IX which spans 6,000 square feet and included a 70-meter long stage. The stage featured a 360-degree water device that constantly showered every inch of the venue! In addition to the entire audience being soaked with water, House and Bounce music beats were blasted all day and into the night. Local Thai restaurants offered Thailand delicacies in the food court while fireworks lit up the night sky to finish the day's festivities.
The S2O Songkran Music Festival is so popular that it is completely sold out for the next three years. If you plan on being a part of this event, you will need to purchase tickets well in advance!
Let UME Travel book your tickets so you don't miss a thing!
Songkran in Chiang Mai

Celebrating Songkran in Chiang Mai can lead to a new level of excitement – this is where you have the most fun! You may be able to find the biggest parties in Bangkok, but if you're looking for the best water fights, you can find them in Chiang Mai. One of the most popular places in Southeast Asia, Chiang Mai can be a hell of a lot of fun in the middle of April!

The most famous places in Chiang Mai are:
Tha Pae Gate: This part of the Old City is where you will enjoy a water fight that runs the length of the old moat – 4 km of fun! Street stalls sell everything you could possibly need to take your stand in the water fight. In addition to unending water battles, there are celebrations along the moat with more laughter and light-heartedness than you can imagine!
Read More About the Songkran Festival in Chiang Mai
2. Songkran in Phuket
The Songkran celebrations in Phuket are on an international level and are the most exciting places to visit. It seems as if the entire city, tourists and locals alike, enjoy the continuous water battles using water guns, water cannons, and water buckets!
The most famous places in Phuket are:
Patong Beach: Undoubtedly the noisiest place during Songkran, this is where you will find the most bars and the best nightlife – in addition to huge water fights, of course! You will also be entertained by a huge parade and a Miss Songkran beauty pageant. Too much to fit into three days!
Read More About the Songkran Festival in Phuket
3. Songkran in Pattaya
Referred to as "The Party City", Pattaya residents find it hard to cram their partying into three days…so their celebration of the Songkran festival last longer than anywhere else in Thailand! The water fights begin on April 13 and last for an entire week, so make Pattaya your own "party city"!
The most famous places in Pattaya are:
Beach Road: This is definitely the most famous place to party in Pattaya! The entire road is closed to traffic, and there are stages everywhere with live music and huge foam machines. The fire department, with their engines parked at every corner, offer a limitless amount of water for the revelers to reload their "weapons". The few roads that allow vehicles to pass become a slow-moving traffic jam. Pickup trucks blasting music at full volume become moving parties – of course, with their own water buckets!
During the festival, the whole city turns into a crazy water-fighting battlefield. You will definitely get wet the moment you step outside!
But the biggest celebration of this water festival in Pattaya comes on the 19th of April and is known as the "Wan Lai". It is followed by the 'Kong Khao' parade which takes place in the sunlight and is a symbol of respect and appreciation for the Goddess of Rice. Fun contests are organized for revelers, cultural shows give visitors insight into Thailand's rich history, vendors line the street with souvenirs and food, and there are also beauty pageants for on-lookers to enjoy. If you wander to the beach, you will see beautiful sculptures and sand castles made by the locals alongside the Bang Saen beach.
Read More About the Songkran Festival in Pattaya
Tips for Enjoying the Thailand Water Festival
Don't splash water after sunset. Some people, especially tourists from aboard, do not realize this is forbidden.
Don't splash water at Buddhist monks, pregnant women, or infants.
Don't remove any clothing that would result in indecent exposure. (A British man was once arrested because he removed his shirt during the 2016 Songkran Celebration!)
• Remember…people who splash you with water are sharing their joy and giving a New Year blessing to you. The wet mayhem is a part of the Songkran celebration, so don't become upset - just accept it and have fun!
• The water splashing is fun for everybody, but do remember that Songkran is a religious festival. Be respectful of worshippers at temples and shrines and show individual respect when making your own journey to a temple.
• If you decide not to take part in the festivities, you will need to remain inside your hotel room and don't go out until after sunset. If you leave your hotel room during the day, be prepared to get wet by the hotel staff as soon as you step out your room!
• Make accommodations and transportation reservations as early as possible for Songkran festivities in Chiang Mai, Phuket, Pattaya or Koh Samui. All venues fill-up quickly.
• Don't go out barefooted. Although the government does efforts to ban bottles, broken glass are everywhere.
• Be sure to acquire your own water bucket; many are given for free or you can purchase a water gun or cannon in the market before joining in the fun. Keep your bucket with you at all times (Tie a string onto your bucket so you don't lose it.), so you can reload your bucket quickly from water barrels.
• There are always lots of people dancing and partying in the streets – many people enjoy alcoholic beverages during the celebrations. Be sure you drink responsibly, do NOT drive while drinking, and be cautious while crossing the street.
• Do not "fire" or pour water on motorcyclists because the water can create a slippery road surface and can cause accidents.
• Carefully plan what clothing you will wear when going to the festivities; Sunglasses will protect your eyes from water, expensive clothing can be damaged, and white clothing becomes see-through when wet. Remember to use a waterproof pouch to protect your mobile phone and other valuables.
• If you are heading to one of the Songkran 'hotspots', think about using public transportation because the traffic can be very slow moving!
• The traditional way to wish someone well and to make peace after pouring water on them is with sah-wah-dee pee mai which means "Happy New Year." More than that, you can say "Happy Songkran Day" pronounced as "suke sahn wahn song kran."
Enjoy Your Unique Songkran Festival with UME Travel
If you are reading this article, then you are probably someone who loves to travel! Quality vacations with family, friends, and colleagues definitely begin in Thailand, and the time to enjoy your vacation is during the Songkran Festival in April!
By booking with UME Travel in advance,
you will be guaranteeing your spot – right in the middle of the fun!
This is what you can expect on your tailor-made vacation with UME Travel!
2019 Songkran Carnival: 5 days in Bangkok and Pattaya
•In Bangkok, step into the heart of a huge water battle by Tuk Tuk!
•Watch the firetrucks, with their powerful water hoses, ambush party-goers at each intersection on Silom Road.
•Continue to Pattaya for a week-long Songkran celebration with parades, pageants, music, and colorful nightlife.
•Celebrate like a local by building a sand pagoda and watch the bathing rites of the Buddha image.
•Visit an elephant sanctuary, wear Karen clothing, and bathe these lovable creatures.
•Still not sure? Check out the following Thai itineraries offered by UME Travel and find your inspiration!
Bangkok & Island Escape - 7 days Bangkok - Ayutthaya - Phuket
Best of Thailand Culture & Nature Tour - 14 days Bangkok - Ayutthaya - Chiang Rai - Chiang Mai - Phuket
Be sure to contact us soon to customize your perfect vacation!