Top 3

Vietnam Tours

Refer to the choices of 90% clients - easy to select and book!

From $ 399

From $ 1250

From $ 2120
16 +

trips through Vietnam with

370

reviews

The best tours, trips and vacation packages in Vietnam suits for family, couple or friends. Book now!



Start planning your tailor-made holiday by ​contacting one of our specialists...
Plan Your trip to Vietnam
In general, the best time to visit Vietnam is during December through February when the weather is cooler (63℉-72℉), dryer and rain is minimal. If you are planning trekking, boating and other outdoor activities. You might consider to avoid monsoon which is from May to September. This time is hot and humid (80℉-93℉). Just like the feature of any other tropical countries.
The Cheapest Times to Visit Vietnam
The best time to travel to Vietnam differs in regions because of its long and narrow land. That's, you can always find a good place while still enjoy a favorable deal, depending on which city interests you. General speaking, the Monsoon season definitely means more discount on hotels and airfares. It's a good chance to save money.

Vietnam is located in the southeast of Asia. Here is the map and flight information to get to Vietnam from main cities.
Flight time to Hanoi: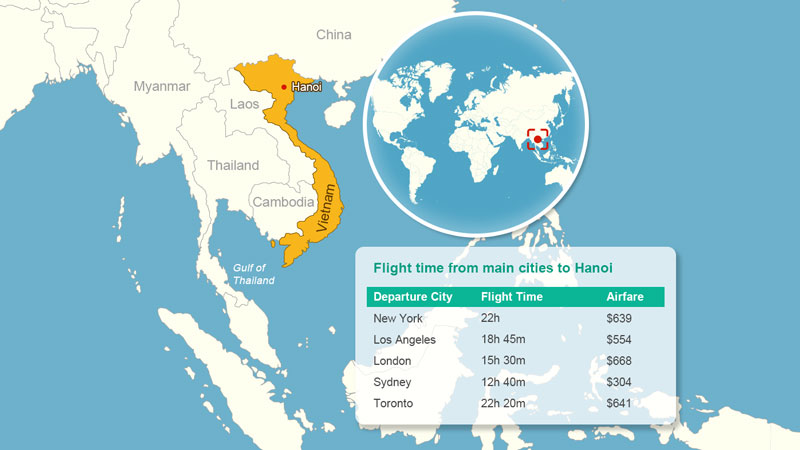 Best time for Air-tickets
Get booked early – especially for the Christmas, Chinese New Year and the peak seasons. About 2-3 months in advance for peak seasons or 1-2 months for the low seasons and you will find the cheapest flight.
Booking connecting flight and round-way flight for the same arrival & departure city always save more than you expected. UME private tour is open for booking flights on your own so you can use your saver award and airline rewards card.
Visa on Arrival (VOA)
We can provide visa on arrival approval letter (VOA) with free of charge for travellers from American, Canada, Australian and Europe at the first time apply and free for single entry only. After get VOA, at immigration gate clients just need provide VOA, 2 passport size photos and stamp fee ( USD25/pax) then you can easy check –in Vietnam.
Visas via an Embassy or Consulate
Process is depend upon your country location; the pace of the procedure varies too. In North America or Europe, it can take up to 1 week. Also, you must post your passport to the embassy. See more