Where To Visit In Thailand 2021/2022
Last Updated: December 01,2020
Thailand has world-famous attractions, which have been recorded on television and are set in several Hollywood works, from Chiang Mai in northern Thailand to the lush southern province of Krabi. You will be attracted, or even shocked, by the original beauty of Thailand.
1 The Grand Palace & Wat Prakeaw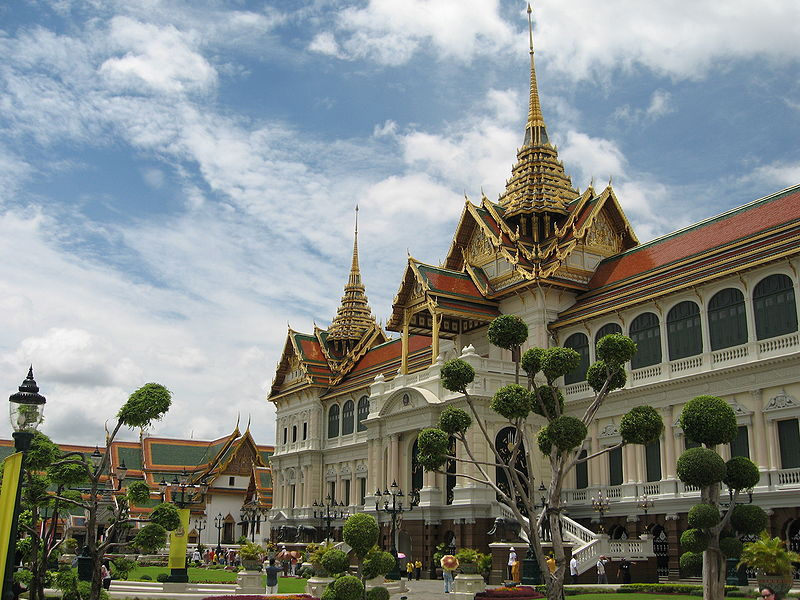 This is a must see sight in Bangkok. The Grand Palace is without a doubt the city most remarkable landmark. Built 1782, it was for 150 years, the home of the Thai King, the Royal court and the seat of government. The Grand Palace takes away your breath with its astounding architecture and precise detail. In modern times, the complex continues to be the spiritual heart of the Thai Kingdom; therefore, visitors are required to dress politely while visiting.
2 Phang Nga Bay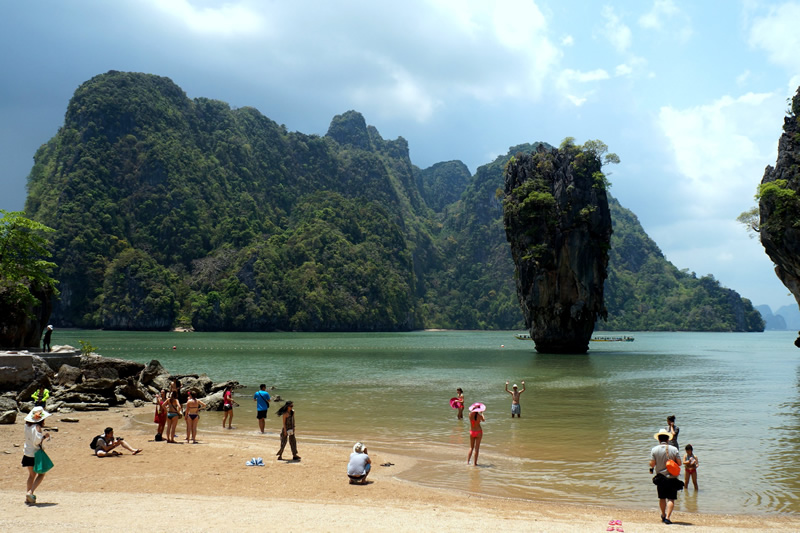 Phang Nga Bay is located northeast of Phuket, and features one of the most distinct sites in the world. Phang Nga Bay has a unique limestone cliff that extends vertically out of the emerald green water. A leisurely day trip cruising through the dramatic limestone islands, occasionally stopping to enjoy quiet beaches, is far more rewarding than the standard bus-boat tour.
3 Similan Islands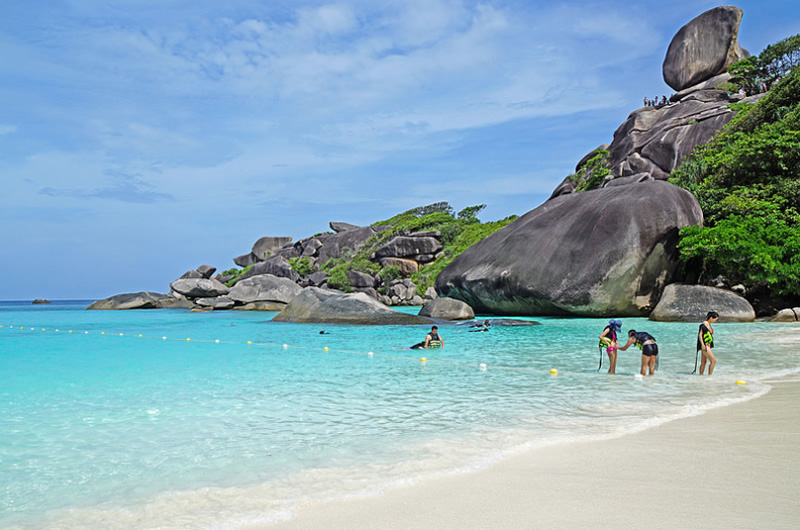 Similan Islands feature a group of rocks and island that is located about 90 minutes by speedboat off the coast of Phang Nya. Similan Islands is an area largely undeveloped and was declared a Marine National Park in 1982. Similan which mean "nine" in Malay refers to the nine islands in the group. Due to its highly exceptional underwater visibility, the water offers an incredible place for diving Derived from the Malay term 'Sembilan', meaning 'nine', Similan refers to the nine main islands in the group.
4 Floating Markets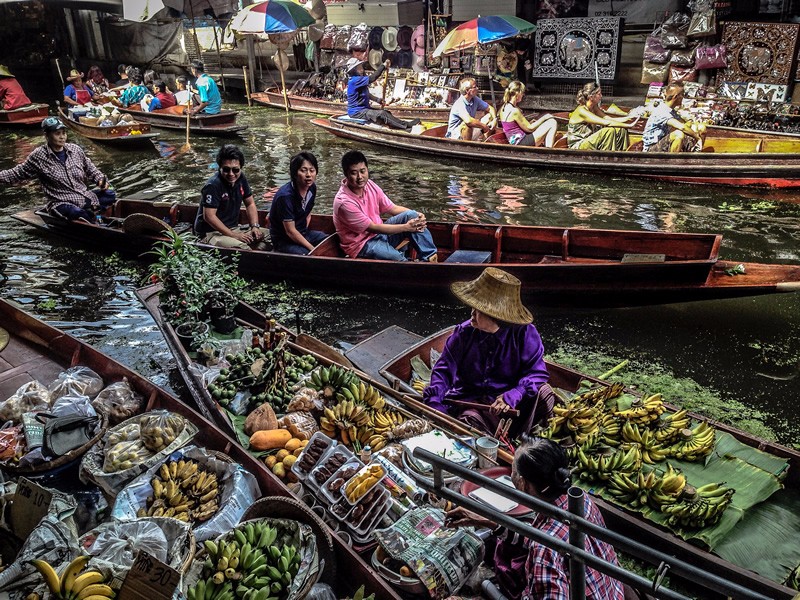 Bangkok's colorful floating markets are familiar to a lot of tourists because of its pictures, mostly present in tourist guide and travel books. The floating market features boats packed with tropical fruits and vegetables, freshly squeezed juice and local food cooked on floating restaurants located on the boat.
5 Phi Phi Islands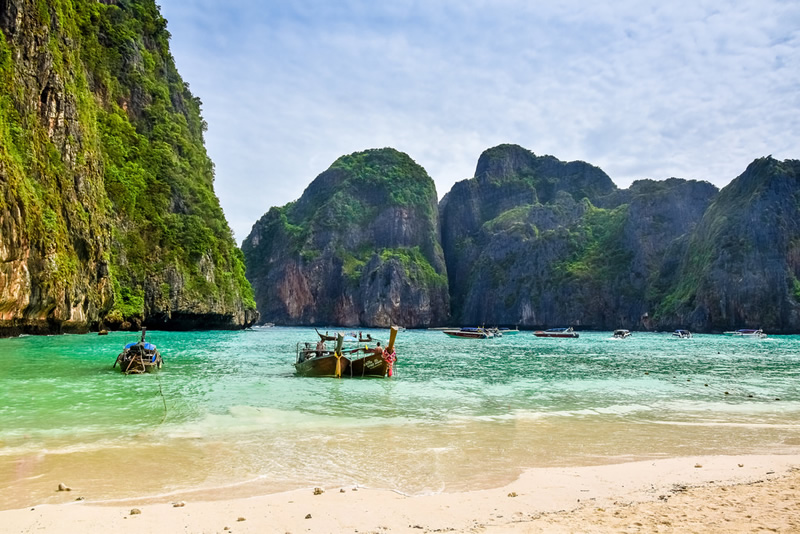 Phi Phi Island is some of the loveliest in the South Ocean. About 45 minutes of speedboats from Phuket Island, it offers a classic beach with incredible rock formation and water full of rich aquatic life. There are two islands Phi Phi Don and Phi Phi Leh. Phi Phi Don are the largest inhabited islands, attracting tourists to stay on its incredible coast.
6 Doi Suthep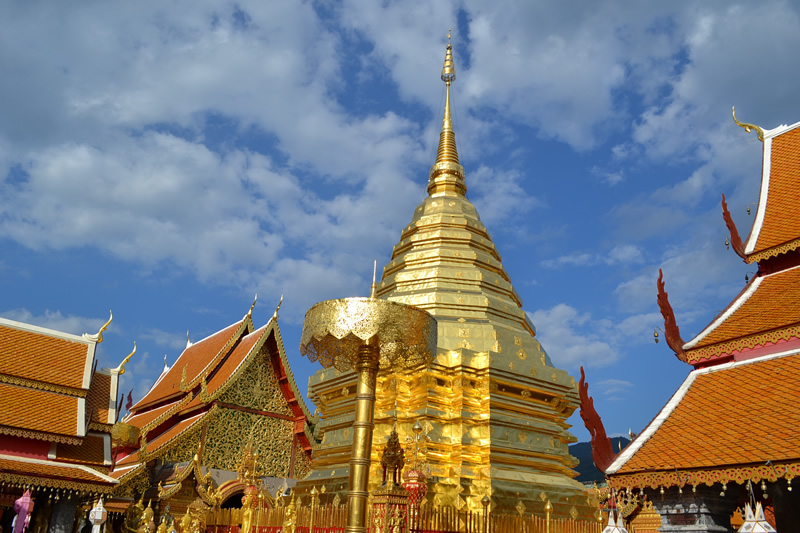 Doi Suthep is a constant part of life in Chiang Mai. The mountain overlooks the city which provides an amazing view of the surrounding countryside and Chiang Mai. Doi Suthep is home to Wat Prathat Doi Suthep Temple as well as Bhubing Palace; and also houses of the loved symbols in Thailand.
7 Railay Beach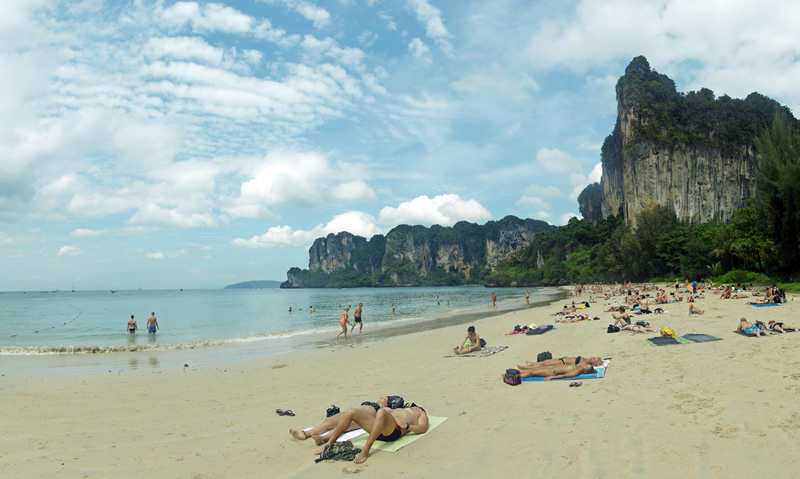 Railay is one of the most sought after beaches in Thailand. It offers a tranquil and serene environment with its gorgeous white sand beaches, incredible viewpoints, caves and a hidden lagoon within the cliffs. This is a paradise, with no roads and hassle; an ideal getaway for adventure and cool night outs.
8 Ayutthaya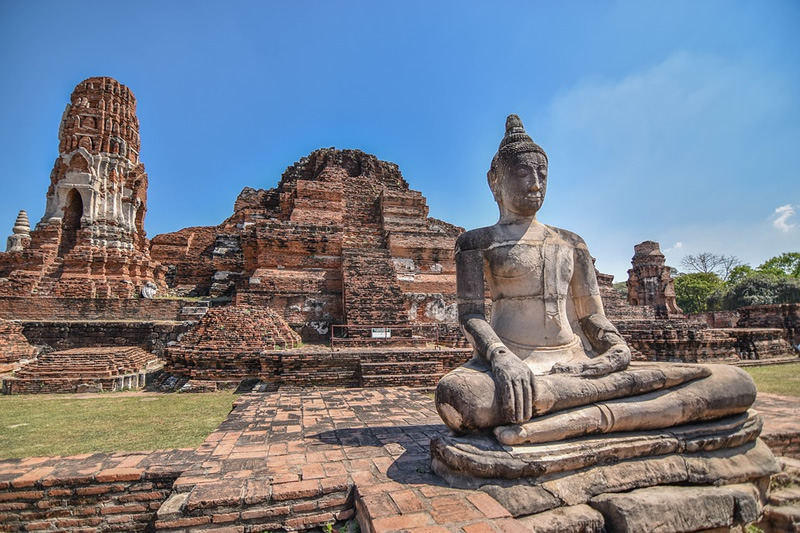 Ayutthaya used to be a prosperous trade and political capital until it was ravaged and plundered by the Burmese army. Ayutthaya was a flourishing center for regional trade and a burgeoning metropolis where art and culture merged. Today, the temple and ruins of Ayutthaya serve as a reminder of the past glory of Siam, as well as a haunting memory of one of the darkest times in Thai history.
You might like to book: Ayutthaya tour packages
9 Wat Arun (Temple of Dawn)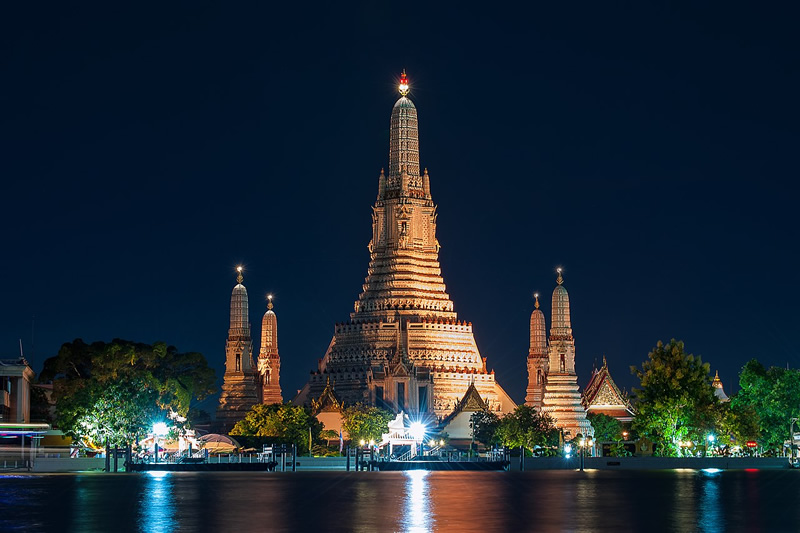 Wat Arun is located on the west bank of the Chao Phraya River. The temple was renovated and named by King Taksin who gave it "Temple of Dawn" after fleeing from Ayutthaya a place besieged by Burmese army at the time. During the reign of King Taksin, the Temple of Dawn was home to the Emerald Buddha and another important Buddha image, the Phra Bang after their removal from Vientiane.
10 Khao Yai National Park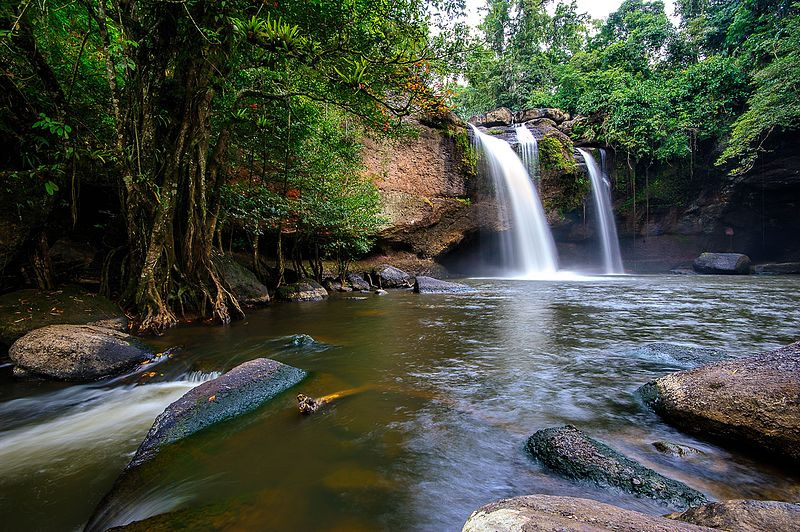 Khao Yai national park is a UNESCO World Heritage Site and the second largest national parks in Thailand. It encompasses four provinces, Saraburi in the West, Nakhon Nayok in the East, Nakhon Ratchasima in the North and Prachinburi in the South. The highest peak is at Khao Rom and it is approximately 1,351 meters above sea level. The national park offers a year-round getaway destination, situated about 3 hours outside Bangkok. It houses a variety of wildlife with 320 species of birds, 67 species of mammals and thousands of different types of plants.