Plan A Trip to Thailand: Ultimate Guide to Plan A Thailand Vacation
Last Updated: January 13,2020
Thinking of traveling to Thailand but do not know how to start planning? Actually, planning a trip in Thailand is not as difficult as you think. Thailand always ranks as one of the most visited country in the world. It is a magical but affordable destination even you will spend two weeks there. This colorful land is filled with golden temples, beautiful beaches, delicious food, and friendly people, well between those, it has a lot to offer. Each year, millions of people from all around the world enjoy their vacation in Thailand!

Click to know more about:
Where to go and what to see?

How long to stay in Thailand?

How much does it cost for a Thailand trip?

How to get to Thailand and get around?

How to choose hotels in Thailand?

Do I need vaccinations for Thailand?
Why Visit Thailand
Tourism is one of the pillar industry in Thailand and the country welcomes visitors from all over the world by offering visa-free for citizen from 58 countries. That's one of the reason why Thailand is one of the popular destinations to visit. Passport holders from those countries are not required to obtain Thailand visa when entering the country for tourism purpose and will be permitted to stay in the country for a period not exceeding 30 days on each visit. Learn more about visa to Thailand.
Super Delicious Thai Food
Thai food is well known the world over as being one of the most delicious and flavorful cuisines. With use of many aromatic ingredients, herbs, garlic and Thai chilis. Thai food has distinguished taste and the mouth-watering food attracts millions of food lovers to visit Thailand. Read more about food & drink in Thailand.
Thailand has paid a lot of effort in preserving the environment and it has more than 25,000 square kilometres of wildlife sanctuaries, national parks and lakes which are home to various and fascinating wildlife including birds, animals and marine life and are protecting the tropical plants and jungles. The jungles in the north are also home to the colorful hill tribes. The diverse natural environment makes it a perfect place for outdoor lovers to explore where you will find the elephants roaming in the jungles and the hill tribes leading their unique life harmoniously with the nature. If you are wildlife and adventure lover, read this: Wildlife encounters in Thailand - Elephant, jugle, nature park, where to go & things to do. If you come for Thai elephants, why not take addvantage of your trip and be a elephant volunteer here?! Read this: Best elephant nature park, where to see and what activities you can take into.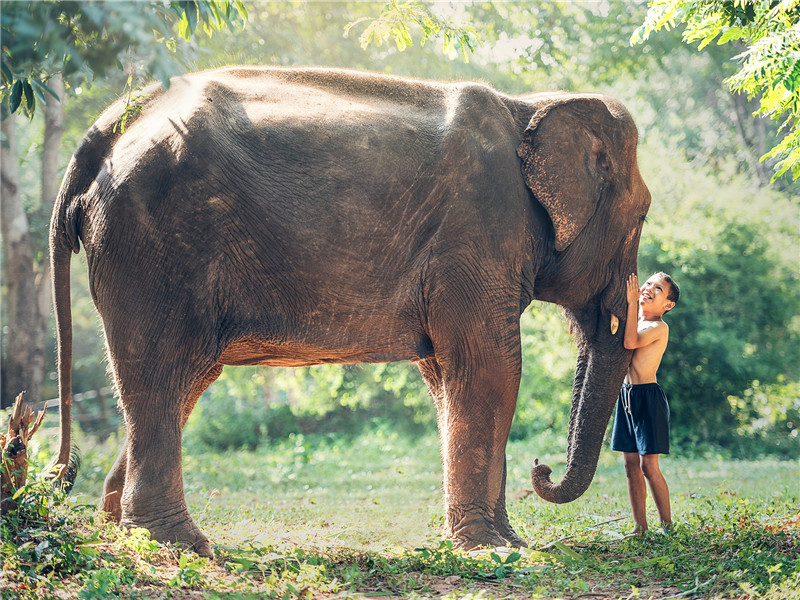 Thai culture is deeply influenced by Buddhism. With around 95% of the population of Thailand are practicing Theraveda Buddhism and it play a very important role in Thai people's daily life. Visitors will admire glittering golden temples, watch people worship, give alms or even chat with monks. Grand Palace, Wat Arun are top of the must-sees in Thailand. Both of them are sacred to Thais. Click and read more history information about Grand Palace | Wat Arun.
Wonderful Beaches and Islands
With two long coastlines and particularly jungle-topped tropical islands in the south of the country, Thailand undoubtedly is one of the beach destinations in the world. This paradise offers a varied menu: scaling the sea cliffs of Krabi, taking party in Full Moon party in Ko Samui, diving with whale sharks off Ko Tao, playing in the gentle surf of Ko Lipe. See also the ultimate guides to Thailand's best beaches - when, where & things to do.
Is it Thailand safe to travel?
Probably everyone has this kind of question before travelling to Thailand. Anyway, Thailand is generally a safe country to visit. Every year, travelers coming back home from Thailand with great memories and more and more people come to visit Thailand. However, no matter where you travel, it is always advised that you be vigilant during your travel.
The people of "the land of smile" can be so friendly and laid-back that some of foreign visitors are lulled into a dangerously false sense of security, making them vulnerable to scams of all kinds. Sometimes, visitors bargain with the tuk-tuk drivers and these seems you may get a very good price, but in fact they are getting ripped off. The drivers always take visitors to high-pressure sales situations at silk, jewelry or handicraft shops. Disregard all sightseeing help from strangers and offers from free shopping. These are scams that commission will be taken from your purchases.
Although Thailand is country that believes in Buddhism we advise that you have to be vigilant when it comes to your personal belongs. Ensure your room is securely locked and carry your most important articles (money, credit cards, passport, etc.) on your person. Keep the important articles on your person when you are travelling as well.
Assault of a foreign traveler is relatively rare in Thailand, but it does happen. Avoid making a Thai 'lose face' as it will result in an explicably strong and violent reaction.
Overall, when you are considering about travel to Thailand, do not think too much about the above because you might meet those in every city in the world. The above is only remind you be careful. Think more about the astonished views, beaches, breath-taking jungles, delicious food and the friendly of the people. Make this a great vacation in Thailand.
When is the best time to visit Thailand?
Located in the tropics, Thailand embraces the tropical monsoon climate. It is hot all year round and the temperature difference is not big annually. It can be called "four seasons like summer." The best time to visit Thailand is in dry and cool season from November to February, followed by February and October. From November to February is the cool season in Thailand. The average temperature is around 19℃-26 ℃ which is the most comfortable season for visitor. For example, in Bangkok, December is the most comfortable period. The average monthly temperature is around 17 ℃ but the April and May are the most intolerable season and the average monthly temperature as high as 38 ℃ which is called hot season. The raining season is from June to October, and 85% of the annual rainfall is concentrated in this season. The average monthly temperature is about 27 or 28 ℃. Although it rains a lot, visitors will also enjoy days of sunshine and it is the season for fruit harvest. Read more about traveling to central Thailand for the first time.
In the south of Thailand, the weather differs between the eastern and western coasts. The west coast is more popular during the cool season. The famous Phuket island is just on the west coast. Diving and snorkeling will be very good choice if you go there in this season. The weather on the east coast is good for most of the year, with the lowest rainfall in January and February and highest in November. See more on how to plan my first trip to Southern Thailand
Where to go and what to see
Thailand can be divided into three main regions for visitors: Bangkok in the Central Plains is a gateway; Northern Thailand is for elephants and culture; and the great beaches are in the south. A cultural trip in Thailand, you must head to the north of the country like Chiang Mai, Chiang Rai, Pai, Sukhothai and Ayutthaya, etc. For a natural and adventure tour, Chiang Mai again is a very good choice. The islands in the south are amazing, the beautiful beaches, stunning sunsets and the fantastic landscapes. It says that there is not a trip can be completed without spending some time in the islands.
Bangkok and the nearby areas
The gateway for visitor to come to the country and also the place for delicious Thai food, historical culture and local life experience. You can click here and lean more about ultimate Bangkok travel guide - when, where to stay, cost & things to do.
When you are in Bangkok, never miss visiting temples like the Grand Palace, Wat Pkaew (Temple of the Emerald Buddha), and the Wat Arun (Temple of Dawn). You must try the local food in China Town, check out the famous floating market and experience the city's transportation system as BTS sky train, tuk-tuk and ferries. Take day tours to Ayutthaya and River Kwai in Kanchanaburi are definitely valuable.
Ayutthaya
It is a hidden archaeological gem, brimming with Buddhist temples, monasteries and ancient statues of monumental proportions. It is only a two-hour train ride north of Bangkok. It is a place to enjoy culture and the ancient temple ruins. Read more: Travelling to Ayutthaya for the first time.
If are interested in the culture in Bangkok, Ayutthaya and more cities in the central Thailand, then here are the guides for you: Traveling to central Thailand for the first time.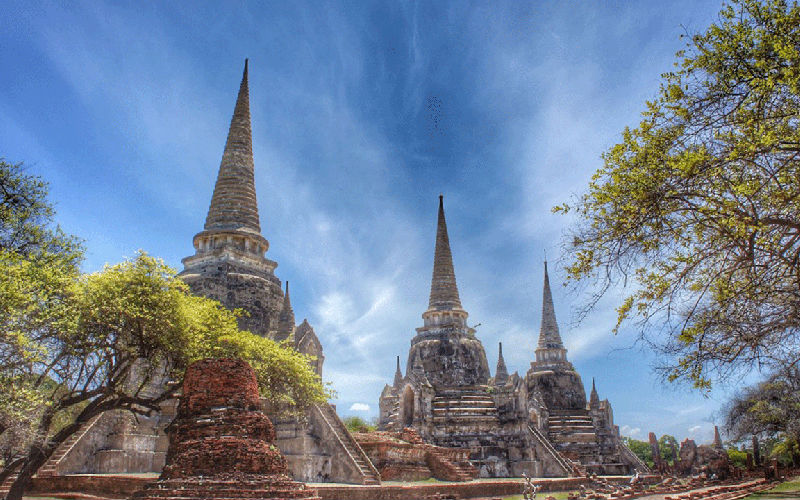 Chiang Mai
The northern capital of Thailand and it is a favorite for lots of visitors. The rugged mountains, wildlife, lush rainforests and minorities in the mountain tribes are deeply attracting travelers. Delicious food, outdoor markets, Lanna culture, and cheap Thai massage/Thai SPA are the great reasons to attract visitor to Chiang Mai. Activities in Doi Suthep-Pui National Park and Doi Inthanon National Park, getting close to elephant in Elephant Nature Park, attending cooking classes will make your trip to Chiang Mai unforgettable. Read more: Best guides for traveling to Chiang Mai for the first time.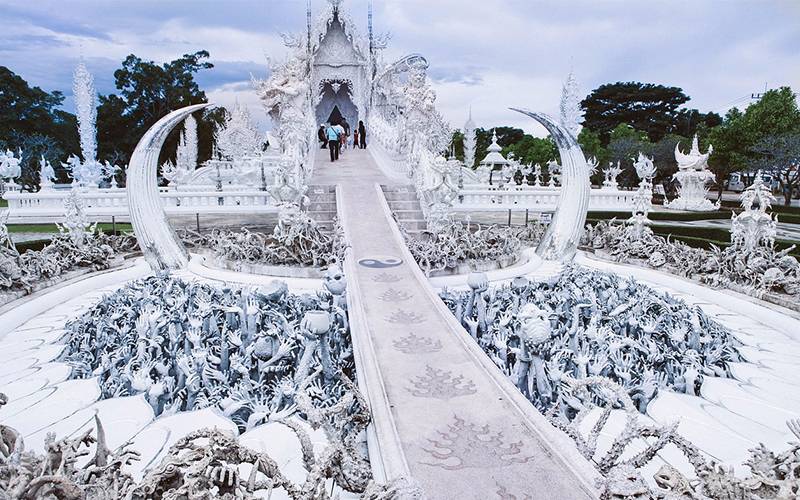 Chiang Rai
It is an ideal extension for your visit to Chiang Mai. Take a day trip to Chiang Rai to visit the White Temple (Wat Rong Khun) and Black House (Baan Dam Museum), Queen Sirikit Botanic Garden, Doi Mae Salong near the border with Myanmar and trekking in the hills are quick popular. More on: Travelling to Chiang Rai for the first time.
Pai
Located to the north of Chiang Mai and surrounded by green hills, it takes about 4 hours by car to go to Pai from Chiang Mai. Pai has turned to a major tourist destination from a quiet small town, "hippie" village in recent years. Pai has her charm of organic farms, food, surprisingly good nightlife. Yoga, holistic and healthy workshops are also great reasons for you to visit. More on: Traveling to Pai for the first time.
The northern Thailand is prepared for nature and adverture lovers! Read for more information: Traveling to northern Thailand for the first time.
The Thai Islands
No Thailand vacation can be completed without visiting at least one of the wonderful islands. Phuket is the busiest island on the western coast while Ko Samui, Ko Tao and Ko Pha-Ngan in eastern coast are very famous. First time travelling to Phuket? Here are the most completed Phuket guides for You. Or if you want to deep explore southern Thailand, read this: Traveling to southern Thailand for the first time.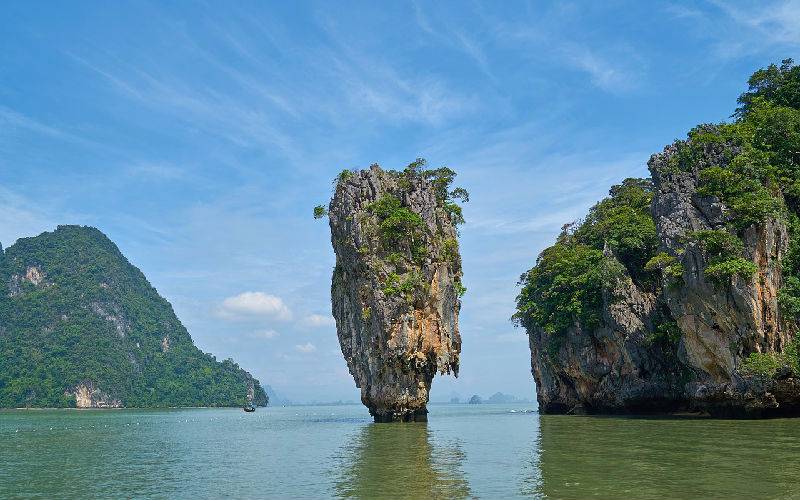 How long to stay in Thailand?
For most of people, the vacation is always a short time, so when you are planning a trip to Thailand time seems quite valuable. It must take about 4 weeks to see all of Thailand, but if you only have 2 weeks or less we would advise you to stick to a certain area or choose two or three places you want go most otherwise you will be exhausted after the trip.
Please check out Thailand Tours here and look for our popular itineraries and send us an enquire we will created a unique trip for you based on your particular tastes and interests. Here are our best itineraries. Over 92% clients chose one of them for inspiraions and book with us!
How much does it cost for a Thailand trip?
Thailand is super affordable destination and this is one of the reasons why lots of people choose to take a trip to Thailand. From cheap home-stay to top class resorts, Thailand has them all. The price levels do not differ so much in different places even at the expensive places as Phuket or Koh Samui you will find plenty budget options. So a private guided tour is quite value for money when comparing with other countries even the neighbor countries.
Please check out some ideas of Thailand private tours which can help in planning your trip to Thailand or and send us an enquire we will created a unique private trip for you based on your particular tastes and interests.
How to get to Thailand and get around?
The capital city of Thailand is the biggest and busiest transportation hub in Thailand. There are many direct flights are operated between Bangkok and major cities in Europe and Oceania. It takes about 11 or 12 hours flying from London, Paris and Frankfurt; about 9 or 10 hours from Australia; and about 12 hours from New Zealand. Read more about Thailand airport on: All You Need to Know about Thailand Airports.
To get around Thailand is easy and comfortable and there are lots of choice: flight, train, bus, tuk-tuk, ferry etc. More on: Public transport in Thailand - buses, trains, Tuk Tuk, airplane.
How to choose hotels in Thailand?
Thailand has no formal criteria for hotel ranking. UME Travel distinguish the hotels and hand-picked some for your reference:
Deluxe 5 star and up
most of them are international chains and some domestic chains. The price of them are more than US$250/room/night. For example: Anantara Siam Bangkok Hotel.
Standard 5 star
They are mostly boutique hotels or domestic/international 5 star hotels, such as: Chatrium Hotel Riverside Bangkok. The price is between US$140-200.
Comfortable 4 star
mostly mid-range comfortable hotels. The price is between US$100-130, such as: Grand Sukhumvit Hotel Bangkok
Economic 3 star
mostly economic business hotels. The price is between US$50-70, such as: Ibis Bangkok Riverside.
Do I need vaccinations for Thailand?
There is not a specific vaccination required for Thailand, however, we suggest you get general ones such as Hepatitis A and B, typhoid and a Tdap (for tetanus) are the most common jabs international travelers go for. All of those will provide very good protection for you. You do not need rabies, yellow fever, or Japanese encephalitis vaccinations. Anti-malarial drugs are also not necessary for Thailand if you are not spending a lots of time in the jungle.
Dengue fever is the biggest risk. You'd better defense to do what you can do to avoid mosquito bites before new effective vaccination being tested and become available widely.
Now, you can see there is not a simple answer to how to plan a trip to Thailand. But after reading the above, you at least know where to start. When do you want to go, where do you want to go, how long will you stay and how to get there… remember send us an enquire one of our specialist will helping you in planning.