Thailand Transportation: How to Get in And Get Around Thailand
Last Updated: November 27,2018
The apparent of Thailand's transportation is very chaotic and disorder but acutely, it has its own order. Thanks for the development of the tourism industry, the transportation has developed greatly along with. Nowadays, the transport network in Thailand is quite dense and can take you almost anywhere even remote tribes in the country at least by bus. Bus is most popular public transportation means and most used by Thai people. It is quite affordable and it can take you easily to travel between different parts of the country. There are many mini-van companies as well. The trains serve the main points but not all major cities. For example, there are no train to Phuket, one of the most popular tourism island. You have to fly into or take a bus for about 9 hours to go instead. You can choose to take ferries or boats to some other Thai islands. There are twenty towns in Thailand have an airport with at least one connection to Bangkok. Motorbikes and bicycles are the main transportations means in rural areas and generally used for short distances. Tuk-tuks and colorful taxis are famous in Bangkok, besides those, there are several public transport: metro, buses, skytrain, Chao Phraya Express boat.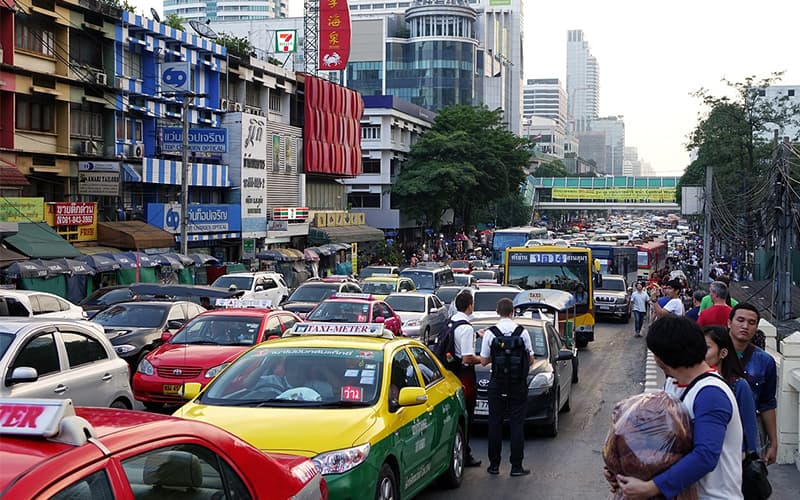 Buses
Bus is the most used transportation means by Thai people in Thailand. There are two kinds of buses run in Thailand. One is air-conditioned, the other is non-air conditioned bus. The non-air conditioned buses are operated by the government. They are cheaper and slower. The air-conditioned ones run by government as well as private companies. They are more comfortable, faster and price is higher. There are some long distance buses called "VIP" or "sleeper" bus. They only have 30-40 seats and have more legroom for the passengers.
Bus can take you to almost anywhere you want to go in this country. The price is very cheap especially for the government-run non-air conditioned ones. The VIP Buses is more expensive than normal buses but they offer more comfortable seat, one or more meals and a bottle of water. Sometimes, TV shows or movies are broadcasted on board, but only in Thai. There is no luggage limitation for the bus and there is not an extra charge to extra weight. If you will visit an island, you also can choose a bus+ ferry ticket. Each city has its own bus terminals. You can go directly to the terminals to buy the tickets where you can compare the price of tickets from deferent companies or find the schedule that most suitable to you. There are three major bus terminals in Bangkok and each has its own region destinations. Mochit, the largest terminal in Bangkok, offers most departures to the north of Thailand. Ekkamai offers buses to the east places of the country and Sai Tai Mai offers departures to the south. Mochi is nearby Chatuchak Weekend Market which is about half hour to go from downtown by car. The others are also located not near from the downtown and you have to take a taxi, tuk tuk or songthaew to reacn them.
There are direct international buses to Siem Reap, the nearest city of Angkor Wat and Phnom Penh in Cambodia from Bus Terminal-Mochit. When crossing the border of the two countries, you need get off the bus and get your visa by yourself then climb back into the bus and continue your journey. The fastest bus takes around 9 hours from Bangkok to Siem Reap. The number of seats is limited so it is better to book in advance.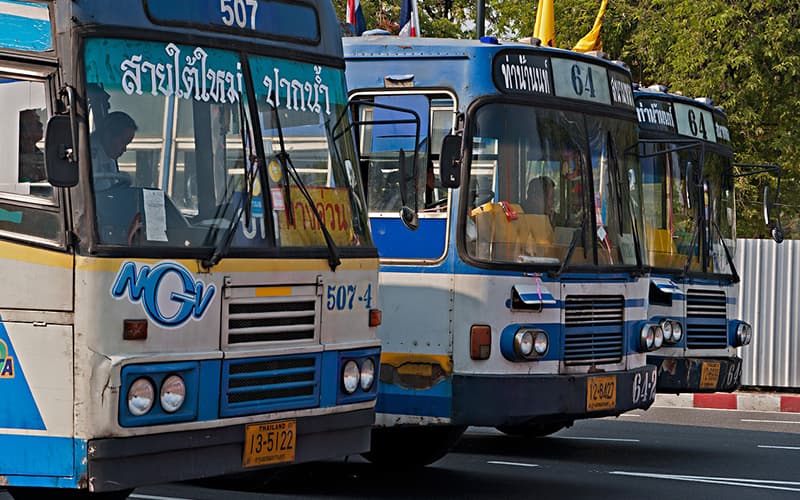 Taxis
Taking a taxi is convenient and not expensive way to get around in Bangkok. They are in very bright and various colors so they are easily recoginized. The cost of taking a Taxi is much cheaper than that in the west. It starts at 35 Baht and thereafter 2 Baht for the first 2km and then 2 Baht per km after that. Bangkok is one of the most visited city in the world so in consequence, it has one of the largest proportions of taxis to people in the world. Thanks to more and more tourists the most taxis run meters now but there are still some drivers do not use meter. Once you find the driver does not use meter, you can refuse to get on or ask him to use meter. Tuk tuks and motorbike taxis are available as well, and they are even cheaper, however they are less comfortable and safe. Taxis with air-condition can make you cool for a while from the ridicules heat of Bangkok.
There are not as many as taxis you can find in Bangkok in the other cities and towns of Thailand and there is usually no meter system which means the taxi driver can rip you off easily but the demand for them is very high as there is not so many taxis.
Motorbike Taxis
Motorbike Taxis can be found in most of cities as well as in small towns in Thailand. People use them for short distiance transport as they are cheap and convenient. But it is not a good ideal to ride on it with a lot of luggage and it is not convenient in a raining date. However, one of the great thing about the motorbike taxi is that it can carry two passagers on the back and it dose not cost much more. The standard price for the motorbike taxi can be anywhere between 20-100 Baht depending on distance you will go. So, this is probably the best transport for everyday backpackers. Please do remember to ask the drivers for helmet as they have but do not offer automatically. The motorbike drivers are easily recognizable with their orange vests.
Songthaew (Two Rows Van)
"Songthaew" means "two rows" in English. Songthaew is a basic transprotantion means in Thailand. You can find it everywhere and it is very cheap. It is a small pick-up trucks consisted of 2 rows of wooden benches at the back which can take about 10 passengers. Some people say there are not Songthaews in the big cities like Bangkok. That is not correct. If you want to travel like a local, you will find it. It is not appearing on the main road but it runs very small streets in the city and no matter where you will go, the price is always 7 Baht.
In Chiang Mai and other coast cities like Pattaya, Hua Hin, and Koh Samui etc. the Songthaew is the main transportation means. In Chiang Mai, there are two kinds of Songthaew. One is in yellow which has the fixed line, the other is in red which has not fixed line. They are on call-stop. The cost of it in the old town of Chiang Mai is about 30 Baht but if you want to take it to a long distance such as to Chiang Mai university it will cost 40 Baht or more. In Hua Hin, the Songthaew is in green. It runs south to north of the city and cost from 15-25 Baht. In Pattaya, it runs along the coast and so does it in Samui.
Tuk Tuks
The Tuk Tuks probably is the best known indigenous transportation means in Thailand. It is an open air 3-wheeled vehicle used for short distances transfer in most cities and towns in Thailand. As it is pretty fun, and can take you to almost everywhere you want, it attracts lots of tourists. There are over 35,000 Tuk Tuks in Thailand and each can carry about 2-3 passengers. You should definitely have a try at least once on a Tuk Tuk as it will be a lifetime memory that you won't find back home. The rate of the Tuk Tuks is higher than the motorbike taxi or Songthaew as it is a quite popular to the tourists. The rates are usually from 80 to 150 Baht, but please remember to negotiate the price with the driver before getting inside. Tuk Tuks do not have seat belts, so hold on firmly.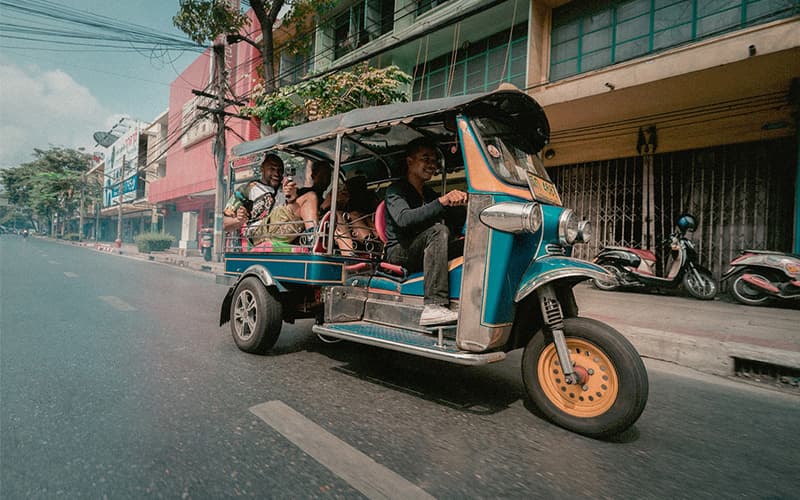 Western visitors may not be used to bargain with Tuk Tuks before getting in UME Travel have prepared some tours including the Tuk Tuk experience in Chiang Mai:
Chiang Rai- Chiang Mai Cultural and Natural Tour --- a 6-day Chiang Rai, Chiang Mai Tour
Trains
Thailand's railways provide reliable service with certainly the cheapest mean of transport throughout the country. The third class tickets are really cheap but it is very uncomfortable without air-condition. The second and first class options are much more comfortable and price is higher than the third class but it is still quite affordable. Some of trains are very slow at around 40 km/h in average what more the trains are always late. Nevertheless, if you have time travelling by train in Thailand is quite pleasant as you can enjoy the wonderful sights along the way slowly. The train network does not cover all of Thailand. For example, there are no train to Phuket, one of the most popular tourism island. Anyway, it is really a good choice for long distance journey by train especially for those who do not want to take airplane. Bangkok Hua Lamphong Railway Station is the center of all train travel in Thailand. The railway network is divided into four sections:
Eastern line: one line goes to the Cambodian border and continues to the Phnom Penh, the capital of Cambodia. The other lines go along the coast passing Pattaya for one train a day.

Southern line: it goes to Malaysia

Wesern line: it goes to Nam Tok

Northern line: it goes to Chiang Mai. The overnight train from Bangkok to Chinang Mai is very popular.
UME Travel has prepared some tours with train riding experience in Thailand:
Essential Thailand Tour --- a 9-day Bangkok, Chiang Mai, Phuket Tour
Bangkok BTS Skytrain & Metro
Due to the over-blocking traffic in Bangkok, the government has developed both underground and overground train network in the city. The underground Metro line was started to use in 2004 and the trains run to several neighborhoods in the city. The BTS Skytrain is the overground railway system consisted of the Silom Line and Sukhumvit Line. The Skytrain and Metro are linked so an elevated mass transit system with 32 stations throughout the city is formed. The skytrains are fast, easy and cheap and they run from 6.00am until midnight.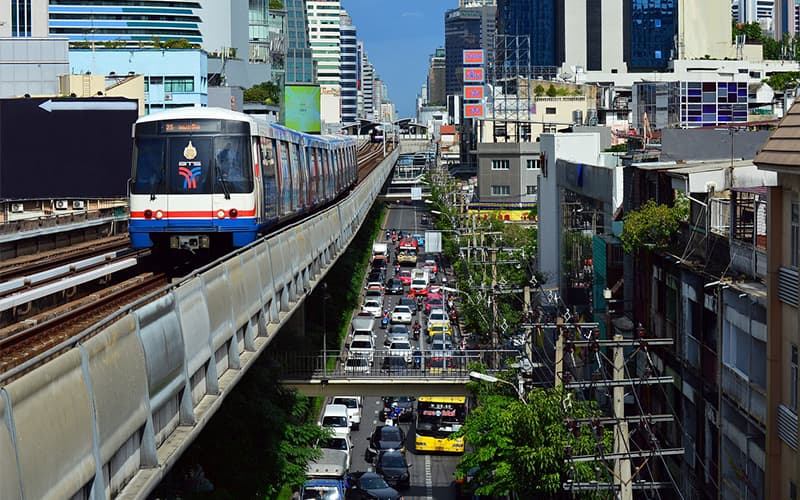 Air Travel
There are more than twenty towns in Thailand have airports, with 6 international airports and 23 domestic ones. Traveling by air is a popular and quickest way to get around in Thailand. It helps you to avoid long bus or train trips, but it is more expensive. Suvarnabhumi International Airport in Bangkok is the travel hub. There are also international flights in Chiang Mai in the north and Phuket in the south. Thanks to the competition among the five different domestic carries, the air fares for the domestic flights are quite reasonable. Although domestic air fare is considerably higher than trains and buses, air travel saves your time during your journey.
Boat and Ferry
Longtail Boat
The appearance of the Longtail Boat is long and thin propelled by a motor at back looking like a tail. That's why it is called Longtail boat. The boat offers transport the passengers and most of time they provide services for the tourists to take for a tour. For example, the longtail boats offer visiting in Damnoen Saduak Floating Market. They will take you to discover the area.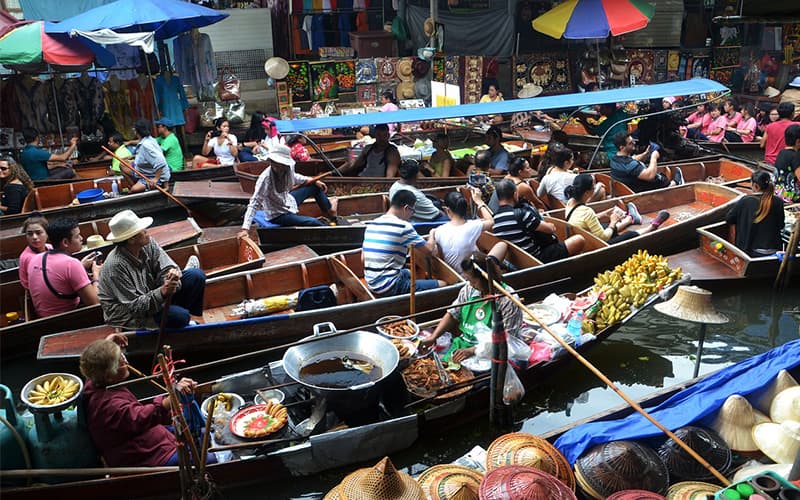 UME Travel has prepared some tours of taking longtail boat to discover the Damnoen Saduak Floating Market and shopping and bargaining like a local.
Essential Thailand Tour --- a 9-day Bangkok, Chiang Mai, Phuket Tour
Bangkok & Island Escape --- a 7-day Bangkok, Ayutthaya, Phuket Tour
Heart of Thailand --- a 6-day Bangkok, Kanchanaburi, Ayutthaya Tour
Best of Thailand Culture & Nature Tour--- a 14-day Bangkok, Ayutthaya, Chiang Rai, Chiang Mai, Phuket Tour