Thailand Food Tour Packages
Thailand Food Travel Guide
Complete Guide to a Thailand Food Tour | Destinations & Itinerary
Thai food
is famous throughout the world. Get a taste of
Thailand
as you eat your way around the country. Experience the fresh aromas and heavenly spices; enjoy authentic Thai delicacies such as spicy curry, historical dishes from the royal family, traditional Thai desserts, various herbal drinks and local fruit and more. Except these obvious delicacies, UME travel will take you to discover a Thai food world beyond obvious.
Top 10 Must-Try Thai Daily Dishes
To travel like local Thais, the first thing must be eating like Thais dos! Here are the top 10 common dishes that Thai people eat in their daily life, which you can easily find them selling at any corner in Thailand. Grab an opportunity to try some of these delicious cuisines when traveling to Thailand, you will definitely get a deeper understanding of Thailand through this authentic Thai Cuisine.
1.Thai Fried Rice (Khao Pad)
There are many types of fried rice in Thailand, the most common fried rice is Seafood Fried Rice, Chicken Fried Rice, Beef Fried Rice, and Pork Fried Rice, but there are some kinds of unique Thai taste fried rice you must not miss, Tom Yum Goong Fried Rice, and Pineapple Fried Rice with egg!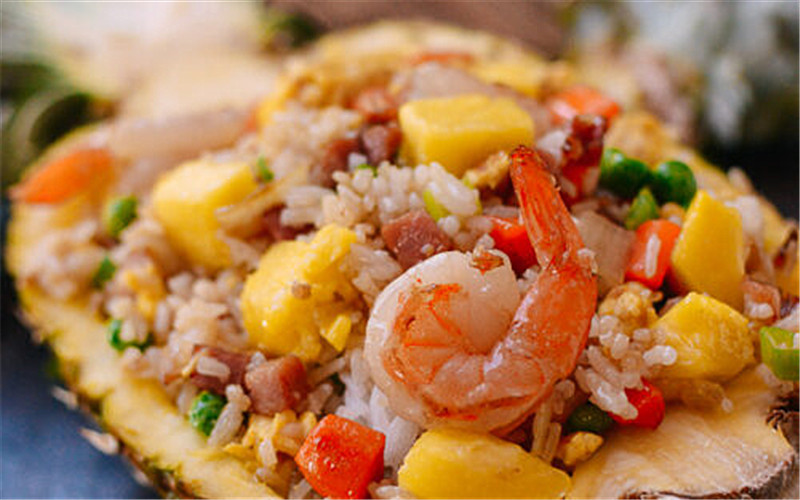 2. Stir-Fried Holy Basil with Minced Pork on Rice (Phat Kra Phrao Moo Sab Lad Khao)
Phat Kra Phrao Moo Sab Lad Khao consists of minced pork stir-fried with Thai holy basil and garlic, it is served with rice and topped up (optional) with fried eggs or Khai Dao. The main seasonings are soy sauce, Thai fish sauce, oyster sauce, cane sugar, and bird's eye chili. Except to order stir-fried basil with pork, there are many other menus that you can replace, such as chicken, beef, prawns, crispy pork belly, mushrooms or seafood, etc.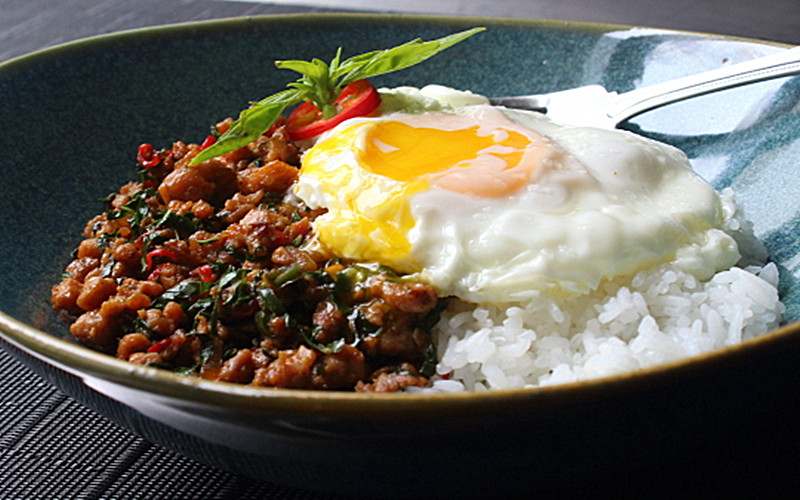 3. Fine Shrimp Sauce with Water Spinach on Rice (Pak Bung Fai Daeng Lad Khao)
Pad Pak Bung Fai Daeng is a very traditional and popular vegetable stir fry found in Thailand and the surrounding countries. It is one of the most common food that you can find anywhere in Thailand, almost every Thai people will order it for every meal.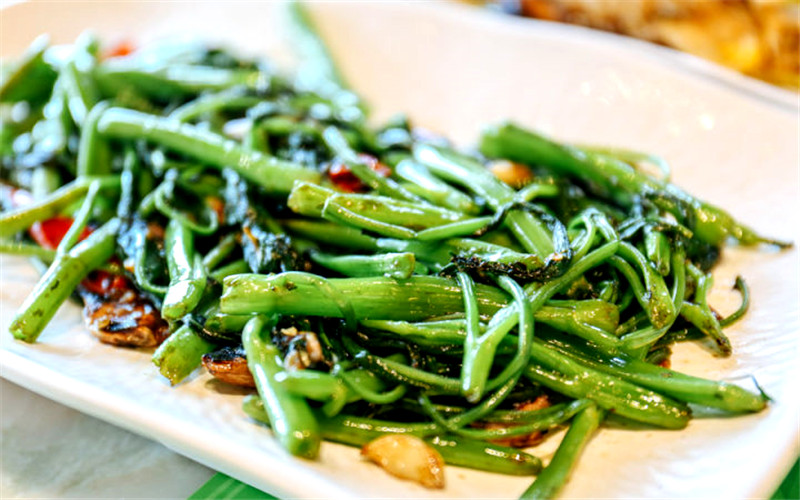 4. Thai Style Braised Pork Leg on Rice (Khao Kha Moo)
Khao Kha Moo is also one of the most famous and popular foods in Thailand, and one that you will almost never find outside of Thailand. There are different variations of the same dish, but the essential ingredient is pork leg boiled in water which is seasoned for hours until tender and then served over rice accompanied by an egg which has been cooked in the same water as the pork.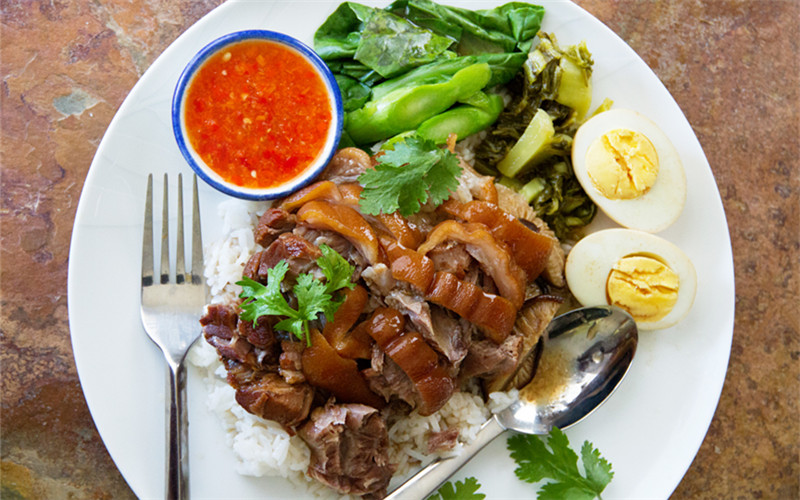 5. Thai Hainanese Chicken Rice (Khao Man Gai)
Khao Man Gai is extremely popular throughout Southeast Asia. In Thailand, it is a Thai variation of Hainanese chicken rice, which is a relatively simple tasting dish, nothing is too strong in flavor or spice (apart from the sauce). It's always a comforting dish and is eaten at makeshift street food stalls and shophouse restaurants, you can't walk more than a few blocks without finding a chicken rice cart or restaurant throughout Thailand, specifically in Bangkok! And it's always extremely common for takeaway, where it's wrapped up in a piece of paper to-go.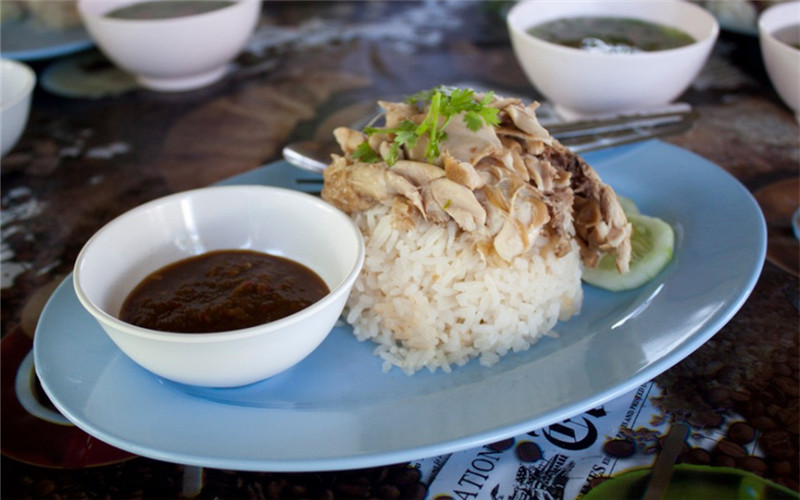 6. Spicy Prawn Soup (Tom Yum Goong)
Tom Yum Goong is arguably the flavor that best represents Thailand and is the most famous soup in Thailand. Usually, a variation of lemongrass, galangal, and kaffir lime leaves, as well as other herbs, form the soup base. Depending on how each chef cooks it, a selection of seafood will also be mixed in, but the common ingredient is most definitely shrimp.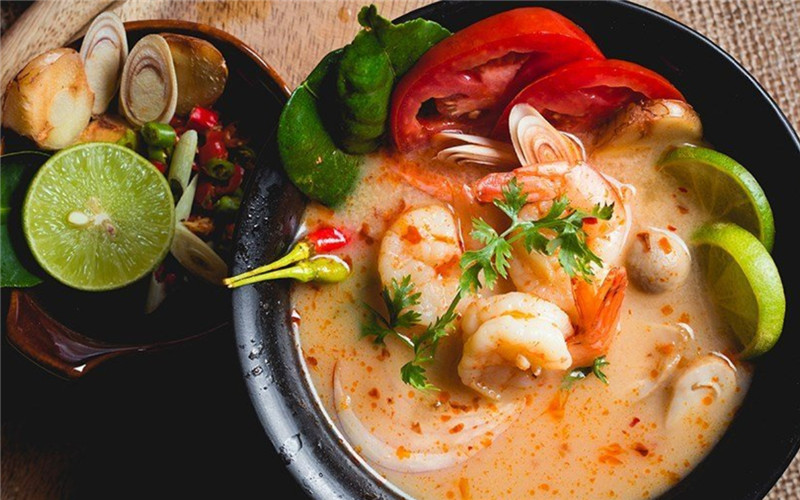 7. Thai Stir-Fried Rice Noodles (Phad Thai)
Pad Thai is Thailand's national dish, a flavorful stir-fry dish consisting of rice noodles, tofu, dried shrimp, bean sprouts, and eggs. If it's made with meat, chicken and pork are some of the most popular choices. The flavors are an intricate combination of sweet, sour, and salty, with a well-balanced contrast of textures.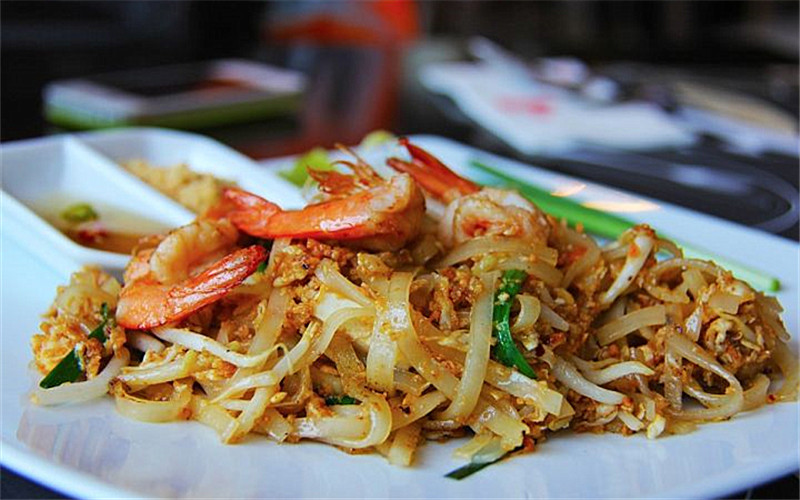 8. Thai Sweet and Sour Chicken (Pad Priew Whan Gai)
Sweet and Sour Chicken is influenced by China and Western Europe, but its taste is adapted to Thai tastes. The dish is popular in Thailand and the pork can be replaced by pork, prawns, fish, or beef.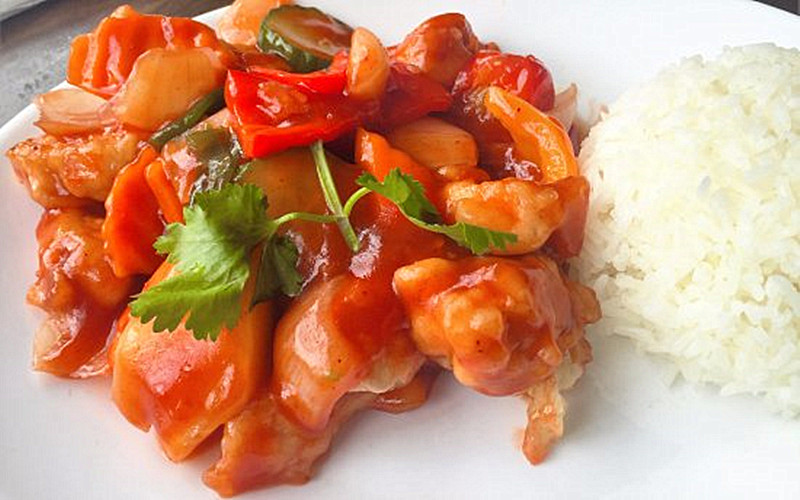 9. Thai-Style Omelet with rice (Khao Khai Chiao)
Khao Khai Chiao is a staple of Thai cuisine, found in the repertoire of every home cook and in menus everywhere from street food hawkers to restaurants. This Thai-style omelet is traditionally served over rice. It consists of eggs, fish sauce, a splash of lemon juice or vinegar, etc. When you order it at a street food stall, you can also choose several ingredients to mix with the eggs, such as sliced sausage, corn niblet, onion, tomato, etc, the mixture will be cooked in vegetable oil until slightly brown. Khai Chiao may be served with various toppings, while chili sauce and cucumbers are traditionally served on the side.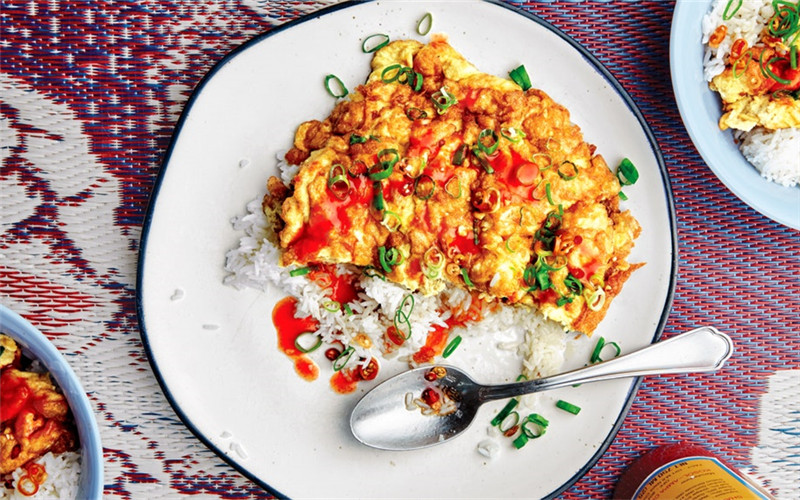 10. Thai Clear Noodle Soup with Pork (Kuey Teow Mu Nam Sai)
There are many kinds of noodle soup selling around Thailand. The most common and basic one must be Kuey Teow Mu Nam Sai, but don't be misled with the word basic as this dish packs a lot of flavors. Just the soup alone is enough to make you crave more and the key for making its soup taste really good are pork bones, radish, and spices. The piping hot soup is then poured into a bowl with rice noodles, minced meat, pork balls, and an assortment of vegetables such as bean sprouts and kailan. It is simple, it is light, it is a complete meal, it is delicious, the mixture of flavors and aroma is simply phenomenal.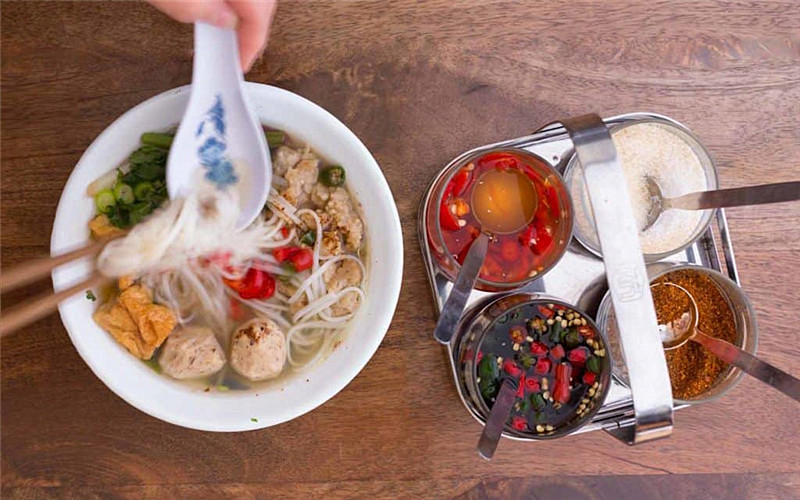 Q&A
What's a food tour or culinary tour in Thailand?
A food tour is a guided tour by one area where you can experience 3-6 stops for tasting. For a longer food package tour through Thailand, you will explore Bangkok, Chiang Mai, and Phuket, etc through food and cooking classes, local market exploration, and fabulous dining experiences. End with relaxation and fresh seafood on Thailand's beaches. Through a Thailand food tour, you will enjoy exotic food and the history, culture of Thailand at the same time.
Can I get a vegetarian food tour in Thailand?
Thai food or Thai cuisine can easily be vegetarian like many other Asian dishes. Most of the dishes are based on carbohydrates: rice and noodles-with a large number of vegetables, no butter, cheese, or milk. Meat is just a small part of the dish, so it doesn't change much of the taste and dining experience even if makes some substitutions.
The only problem is to arrange a vegetarian-centered tour. Group tours rarely take care of this special requirement. Hence, It's required to tailor-made vegetarian travel in Thailand. Thai food cooking class for vegetarian is available in Bangkok and Chiang Mai. Street vegetarian food wondering is also available in a private tour.
What if I have food allergies?
Most Thai dishes do not include peanuts but crushed peanuts do pop up from time to time. Something like fish sauce or seafood products which in normal Thai cuisine may also results in allergy. Do let's know your dietary and more complex restrictions when booking, and we'll do our best to meet your needs.
Start planning your tailor-made holiday by ​contacting one of our specialists...
Monica

Steven

Natasha

Dan