Thailand Family Tour Packages
Thailand Family Travel Guide
Things you need to know to plan a perfect family tour in Thailand.
Complete Guide to a Thailand Family Tour | Destinations & Itinerary
Thailand is a dazzling hotspot for family travel especially for young travelers to experience. Soaking in the rich Thai cultures, this is an ideal setting for eye-opening adventures for all ages. Friendly people, variety of activities, gentle weather, safe society, nice hotels, and convenient equipment, all makes the Land of Smiles a hot family-getaway destination.
Best time for Family Tours in Thailand
It has been said that there are only three seasons in Thailand: hot season, hotter season, and hottest season, but it is just a joke as there's no distinguished weather in Thailand expect the hot weather. Normally, there are three seasons in Central & Northern Thailand: hot season, cool season, and wet season, and there are only two monsoon seasons in Southern Thailand.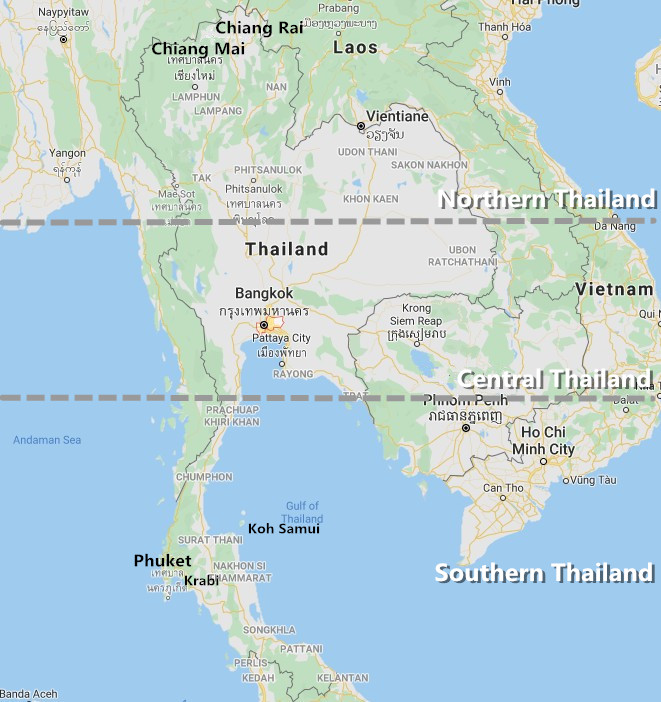 (Map source: google map)
If you are planning a family tour to Thailand, you may need to know the weather details as follow:
Central & Northern Thailand (Main cities: Bangkok, Chiang Mai, Chiang Rai)
Hot season (March-May): This is the hottest period in Thailand, but it is not a big problem for you to plan a family tour. No matter walking in the stores, sitting in the restaurant, or the transportation, the air conditions are always kept on high. You won't feel too hot when you shuttle between these locations, you may even want to wear a sweater to keep you warm in the air-conditioned places. 13th April will be the traditional Thai New year (or Songkran Festival, or Water Splashing Festival), it may be a good idea to plan your family tour in April.

Wet season (May-October): This season coincides with Thailand's off-season for tourism because of the 85% rainfall. But don't worry about the rainy days, because it is usually just a few hours of heavy downpouring and not all-day raining. For families who consider reducing the budget and prefer a less crowded tourism spot, you may like to visit Thailand during this season.

Cool season (November-February): This season coincides with Thailand's peak tourist season. The weather in central & northern Thailand will be relatively cooler than usual, especially in northern Thailand. Local Thai people always like to visit the northern part to enjoy the rare cool weather. Many tourists will also choose to visit Thailand in this season, and it will also be the most expensive period during a year. If you want a budget family tour, you may consider avoiding these four months.
Southern Thailand (Main Cities: Phuket, Krabi, Koh Samui)
The weather in Southern Thailand is hot all year round, and there are two kinds of weather only, rain or no rain. Here we can divide the monsoons or rainy seasons into two parts Southwest and Northeast.
Southwest (April - October): Phuket, Krabi, Koh Lanta, Khao Lak, Koh Phi Phi are the most popular destinations in this region. It will usually start raining from mid-April to October. The wettest months are May, September, and October, but the island would rarely get continuous days of heavy rainfall. Normally, if you plan a family trip to southwest Thailand, it is not a big problem traveling in monsoons season, but sometimes boat cruise may be stopped when waves are too big.

Northeast (September - December): Koh Samui, Koh Phangan, and Koh Tao are a triad of popular islands off the coast of Surat Thani in the Gulf of Thailand. The monsoon season doesn't hit Koh Samui until later in the year, with the rains arriving from September to December with peaks in November and trailing off during the start of the new year. But, like the Andaman Coast destinations, it remains hot and mostly humid throughout the year.
Activities for Thailand Family Tours
A family tour with children of different ages may focus on different levels of activities. Here are some activities split into guideline age groups we would recommend to you. It might give you some ideas about what you can enjoy with your children during your Thailand trip.


High-Schoolers (11+ years old)
Light Adventure Activities & Culture Learning
Heritage cycling

Be a little Thai chef

Segway ancient temples exploration

Khao Sok adventure
1. Heritage cycling
City: Bangkok, Ayutthaya, Chiang Mai Duration: 3 hours
Select an appropriate bicycle according to your preference (we have all kinds which can suit each member of your family). Our guide will escort you to explore the bustling everyday life of the city's old center. Through narrow alleyways and winding pathways best accessed through two-wheel transport, you will pass local markets, old temples, and a vast array of unique "street life". Such a wonderful way to let your family experience a real Bangkok.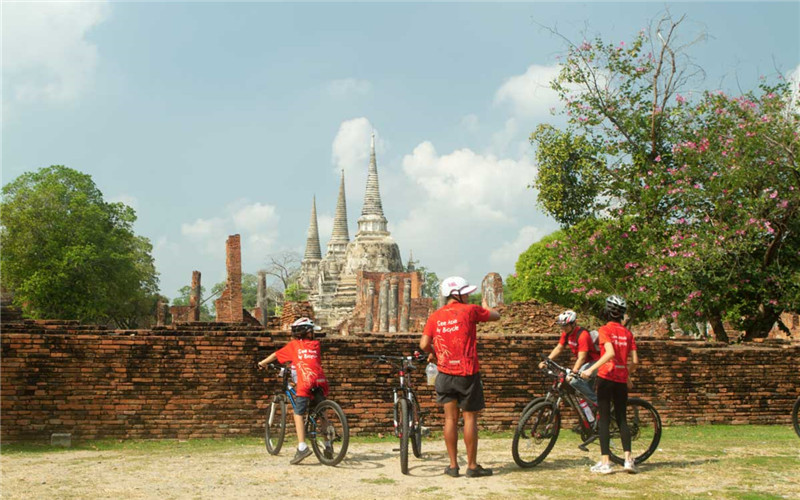 Tour package recommend: 5 days Explore Hidden Bangkok by Bike
2. Be a little Thai chef one day - learn to cook authentic Thai food
City: Bangkok, Chiang Mai, Phuket Duration: 4 hours
Slow down your pace to spend a day with your family emerging on authentic Thai cooking. Our instructor will take you to a local market sightseeing to absorb exotic local fresh fruits and vegetables. There is always an abundance of new things to see. At the Thai Cooking School, you will take part in a warm, open, and interactive cooking session during which the instructor demonstrates and explains the unique narrative of each Thai dish. Next, it's your family time! You will help each other to cook your Thai food and sample your creation for either lunch or dinner. A real hands-on experience...you will be amazed at what you can cook!!!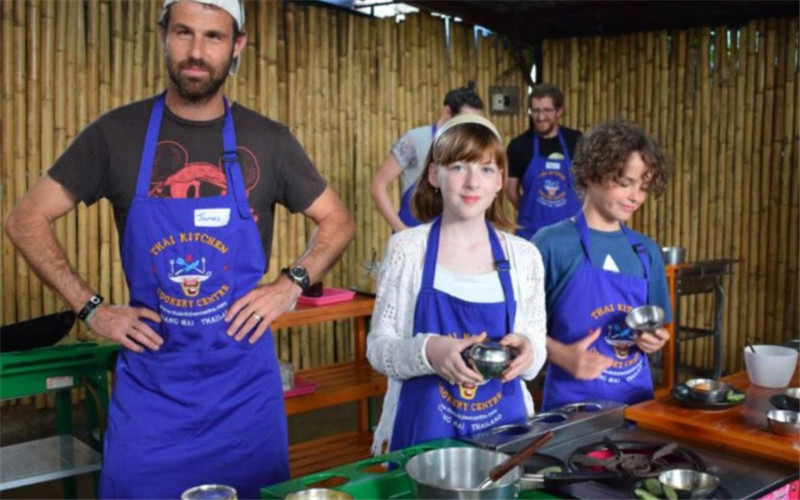 Tour package recommend: 14 days Best of Thailand Culture & Nature Tour
3. Family-friendly adventurous activities in Khao Sok
City: Khao Sok Duration: 1 day, or 2 days 1 night, or 3 days 2 nights
Far removed from the hustle and bustle, Khao Sok hosts an array of elements that create an untouched wonderland waiting for all the family to explore. When you wake up in a unique floating bungalow, or a fantastic treehouse, or a luxury rain forest camp, you will find a new morning with varieties of wildlife animals and birds that sing along within the fresh surroundings. There's plenty of activities here in Khao Sok for your family, Bamboo rafting, jungle trekking, cave exploring, canoeing, wildlife tracking…your child will love here!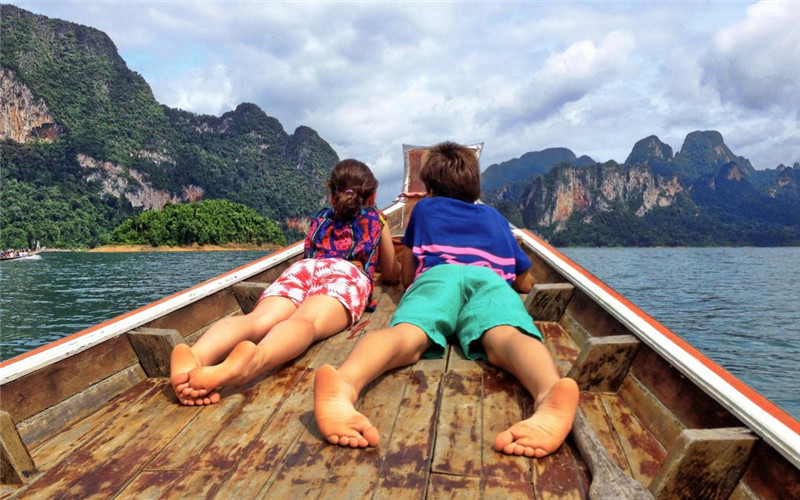 4. A mixture of culture and light adventure - Chiang Mai Old Temples Segway Experience!
City: Chiang Mai Duration: 2 hours
To add some light adventure to your family tour while learning the most authentic Northern culture, our certified guides will take you and your family go through the city safely from the vantage and comfort of a Segway - the best way to experience Chiang Mai city. Our guide will not only keep you safe but also educate you on the history of this old city. During the tour, you will also get the opportunity to try a delicious local snack and drink at a favorite old city café are include. Family photo opportunities abound! (Segway suitable for over 10 years of age.)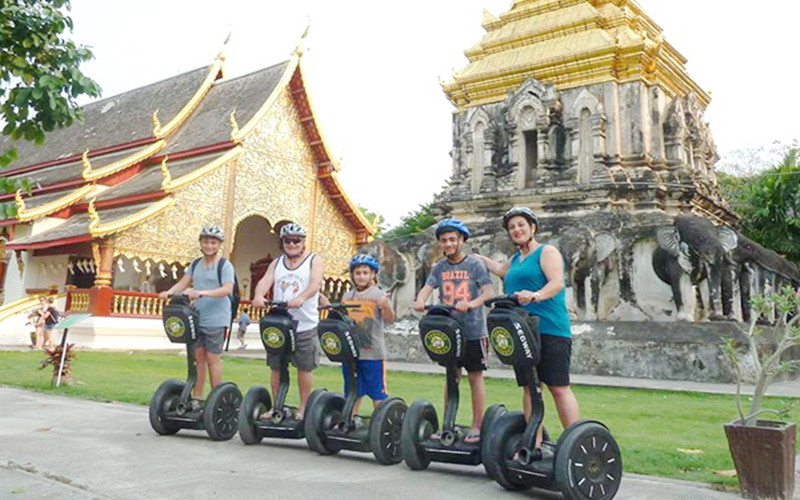 Junior-Schoolers (6-10 years old)
Exhausting activity & Curiosity Development
Great fun with kids Zipline

Swim by waterfalls in Erawan National Park

Release the curiosity on an overnight train

Take a photo with tigers cub
1. Flying through the jungle on Ziplines
City: Chonburi, Chiang Mai, Phuket, Koh Samui Duration: 2-3 hours
There're many things to do in Thailand with kids, going on a zipline tour may be the most popular. We believe that children need to overcome their fears on their own, activities like ziplining are perfect for this. Some jumps are pretty high, but between the guide's joking the children will be brave and finally overcome the difficulties, they will feel as if they've faced danger and survived.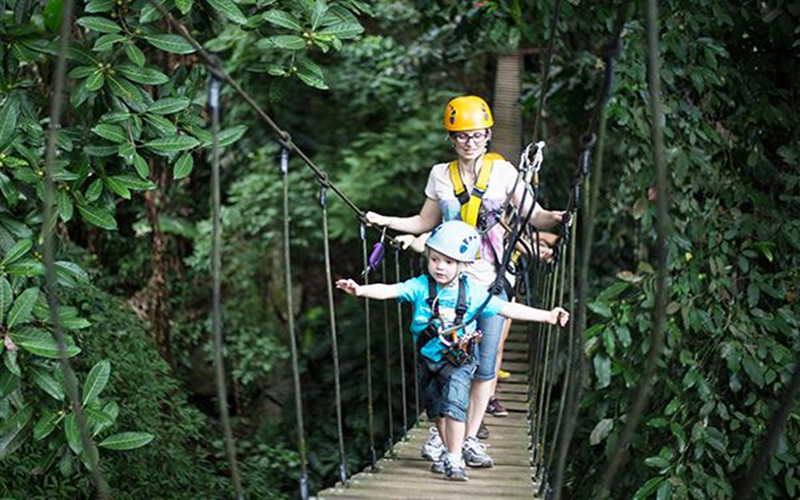 Note: Ziplining is suitable and safe for all ages ranging from children to senior citizens. No special training is required and guests are looked after by our highly trained Sky Rangers.
We regularly have children as young as 5 years old and adults up to 80. There are two rules:
1) Guests must be a minimum height of 1 meter (3ft 3in) to ensure the harness fits securely.
2) The maximum permissible weight of individuals is 120kg (264lbs) although the equipment is designed to take a much greater weight.
2. Swim by waterfalls in Erawan National Park
City: Kanchanaburi Duration: 1 day
Erawan National Park is famed for its cascade down 7 tiers waterfalls. Swimming in its lowest and turquoise pools will be great fun for the family. Except for the waterfall, the park is also packed with some caves to explore and wildlife to spot – birdlife, muntjac, wild elephants, and more. A family trip to this unspoiled national park will be a wonderful choice!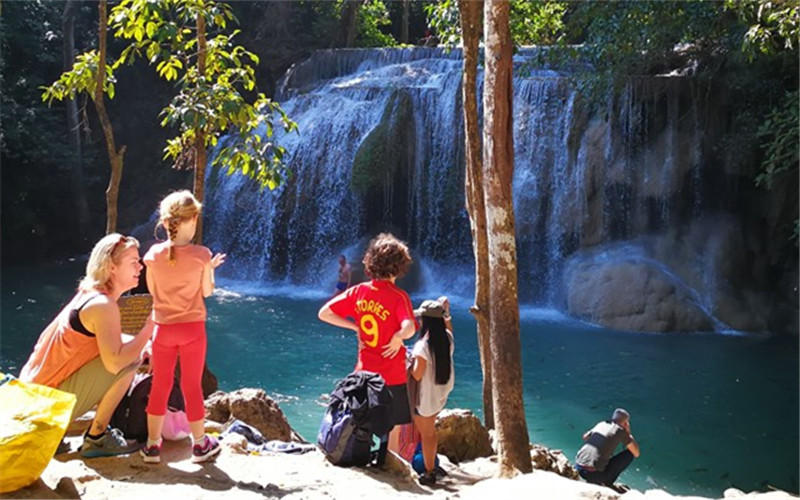 3. Be like a Thai Child on an overnight train
City: Bangkok, Ayutthaya, Chiang Mai, Suratthani Duration: 14 hours
The best way to travel like a local is to take an overnight train to Chiang Mai. Especially for a family trip, it is comfortable, safe, cheap, and can help your family to control the budget by saving one-night accommodation and one domestic flight. Taking an overnight train may be a little tired, but it will also help the kids to release their curiosity.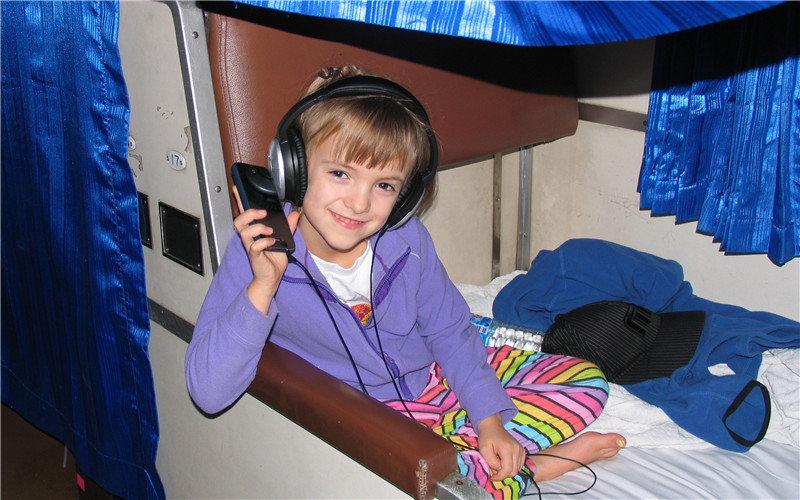 4. Get a chance to interact with infant tigers
City: Pattaya, Chiang Mai, Phuket Duration: 4 hours
Getting a thrilling unforgettable encounter with the tigers may be an exciting thing for your family. You can take memorable photos with the tiger cub, baby crocodile, and various other kinds of animals, get close to feeding camels, deer, wallabies, elephants, etc. Witness the kind-hearted pig feeding the tiger clubs with her milk along with the piglets.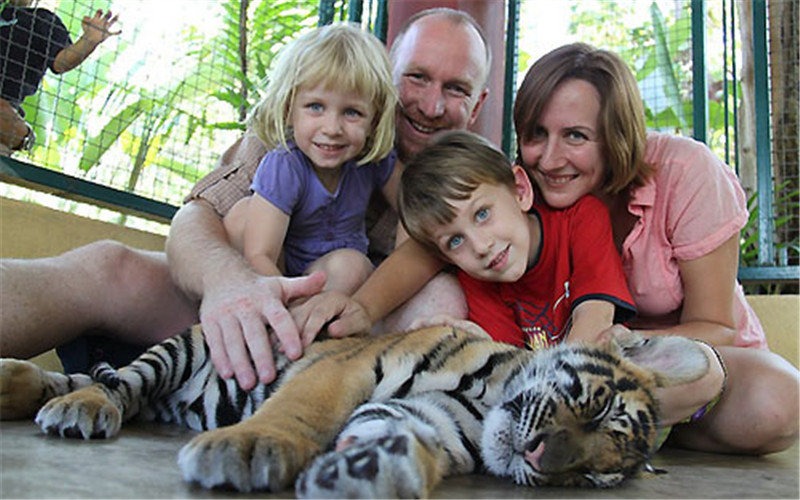 Pre-Schoolers (3-5 years old)
Slow Pace & Meeting Wild Life & Participation
Visit Thailand's famous & Iconic animal park

Have fun in the water park

Be a little elephant volunteer

Visit Sea Life in an aquarium
1. Visit Thailand's Famous & Iconic Animal Park
City: Bangkok, Chiang Mai Duration: 1 day
Explore Thailand's open-air zoo and leisure park with your family where offers thrilling animal experiences for both young and old. Several exciting daily shows and performances are held daily in this family-friendly park, the child's curiosity will be fully activated here.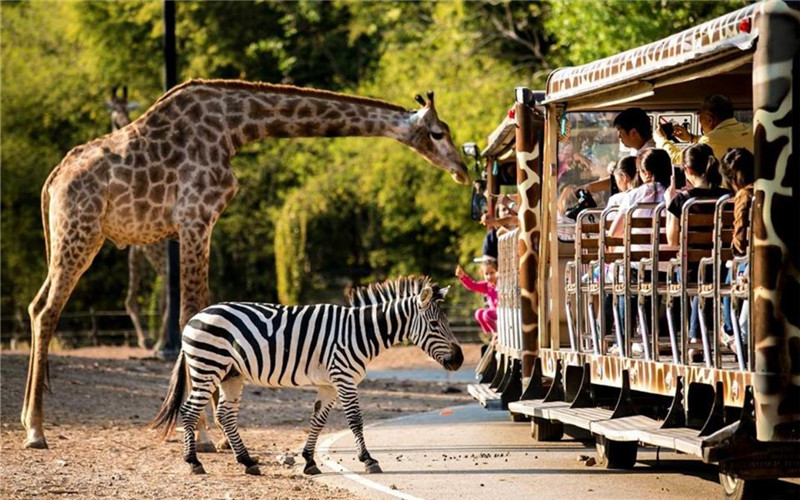 2. Have fun in the Water Park
City: Bangkok, Pattaya, Hua Hin, Phuket, Koh Samui Duration: 1 day
Stay in a water park hotel in Thailand may be listed in the wish list of your family tour. A water park is a water oasis for your entire family, there are as many as a dozen water slides, plenty of other rides and pools to keep your children busy. There are also professional lifeguards to ensure order and safety throughout the water park. Take a break and rest by the side of the pool while staying with your child.
3. Be a little Elephant Volunteer
City: Bangkok, Pattaya, Chiang Mai, Phuket, Koh Samui Duration: half day
Visiting an elephant sanctuary will be a meaningful lesson for your kids. Here in the sanctuary, elephants don't have to work anymore but we need to work for them. The sanctuary's aim is to give the elephants a place where they can enjoy themselves in their own natural environment. Meeting and feeding the elephants, observing the elephants bathing, cleaning fruit/vegetables, preparing and cooking sticky rice for old elephants…all the activities offers your family an enjoyable opportunity to spend quality time with elephants in their natural home.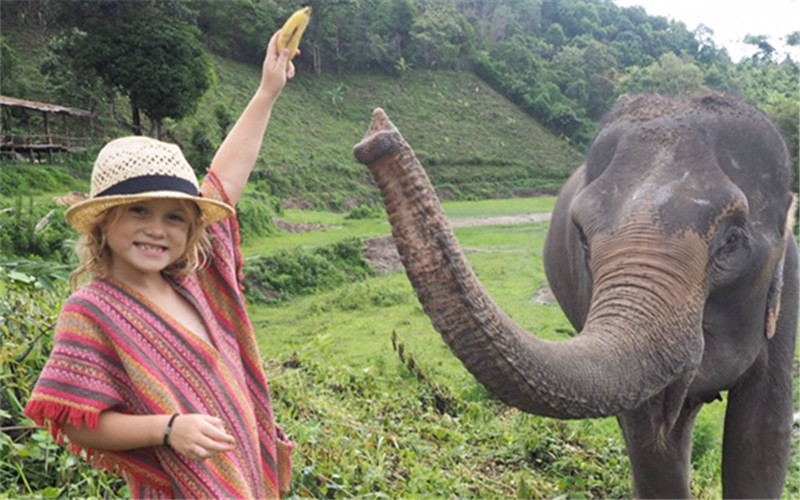 4. Visit Sea Life in an Aquarium
City: Bangkok, Phuket Duration: half day
From the moment that your family visits an aquarium, the eyes of your children will be agog at the constant kaleidoscope of color, mayhem, and excitement. Both you and your child can see rare and bizarre-looking marine creatures, and learn how sea animals survive in the Living Ocean. A family journey into the Big Blue is as educational as it is exhilarating and memorable.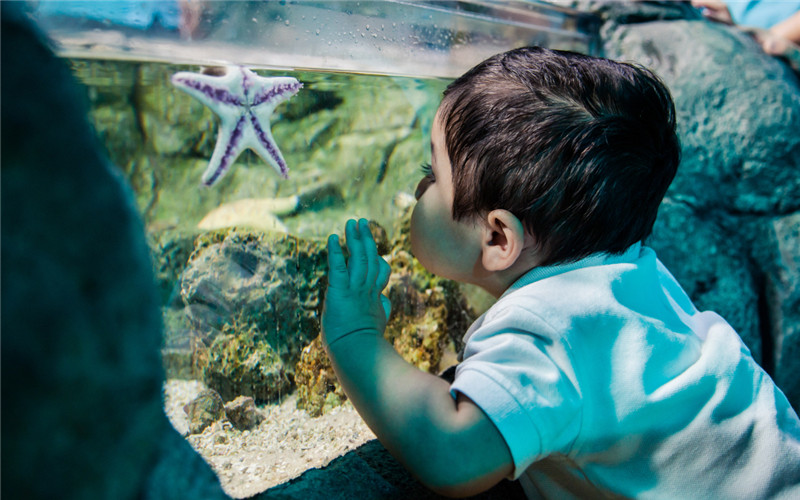 Best Accommodation for Thailand Family Tour
For a family tour with only 3 persons (normally 2 adults + 1 child or 3 adults), it there seems not a big problem to choose a hotel because most of the hotels can add an extra bed. But for those families of 4 or more persons, it must be the biggest headache about how to choose a suitable hotel with a proper number of beds. Here are some recommended family hotels split into guideline numbers of family members that might give you some ideas about where you can stay with your family during your Thailand Trip.
Bangkok
The Berkeley Hotel Pratunam ☆☆☆☆☆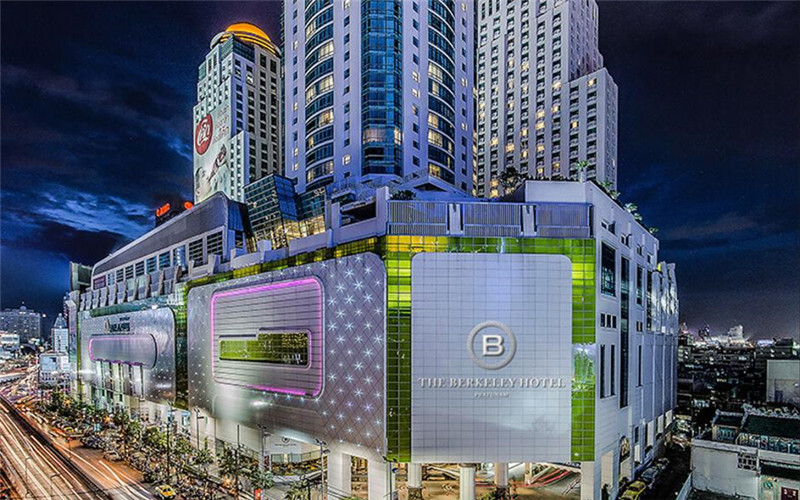 Reasons why recommend:
Located in the city center with night markets, shopping malls and kids stores around

A series of family rooms that can meet every family's needs

Convenient for family travel to all the main attractions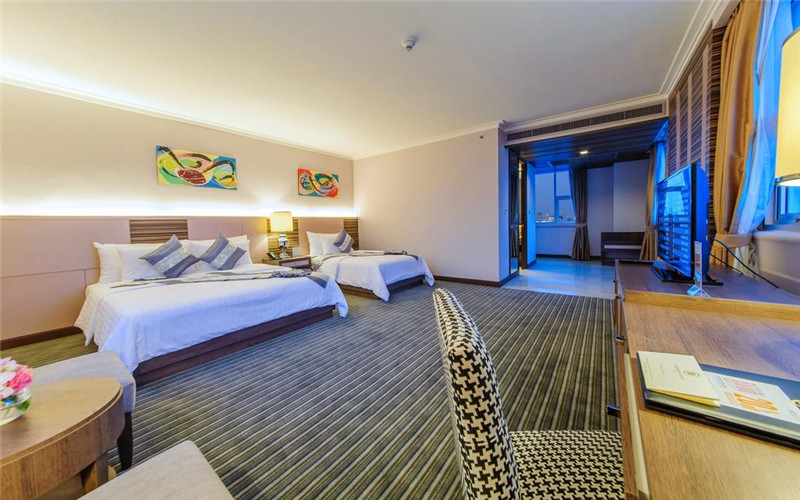 Premier Triple Room & Premier Family Room (1 king bed + 1 single bed)
Room size 54 - 58 m²
Suitable for family up to 4 adults + 1 child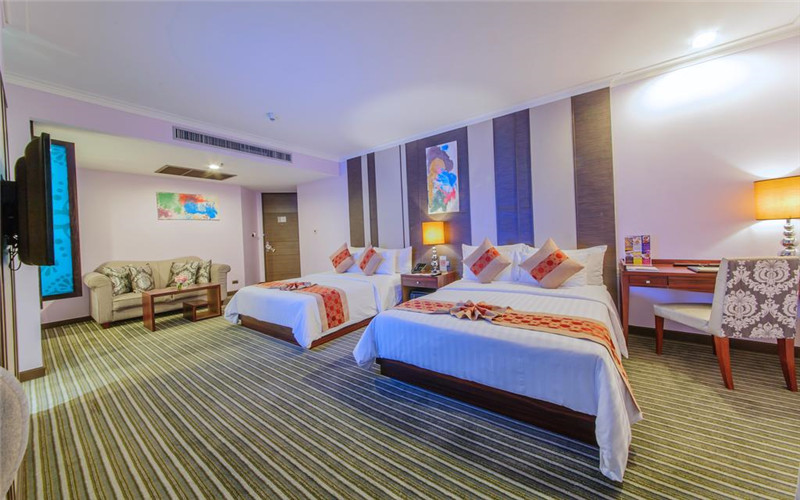 Luxury Quadruple Room (2 queen beds)
Room size 50 m²
Suitable for family up to 5 adults + 1 child
Chiang Mai
Chiang Mai Phra Singh Village ☆☆☆☆☆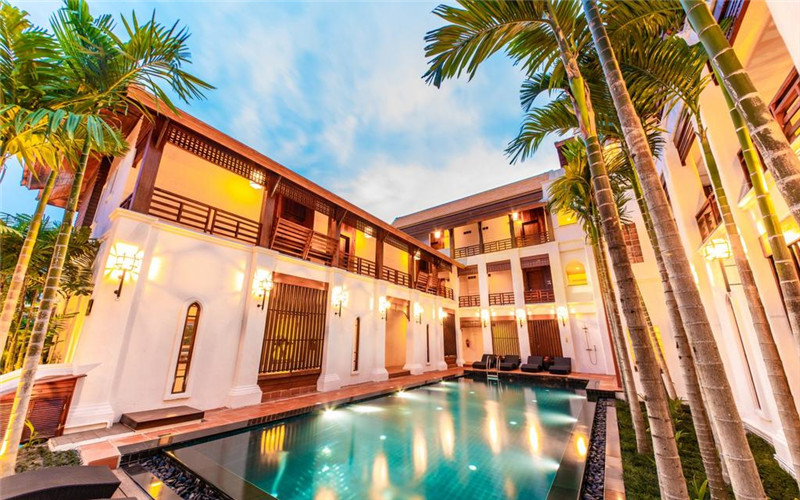 Reasons why recommend:
Within strolling distance of Chiang Mai's major attractions

Traditional Lana Wooden House style offers each family a real atmosphere of northern Thailand

Many art and craft of flower activities were organized for family fun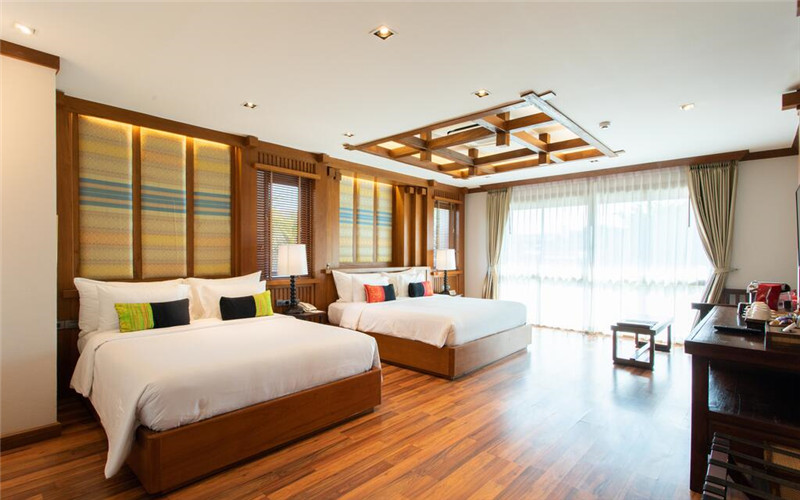 Grand Family Superior Room (2 king beds)
Room size 42 m²
Suitable for family up to 4 Adults + 1 Child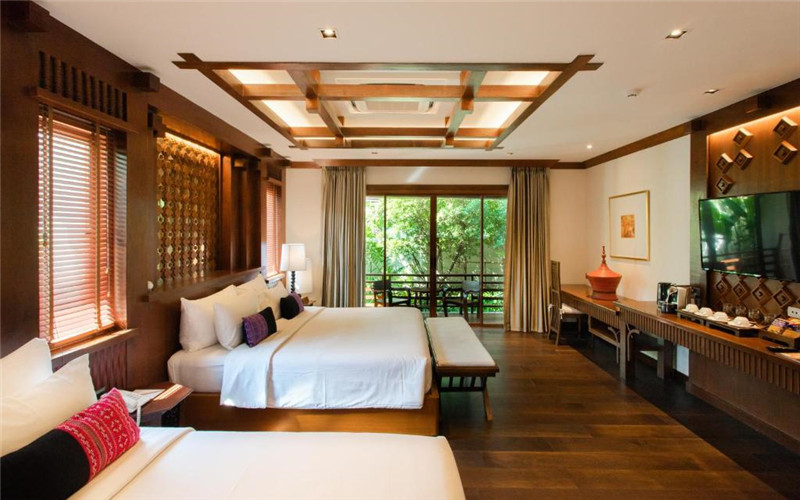 Grand Family Suite with Balcony (1 queen bed + 1 king bed)
Room size 64 m²
Suitable for family up to 4 Adults + 1 Child
Phuket
Splash Beach Resort, Maikhao Phuket ☆☆☆☆☆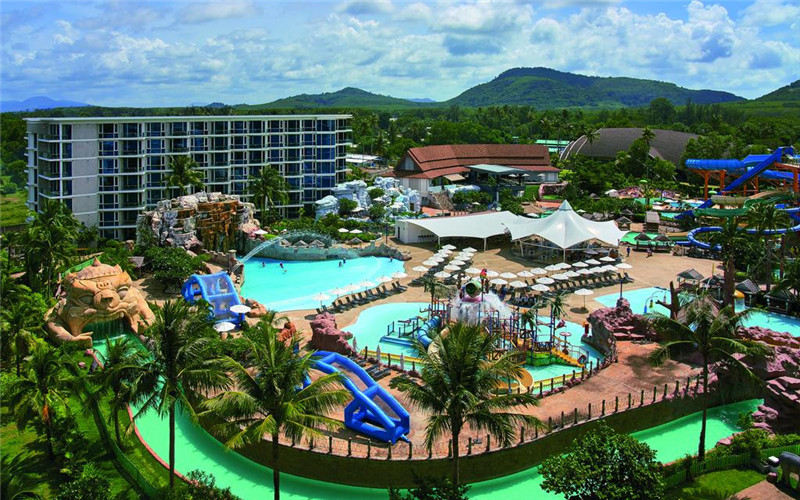 Reasons why recommend:
Dreamland for each family to choose with its private & peaceful beach

Free entering to the hotel owns Splashing Water Park for family fun

Close to the airport and easy distance for family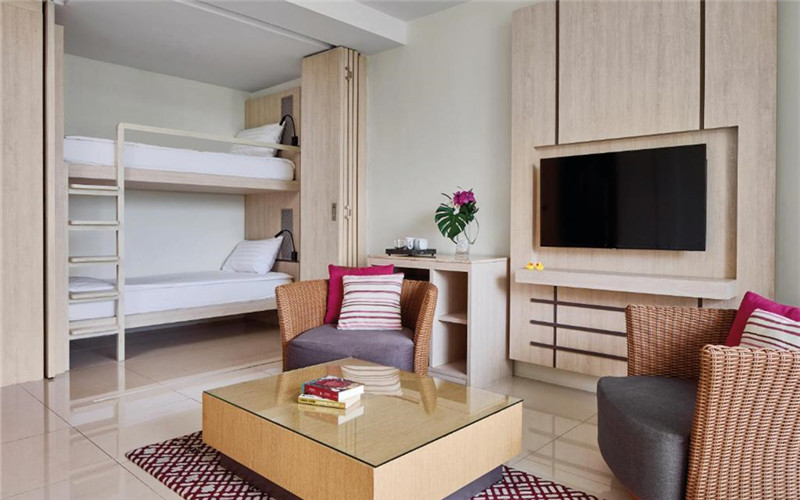 Executive 1 Bedroom Family Suite with Balcony (1 king bed + 1 bunk bed)
Room size 70 m²
Suitable for family up to 2 adults + 2 children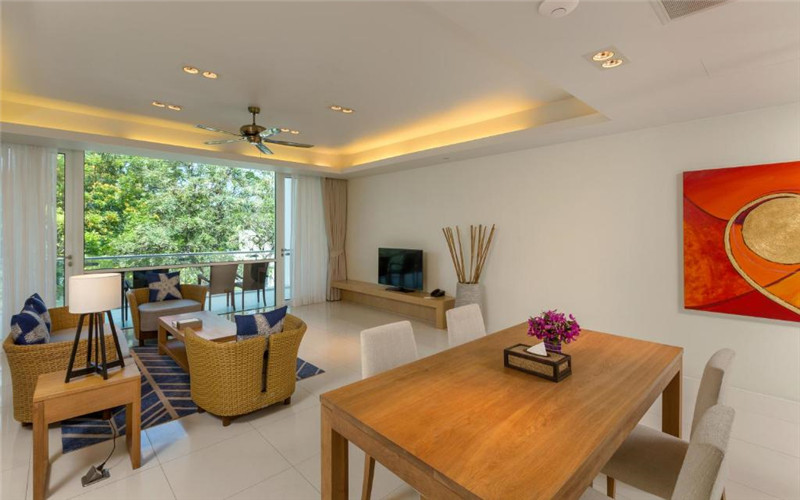 2 Bedroom Apartment with Kitchen and Balcony (1 king bed + 1 twin bed)
Room size 140 m²
Suitable for family up to 4 adults + 2 children
If you plan a family trip of more than 5 persons, UME Travel can also choose a nice and private villa for you with any number of rooms you want. Please feel free to contact a travel consultant from UME Travel.com.
Q & A
1. What do you need to know before you visit Phuket Thailand during COVID-19?
19 Questions about Phuket Reopen Plan ( Phuket Sandbox ) under COVID 19...Read More.
2. Is Thailand safe for a family holiday?
Thailand is a safe place for traveling with children and babies. The culture is very family-oriented, and one most important thing is that most of Thai people do love children, you will feel their kindness during your trip to Thailand.
3. Do you need a tour guide for a family trip to Thailand?
If you plan to travel in a small group of family (let's say 3 or 4 persons), and your children are independent enough, you can travel around Thailand without a tour guide, because English is quite common in Thailand. But if you plan a family tour with many persons, or with little kids or both old and young, please do consider joining a private tour with your own private guide, driver, and cars. You will be more enjoyable as the guides will help you solve all the problems that may happen, and they will take care of your family for sure.
Start planning your tailor-made holiday by ​contacting one of our specialists...
Monica

Steven

Natasha

Dan