Full Moon Party Thailand - A Crazy Beach Party under the Full Moon
Last Updated: December 30,2022
Koh Phangan Full Moon Party has become a world-famous institution, but its ancestral home remains the crescent cove of Haad Rin Beach on the southernmost tip of Phangan Island in Thailand. More than 12 powerful sound systems turn the 800-metre beach into possibly the most popular open-air nightclub in the world once a month, with a lively festival-like atmosphere, great music and huge quantities of alcohol. This one-of-a-kind event is routinely listed on bucket lists as one of the essential experiences in Thailand which absolutely must be seen to be believed.
For those who love to go open-air nightclub, Ocean beach Ibiza, Goa beach party and Full Moon Party Thailand are the Top 3 destinations for a refreshing break from your routine life. Year after year, thousands of young people gather in this party capital. Buzzing clubs, trance music, dancing people, beach and outdoor parties. Everyone has a partytype, what is yours? Go there at least one time before you die!
As many as 30,000 party people gather on the famous strip of sand to party in the glow of the Earth's nearest celestial neighbour, right through the night and into the dawn. Due to the cost of cleaning up after such carnage, the local community implemented a 100 baht entry fee to access the beach on the night of Koh Phangan Full Moon Party.

---
What to expect
Fire rope jumping

Neon bodypaint

Thai bucket drinks

Rocking music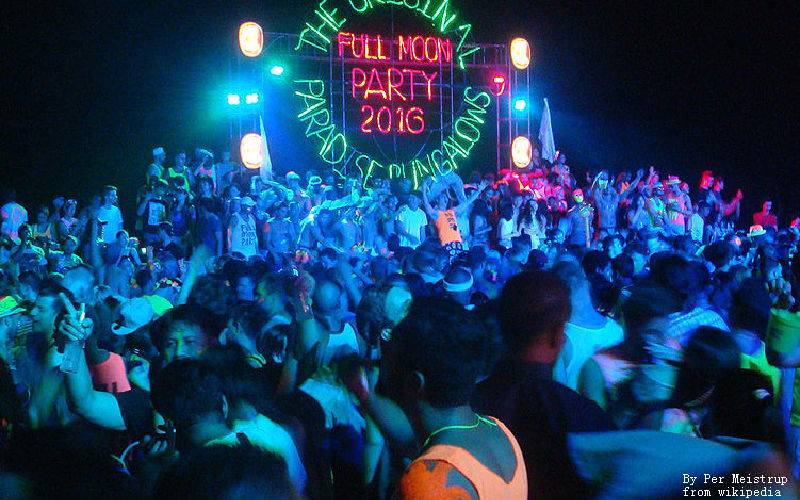 Such full moon party has become a worldwide carnival type, but the most genuine one remains the monthly party on Haad Rin Beach in Koh Phangan. More than 12 powerful sound systems turn the 800-meter beach into the world's most popular open-air nightclub, once a month, with a lively carnival atmosphere, rocking music, neon lights and plenty of alcohol. Up to 30,000 people gathered on the beach under the full moon, swaying with the music until dawn. Dancing together with 30,000 travelers on the beach is quite the experience!
You will see DJs that come from all corner of the world. They stand before the bars and stages on the coast, playing from dubestep to drum and Bass, Hip-Hop to house, trance to technology, rock and pop to reggie. In general, the beach bars stand on the beach side closest to Haad Rin Town (that is where you will find a lot people swing with the music). As you get closer to the beach, the music becomes heavier with more underground dance tracks and heavier bass. It is the Full Moon Party's tradition to cover yourself with neon-body paint, with large amount of UV strip lights around, which will make swing bodies sparkle and glow at dark night.
In Thailand Full Moon Party, your beverage is not "a cup" but "a bucket"! This kind of beverage is called "Thai bucket drinking" because a colorful keg carries it. The drinks usually consists of a bottle of hard liquor (such as vodka, whiskey or local sugarcane rum), a bottle of Red Bull, a bottle of soft drink and some ice, and occasionally a mixer, making alcohol a little lower. So maybe you can called it "wild beach cocktail". Whatever, the bartenders will give you some straws in your barrels so that you can share your drinks with your friends. The price for each of them is about 200 to 300 baht and you can buy them almost everywhere.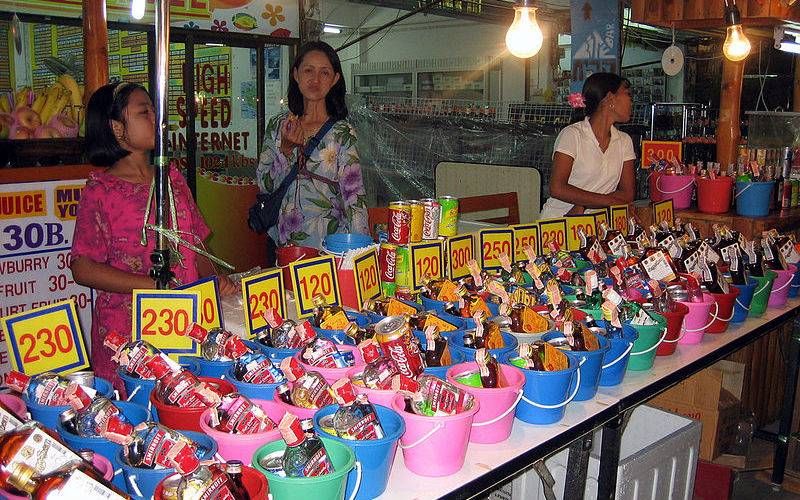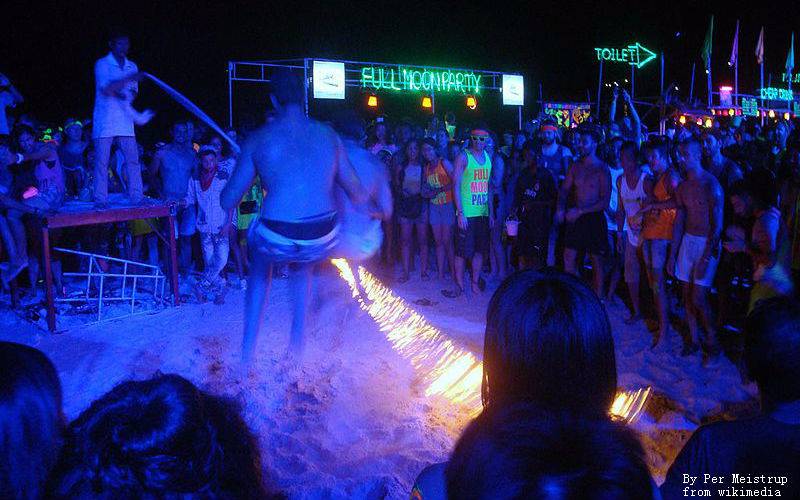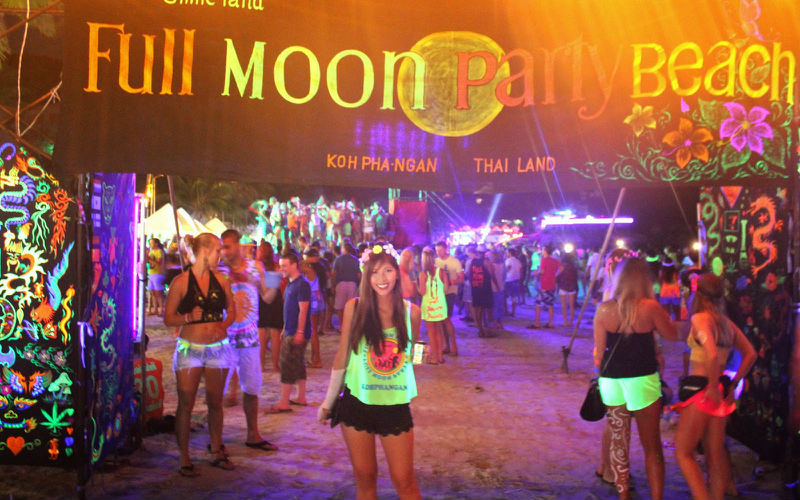 Famous fire show and fire rope jumping are another wonderful things to see in Full Moon Party. Yes, a burning skipping rope! It was extreme popular at the full moon party, and people lines up for a chance to prove their coverage. This tradition takes place at about 21:00 in front of Drop In Bar on Haad Rin Beach. The game will last for about one hour and you can either see from afar in a large crowd or even attend it.
The Full Moon Party begins shortly after sunset, while it is strongly recommended to get in later. If you want to party all night, at least wait until around 21:00 when most people begin to turn up. The climax of the party happens in about 22:00, with dancing people, glow sticks, fire shows and glow-in-the-dark body paint.
If you need to take a break from the crazy environment, just go to a restaurant located just a block from the beach. There are special areas for drunken people and monitored by the police to ensure their safety.
---
Full Moon Party in Phuket
The full Moon Festival on Paradise Beach is the largest beach party in Phuket. It imitated the idea of Full Moon Party and found a successful Phuket's version of the all-night beach party with a better organization. If you have no time to Koh Phangan while wants a beach party, it is perfectly-designed for you. Every month on full Moon Night, Thais and tourists, DJs and fire dancer, all go to the Paradise Beach Club to party and dance all night long. Entrance tickets are about 1000 baht, included a free cocktail. In fact, Heaven Beach has parties almost every weekend, so if your visit doesn't match the full moon, there are other options, such as a half-moon, a foam party, or just enjoying the beach itself. Paradise Beach is located on a beautiful isolated north tip near Patong Beach. Free shuttle service is available from Patong to Paradise Beach every 30 minutes.
When are the Full Moon Parties?
Full Moon Parties happen every month, but dates are adjusted around Buddhist holidays so do not always coincide with the night of the actual full moon. View the list of party dates shown.
Full Moon Party dates 2021-2023
The Full Moon Party takes place every month throughout the year on the island of Ko Pha Ngan, Thailand on the night of, before or after every full moon. Here you can easily find the date and plan you trip. If you have decided to join in one of the following carnivals, contact us and we will arrange the whole trip for you!
2021


2022

2023

THURSDAY, 28 JANUARY
Monday, 17 January
Friday, 6 January
SATURDAY, 27 FEBRUARY
Thursday, 17 February
Sunday, 5 February
SUNDAY, 28 MARCH
Thursday, 17 March
Tuesday, 7 March
MONDAY, 26 APRIL
Saturday, 16 April
Friday, 5 April
THURSDAY, 27 MAY
Monday, 16 May
Saturday, 4 May
THURSDAY, 24 JUNE
Tuesday, 14 June
Sunday, 4 June
MONDAY, 26 JULY
Friday, 15 July
Sunday, 2 July
MONDAY, 23 AUGUST
Saturday, 12 August

Thursday, 3 August

Thursday, 31 August

TUESDAY, 21 SEPTEMBER
Saturday, 10 September
Friday, 29 September
FRIDAY, 22 OCTOBER
Tuesday,11 October
Monday, 30 October
FRIDAY, 19 NOVEMBER
Tuesday, 8 November
Monday, 27 November
SUNDAY, 19 DECEMBER
Thursday, 8 December
Wednesday, 27 December


Saturday, 31 December 2022 (New Year's Party)
Sunday, 31 December 2023 (New Year's Party)
P.S. Many important Buddhist festivals in Thailand are held on the 1st and/or 15th of the lunar month. The 15th of the lunar calendar is the day when the moon is full, so sometimes the Full Moon Party can be changed while falling into a Buddhist holiday. There are four religious holy days that fall right on full moon day. During these dates, alcohol was forbidden to be consumed in the whole country, and for this reason (as well as respecting the Buddhist tradition) the full moon party committee postpone the party for the next day or one day in advance.
---
Origin of the Full Moon Party
The first Full Moon Party celebration is said to be held in 1987. A group of tourists happened on the Koh Phangan and found that the moon night on the beach is beautiful. To celebrate the full moon's night and somebody's birthday in their group, they arranged a party on the beach, dancing and singing all night long. The night was such successful that the group members made an appointment to meet again on the next full moon. Since then, the party has become one of the most popular events in Thailand, as well as a well-known global music carnival, which has attracted thousands of visitors from all over the world.
---
Other event in Koh Phangan – Half Moon Party & Black Moon Party
Koh Phangan Full Moon Party follow the moon's cycle: full moon, half moon, black moon, half moon, and then come back. Other parties are set after the popular Full Moon Party parties. They are smaller and more intimate.
The jungle experience is always two days before and after the Full Moon Party. More likely to warm up the environment of Full Moon Party. The Half Moon Party is held twice a month, one week before and after the full moon. The Black Moon Party is held once a month, two weeks before or after the full moon. Both of them are held in a smaller venue of Baan Tai Beach. You can expect a pleasant beach party, which is much smaller than the Full Moon Party, so there is a more intimate and welcoming atmosphere, paying more attention to music rather than getting blackout drunk.
P.S. Due to the Thai law and noise, the Half Moon Party and the Black Moon Party had once been forbidden around 2005 and 2017 which is the Thai royal funeral. For the latest dates and itineraries of Half Moon and Black Moon Party.
How to get to Koh Phangan for Full Moon Party
There is no airport on the Koh Phangan so far, so everybody comes by ferry from Surat Thani on the mainland of Thailand or from the closest islands of Koh Samui and Koh Tao. The ferries are not expensive and run daily between all the islands.
From Samui
There are at least 3 ferries every day from the Big Buddha pier in Koh Samui to Thongsala Pier or Haad Rin Queen Ferry in Koh Phangan where the Full Moon Party exact is. There are also ferries and high speed boats from Nathon pier and Mea Nam pier in Koh Samui to Thongsala pier in Koh Phangan. Ferries and high speed boats go from Koh Samui to Haad Rin every hour during the Full Moon Day. It takes about 1.5 hours from Koh Samui to Koh Phangan by big ferries and it takes only about 10 to 20 minutes by speed boat depending on the weather. If you arrive at Thongsala pier, you can easily find a taxi to go to Haad Rin.

From Koh Tao
Ferries and speed boats departs frequently from Mae Haad pier directly to Haad Rin. There are also some ferries from Nathon pier and Mae Nam Pier in Koh Tao to Thongsala pier in Koh Phangan 3 times a day. The sailing durations of the ferry is around 1.5 hours.
From Bangkok
There are a lots of people would go to take part in Full Moon Party from Bangkok. The fastest and easiest way is to take a short flight about 1.5 hours to Koh Samui and catch a ferry to the island. You can also fly to Surat Thani and then take a ferry to the Koh Phangan. As the Thai Airways and Bangkok Airways keep a monopoly on the airport and see no reason to lower prices with demand so high, flights to Koh Samui are at least 3,200 baht, and around 2,000 baht to Surat Thani. And the prices will increase to about 5,000 baht during the high season or around New Year's Eve.
The budget-friendly way is to take an overnight bus/train & boat combo. The ticket can be purchased on Khao San Road. The ticket is very cheap, but it takes too long on the way. Firstly, the bus/train will arrive at Surat Thani, and then an hour's drive to the pier and sit at the ferry terminal for a few hours, and finally take a ferry about 1.5 hours to the Koh Phangan. It's a long, long night/day, but it's much cheaper than flying.
From Phuket
If you happen to be at Phuket and want to take part in Full Moon Party, you can take a short flight from Phuket to Koh Samui, then take a ferry to Koh Phangan or you can take a bus for about 3.5 hours to Surat Thani and then take a ferry for another more than 3 hours to Koh Phangan. It takes quite a long time but it is cheap.
Vehicles to Koh Phangan
There are two types of boats connecting the Koh Phangan and nearby islands and mainland. One is public ferry, the other is speed boat. General speaking, the public ferry is big, comfortable, smooth and steady when it is sailing on the sea, what more, it is cheap. However, it takes a longer time. The speed boat, it is small, fast. For example, it only takes about 20 minutes from Koh Samui to Koh Phangan, but it takes around 1.5 hours if you ride a public ferry. However, the price is much higher and passengers are easy to get seasick especially when the weather is not very well. For heathy and safety, UME travel always recommend our customers taking public ferries.
Where to stay
If you plan to attend a full moon party, arrive at least two or three days in advance, as all the island hotels are booked up during the party time. Many hotels with good locations insist on booking at least 3-7 nights. Arrange everything ahead of time and you will save a lot effort. Click and help me to book my hotels.
Stay in Koh Phangan
If you stay in Koh Phangan hotels, the nearer to Haad Rin Beach the better. A near hotel makes it easier for you to go back to your comfortable bed afterwards. If there are not any close option, you can stay elsewhere. Closer is always better but the price will be high and the hotel equipment is barely satisfactory. To find the mean between, you can stay around Cocohut Beach Resort or nearby locations that is only 15-walking distance to the business street and Haad Rin Beach.
Stay in Koh Samui
Maybe stay on another island? Of course, if you doesn't party all night and plan to leave early, you can also choose to return to Koh Samui by night. If you can't get there as early as recommended, look at staying on a different island and booking a ferry to and from the party. You won't have to pay an increased rate for a room, you can get there the day before and your head will probably appreciate the peace and quiet the next morning!
In Koh Samui, the Fisherman's Village on the Bophut Beach is a good option, which is convenient to eating and the sea view is beautiful. It's such a quite good seaside town that many visitors make a long stay there. Another good option is the Beach Republic in Lamai Beach where the western food is authentic. From 4:00pm, there will be good DJs and the music is also great.
---
Full moon party package Thailand tour
Tips
When should I arrive?

We suggest arriving in Koh Phangan at least 5-7 days in advance of a Full Moon Party, as finding accommodation during the busy season is nearly impossible.
Entry fee

Because the high cleaning costs, 100 baht entry fee is necessary to enter the beach for evening Full Moon Party.
Taking ferry
If you stay overnight and return back early to Koh Samui, the first service of the day is 07:00 to Nathon Pier (Sailing about 1 hours. Another one is start from the same dock on 07:20 and only takes 30 minutes.), 08:00 to Bangrak Pier (30 minutes) and 11:00 to Maenam Pier (20 minutes).
The main disadvantage of this option is the long journey between the party and your comfortable bed. It also makes it more difficult to leave early, because you still need to wait for the very first morning ferry after overnight party. During the waiting, you have no comfortable place to stay there, and the ferry might make you more tired. However, this is a very safe and cheap choice in general.
Safty
Get away from the water! Deadly drowning causes most of the deaths at the Full Moon Party. The moon circle affects the tides, which will rise to the top and produces strong currents.
Drugs
Different kinds of drugs are easy to find in the party while the police search incoming vehicles and through crowd for drugs. Simply put, don't bring and don't buy any drugs.
Burns
If you take part in the rope jumping, it is can get really common to burn. When the rope wrap around, it was inevitable to fail one or two times. And burn happens. Be careful!
Money
Don't take any valuable objects. This rule applies to phones, money, cameras, passport and jewelry, etc. Before leaving your hotel, secure your valuables at reception. Thieves act on this particular night.
Cash & Cards
You should also take a set amount of money out with you and leave your cards/wallet/purse behind. Again, you will run the risk of losing this one way or another. If you run out of money while you're there, it's likely because you don't need to be spending any more!
Valuable belongs
It's common sense but worth saying anyway! Don't take expensive belongings with you. Obviously, you will want to take pictures (probably to remind you in the morning of all the crazy things you did/new friends you made!) so buy a disposable camera. If you really want to take your good camera out, upload all your current pictures online beforehand, just in case. Cameras can be replaced, pictures can't!
Drinking
Due to the special drinking style in the Full Moon Party - an open bucket, you should always keep an eye on your drinks. Do not change your drinks with strangers. It's safer to buy them from reputable shores than from many mobile shacks on the beach.
Hotel card
Taxis on the island operate overnight and are available to your hotels. But trying to explain to the driver where you stay can be a challenge when you drink too much. Put a hotel card in your pocket and show it to your driver so that you can get back much easier.
Wear Shoes
Thousands of people on a beach means broken bottles and cut feet galore, so wear footwear of some kind 0r you'll end up like Bruce Willis in Die Hard! They don't have to be your favourite shoes, in fact, we'd advise against it, but glass in the feet is sure to be more of a nuisance than a pair of flip flops!
A COPY of your passport
You should never bring your passport to a Full Moon Party. Lock that in your room and take one copy is enough. You may feel like bringing your passport with you is safer than at the hotel, but that is untrue. You really run the risk of having it stolen or broken.
Crossing the strait
Speedboats can be dangerously overcrowded, so book from a regular operator and insist to wear a lifejacket. If you want to avoid that risk, stay in a hotel on Koh Phangan.
Don't swimming at night
You may be tempted to take a dip in the water at some point in the night … erm, we use the term water rather lightly! Take away the obvious safety issues involved when you put drunken people in the water, and just consider where all those thousands of people are going to the toilet. They aren't all queuing for the portaloos! Washing your hands or face, or trying to clean any cuts you may get, in the sea will not give the desired effect!
Condoms
There's a lot of booze and a lot of people partying. Stuff happens – it's generally best to be prepared for it.