Vietnam Honeymoon Tour Packages
Every honeymoon will be a little bit different. Tell us your require and we help you to satisfied! Get inspired from these samples:
Vietnam Honeymoon Tour Guides
Book Your 2021 Southeast Asia Tour Early without Risk!
Complete Guide to a Vietnam Honeymoon | Destinations & Itinerary
Vietnam is a country that perfectly suitable for every honeymoon couple, its spectacular scenery, delicious food, culture, history, relaxation, and finally, unparalleled luxury will make you won't disappoint about considering a honeymoon to Vietnam. Read the complete guide of a Honeymoon Tour to Vietnam below and tell us your ideas, UME Travel will design a unique honeymoon experience for you and make sure that every moment of your honeymoon is perfect for you.
Why Vietnam perfect for romance?
|| Affordable Destination || Good Services || Friendly Locals || Delicious Foods || Scenic and Romantic Beauty
Best time to Honeymoon in Vietnam
Season & Weather in Vietnam

Because of the narrow and long shape of Vietnam, the weather in Vietnam can be split by three regions, including north, central, and south. Each region in different seasons will give you a different weather event.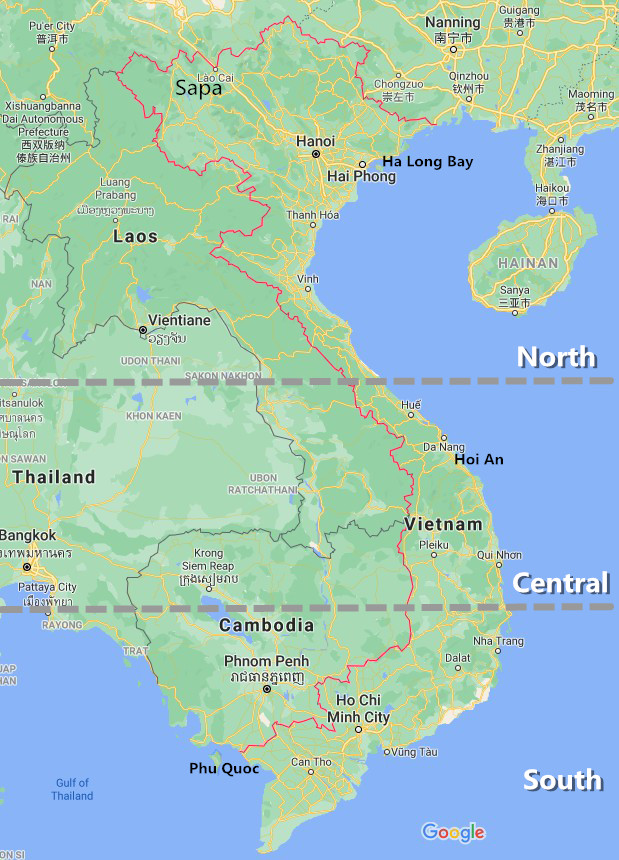 (Map source: google map)
Southern Vietnam (Main city: Hanoi)
There are four seasons in this region, Spring (Mar-May), Summer (Jun-Aug), Autumn (Sep-Nov), and Winter (Dec-Feb), the temperatures in this region are fairly constant all year round. May to October is hot and humid with high rainfall; November to April is cooler and dry. Normally, December & January can be particularly cold.
Central Vietnam (Main city: Hue, Da Nang, Hoi An)
There are two seasons in this Region, dry and wet. The dry season between January & August when temperatures can hit the mid-30°C's; Wet season between September & December, the weather is warm and wet, and the high levels of rainfall can occur in September, October & November.
Southern Vietnam (Main city: Ho Chi Minh City, Da Lat, Nha Trang)
There are two seasons in this Region, dry and wet. The dry season is generally dry and hot from November to April, and warm and wet between May & October, with the highest rainfall in June, July & August.
If you are planning a honeymoon trip to Vietnam, there is not really a right or wrong time to visit Vietnam as during most months of the year, as you will experience both sunshine and rain in varying quantities. A table with the best months to visit each region of Vietnam may give you an inspiration about when to start your Vietnam family tour, please find the details as below:
| | |
| --- | --- |
| Region of Vietnam | Best months to visit |
| North Part | February, March, April, November, December |
| Central Part | February, March, April, May |
| South Part | December, January, February, March, April |
Best Things to Do for Vietnam Honeymoon Tour
With its natural beauty, inspiring scenery, vibrant colors, fascinating culture, and delicious food, Vietnam makes itself a recommended place for the honeymoon couples. We have picked some of the best things to do in Vietnam that you might want to include in your honeymoon itinerary. You will definitely enjoy the most unforgettable & meaningful Vietnam honeymoon of your life.
1) Overnight on a Romantic Ha Long Bay Cruise, Ha Long City
Ha Long Bay is Vietnam's most popular honeymoon spots. The bay is beautifully calm and emerald green in color with limestone islands, lush jungle vegetation, stunning caves, and powdery sand beaches. You will visit around those tiny islands by a luxurious junk boat. Swimming and diving in the crystal water, kayaking into the deep caves, and dining on board by watching the jaw-dropping sunsets. You'll definitely love this once in a lifetime honeymoon experience.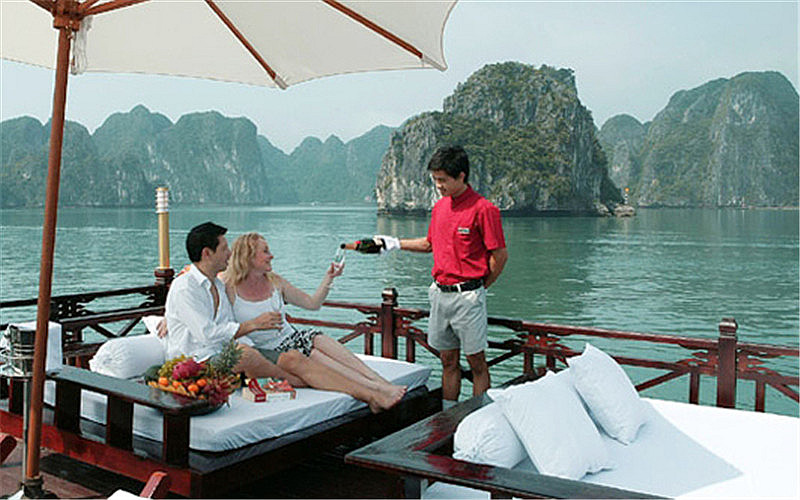 2) Experience a Sunset Street Food Tour by Vespa, Hanoi
Jump up to the back of Vespa to enjoy your street food tour around Hanoi. The exciting rides in chaotic traffic take you to pass through the old trading streets, narrow alleys, a very interesting way to explore the local life. During the tour, you can make several stops to take photos and learn about the history and information of the Hanoians. You will also get the opportunity to try all typical foods like spring rolls, different versions of Pho (noodles), Balut (fertilized bird egg). You can also head to the famous railway train track to enjoy your egg coffee!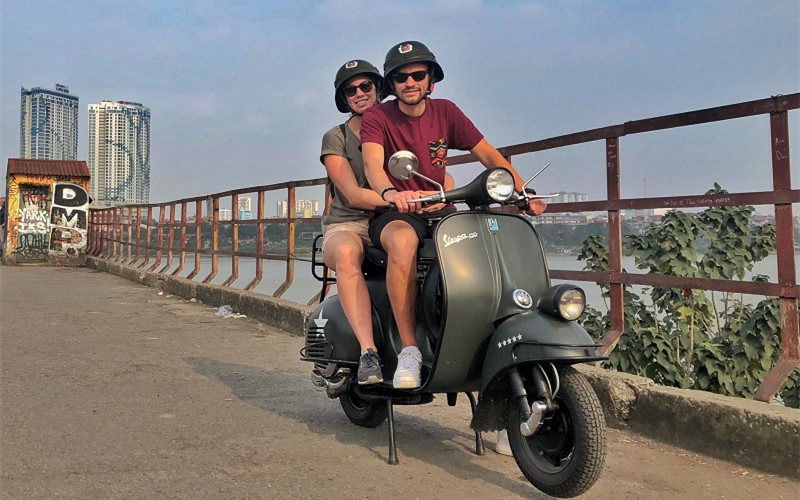 3) Trek in the Spectacular Rice Terrace, Sapa
Sapa is a romantic honeymoon spot for couples who love the cool climate and dramatic scenery on top of the mountains. The golden fields, floating clouds, foggy mornings, and beautiful mountaintops surrounding the alpine town of Sapa. Honeymoon couples can trek around the cascading rice terraces, love waterfall, and hill-tribe villages. What a romantic experience!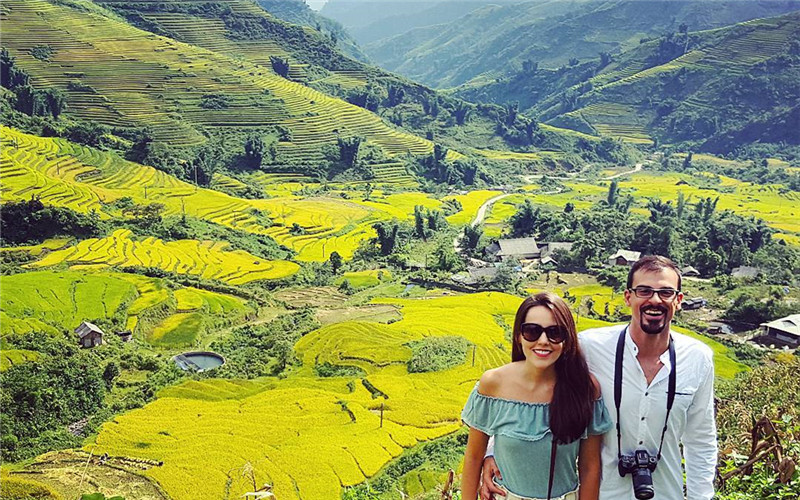 4) Hand in hand discovering the charming Golden Bridge, Da Nang
The Golden Bridge on Ba Na Hill is at a height of 1,400 meters above sea level, which overlooks the magnificent Da Nang mountain range and one can enjoy scenic views of the Ba Na Hills from atop. The bridge is supported by two lofty hands that give one a feel of walking on a silk strip in the sky. When honeymoon couple hand in hand walking across this bridge, it will give you the feeling of walking on a cloud!5) Dress your own Ao Dai for Honeymoon photoshoot, Hoi An
Relax on the less crowded beaches in Hoi An, enjoy the nightlife in the riverside cafes, or take romantic strolls by the riverside; enjoying the Chinese temples, Japanese-design bridges, pagodas, and French colonial houses; get your customed Ao Dai by the best tailors in Vietnam for a surprisingly cheap price, and once you have the matching clothes for the vintage backdrop, find the best corner for your photo time!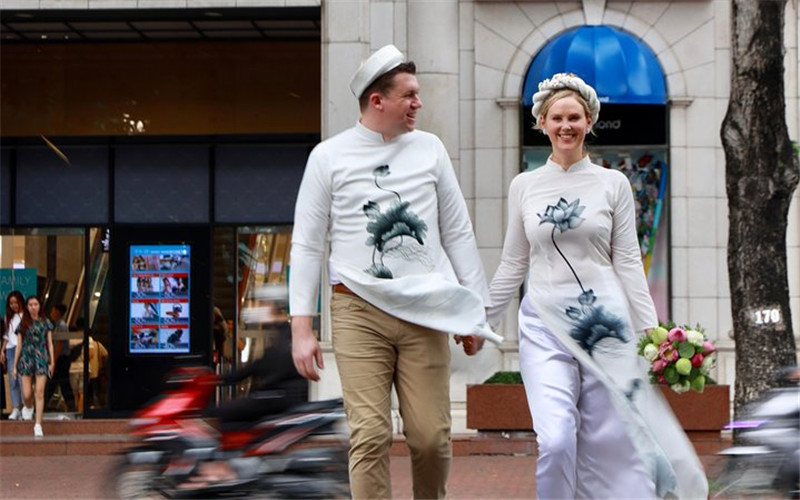 6) Enjoy a Mud Bath & fancy seafood dinner, Nha Trang
Nha Trang is the "Gold Coast of Vietnam". Fringed with swaying coconut palms and dotted with quaint fishing villages and heaven-blue water and white sand, Nha Trang is no doubt the most popular choice for a honeymoon adventure in Vietnam. Relax on the white-sand beach, join some water activities the beach offers, pamper your body with a soothing mud bath, or take a day trip offshore to snorkel or scuba dive the clear waters of the outlying islands of Hon Mun Marine Park. A fancy seafood dinner is a must for your honeymoon!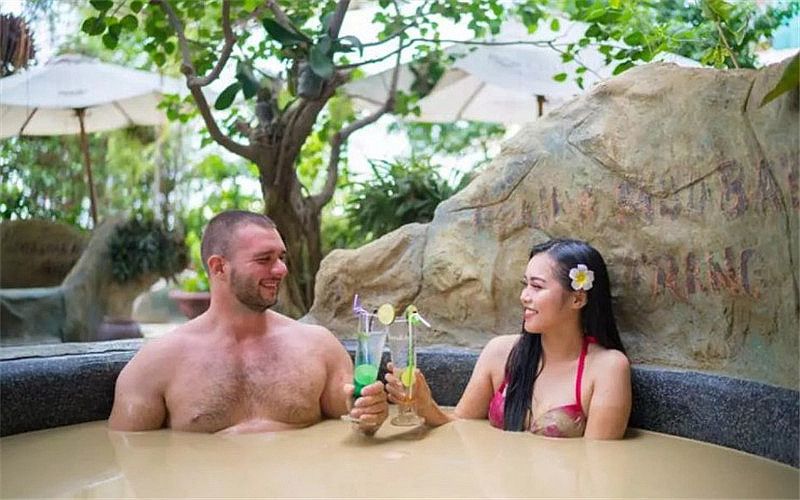 7) Intimate contact with French romance, Da Lat
Da Lat, with its romantic beauty, pleasant climate, French architecture, all colors of flowers, and less crowded tourists, is considered an ideal destination for honeymooners in Vietnam. Honeymoon couples may enjoy the fresh air of Da Lat on a cable car ride that will take you to Truc Lam Monastery. Witness the breathtaking panoramic views of the mountains, pine forests, and farm during your ride.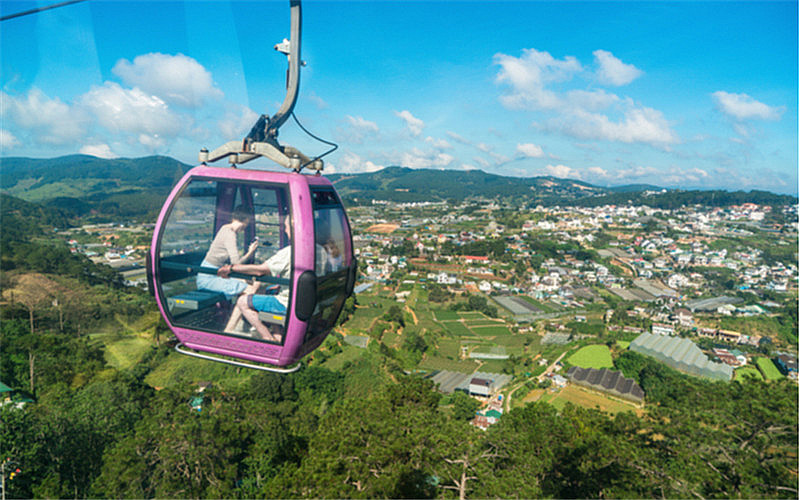 8) Greeting Sunrise on the White Sand Dull, Mui Ne
Mui Ne is well known for unique white sand dunes, featuring several lakes and even swamps straight in the middle of sandy terrain. You will have an unforgettable memory with your other half while greeting sunrise on the beautiful white sand dull. Nothing better than hand in hand together discovering this masterpiece of nature, taking the memorial picture on your honeymoon, keeping this happy moment forever in your life.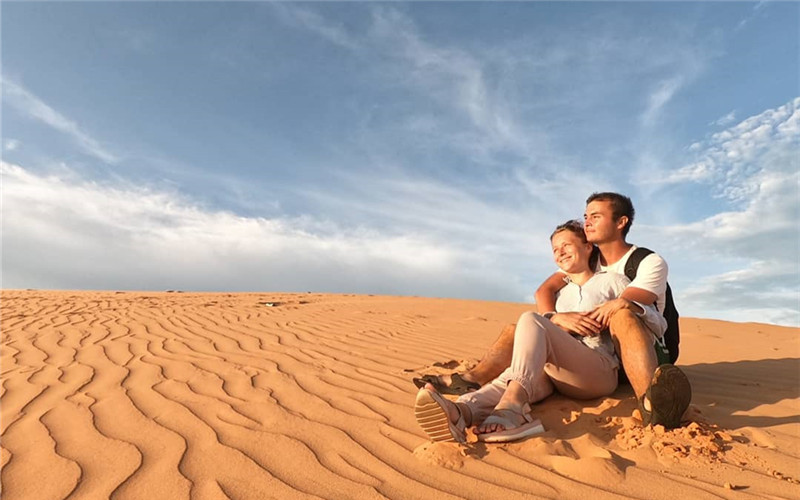 9) Emerge Yourself in A Privacy Beach Escape, Phu Quoc Island
Phu Quoc Island is one of the most romantic honeymoon destinations for beach lovers. Not only the heavenly nature, but Phu Quoc's locals are also really friendly and authentic, which will make your honeymoon hard to forget. With the wide range of luxury and modern beachside hotels and resorts, Phu Quoc ensures your stay to be romantic with the most privacy as possible. There are a plethora of activities to try that allow couples to commune with each other. Go diving, trekking, camping, visiting pearl farms, joining organic cooking class, relaxing on the beach, riding a cable car to Pineapple Island, or all of the above!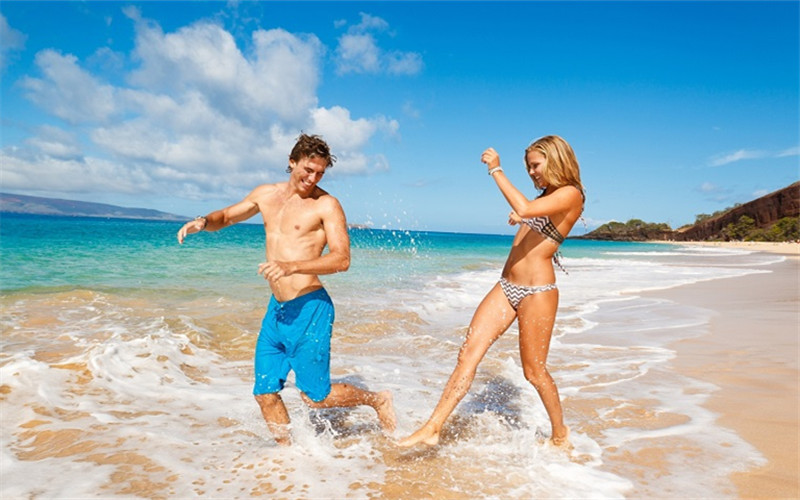 10) Enjoy a romantic boat cruise to discover the local village, Mekong Delta
If you are Looking for a leisurely, unique experience just for two, take a private boat cruise around Journey Mekong Delta, discover the lush back-waterways, bustling floating markets, tropical fruit gardens, scenic paddy fields, lush mangrove forest, charming pagodas, and villages will be a good choice. The Mekong charming river cruise offers the most enjoyable insight into the daily life of the river people and together creates a lifetime memory.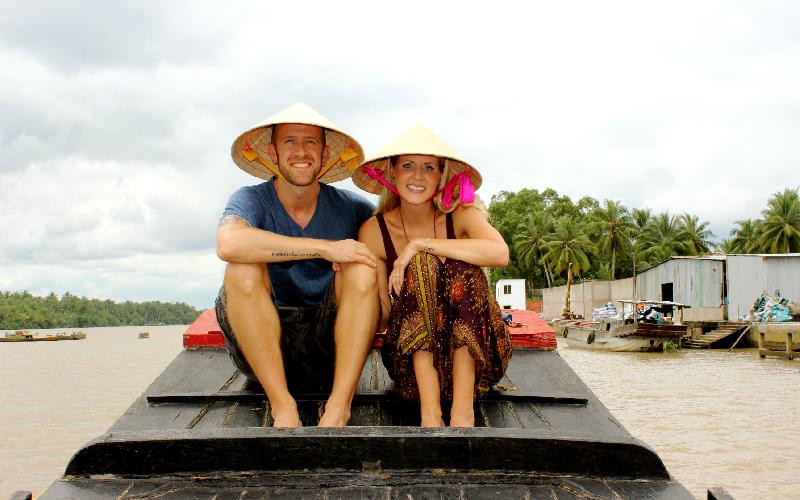 Best Accommodation for Vietnam Honeymoon Tour
A honeymoon holiday is a special event once in life. During your honeymoon tour, you will need special places to go, special activities to do, special moments to remember, and special hotels to stay. Here, we would like to recommend 10 romantic hotels and resorts in some of the most popular city in Vietnam which can change your lifetime trip from memorable to unforgettable.
Ha Long City
Orchid Ha Long Cruise ☆☆☆☆☆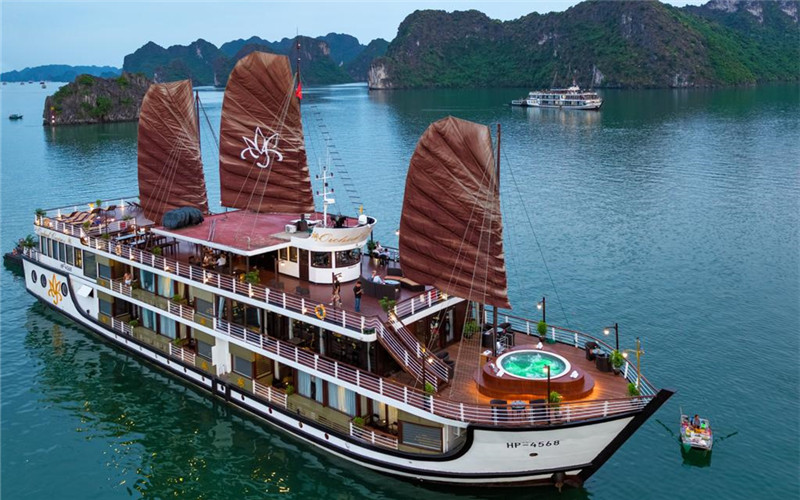 Reasons why recommend:
Traditional wooden junk boat makes your honeymoon a special experience
Luxury facilities with all huge rooms, beds, and bathrooms
Plenty of activities provided onboard, cooking class, free bikes, fishing, kayaking, etc
Hanoi
Peridot Grand Hotel and Spa by AIRA ☆☆☆☆☆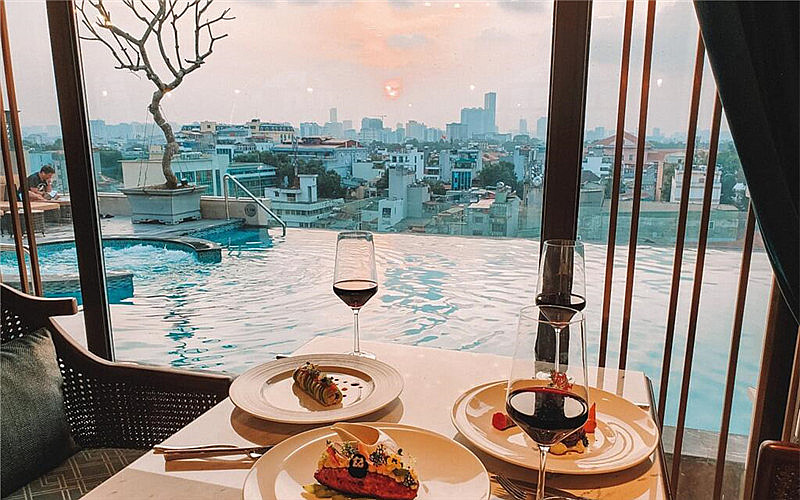 Reasons why recommend:
Infinity pool with sweeping rooftop views
The central location allows you to get everywhere in the old quarter on foot
Amazing roof terrace with a beautiful sunset
Sapa
Hotel de la Coupole - MGallery ☆☆☆☆☆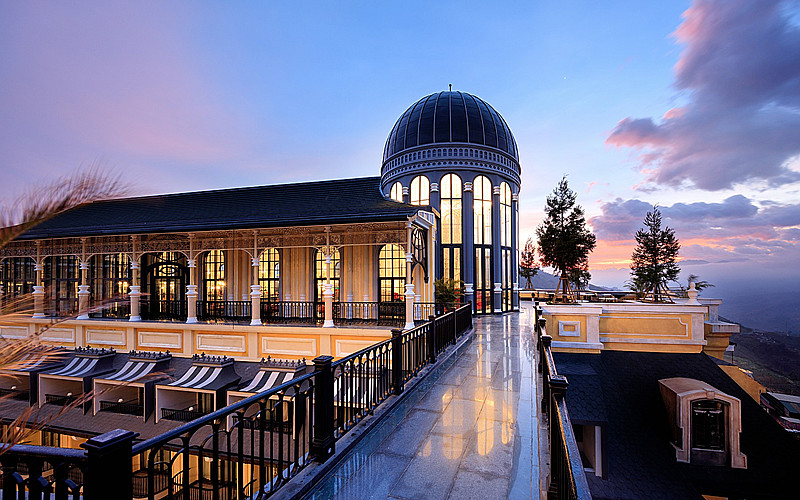 Reasons why recommend:
Central location close to the town and all restaurants
Within walking distance to trains and Fansipan cable car station
European style hotel with a beautiful Mt. Fansipan view
Breathtaking view after the sun broke through the foggy sky
Da Nang
Vinpearl Luxury Da Nang ☆☆☆☆☆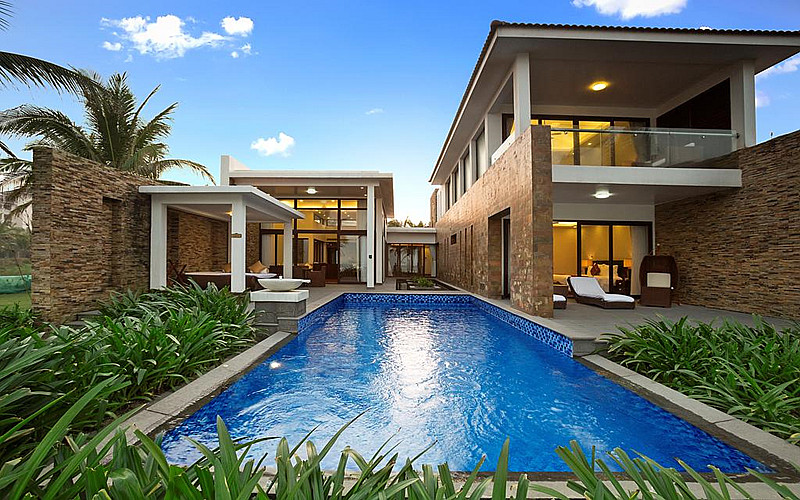 Reasons why recommend:
Resting on the majestic Marble Mountain range and overlooking the vast ocean
Located on the unspoiled sands of Non Nuoc Beach
Leisurely afternoons can be spent by the private beachfront or snorkeling in clear waters
Hoi An
Little Riverside Hoi An . A Luxury Hotel & Spa ☆☆☆☆☆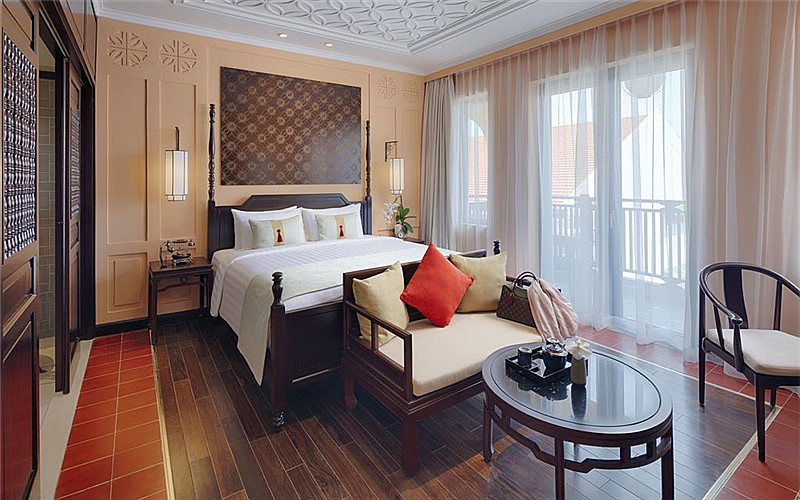 Reasons why recommend:
Private beach area suitable for honeymoon couples
Sit at the terrace to enjoy a sundowner overlooking the river
Within 5min walk to central Hoi An sights
Amazing rooftop pool with views of the river
Nha Trang
Amiana Resort and Villas Nha Trang ☆☆☆☆☆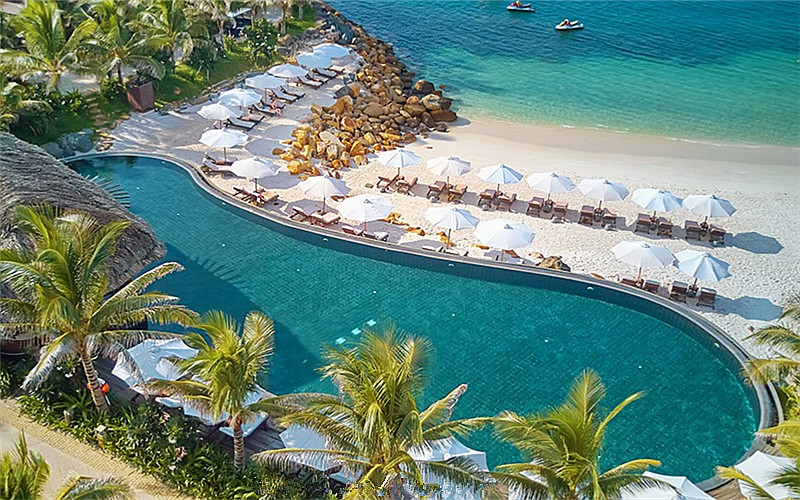 Reasons why recommend:
The private beach area offers a honeymoon seascape
Within 5 minutes walking distance to Nha Trang city center
Set within landscaped tropical gardens with a breathtaking view
Da Lat
Ana Villas Dalat Resort & Spa ☆☆☆☆☆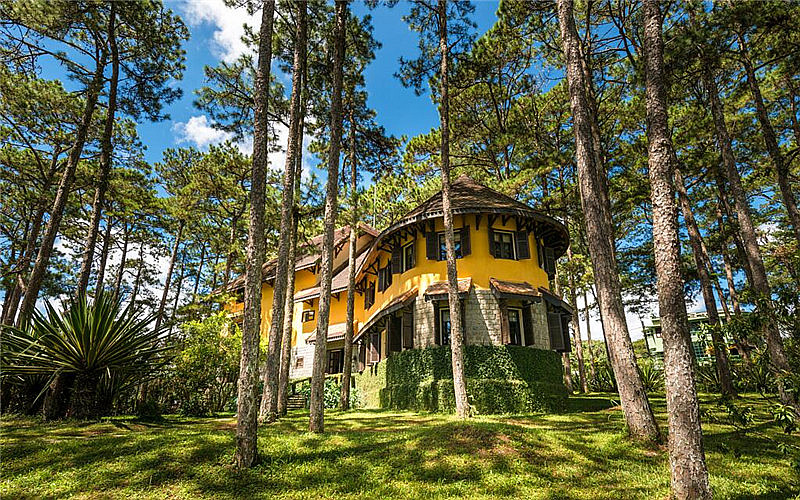 Reasons why recommend:
French colonial style offers a romantic experience for honeymooners
Nestled ideally on the slopes of rural highlands with a beautiful view
An outdoor barbecue is available
Mui Ne
Anantara Mui Ne Resort ☆☆☆☆☆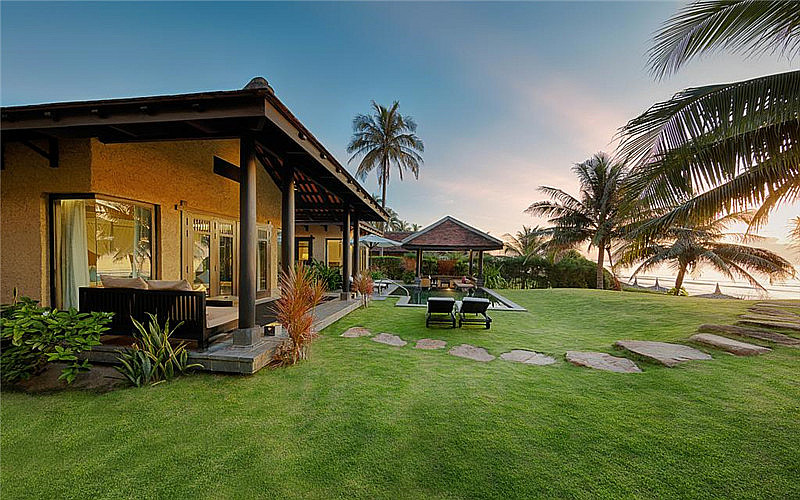 Reasons why recommend:
A beachfront hotel amid lush tropical gardens
A resort perfectly blends Vietnamese culture with modern design
The resort's restaurant serves authentic cuisines with breathtaking sea views
Phu Quoc Island
Salinda Resort Phu Quoc Island ☆☆☆☆☆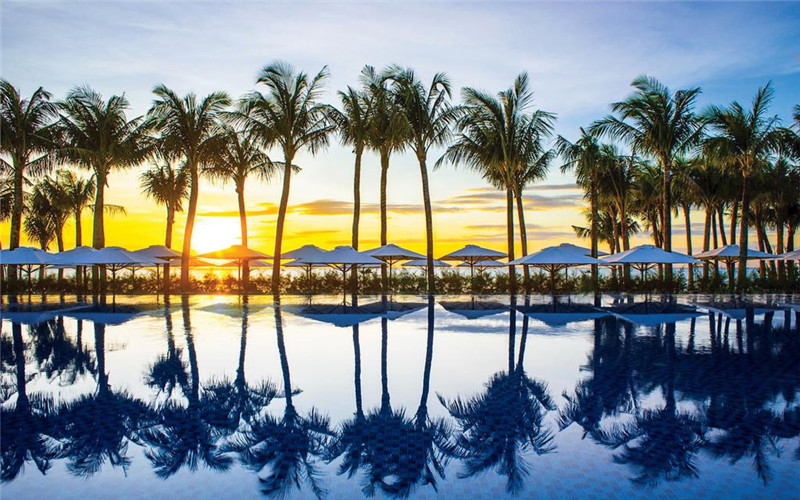 Reasons why recommend:
A barefoot beach barbecue or a romantic dinner by the beach is available
Nice swimming pool with romantic coconut trees overlooking the sea
Great location just ten minutes from the airport
Situated on the very long white sand of stretch of Long Beach
The private pool features unobstructed sea views
Mekong Delta
Azerai Can Tho ☆☆☆☆☆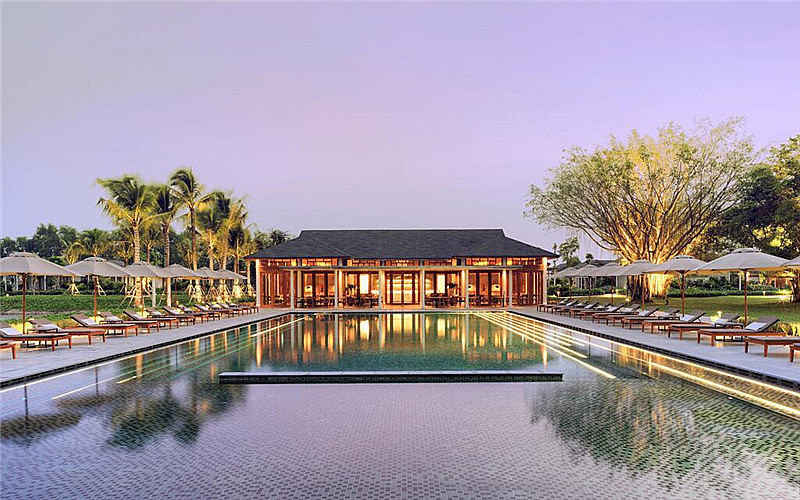 Reasons why recommend:
Scattered throughout the lush landscape
The rooms open to a spacious, undercover terrace with views to gardens, the lake, or the river
Surrounded by shaded sun-loungers and daybeds on all four sides the rectangular infinity pool
Vietnam Honeymoon Budget & Typical Costs
Compare to those expenses on shopping and eating, the major cost of a honeymoon trip to Vietnam should be international flights and accommodations.
If you plan to book your international flights at a relatively cheap price, one of the best ways is to travel in the off-season, either the airfares or the accommodations will be much cheaper. The other way is to book your international flights for about half a year in advance. You can check the lowest fare instantly on Vayama.com.
For the budget of accommodations, it depends on what standards you prefer and how luxury you expected. Here's the average cost of different standards of the accommodations (price per room per night):
Economic 3-star: USD 40 – USD 60
Comfortable 4-star: USD 80 – USD 120
Standard 5-star: USD 150 – USD 250
Luxury 5-star: USD 250 +
While it is just an estimate, a breakup of the budget per couple per day has been listed below:
International Flights: USD 1,500 approx. (round trip per couple)
Avg. Accommodation: USD 80 to USD 120 (Standard room on double sharing basis at a 4-star hotel)
Sightseeing & Transportation: USD 40 to USD 60
Meals for Two: USD 30 approx. (Standard set)
Miscellaneous: USD 30 approx.
Tips: USD 1-3 (each time)
Average Budget Per Couple Per Day: USD 180 approx.
How To Reach Vietnam
Entry requirements:
Holders of passports of the United State, Canada, the United Kingdom, and Australia need to apply for a visa before traveling to Vietnam, or apply for a visa upon arrival, or get eVisa through online E-Visa before traveling. We'd recommend organizing your visa at least two weeks before your Vietnam honeymoon. Tourist visas are valid for one month from the date of entry into Vietnam. A passport that's valid for at least six months from the date of entry and a return ticket. Click here to see the Vietnam Visa policy of your country.
Entry Country & Flight time:
If you are planning your honeymoon trip to Vietnam and are considering to choose which city as your entering city, we would like to suggest you organize your tour start from Hanoi and end in Ho Chi Minh City. Because the shape of Vietnam is a long and narrow, extending from the North to the South. It said that the farther south you go, the more beautiful it is!
It takes about 15 hours from the United Kingdom and Australia, 20 hours from the United States, 23 hours from Canada to Vietnam.
Q&A
Q. What is the currency of Vietnam?
A. The Vietnamese Dong (VND) is the official currency of Vietnam. One US Dollar is equivalent to 23,000 Dong, and the exchange rate keeps fluctuating every now and then.
Q. What are the must-try food or drinks in Vietnam?
A. Spring Rolls, Vietnamese Baguette (Banh Mi), Pho (noodles), Local Beer, filter coffee, and white rose (Banh Bao Vac) are some of the most popular food & drinks in Vietnam.
Start planning your tailor-made holiday by ​contacting one of our specialists...
Monica

Steven

Natasha

Dan