Thailand Tours from USA
Last Updated: February 28,2019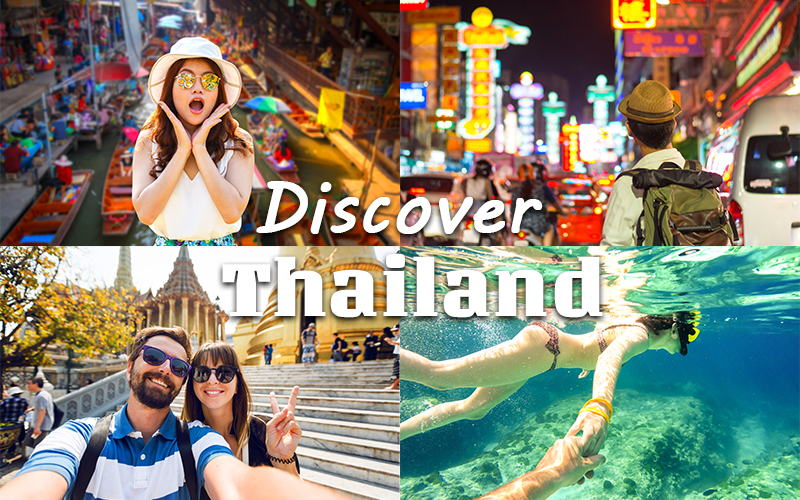 Thailand often ranks as the most visited country in the world and it is the most popular travel destination for United States citizen as well, because Thailand is beautiful and affordable! It has fantastic beaches & islands, abound of ancient ruins, delicious food, friendly people, colorful nightlife, amazing architecture, magical wildlife, and exotic culture but the Thailand tours from USA is really cheap. You will find endless wonders when you are there, in the meanwhile, millions of Americans enjoy a fabulous vacation in Thailand without spending a fortune. The country is the place to elevate the travel reverie into an intimately unique experience. Then how to take a Thailand tours from USA? Let us share some ideas for you.
How to get Thailand from USA?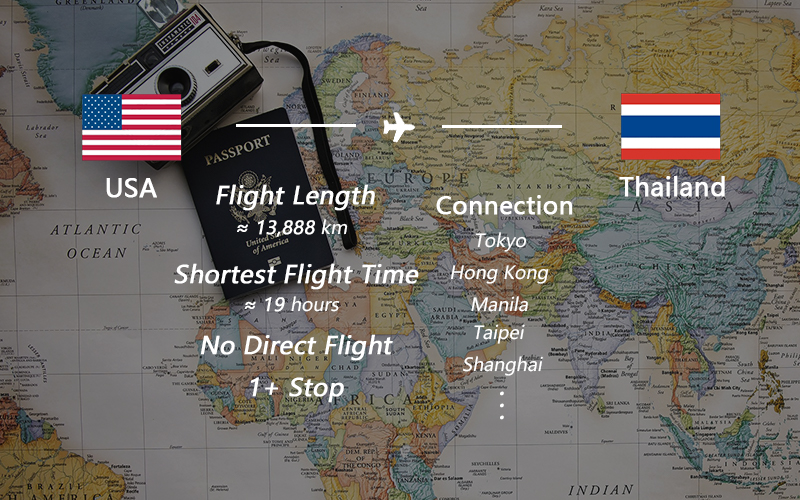 The distance from United States to Thailand is 13,888 km. The air travel distance is equal to 8,630 miles which means it takes around 15.4 hours if you fly directly from U. S. to Thailand. However, there is not a direct air line between these two countries now. customers have to transfer a flight in Hong Kong, Tokyo, Taipei, Manila or Shanghai. So the shortest time flying from U.S. to Bangkok takes about 19 hours. But it can't prevent the enthusiasm of American people to go there. People from American are like to celibate their birthdays, anniversaries and honey moons. People with kids are like to spend their holidays by the beaches and have an experience to take care of elephants at elephant sanctuaries They also like to experience the unique festivals in Thailand such as Songkran Festival and Loi Krathong Festival.
Time difference between USA and Thailand
Thailand follows UTC+07:00, which is 7 hours ahead of UTC. Thailand is 12 hours ahead of New York, 13 hours ahead of Chicago, 14 hours ahead of Salt Lake City and 15 hours ahead of Los Angeles, but Thailand does not use daylight saving time and ICT is used all year round.
Does an American citizen need Visa to visit Thailand?
An American citizen can obtain a 30-day entry visa free-of-charge at Suvarnabhumi International Airport -- or a 14-day visa at land borders, such as Aranyaprathet near Cambodia and Nong Khai near Laos. If you would like to stay longer than 30 days in the country, a longer visa for 90 or 180 days, you have to go a Thai embassy before you depart, whether at the embassy located in Chicago, New York, Washington, D.C. and Los Angeles or in the foreign country you visit. You can also exit Thailand and re-enter before your visa expires to extend your stay. Here, we remind you that your passport should be valid for at least six months beyond the date of your exit Thailand. The airline staff or Thai immigration officials may ask for your onward/return ticket.
What currency should I bring with me to Thailand?
The official currency of Thailand is the Baht and both bills and coins are used. Generally speaking, in most cases better rate can be got in buying your Bahts once in Thailand than at home. There are plenty of open forex shops inside the airport – one even inside the customs hall itself. You can get money exchanged at the airport before getting into your taxi. Therefore, you do not need to buy any baths before your arrival.
How to access money in Thailand?
You will find ATMs everywhere in Thailand because providing cash to travelers is competing business among the banks in Thailand. Fees have skyrocketed to US$6-7/transaction, on top of whatever your bank charges. However, if you want to get some smaller denominations, we have some experience to share with you. For example, ask for 4,900 baht rather than 5,000 baht. As if you request 5,000 baht from an ATM, you will get 5 stiff 1,000-baht banknotes which are not convenient to use especially when you want to buy some street food at a cart or you will even get simply rude or groans from the staff of the shop. Instead, you ask for 4,900 baht at the machine then you will be given four 1,000-baht notes, one 500-baht note, and three very useful 100-baht notes.
Visa and Master card are wildly accepted at large hotels, restaurants and malls in Thailand, however, you may be charged an additional commission when paying with the card.
When is the best time to visit Thailand?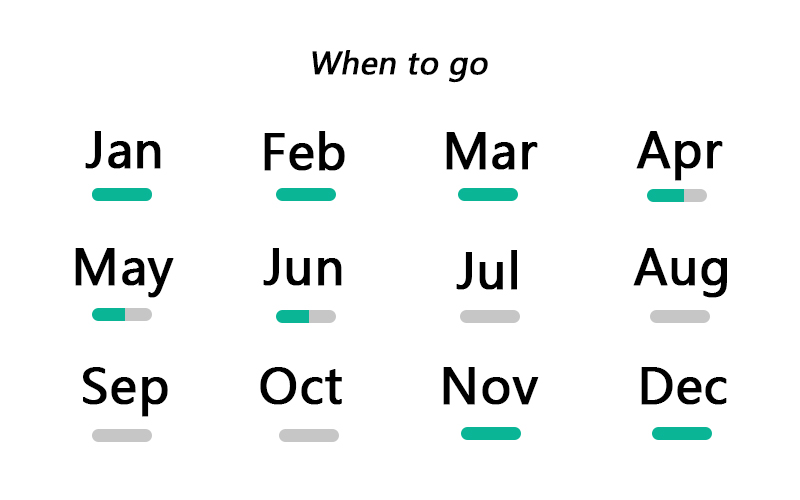 Locate in the tropics, Thailand embraces the tropical monsoon climate. It is hot all year round and the temperature difference is not big annually. It can be called "four seasons are like summer." And the weather differs a little between regions. The best time to visit Thailand is in dry season between November and April. However, you can also enjoy some sunshine days during the rainy season during the rainy/low season and in this season you will get better price in accommodation, tours and flights as well. A lot of American people would like to spend their vacation in Thailand during some big festivals and events for example: the Full Moon Party in each month, Loi Krathong Festival and Songkran Festival . If so, you have to book the tour as early as possible otherwise you will wait until next time.
Where to go and what to see for American in Thailand?
Thailand is a magic country where you will find endless wonders, no matter in each destination. Travel to Chiang Mai, a small town with Lanna culture in the north of the country, replete with elephants and native tribes. Enjoy the beautiful beach on island like Phuket, Krabi and Samui. Enjoy nightlife, shopping and entertainment at the Bangkok, the capital city of Thailand. You can take Bangkok as the transportation hub and you can go anywhere of the country from Bangkok.
Getting around in Thailand is easy and comfortable and there are lots of choice: flight, train, bus, tuk-tuk, ferry etc.
How much will a trip to Thailand from USA cost?
Thailand is super affordable destination and this is one of the reasons why lots of American people choose to take a trip to Thailand. All though they know that Thailand is one of the cheapest countries in the world to visit, but they still want to know how much does it cost to travel to Thailand from USA.
We just can say that like any vacation, it all depends. If you want to take a group tour to Thailand from USA it will be unimaginably cheap. However, it seems cheaper, but often with some traps of shopping stops and extra expense. It you are planning on backpacking, we have calculated before, it takes around $80 USD per day including your airfare from America. If you exclude the cost of flight, then the cost is roughly at about $40 USD per day. However, you have to plan and arrange all the things for the trip and maybe the accommodation is not as comfortable as you imagine or maybe you can't work out the best route in travelling or you have to spend more time on looking for a transfer when you are in Thailand, or it is very hard for you to find the authentic look food without a guiding… all of those will make your trip upsetting.
Taking a customized private tour to Thailand from USA
As we all know Thailand is one of the cheapest countries in the world to visit, travel to Thailand from USA, we highly recommend, taking a tailor-made private tour.
The travel advisor in UME Travel will design flexible itinerary on your interests, needs and budget. You will only travel with your family or friends without any other strangers in your group. You haven't to share a bus with other group members and you will have your own private and comfortable car/van with your own driver. You will spend more time in the scenic spots rather than rush out with a group and your guide only focus on your needs. You will eat delicious & authentic meals in our best selected local restaurants not like other eating at tourist restaurants which served same dishes every day or hanging around looking for a restaurant every day. You just need spend affordable price then we will ensure you a wonderful travel experience. We have arranged lots of satisfied customers travel to Thailand from USA independently. You can read what people say about us in Tripadvisor .
Please check out some ideas of Thailand private tours which can help in planning your trip to Thailand or and send us an enquire we will created a unique private Thailand tours from USA for you based on your particular tastes and interests.
What to pack for Thailand?
There are lots of malls in Bangkok and outdoor markets in Chiang Mai, along with plenty of smaller open-air street markets in these cities, you will have no shortage of cheap shopping opportunities. Rather than shopping a lot before your vacation in Thailand, why don't you think about purchase items locally? For example, why carry an umbrella more than 8,000 miles if you can buy one locally for only $2 once it rains?
Click here for more what to pack for Thailand
Here are our best itineraries. Over 92% clients chose one of them for inspirations and book with us!