Top 10 Best Places to Stay in Thailand
Last Updated: February 11,2020
See Top 10 best Hotels in the major city of Thailand. Rating from vacation packages, outdoor private pool, stylish decoration, spa and private service and classified by different highlights and people who suitable for. You will ease to find an ideal hotel in Thailand with this list. All are convenient to transportation and shopping. It is an exclusive selection of best hotels in Thailand, charming hotels to be remembered once back from your holiday.
1. Mandarin Oriental, Bangkok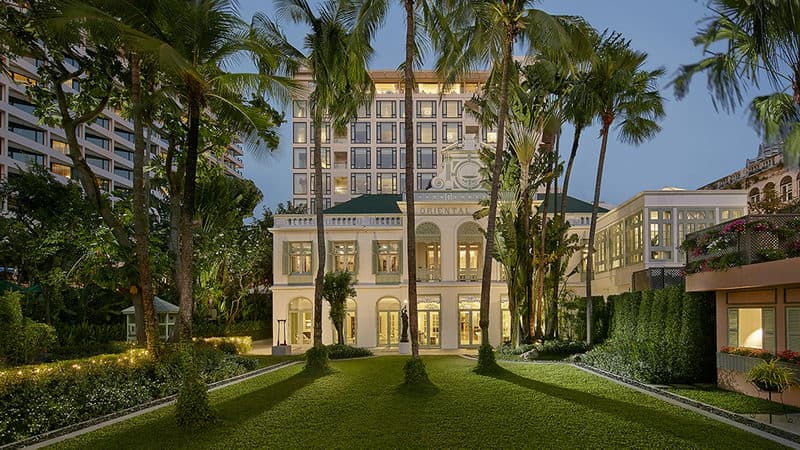 Highlights: convenience traffic, enthusiastic locals and street snacks
Suit for: couples
Address: 48 Oriental Ave, Khwaeng Bang Rak, Khet Bang Rak, Krung Thep Maha Nakhon 10500 Thailand
Mandarin Oriental, Bangkok is located in downtown Bangkok, next to the beautiful scenery of the Chao Phraya River. The hotel provides teak furniture and Thailand silk decorated rooms, equipped with a large outdoor swimming pool and Thai cooking classes and yoga classes. The hotel offers free shuttle service to the Taksin BTS, the River City shopping center and the Sala Rim Naam restaurant. It is about 3.5 km from Chinatown and the Wat Arun. The air-conditioned rooms of the Mandarin Oriental Bangkok hotel enjoy a beautiful view of the river through floor-to-ceiling windows. Those rooms are equipped with flat screen TV, DVD players, separate bathtubs and walk-in showers. Oriental Spa offers a relaxing massage service, a hot tub and herbal massage service. If you want to have some exercise, you can go to a gym with private trainers, or play tennis and squash. The famous Le Normandie restaurant offers exquisite French cuisine; while the The China House restaurant offers authentic Cantonese cuisine in a stylish environment; the Lord Jim restaurant offers international buffet lunch and fresh seafood.
2. The Siam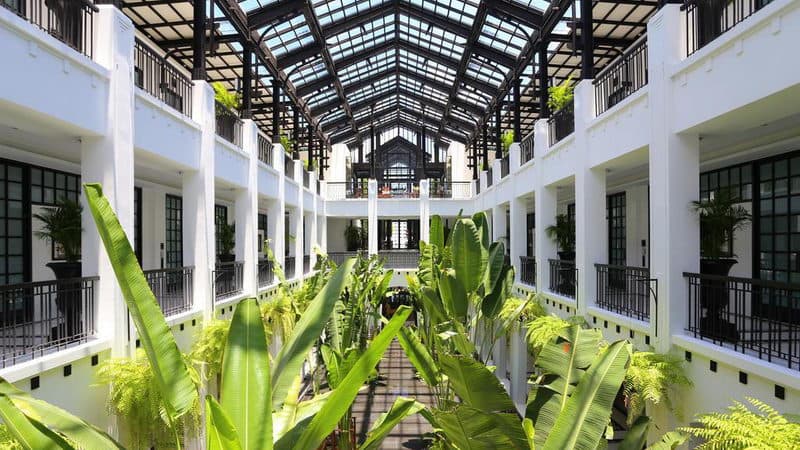 Highlights: culture, temples and street snacks
Suit for: couples
Address: Khao Rd, Khwaeng Wachira Phayaban, Khet Dusit, Krung Thep Maha Nakhon 10300 Thailand
The Siam resortis located on the bank of the Chao Phraya River. It is designed by internationally known architect Bill Bensley, and equipped with modern facilities and luxurious rooms, an outdoor swimming pool and internal parking facilities. Throughout the resort offers free WiFi. It is 3 km from the Vimanmek Teak Palace, 5 km from the famous the Grand Palace and 35 km from Suvarnabhumi International Airport. The resort offers free ferry service from the resort to Sathorn Pier from 10:00 to 18:00. The villas and suites are decorated elegant and modern, equipped with air conditioning, TV and minibar, fresh fruit baskets and unlimited local phone call. All bathroom is equipped with bath and shower facilities. Guests can enjoy themselves in fully equipped fitness center, relax at spa, or read a book in the library. The resort also provides 24-hour reception, foreign exchange services, nanny services and convenient butler service. Chon Thai Restaurant is located at three Thai style teak houses. Deco Bar & Bistro bar and pubs serves the supply of international delicacy and featured cocktails, Wine in Jazz atmosphere and the black and white decoration.
3. 137 Pillars House Chiang Mai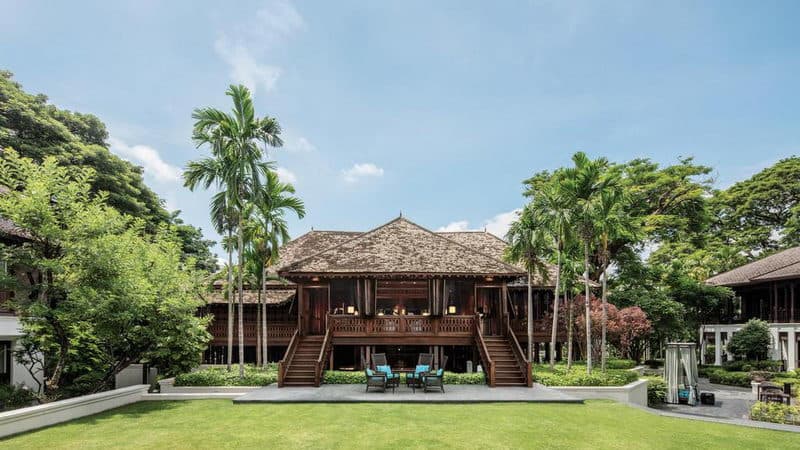 Highlights: shopping, night bazaar and food
Suit for: couples and friends
Address: 2 Soi 1 Nawatgate Road, Chiang Mai, 50000 Thailand
137 Pillars House Hotel is 5-minute drive from Tha Pae Gate and 10-minute drive from the city centre. The resort is only 10-minute walk from Chiang Mai Night Market, and equipped with an outdoor swimming pool, gym and Spa. Its luxurious and spacious suites enjoy the beautiful view of the garden, and is equipped with a free mini bar and free Wi Fi. Air conditioning suites are used in modern style decoration, paved with parquet floors and offer a walk-in closet, balcony, terrace, spacious living area and is equipped with a Vitoria style open-air bath and shower bath. In addition, the suite also offers cable TV and a personal safe. Dining Room restaurant supply all kinds of in Thailand and i nternational order dishes and flavor, Library Bar provides snacks, drinks and meals for guests. Apart from that, guests can also have dinner in room. Guests can use the business center of the hotel and also can make travel arrangements at the reference desk. The desk also provides 24-hour service for luggage handling & storage s, currency exchange and laundry services. A free parking lot is available in the hotel.
4. Le Meridien Chiang Mai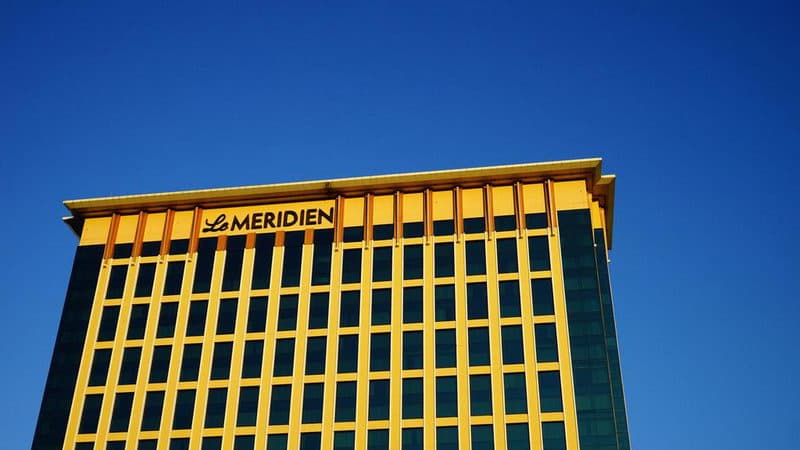 Highlights: shopping, night bazaar and local markets
Suit for: couples
Address: 108 Chang Klan Road, Amphur Muang, Tambol Chang Klan, Chiang Mai, TH-50 50100 Thailand
Le Meridien Chiang Mai is located in the Changklan Road of Chiang Mai downtown and just a few steps from the famous Tha Pae Gate and Warorot Market door market. The hotel is located in center of the famous Chiang Mai night market. It is only 7 kilometers from the Chiang Mai International Airport and 25 kilometers from Doi Suthep Temple. The hotel has free parking lot. It is a combination of European design features and Lanna charm of Thailand. The hotel also has a luxury spa center, an outdoor swimming pool and four dining places. Elegant rooms offer Doi Suthep mountain views or city views, with flat screen TV, mini bar and private safe. Large connected bathrooms provide independent bath, hot shower and 24-hour room service The Spa center offers body massage and herbal treatments. Guests can also exercise at the gym or schedule a one-day tour at the tourist information center. There is also a shopping mall in the hotel. Favola restaurant offers Italy delicacy and Latest Recipe restaurant offers open kitchen for international buffet. Snacks and cocktails are served in the Latitude 18 and Plunge poolside terrace.
5. W Retreat Koh Samui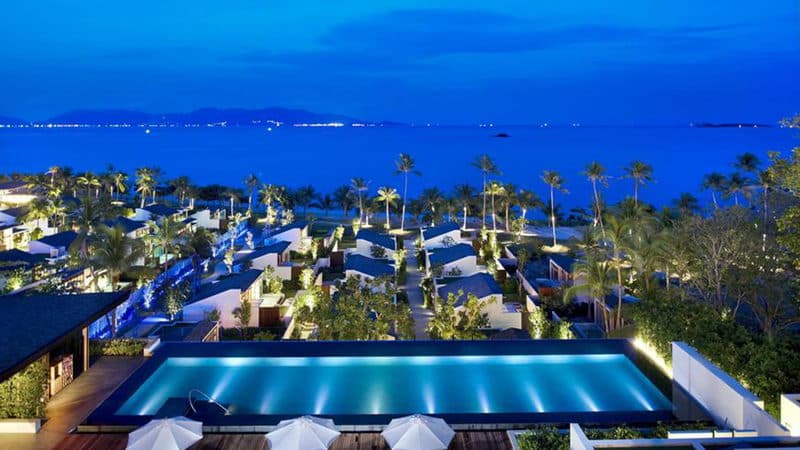 Highlights: night party, local village
Suit for: couples and friends
Address: 4/1 Moo 1 Tambol Maenam, Surat Thani, Tambol Maenam, Koh Samui, 84330 Thailand
The luxurious five-star W Retreat Koh Samui resort hotel is located in Mae Nam Beach and have private beach. The beach is 1-minute walk from the hotel. It is only 5-minute drive from Bo Phut Pier, the Big Buddha Statue and Fisherman's Village and about 20-minite from the Samui International Airport.
Each villa is equipped with private swimming pool with large deck and free WiFi. Silk lamps and master-designed furniture is offered to create a relaxed and elegant atmosphere for each villa. Advanced recreational facilities include a 46-inch flat screen TV, DVD player and Yamaha WiFi sound base. Each room is equipped with Illy espresso coffee machine, Bliss brand Spa facilities and free bottled water. Guests can enjoy a bubble bath and watching the 22 inch flat-panel TV cable in the bathroom. The bed equipped with 350-pin Egyptian cotton sheets and duvet to confirm guests enjoying the high quality of sleep.
Away Spa provides essential oil massage services and herb bath. FIT gym is equipped with a full set of fitness equipment. The resort also provides with free yoga class, Muay Thai class and aerobics water exercise with coach. Guests can have a free time and sun bath on infinity pool and neighbor beaches.
Guests can dine at two restaurants. At the Kitchen Table, it serves Thai and international cuisine in a relaxed environment. While at NAMU, which is adjacent to the beach, it serves modern and chic Japanese cuisine.
Woobar opens 24 hours a day and enjoy the iconic north shore landscape of the Gulf of Thailand, with charming music, W resort's signature cocktail, innovative and creative lighting and snacks. SIP outdoor Sunset Bar offers the world the best craft beer, enjoy a magnificent beach scenery, and is equipped with leisure low back seat resin, tropical hardwood furniture and large lamps.
During the stay in W Koh Samui Resort Hotel, guests can enjoy free ice cream, bottled water and soft drinks in Sweet Spots in the whole resort. The resort also provides daily free shuttle travel to Chaweng center.
6. Santiburi Beach Resort & Spa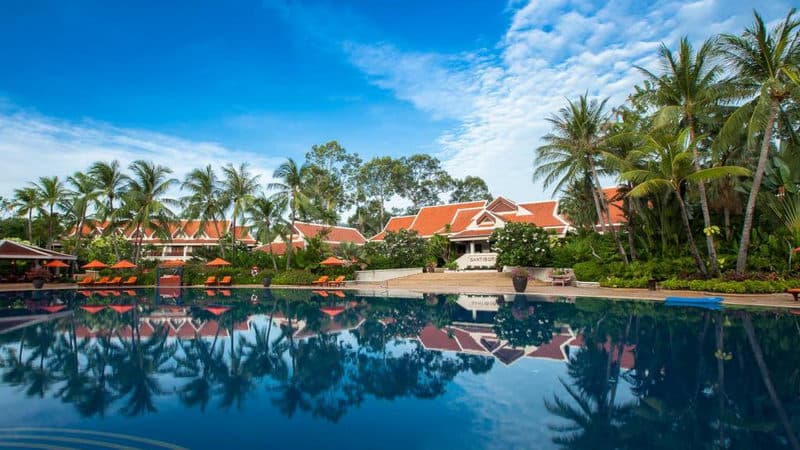 Highlights: golf course, tropical environment
Suit for: family
Address: 12/12 Moo 1 Maenam Beach Koh Samui 84330 Thailand
Santiburi Beach Resort & Spa is located in beautiful Mae Nam Beach of Koh Samui and is about 8 kilometers from Samui Airport. It provides luxury villas and suites, a tropical outdoor swimming pool and free Wi-Fi. The spacious villas and suites at the Santiburi Beach resort are surrounded by greenery, polished wood floors, Thai traditional furniture, and indoor entertainment facilities with flat cable / Satellite TV and DVD players. Guests can relax and enjoy the massage service in Spa and relax themselves in bubble bath. Santiburi resort is only 5 minute from a super 18-hole championship golf course. The resort also provides water sports facilities. The resort offers guests authentic Thailand cuisine and Mediterranean cuisine under the stars. Taksin Lounge offers evening refreshing drinks
7. Andara Resort and Villas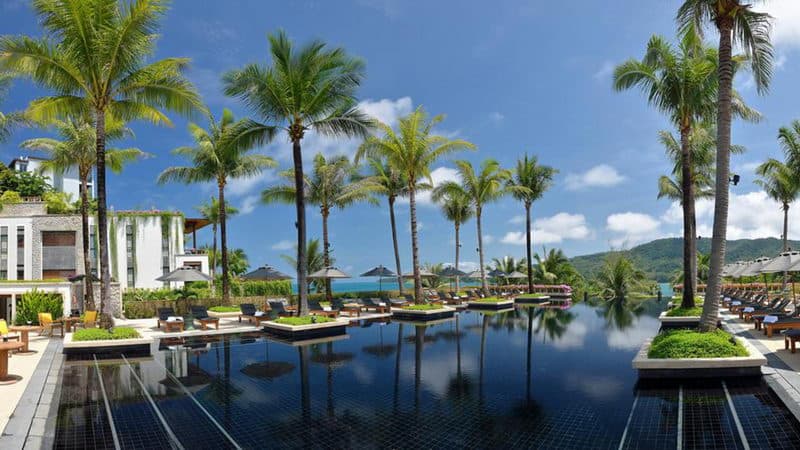 Highlights: close to Kamala Bay, personal butler
Suit for: couple and family
Address: 15 Moo. 6, Layi-nakalay Rd, Kamala Beach Kathu Phuket 83120 Thailand, 83150 Kamala Beach, Thailand
Andara Resort Villas resort hotel is located in the Kamala Bay of Phuket West Coas and enjoy the beauty view of the Andaman Sea. The resort is 20-minute drive from the Phuket International Airport and only 3-minute walk from the beach. Its villas and suites are equipped with free Wi Fi, flat screen TV and a spacious living dining area. Each villa is provided the outdoor dining pavilion and private chef. Additional guests can stay for free.
Guests can enjoy a relaxing massage service and a variety of physiotherapy services at Andara Spa, or exercise at a fitness center. The resort offers free shuttle service to Kamala Beach.
The Silk Restaurant in the hotel has both indoor and outdoor dining area, serving traditional Thailand and international cuisine. Bars serve cocktails and other drinks.
8. Anantara Mai Khao Phuket Villas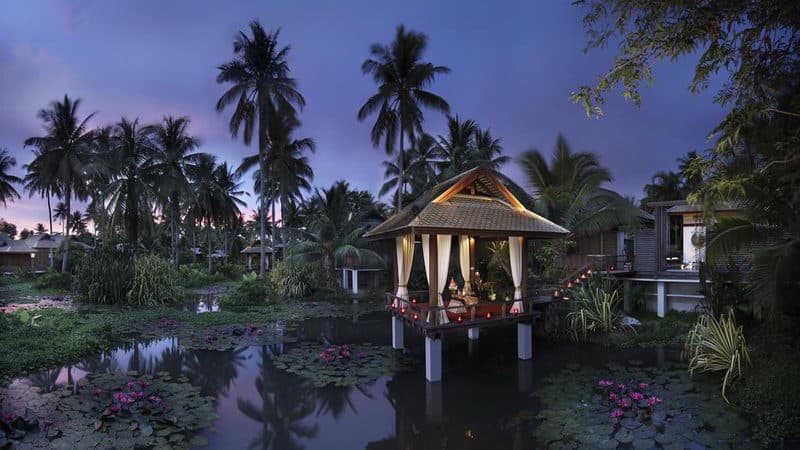 Highlights: convenient traffic, like a botanical garden
Suit for: family, couple and friends
Address: 888 Moo 3, Tumbon Mai Khao, Amphur Thalang, Phuket, 83110 Mai Khao Beach, Thailand
Anantara Mai Khao Phuket Villas is located in Maicao Beach, and is bounded by Sirinath National Park National Park. The Anantara Mai Khao Phuket Villas resort is 15-minute drive from Phuket International Airport and 30-minute drive from Patong Beach and Phuket Town. The beach is a 2-minute walk from the hotel. The resort offers infinity swimming pool, 5 dining venues and also provides villas with private swimming pool and sunbathing platform.
Each villa in the resort is equipped with espresso machines, a private wine cellar, flat screen TV, DVD player for guest entertainment and BOSE sound system, and bathroom with double terrazzo bath.
Guests can relax on private beaches or enjoy massage in the private care room at Spa center. Holiday activities include yoga, aerobics and Thai cooking courses. The resort also provides water sports facilities.
The La Sala Restaurant offers a buffet breakfast with an on-site cooking table and international buffet. The Sea Fire Salt. restaurant specialized in seafood barbecue. And at Tree House, it offers a various cocktail.
9. The Shore at Katathani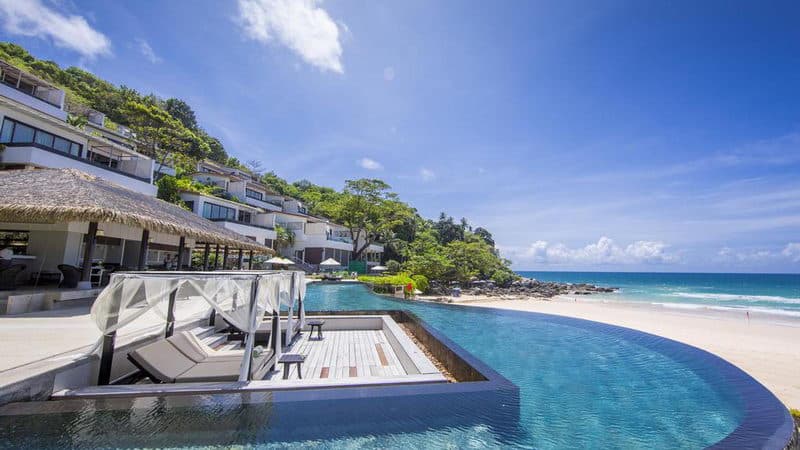 Highlights: infinity swimming pool, golf course
Suit for: couple and friends
Address: 14 Kata Noi Road, Muang, Phuket, 83100 Kata Beach, Thailand
The Shore at Katathani is a luxury resort on Kata Noi Beach. The beach is 2-minute walk from the hotel, 20-minute drive from the Patong Beach and 50 minutes from Phuket International Airport, and offers airport shuttle service at extra charges.
The hotel enjoys the beautiful sea views and provides five-star beachside rooms with private swimming pool. The adults-only hotel has a large infinity swimming pool and Spa facilities and free Wi Fi.
The villa features air conditioning, stylish wooden floors, tanning platforms and large transparent glass doors facing private areas, flat screen TV, mini bar and Jacuzzi.
The resort offers fruit picking, yoga and water aerobics lessons. The hotel also offers soothing body massage services, and the tourist information desk can help guests arrange their day trips around Phuket.
The Harbour restaurant offers a charming sunset view with a range of international cuisines and American breakfasts. The Lighthouse bar serves cocktails and fresh fruit juice.
10. COMO Point Yamu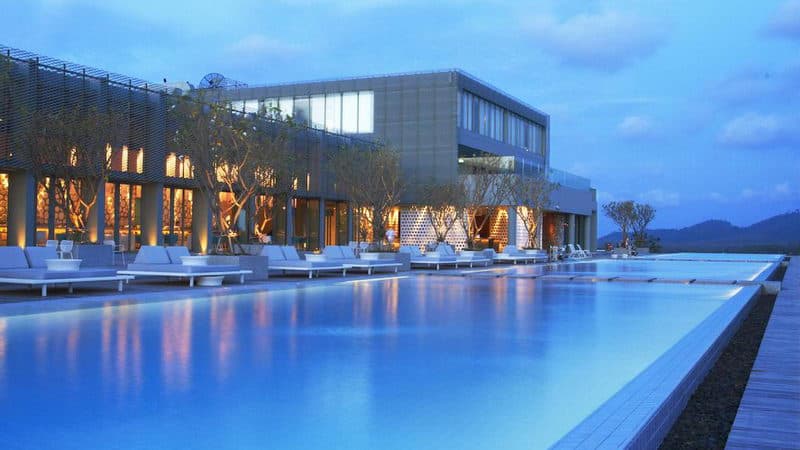 Highlights: world's premier hotel chains, tranquil enviroment
Suit for: couple and friends
Address: 225 Moo 7, Talang, Paklok,, Phuket, 83110 Ban Pa Khlok, Thailand
COMO Point Yamu is located in the top of the Cape Yamu overlooking the Andaman Sea and phangnga Bay. COMO Point Yamu Phuket is 20-minute drive from Bangtao Beach and about 27 km from Phuket International Airport. Guests who drive themselves can use the interior parking lot for free.
The interior of the hotel is designed by Italy designer Paula Navone. The hotel offers an outdoor swimming pool, spa and fitness center and free Wi-Fi covering the whole resort. The carefully-designed Villa and suite rooms are all equipped with French window, air conditioning, flat-panel TVs and refrigerators. Most of the guest rooms have sea or mountain views. Private terrace suites offer private swimming pool. Independent bathroom is equipped with shower and hairdryer.
The resort offers care rooms, special Thai massage area, an independent steam bath, a spa pool, a fitness center and yoga classes. With the help and reference of the tourist information desk, Visitors can easily get to and visit nearby attractions. The resort offers choices of Italy, Thailand or health food, and also serves local seafood. The hotel also provides in-room dinning.