Traveling to Similan for the First Time
Last Updated: January 09,2019
The Similan islands remain one of the world's most beautiful archipelagos, primeval white sand beach with crystal clear water and an astonishing multiplicity of marine life!! Find below our Similan islands guide and travel advice articles about the Similan islands national park and all the up-to-date information.
Topography
The Similan islands national park is composed of the nine islands affiliated from south to north about 70 km from the west coast of Khao Lak. In the northern Similan isles is an Islands called Koh Bon. This island is the magnet of the Andaman sea of Manta ray. Koh Bon will avail you the opportunity of seeing the vast Manta Ray hovering on the top of the cleaning station. Koh Tachai, the virgin island which lies between Similan and Surin islands national park, is the most beautiful among all these isles. The stretched white sandy beach of Koh Tachai is enchanted, one of Thailand's best dive sites.  Koh Tachai Acme is full of soft coral, all our customers called it a live aquarium, and you will feel surrounded by a school of fish!!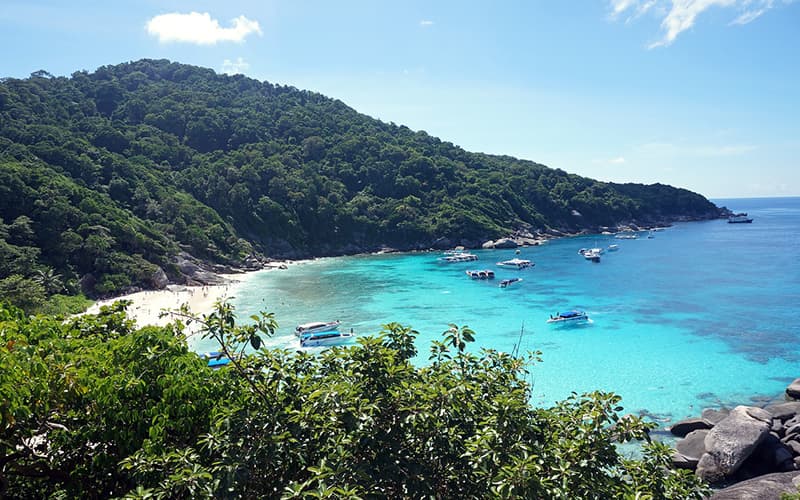 When to Visit
One of the significant fascinations of Similan Islands is their delicate and exceptional ecosystems. But because the fragile nature of the reserve it can't survive the massive tourist industry. Therefore, the Thailand Government is safeguarding the Islands by closing them down away from the public during the raining season, which begins in May and ends in October. Between this period, the park is closed for all tourist and other visitors. 
What to See
Similan Islands Tourist Attractions
For multitudes of visitors to be trooping into a country on a regular basis, there must be something spectacular about the place. Similan Islands is not different in this regard! Though the island does not have incredible scenery when compared to Krabi or Phang Nga Bay that is full of limestone islands which made people come and see the Andaman Sea.  You can find low-lying formations coupled with thick forests.      
The sea levels have fluctuated as high as 150m in the time past with the advancement and retreat of the polar ice-caps making the island to be under the water, battered by storms, enclosed with marine growths thereby becoming a regular host to long extinct creatures.     
In the modern day, loads of snooping stones as big as buildings lie as if they were collected and later abandoned carelessly in heaps by some early race of beachcombing goliaths. Even Sailing Boat Rock, the idiosyncratic formation staggering high above the bay on Koh Similan (Island No.8), has been formed in this way.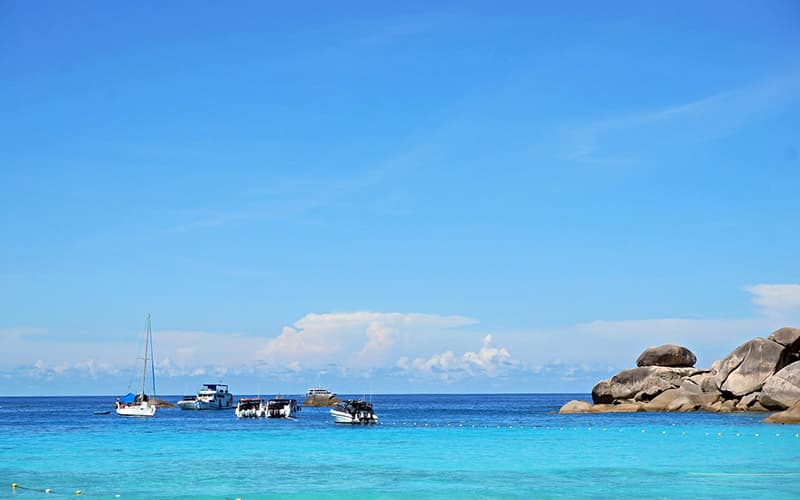 Both Similan Islands and the Surin Islands are two international dive and snorkel locations. That is the main thing interesting about them. There are dive spots around Similan that are very appropriate for preparation and the actual course.
Navigating the Similan Islands
An alternative way of entering Similand Islands is by sailboat which is also known as live aboard boats. Some sail charter organizations leave for the islands several times in a week. The sail timetables depend on the climate, the season and number of people that want to join. You have to plan your journey time else you will possibly miss the boat! Coming to Similand Islands is another fantastic way of exploring the beautiful Andaman Sea while you also carry out some island hopping along the way. The actual castaway experience! The cruise charters leave Chalong, Thap Lamu, Patong, Kaho Lak, Ranong and other places in Phuket.
Day-Trips to the Similan Archipelago
It is also possible to book Thailand's mainland day-trips from to Similan Islands. These tours will take up the entire day, so you have to get up very early if you're coming from Phuket. Depending on where you are residing and how much dough you're willing to spend on a boat, the typical travel duration is approximately 2 to 4 hours. Heed this advice; on your arrival at Similan paradises, don't leave before the sun is going down. For an inclusive Thailand tour package, you can contact our 1-1 travel consultant for a unique private proposal. All designed for your requirements and budget. Get tour idea from this most popular Thailand tour:
How to get to Similan Islands
How do you reach Similan islands? Getting to Similan Islands is very easy due to networks of roads that enter the paradise. But if you want to get there very fast, go by air although there are other options for boarding either a speedboat or a sailboat. The islands of Similan are situated about 570km south of Bangkok but are reasonably good reachable by road and boat.