Top 3

Laos Tours

Refer to the choices of 90% clients - easy to select and book!

From $ 999

From $ 1069

From $ 599
4 +

trips through Laos with

21

reviews

Here are the best personalized itineraries selected by top laos specialists. Chose the one you like the most and your tailor-made tour will be designed on it. Any type, any time!
Start planning your tailor-made holiday by ​contacting one of our specialists...
Plan your trip to Laos
Laos is located in the center of Southeast Asia and it's the only inland country. Most of flights will have 2 stops at its neighbor Thailand or Vietnam. Laos is not so large so it's better for most travelers to connect other southeast tours together. The international flight time will be shorten if visit Thailand or Vietnam first, and then travel to Laos. Those connect flights are very convenient and cheap. See connected tours.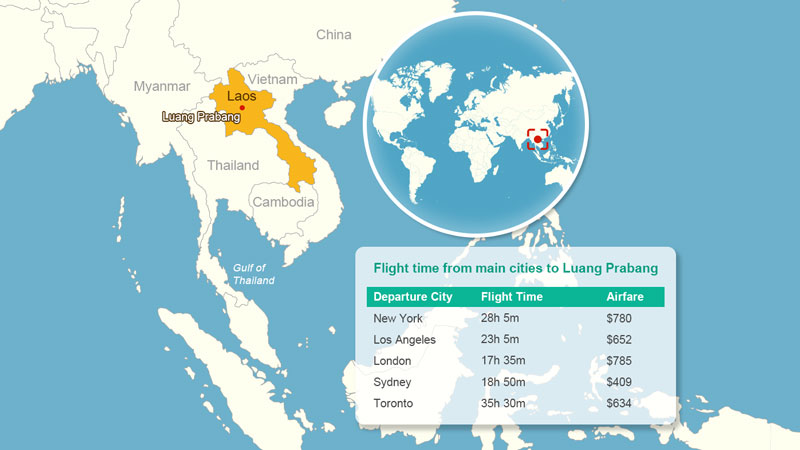 Direct Flights i
n Southeast Asia Region

Best time for weather

Laos' climate is best during November to next March, especially in December when the temperature reaches the coolest peak of the year, with an average of 65 to 75°F and the minimal rain. Rainy season is from May to October. When the rains return to the country, the temperature drop. However, showers are usually short and sharp, having little impact on your exploration if go out earlier. Moreover, rains bring waterfall, river and lush jungle back to the country.

Best time for Discount
Travel to Laos in rainy season and you will find hotel and flight cheaper. About 20% less than that in hot season. Laos tourism season is almost the same with Vietnam's and Cambodia's. So you might save a lot if travel to multiple countries in Southeast Asia these months.
We provide visa on arrival approval letter (VOA) with free of charge for travelers from American, Canada, Australian and Europe at the first time apply and free for single entry only. After get VOA, at immigration gate clients just need provide VOA, 2 passport-size photographs and stamp fee ( USD30/pax) then you can easy check –in Laos. It's required at least 6 months validity on your passport. You can also apply for a e-Visa online.