Krabi Honeymoon Tours
Book Krabi Honeymoon Tour Packages at best price.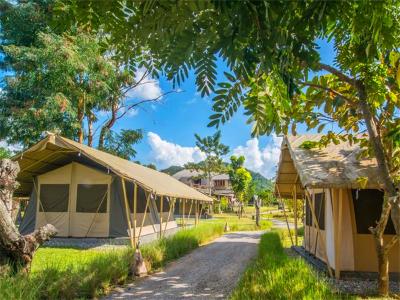 10 days Bangkok - Ayutthaya - Khao Yai - Krabi
From $ 1920

9 days Phuket - Khao Sok - Krabi
From $ 1699

10 days Phuket - Koh Phi Phi - Krabi
From $ 1399
Things to Do on your Krabi Honeymoon
Krabi Honeymoon Packages
Going to the beach for your honeymoon is like making wine, it needs to be done in the place where the temperature, soil and climate are most suitable. Often, we don't want to go to world-famous travel destinations, but rather choose to go to the most appropriate and scenic places to spend the most romantic vacation of our lives.

For those who are bored to see the hot and dry beaches, the fresh version - Krabi - can be your private net during your honeymoon. Krabi is a good choice for couples who like peace and quiet, it is like a world away from all the hustle and bustle.
Krabi has a colorful underwater world and a dazzling cross-island tour that you can't get tired of playing or watching, and the famous PP Island is its powerful spokesperson. PP Island is located about 20 kilometers southeast of Krabi and is a sister island group consisting of two main islands.
Here, you can put down your phone, get away from the Internet and feel the nature, or simply throw your feet into the permeable sea water and your body into the soft and delicate white sand.
Best Time to Visit Krabi
The Krabi region has a humid tropical climate and the weather is very similar to that of Phuket. Krabi's climate is divided into two parts: rainy season (mid-May to mid-October) and dry season (mid-October to mid-May). The best season to visit Krabi is from November to April every year.
In November, not only is Krabi a lively place to visit, but the sky is also mild and sunny, the water is blue and the waves are gentle, so you can dive in comfort and get close to the fish. In mid-April, there is also a lively water festival.
From April to September, the sun shines directly on the equator and it is the rainy season in Krabi, but compared to Phuket, it may not rain every day during the rainy season, sometimes it will not rain for more than 10 days. At this time, hotels are half cheaper than the peak season, and people are less, and each season has its own characteristics.
The islands that are open all year round are Phi Phi Island, Hong Island, the four islands of Krabi , while those only in high season are Rok Island, Haa Island, Emerald Cave (Pearl Island), and kradan Island.
Krabi Honeymoon Packages
Phi Phi Island
Many people know about Phi Phi Island because of Phuket, but actually Phi Phi Island is closer from Krabi, 50 minutes boat ride from Krabi Ao Nang. From Krabi can only be reached by speedboat, a day trip club to the size of Phi Phi Island + Bamboo Island and other attractions.
Phi Phi Island is a snorkeling place with relatively high quality water and rich underwater life in the off-season from Krabi, Phi Phi Island is the filming location of the movie "The Beach", many Chinese and foreign tourists come here.
Note: To protect the ecology of Maya Bay, the bay is closed from June to October, other attractions on Phi Phi Island are open normally.
Koh Hong (Hong Island)
Hong Island is 30-minute boat ride from Ao Nang. The beach is slender and perfect for relaxation. It is also known as Cutthroat Island, named after the movie "Cutthroat Island" which was filmed there.
Hong Island is known as the island of paradise and a wonderland on earth. It is surrounded by limestone and resembles a huge room. "Hong" means "room" in Thai pronunciation, and with the protection of the door, even if the waves are strong outside, the island is still calm inside.
The coral and fish are not abundant here, but the fine sandy beach and calm water are good for relaxation. It is highly recommended during the rainy season because the boat ride is relatively short and it is not easy to get seasick.
Krabi Four Islands
The four islands of Krabi are the closest islands to Ao Nang Beach, only 20 minutes boat ride from Ao Nang. The four islands include Chicken Island, Poda Island, Pipe Island Mok Island, and Railay Peninsula. Chicken Island is shaped like a chicken's head, hence the name Chicken Island, which is only can be snorkeled. The last one is Phra Nang Beach in Railey Peninsula, where there is the famous Holy Virgin Cave, and the locals believe it is highly efficacious.
Krabi Seven Islands Day Cruise
Seven Island Day Tour is also a four-island itinerary, adding fluorescent snorkeling to the four-island itinerary, departing in the afternoon and watching the sunset and fire dance show in the evening, which is more interesting and affordable.
For honeymoon trips, romantic arrangements are essential. Couples can enjoy a seafood feast while watching the sunset at sea. You can join a mahogany sailing boat sunset tour: music playing on the boat, leisurely sailing in the sea and enjoying a seafood dinner BBQ during the trip.
Or you can charter a sea fishing boat and experience sea fishing. Krabi has professional sea fishing boats equipped with sonar to detect fish, and you will learn how to troll sea fishing. The rich seafood of the four islands will not let you down.
ROK & Haa Island
Opening hours: 16 October - 15 May every year
In high season, ROK & Haa Island is the place you have to hit. Its clear water just like Maldives. The island is closed for six months, allowing the underwater life here to recuperate. It is known as the pearl of the Andaman Sea.
ROK Island can be reached by boat from Koh Lanta, Krabi and Phuket, distance ranging in increasing order: 1 hour boat ride from Lanta; 1.5 hour boat ride from Krabi; 2 hour boat ride from Phuket, no public transportation and can only be reached by day trips or chartered boats.
Krabi Rock Climbing
Krabi is a famous rock climbing destination in Thailand. There are more than 500 different routes in the climbing spots on the Laili Peninsula, and there are many professional climbing centers here, among which Real Rock is the TOP climbing center in Krabi.
Real Rock is the top climbing center in Krabi area. It is well equipped with professional instructors and Real Rock has won many awards in Thailand climbing competitions.
Emerald Pool + Hot Spring + Tiger Cave Temple
Emerald pool pool water is clear and presents a blue like emerald color. The water temperature is maintained at 30 ~ 50 ℃ all year round.
The emerald pools are large and small, and the more famous ones are the blue pool and the emerald pool, with the special reminder that the blue pool is closed between May and October to protect the birds in the forest. It is an hour and 20 minutes drive from Ao Nang. You can take a day trip or charter a car if there are many people here.
Waterfall Elephant Camp is located in the National Forest Park and the elephants belong to the locals who treat them as family members. There is a dense forest full of natural wonders. There is also a bathing experience for baby elephants. The camp is about 50 minutes drive from Ao Nang and 30 minutes drive from Krabi town.
Honeymoon Special Experience in Krabi
Romantic restaurants - Lae Lay Grill
At this hilltop restaurant, couples can enjoy a gourmet meal while watching the sunset!
Located on a hill in Ao Nang, the restaurant specializes in seafood and Thai cuisine and has a beautiful view overlooking the bay of South Bay. The open kitchen allows you to watch the food preparation process up close, and dining here is definitely an experience to remember. The seafood platter is most recommended, with a wide variety of crab, lobster and squid. The menu changes every six weeks to ensure you get the most seasonal seafood. It is recommended to reserve a place in advance, and there will be a free car to take you back to the hotel.
Relax in a SPA - Radarom or Wareerak Spa
Many people have heard of let's relax, but the technique and service of let's relax in Krabi is not as good as Radarom and Wareerak spa.
Radarom is one of the top 1 massage parlors on Ao Nang Street. Its speciality is the oil massage, the precise degree massage is very professional, with pure natural oil aroma, two hours oil massage can make you completely relaxed.
The Wareerak spa is hidden in the primeval forest, and the natural hot spring spa is a special feature. A special spa tour for two can be arranged on the last day of your honeymoon. The natural hot and cold spa is rich in minerals and is very relaxing. The full-day massage also includes yoga classes, handicraft classes, nutritional meals, spa shoulder and neck massage and a one-hour Thai massage, making the itinerary rich and relaxing. This spa is more than an hour away from Ao Nang, hidden deep inside the mountains, which makes it very difficult to find. It is best to go with a group.
Start planning your tailor-made holiday by ​contacting one of our specialists...
Monica

Steven

Natasha

Dan