Thailand honeymoon packages all inclusive

7 days Phuket - Phi Phi
From $ 1429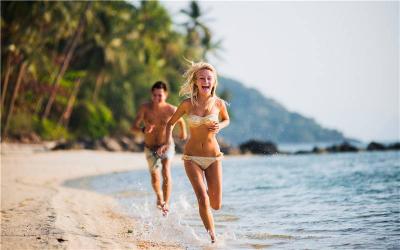 11 days Bangkok - Kanchanaburi - Phuket - Koh Phi Phi - Bangkok
From $ 3399

13 days Bangkok - Ayutthaya - Chiang Mai - Phuket - Koh Phi Phi - Phuket
From $ 2500
Thailand honeymoon packages Guide
All Inclusive Honeymoon Packages
What can you save in an all-inclusive honeymoon packages?

In UME all-inclusive honeymoon packages, all of the followings will be done by exclusive travel experts, saving you time and effort.
Honeymoon planning
To start planning earlier if you want a travel wedding, you should start planning a year in advance for the travel wedding and related planning. The first thing you need to do is to get information about the wedding, and to consult with travel agencies and professional wedding companies. If you want to go abroad, you should also pay attention to the special offers according to the country, or personalized services of travel agencies. All these detailed work are required to prepared six months before the trip.
Get to know famous attractions
Honeymoon, as the name implies, is to travel to various places, and then take beautiful sweet photos, in the double happiness of travel and marriage and to feel happy life. But since it is not a place that you know very well, you have to spend time to know the famous local attractions, climate and so on.
Evaluate the budget
When we go for a trip, we consider how much it will cost, and then try to control within this spending range. But checking the exchange rate and the cost level of each place is a big trouble and time consuming.
How to plan an all-inclusive package
Phuket - warm tropical beaches
Island size: a large peninsula, located beside Andaman Sea and Gulf of Thailand
Hotel star: 4-5 stars. top quality service, exclusive butler, and 24-hour butler service. You can chose from water house, cliff hotel, beach hotel with private beach, with pool. Suitable for honeymoon trips
Meals included: breakfast and lunch / three meals / all-inclusive
Transportation: Domestic flight (50 minutes), private car / van
Facilities: WIFI, English service, international airport, restaurants, bars, dive stores, a variety of beach facilities
Beach grade: A grade
Keywords: island tour, fancy vacation style, island hopping, diving.
Why:
Phuket is the largest island in Thailand. Phuket is a must-go for first time to the island. The island is long and striped. There is dozens of beaches, each with its own characteristics.
Phuket is more diverse than Koh Samui, with many outlying islands around, both popular and individual play options.
Suitable for the crowd who want to have a beach trip with various entertainment activities.
Main travel attractions
Emperor Island - clear water, blue gradient sea, close to Phuket.
Phi Phi Island - where Paradise was filmed, suitable for diving.
Phuket island - beaches like Patong Beach/Kata Beach, etc., Phuket Town, Phuket Big Buddha, etc.
Niches: Similan Peninsula - only open for six months, you can see big turtles, Rock Island - turquoise blue jelly sea; Krabi - you can do extreme rock climbing, dream hot springs and other fancy activities, etc.
What can I do on the island?
Thai SPA - Sukko Sukko Spa, a professional five-star spa
Spa can be said to be one of the most worthwhile experience during the trip. After a day of travel, a spa is the most refreshing thing. Sukko Spa is a spa based on the concept of Thai history and culture, located near Wat Chalong in the south of Phuket. With a floor area of over 1,200 square meters, the spa is built in the ancient Siamese style and has a peaceful and relaxing atmosphere.
Customized Weddings
UME Thailand's wedding planning team is sure to give you a wedding to remember. Choose a wedding celebration that will then be personalized with your choice of decorations, bridal bouquet or cake.
During the celebration you will be barefoot on the beach and receive a Thai wedding blessing - such as splash water, wear a Thai wreath, receive a wedding certificate, enjoy the cake, beer or champagne, and have professional photography serve for you.
Private Travel Photography
Memories may fade, but photos will last forever. Share your beautiful moments with friends and family with a photography package. Basic photo services include 2 hours of follow-up photography and all photo negatives. Not enough? Then you can choose a advanced 4-6 hour package that will provide you with a honeymoon photo session filled with sunset memories.
Snorkeling at sea
As an A-rated snorkeling paradise island, Phuket can't be miss to explore the unparalleled underwater wonders of Andaman Sea and Gulf of Thailand. As the western side of Phuket faces the vast Indian Ocean, the water is cleaner, the fish more diverse, and the coral better preserved, making it one of the best destinations for snorkeling in Thailand. And the Similan Islands, about 65 nautical miles north of Phuket, are among the top ten diving destinations in the world.
There are more famous dive sites in Phi Phi Island, for example, in Bidanok dive site, it is said that there are tens of thousands of striped yellow snapper, and these fishes are not afraid of crowds, so you can get close to them easily. Sea turtles can usually be seen at Malong wall, and you can often meet them unannounced at about 5 meters. Manta rays, dolphins, turtles and white sharks frequent appear in the area.
Each program has a different fee, but you're sure to enjoy it. Just book your all inclusive honeymoon packages in advance with your tour consultant!
Main travel attractions
The Racha Island (RayaIsland) - clear water, blue gradient sea, close to Phuket.
Phi Phi Island - where Paradise was filmed, suitable for diving.
Phuket island - beaches like Patong Beach, Karon Beach and Kata Beach, etc., Phuket Town, Phuket Big Buddha, etc.
Niches: Similan Peninsula - only open for six months, you can see big turtles, Rock Island - turquoise blue jelly sea; Krabi - you can do extreme rock climbing, dream hot springs and other fancy ways to play, etc.
Recommended hotel areas: If you like lively and convenient, stay in Patong Beach; want to take into account the traffic and less crowded scenery beauty, then recommended Kata and Karon Beach.
Recommended hotels
Kalima Resort - infinity pool; Kata SIS Resort - less crowded scenery and new facilities.
Bangkok - the fashion capital of Thailand
Keywords: capital city, design style, cultural tour
Why: We would recommend Bangkok if you like culture, humanities and want a novel design category. Thailand's landmarks are all concentrated here, and in recent years Thailand has emerged as a design newcomer, from stores to single products, from online attractions to customs, in this city is shown to the fullest.
Suitable for the couple: Suitable for the couple who want to hit the sights and cultural attractions; people who are in transit here; people who love shopping; people who like the design category of literary refreshment.
Main travel attractions
The Grand Palace - a national landmark attraction, the most perfectly preserved, largest and most ethnically distinctive royal palace in Thailand over the ages.
Wat Pho (Reclining Buddha Temple) - the oldest temple in Bangkok, and also the largest in Thailand.
Chao Phraya River - Thailand's mother river, the Venice of the East.
Siam Square, central world - a shopping center with a collection of trendy brands, a must for shoppers.
Ratchada Train Market - the newest netflix attraction with beautiful night scenery.
Floating market - to experience the local characteristics of folk customs.
Surrounding Pattaya is famous for the ladyboy show. You can also go to the niche like Hua Hin and the quaint Ayutthaya, etc.
Chiang Mai - a small fresh rose of Northern Thailand
Keywords: fresh and lovely, cool, jungle leap, inland scenery.
Why: If Bangkok is a fashionable beauty, then Chiang Mai is a flower girl full of fresh moods. All kinds of interesting and lovely elements are fused in this town full of Thai style in Northern Thailand.
Suitable for people: People who don't want to play with the sea and don't like big cities. People who like a small fresh mood. People who don't want to be too hot.
Main travel attractions
Chiang Mai Ancient City - ancient, laid-back Northern Thai life.
Zip line - a little excitement in the rainforest.
Weekend market - all kinds of food, drink and fun, but also to feel the local flavor.
Pai - a combination of idyllic and humanistic scenery.
Elephant Camp - bathing and feeding the elephants and being a little volunteer.
Black and White Temple - "one thought of heaven and one thought of hell", shocking pure white, contrasting with black.
Sky Lantern Festival - a specific festival, the sky is full of romantic lights.
Honeymoon and Anniversary Free Gifts
For guests staying less than 7 nights, 1 bottle of wine / special honeymoon night bed service / Hideaway surprise gift
For guests staying for 7 nights or more, including the above-mentioned gift, plus choose 1 among flower petal bath / one romantic dinner .
Anniversary gift: champagne / 2 cakes for 2 people / a small gift of local specialties
Recommended Routes
Bangkok + Phuket
Recommendation: ★★★★★
Suitable for days: 6-9 days
Reason: The capital pluses the most popular beach of Thailand. It's a great way to have fun and not be tired, not only for holidays, but also to learn more about the country and not waste the opportunity to be abroad.
Bangkok + Pattaya
Recommendation: ★★★★
Suitable for days: 5-7 days
Suitable for people: If you don't have that much time, and want to play around the city and beach, and not so high requirements for sea water, then you can choose Bangkok and Pattaya.
Route: Stay in Bangkok for 2-3 days, and then drive to Pattaya for another 2 days where you can watch the siren show, join sea tour and finally back to Bangkok at the last.
Three cities
Recommended: ★★★★
Suitable for days: 10 days or more, 12-15 days are recommended.
Reason: suitable for people who have a long vacation and want to hit all three styles of travel places in Thailand at once.
Recommended routes: Bangkok + Chiang Mai + Phuket; Bangkok + Chiang Mai + Samui; Bangkok + Pattaya + Chiang Mai
It is recommended that enter in Bangkok, play a round and then return home directly from Bangkok or Phuket.
Start planning your tailor-made holiday by ​contacting one of our specialists...
Monica

Steven

Natasha

Dan