Top 10 Things to Do in Phuket
Last Updated: February 10,2020
Phuket, as the largest island that is located in southern Thailand, is famous for its beautiful beaches, glittering seas, old towns and hospitable people. It provides variety of different attractions for travelers from all over the world, including 12 beaches and all kinds of water activities, Phuket Town and Buddhist temples. Also, there are many unique islands around Phuket that are worth visiting.

UME Travel has more than 10 years Thailand trip experience, and our team had explored almost every attraction in Thailand to make sure that we offer accurate information. Want to come to Phuket? Check out the Top Ten Things to Do in Phuket below.
1. Phuket Town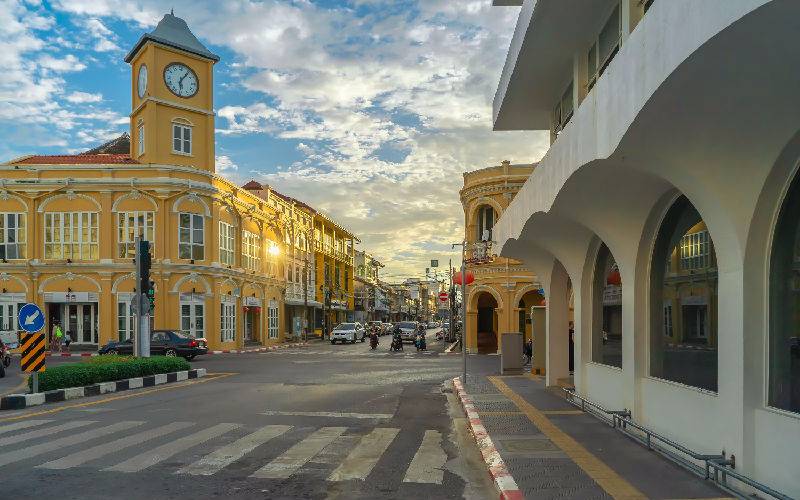 Most people go straight to beaches when first time coming to Phuket. However, they would miss the old, unique Phuket town with its Sino-Portuguese-style architecture. Phuket town is the capital of Phuket Province and it would impress you with its rustic atmosphere.
The historical old town of Phuket is not no big, but it is still large enough to be visited in half a day. There are many small cafes and restaurants to rest, enjoy lunch and even dinner. Activities in Phuket are almost all-time. No matter when you visit the town, you can see a living Phuket. In the early morning, monks parade around the streets for daily alms. Local people knee down and give the offerings to monks. Peaceful and religious. On the opposite of the street, there is another worldly view - restaurant owners bargain and buy ingredients for a daily business. Nights are reserved for enjoying good company, whether at a restaurant, a disco, a quiet bar, or a combination of all three.
Reccommend Tour:
Half Day Phuket Tour around the Island From US $ 64 pp
2. Hat Patong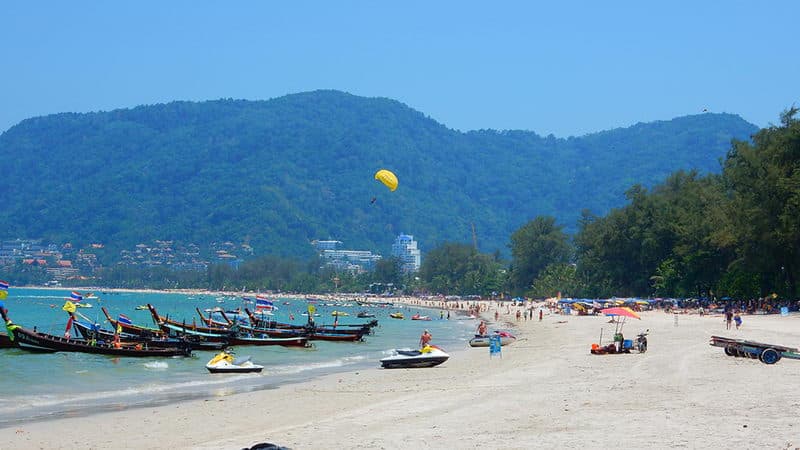 Hat Patong is Phuket's most developed beach, and it has 3 kilometres (1.9 miles) long. Patong is mostly made up of hotels, restaurants, nightclubs and various tourist attractions. Daytime activities are primarily centered on the beach with watersport activities.
3. Wat Chalong and Phuket Temples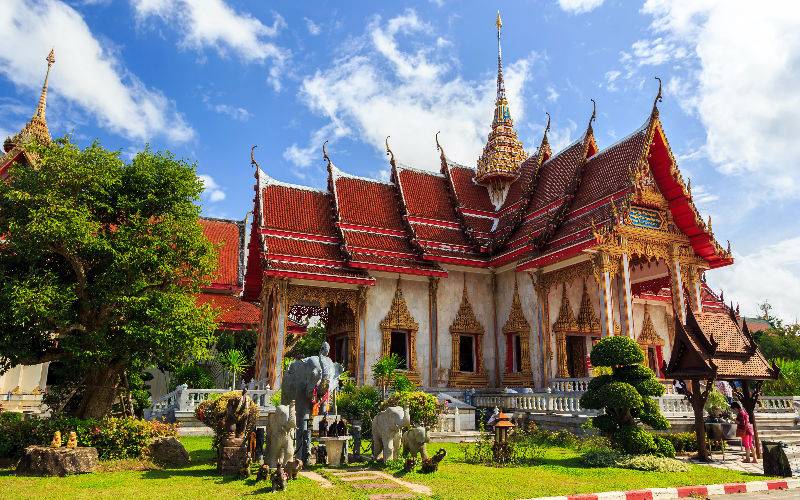 In Phuket alone, there are 29 Buddhist temples spread around the island. Wat Chalong is the largest one, and it has been extending a warm welcome to visitors for over a century. Its unique architectueal style and rich history have become a special symbol of Phuket.
Reccommend Tour:
Half Day Phuket Tour around the Island From US $ 64 pp
8 Hours Around Phuket Sightseeing & Photography Tour From US $ 123 pp
4. Phuket Big Buddha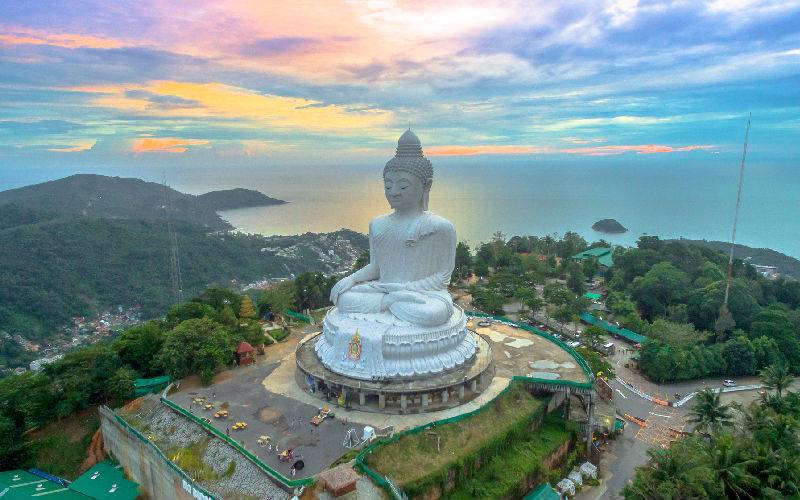 Phuket Big Buddha is one of the most important and revered landmarks on the island. The huge image sits on top of the Nakkerd Hills between Chalong and Kata, and it can be seen from as far away as Phuket Town and Karon Beach. It is a must-visit island destination.
Reccommend Tour:
Half Day Phuket Tour around the Island From US $ 64 pp
8 Hours Around Phuket Sightseeing & Photography Tour From US $ 123 pp
5. Play with Elephants
Does Phuket have elephants? A lot! Most famous are Khao Sok and Elephant Jungle Sanctuary. Previous one is a national park which covers an area of 739 km2 and an reservoir lake. The latter is a famous sanctuary which origins from Chiang Mai. No-riding elephant sanctuary rises rapidly since the attitude towards the animal welfare changes. Animal-friendly, ethical interaction substitutes for rude riding and animal entertainment performance. If meeting elephants up close is on your bucket list for your trip to Phuket, come with no hesitate!


Reccommend Tour:
Half Day Phuket Elephant Jungle Sanctuary Tour From US $ 125 pp
6. Soi Bangla Nightlife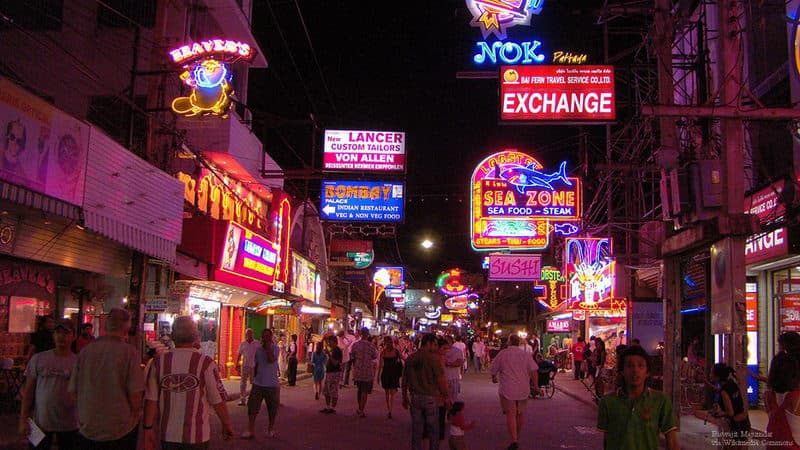 Patong is equally well known for its nightlife, centered on Soi Bangla. Bangla Road really comes to life after the sun sets with all kinds of neon lights, loud music and alcohol. It is quite a friendly and lively place to walk around as a traveler who is trying to experience the nightlife in Phuket.
7. Simon Cabaret Show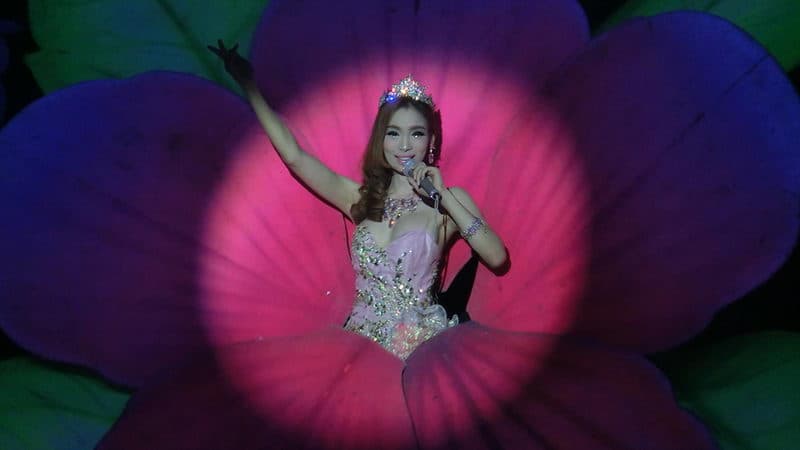 Phuket Simon Cabaret has become one of Southeast Asia's outstanding entertainment attractions drawing thousands of visitors from around the world each evening because of its extravagant costumes, make-ups and stage designs. It's definitely worth your time to watch it.
Reccommend Tour:
Evening Phuket Simon Cabaret Show VIP Seat From US $ 50 pp
8. Phuket FantaSea Show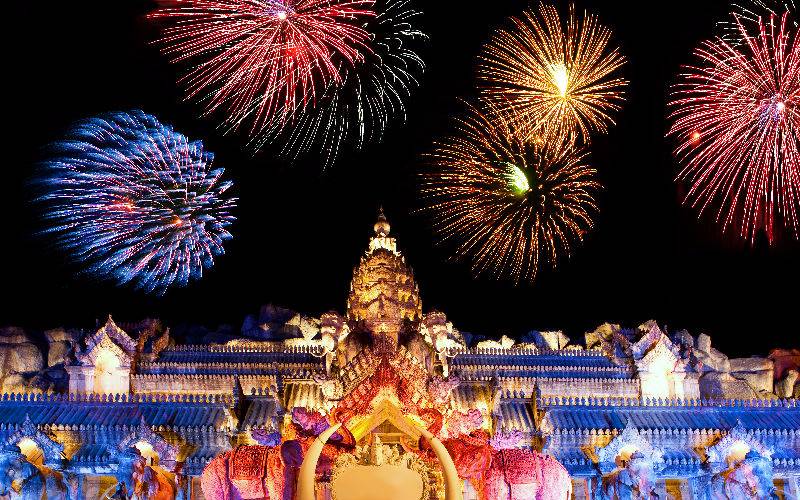 Phuket FentaSea show is the biggest show on the island. This live show involves hundred performers with a dozen adult elephants and other animals, which make it hugely popular since decades. The theme park it in has souvenir shops and hosts huge buffets that can better serve visitors.
Reccommend Tour:
Evening Phuket Fantasea Show From US $ 63 pp
9. Phi Phi Island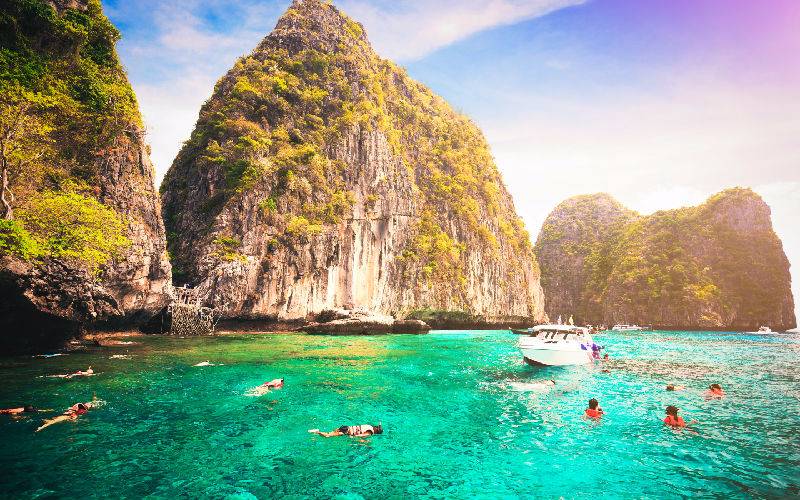 Phi Phi Island is a superstar within all Thai islands. It is getting bigger and busier since Leonardo DiCaprio filmed his movie "The Beach" on the island in 2000. Phi Phi Island is famous for its unpolluted beaches, blue seas and natural caves. Visitors can find all kinds of entertainments on the island.
Reccommend Tour:
Full Day Phi Phi Island Tour by Big Boat from Phuket From US $ 66 pp
Full Day Phi Phi Island Tour by Speed Boat from Phuket From US $ 110 pp
10. Phang Nga Bay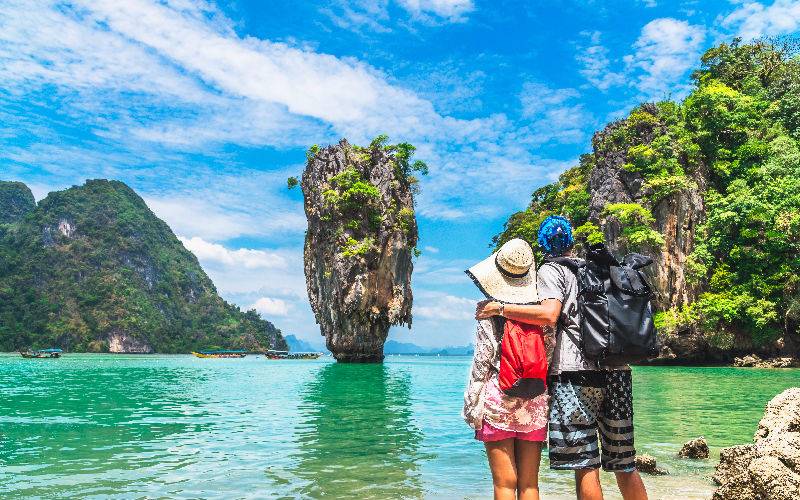 Phang Nga Bay, first found its way onto the international map through its role in the James Bond movie "The Man with the Golden Gun". The entire area surrounding has spectacular rocky pinnacles, which gives it a name - "Little Guilin". Visitors are able to see patterns from the pinnacles under the sun.
Reccommend Tour:
June Bahtra Sunset Cruise to Phang Nga Bay with Dinner From US $ 106 pp
Full Day James Bond Island Tour by Big Boat from Phuket From US $ 85 pp
11. Thai Massage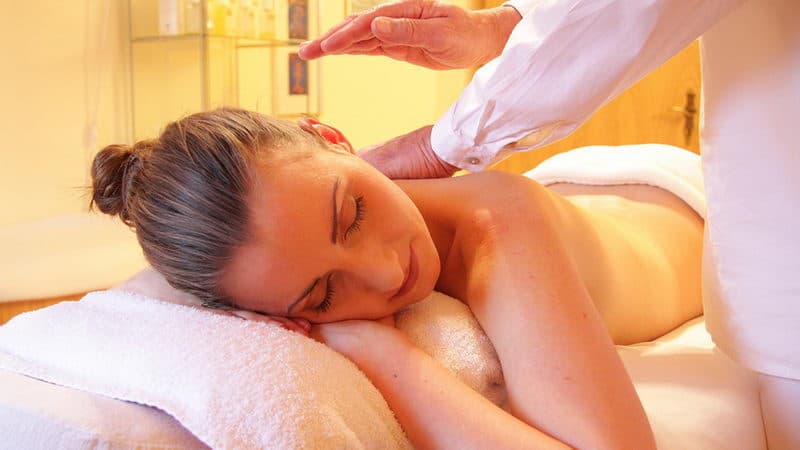 How could you come to Thailand without trying Thai massage? Thai massage as one of the cultural heritages in Thailand can bring relief to your entire body. You can find a SPA at almost everywhere on the island.