The Best Thai Islands
Last Updated: February 04,2020
White powdery sand beaches, palm trees nodding in the breeze, and a turquoise sea lapping at the shore … these are the islands of Thailand! Nestled along the mainland, in the Andaman Sea and the Gulf of Thailand, are islands with some of the most spectacular beaches and breath-taking sunrises and sunsets you will ever see!
Each island has its own personality and is uniquely different from its neighbor, but luckily, there will always be one island that is just right for you! Some of these islands are famous throughout the world for their beautiful beaches and party atmosphere while others are well-known for offering a variety of recreational sports and tranquil relaxation. Which of these islands are calling your name?
Phuket
Phuket is the largest and busiest of the Thai islands, and it is the most popular beach destination in Asia. Located off the west coast of Thailand in the Adaman Sea, this resort area consists of the island of Phuket and 32 smaller islands; Patong, Kata and Karon beaches are some of the more famous. With a busy international airport and Sarasin Bridge connecting to the mainland, it is easy to reach them all!

Each island has powdery white beaches with beautiful resort accommodations, world-class restaurants, and clubs that provide a lively night-life. From these beaches, you can scuba dive in the Adaman Sea and witness the under-water life of the island, or you can take an exhilarating speedboat ride to nearby tropical islands, such as the well-known Phi Phi Islands. You can enjoy a serene boat cruise around Phang Nga Bay or simply relax under a beach umbrella while taking in a stunning sunset. Phuket also has championship standard golf courses for golf lovers and tropical rainforests for adventure lovers…how you spend your time is strictly up to you!
Whatever you choose, you will definitely need more than one or two days to enjoy everything Phuket has to offer!
Koh Phi Phi
Close to Phuket, is the archipelago of the Phi Phi Islands; a group of islands which include Koh Phi Phi Don, Koh Phi Phi Leh, Bida Nok, Bida Nai, and Bamboo Island.
Koh Phi Phi is the most famous of all Thai Islands with thousands of visitors flocking there every year. Tourists can get to these islands by ferry or long tail boats from either Phuket or Krabi. Once there, you will find a tropical paradise with glistening white sand beaches and incredibly straight cliffs jutting sky-ward from the sparkling sea water. Even with the limestone mountains in the island's interior, the island is so narrow that you can see sea water on both sides when standing in one central location on the island!
Koh Phi Phi Don is the largest, most populated island and the only inhabited island in the group. This island is a protected marine reserve, so besides enjoying untouched beaches, you can also do some spectacular snorkeling and diving!
Sitting just about a kilometer and a half away from Koh Phi Phi Don is Koh Phi Phi Leh; an uninhabited island with stunning, vertical cliffs covered with lush greenery and small, sandy beaches with tropical coral seas. Loh Sama, a bay on the south side of the island, is where you can find beautiful coral reefs and colorful tropical fish while snorkeling in the crystal-clear water. Viking Cave, located at the bottom of a tall limestone cliff, is named for the paintings of Viking boats found on the walls of the cave. It is also home to various swiftlet birds' nests which are sought-after by the Chinese culture because they are believed to promote good health.
Koh Phi Phi became famous worldwide when Koh Phi Phi Leh was used as a location for the film 'The Beach' shot in 1999. This recognition has changed island life by gradually becoming a hot tourism spot. Tourists who flock to the island create a strange mixture of party-going travelers and resort-dwelling tourists!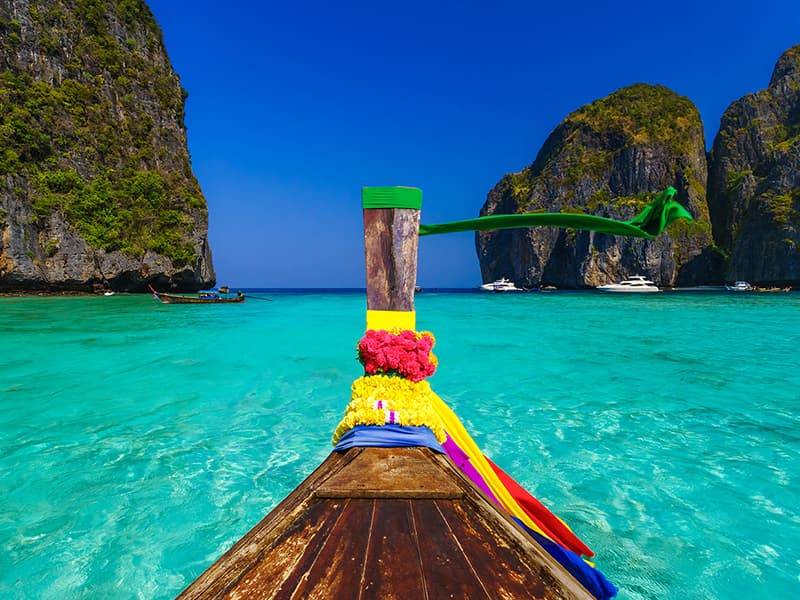 Koh Samui
Lying on the east coast of Thailand in the Gulf of Thailand, is Thailand's second-largest island, Koh Samui. Its famous, picture-postcard beaches are some of the best in the world which attract a variety of travelersof travelers - from the economy-minded backpackers who rent small beach huts to the more extravagant travelers who relax at one of the exclusive, five-star resorts or villas in this paradise. Lamai and Chaweng are the two busiest beaches with a party atmosphere that invites you to enjoy yourself long into the night.

In addition to beautiful beaches, Koh Samui has other attractions to make your holiday complete. For example, the Big Buddha Temple is a famous tourist spot on the island where you can tour a 12-meter tall Buddha statue while experiencing spiritual renewal. You can visit the majestic Na Muang waterfalls, given this name because the rock face is purple; this set of cascades proves the
beautiful des proves the beaches are not the only beautiful site on the island, or you can experience the timeless feel of Bophut's Fisherman's Village where you can wander stalls selling souvenirs and local delicacies. You can also travel by boat to join the Full Moon Party, which is an annual electronic dance party, in nearby Koh Phangan.
Koh Samui is quite a unique area among Thailand's many islands, and this idyllic tropical paradise has something to offer every taste!
Koh Chang
Lying on the eastern shore of the mainland, Koh Chang is close to Bangkok and near the border with Cambodia. It is the third largest island in Thailand and is a part of the Mu Koh Chang National Park. Koh Chang means 'Elephant Island' because of its elephant-shaped headland and is covered in rainforests, jungle covered mountains, and welcoming beaches. The highest peak on the island is Khao Salak Phet, with an altitude of 743 meters, which is home to an abundance of waterfalls hidden within the mountain's interior; the tallest and most majestic being the Klong Neung waterfall.

Koh Chang is famed for its unique wildlife, shimmering waterfalls, and thriving rain forests. Its coral reefs are teeming with marine life, and the sunsets by the beaches are stunning! Despite the increase in tourism over the past decade, the island has retained its remote and rugged character while offering luxurious accommodations along their beaches. Koh Chang also has its own airport now which makes traveling to this island even easier than before!
Koh Lipe
Situated 60 km from the mainland of Thailand and only 30 km from Langkawi, Malaysia, Koh Lipe is the southernmost Thai island and the only inhabited island of the Adang-Rawi Archipelago. It is a remote island and a relatively undiscovered paradise on the Andaman sea. There are no cars and very few motorcycles to disturb the serenity of this island, which was original settled by sea gypsies , and it is relatively small. Covered with lush vegetation and only 2 km long and 1 km wide, it takes approximately 30 minutes to walk from one side of the island to the other…the perfect island to explore on foot! Walking Street is the main street on the island where visitors can find authentic Thai food, massage parlors, and quaint shops. There are three major beaches on Koh Lipe: Pattaya Beach in the South, Sunrise Beach in the east, and Sunset Beach in the west. These beaches are quiet with powdery white sand and surrounded by clear, calm turquoise water - the perfect place for snorkeling and diving or to enjoy the epic sunrise or sunset!
If you would like to get away from the crowds, are looking for a relaxing island vibe, or an atmosphere of romance, then Koh Lipe is your best choice!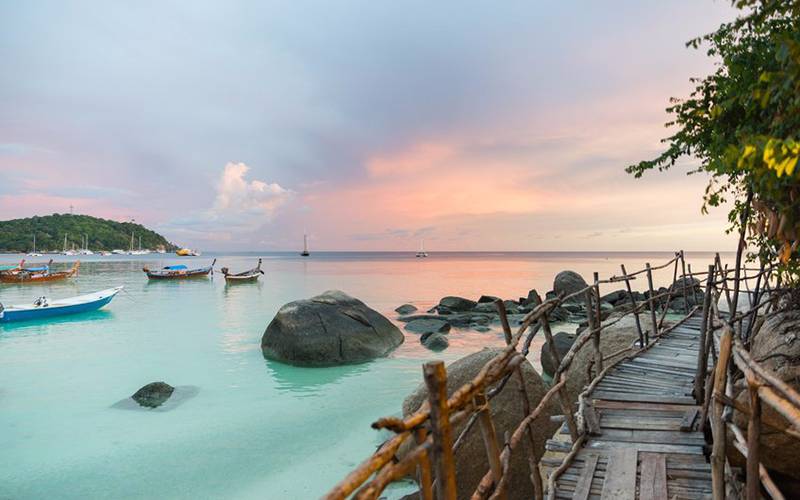 Koh Tao
Quite small but still one of most popular Thai Islands, Koh Tao

attracts more than 100,000 visitors each year to admire its spectacular beaches and its recreational way of life.
Koh Tao means "Turtle Island", and true to its name, this island is all about scuba diving, snorkeling, and other water sports! The vibrant coral reefs are home to a wide range of colorful, marine creatures which attract throngs of scuba divers…all ready to explore the the turquoise waters. For non-divers, there are guided snorkeling trips to make the dive easier while still being able to experience the marine life beneath the water.
Koh Tao is also well known for rock climbing and bouldering; with a great number of granite boulders, both on the beaches and in the forests, the island is attracting a growing number of climbers and backpackers from all over the world. On the west coast is the most popular place for climbers, Sairee, with a mile-long, white sandy beach interrupted only by a few huge boulders (and a scattering of resorts and restaurants). For travelers who wish to escape the crowds, you can always go to Chalok Baan Khao on the south of the island, where you will find a good balance between convenience and peace and quiet…a great place to use as a base for exploring the rest of the island!
Koh Phangan
The island is best known for its monthly Full Moon Party at Haad Rin Beach which is a small peninsula in the south of Koh Phangan. This boisterous, night-long celebration sometimes attracts more than 15,000 people who gather to dance to the electronic music and to enjoy the festive mood! This festival, along with a host of other, smaller parties, keep this island jumping!
The island's natural beauty, which include lush rainforests and sparkling beaches, has become a famous destination for the backpacking community and young couples who rely on their stay here to supply them with memories to last a life-time!
Luckily, if you are not the partying type, the opposite side of the island, with its own style of beauty, has a lot of leisurely activities to offer including archery, diving and Muay Thai (a Thai form of kickboxing).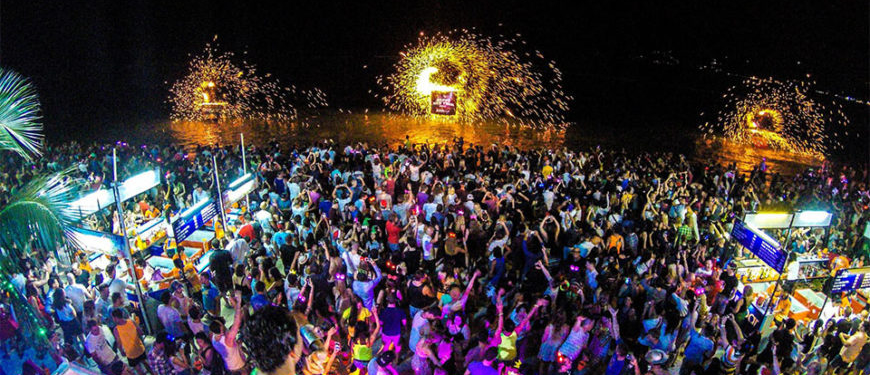 Koh Samet
Koh Samet is the closest island to Bangkok in the Gulf of Thailand and is a favorite escape from the hustle and bustle of the city for weekendersfor weekenders, locals, and tourists alike. This island is considered a part of the Khao Laem Ya – Koh Samet National Park, and it offers visitors many choices – from swimming and sunbathing on any of our 14 beaches to windsurfing and relaxing on a white sandy beach. It is easy to find the perfect resort, restaurant, or bar in which to spend the evening with friends. It is easy to see why visitors have been returning to this tiny island again and again!
Koh Lanta
The island of Koh Lanta is located near Phuket, but it is less active and far quieter than this neighboring island. Because Koh Lanta is less developed than the other islands in this archipelago, it is ready to offer visitors a quiet, romantic vacation. On the west coast of this island, you can find a string of resorts and bungalows which are perfect for snorkeling and diving enthusiasts. There is also an abundance of plant life – lush greenery that remains from the ancient rainforests - and elaborate coral reefs and underwater caves with colorful sea life.
Long Beach - the best beach on the island - is a long, pristine beach where the swimming is outstanding, and the soft sand under your feet slowly tapers off into the deep, blue water of the Adaman Sea. This quiet island is like a secret get-away whose charm and personality welcomes you back again and again.
We believe there is a Thai island just waiting for you – one that will soothe your soul and create memories of a life time…one you will eventually refer to as "your island"! Call us today and let us make this happen!