Traveling to Thailand from US
Currently in Thailand after COVID-19
Since the beginning of the epidemic, the whole country of Thailand has been working hard to fight the epidemic. Today, many countries around the world have begun to recover economically and livelihood-wise. In the Global Recovery Index and Global Severity Index, Thailand ranks first in the world with a score of 81.84 on the New Coronary Pneumonia Outbreak Index of 184 countries.
The Global Recovery Index reflects how well countries are responding to and recovering from the outbreak, with higher scores indicating better recovery.
Do You Need a Tourist Visa to Enter Thailand?
Foreigners may also apply for the Tourist Visa from the Thai embassy or consulate. There is the normal 60-day tourist visa that can be extended for additional 30 days and the 90-day special tourist visa which can be extended for two 90-day visa extensions at the local immigration office.
See more Thailand tourist visa requirements for other countries during COVID 19.
No Thailand visa is required for us citizens for a short travel to Thailand that are under 30 days. However, US citizens will require a Health Declaration (T.8 Form) to process into the country during COVID-19.
On April 20, a new model vaccination certificate for international travel in Thailand was released.
It is important to note that the certificate of vaccination is only for vaccines that are officially registered and certified by Thailand or certified by the World Health Organization. We have listed them as below.
Note: The medical certificate with a laboratory result indicating that COVID-19 is not detected should be issued no more than 72 hours before departure.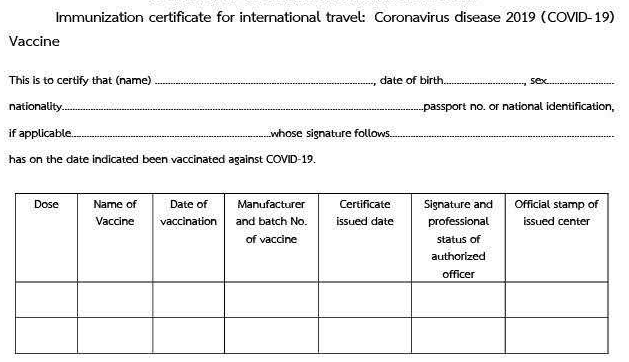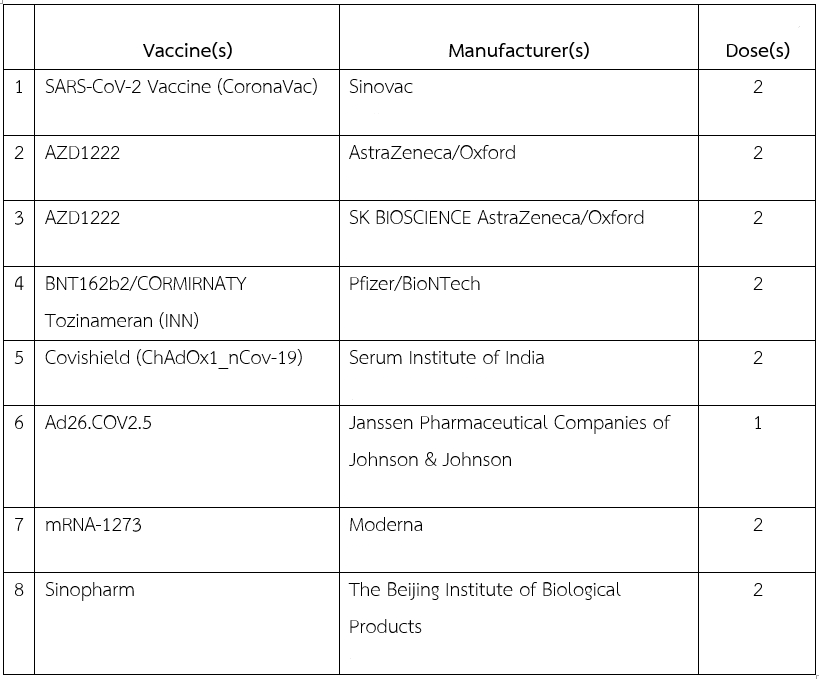 Thailand flight Restrictions
Currently, certain airlines such as Qatar, Emirates and other major carriers are permitted to operate semi-commercial flights to Thailand, either daily or weekly, and a list of airlines participating in the semi-commercial flight program can be found here.
Before booking flights to Thailand on the airlines listed, travelers should be sure to research the different categories of visas granted to foreign nationals at this time to determine the possibility of travel.
Please note that having a plane ticket does not guarantee entry into Thailand and non-Thai travelers must have all required documents such as a COE to enter Thailand.
Latest Thailand Government Travel Restrictions
Updated on May 2021, the quarantine period will be increased to "not less than 14 days" for all passengers, regardless of their country of residence or vaccination status, and the quarantine conditions will be based on their COE issuance date.
1) Effective May 1, 2021, travelers issued a COE will be subject to a "quarantine of not less than 14 days".
2) For travelers who receive a COE before May 1, 2021, the quarantine period will be considered based on the date of arrival.
2.1) Travelers entering Thailand between May 1 and 5, 2021 will be subject to a 7, 10 or 14 day quarantine depending on country of residence and proof of vaccination (same procedure as before).
2.2) Passengers entering Thailand from May 6, 2021 onwards will be required to undergo a "quarantine of not less than 14 days".
The travel restrictions might be adjusted due to the COVID-19 situation. We highly suggest our readers to send your inquiries or plan to us, so that we can check the latest policy and apply the earliest way to Thailand for you.
Are there any Travel Restrictions to Thailand from USA?
Are U.S. citizens allowed to enter Thailand? The answer is yes. However, U.S. citizens will need to be quarantined upon arrival as what we presented above.
U.S. citizens need to pass a negative COVID-19 test (PCR and/or serology) to enter the country. There are also health screening procedures required by government agencies at airports and other ports of entry.
United States citizens should check with the US Department of State for any travel advisory, news, and emergency situations on their website for Thailand Travel Advisory.
Assistance in Application & Travel
Click here to learn the registration process step by step from Uploading passport to safely landing on Thailand.
For inquiries about how to enter Thailand during COVID, click here to deliver your questions or get Thailand update on travel.
Start planning your tailor-made holiday by ​contacting one of our specialists...
Monica

Steven

Natasha

Dan