Visiting Elephant Jungle Sanctuary in Thailand: Chiang Mai, Phuket & Patthaya | UME Travel
Last Updated: July 24,2019
A truly ethical, immersive experience with the famous gentle giants in Thailand is only possible when you get off of traditional elephant riding and takes full account of the welfare of animals. Elephant Jungle Sanctuary is one of the best elephant ethical parks in Thailand based on our sustainable record and ethical treatment they called themselves.
The sanctuary has many options for visitors to experience their wonderful time with elephants in Thailand. Found in Chiang Mai in 2014 initially, they already set branches in Phuket, Patthaya and newly established in Samui in 2019. In each of them, you will experience all the facets of the protection of Thai elephants, as well as other aspects of Thai culture in the area and some of the natural beauty of elephant's habitat.
If you want to feed elephants by hand, give mud baths and wash elephants instead of riding them, no sharp bulls, no bamboo racks on their backs, no endless bare-feet trekking on concrete floor, just just come to Elephant Jungle Sanctuary!
---
What to expect
Let's see why an trip to Elephant Jungle Sanctuary is different with riding elephant projects: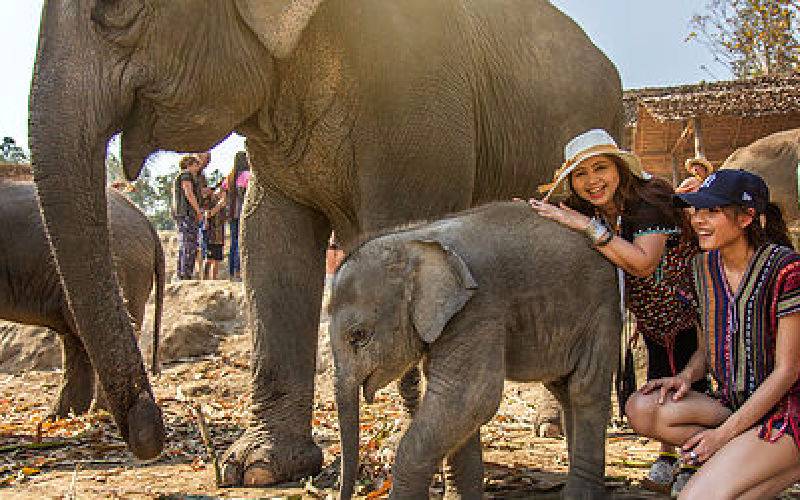 Tourists will be able to interact with elephants in their natural habitat to learn about the lives of the rescued giants. On the way to the sanctary, there will be several Karen Hill Tribe villages, long steep hills and homemade plates. These hills are widely covered by picturesque rice fields. You can see the real rural scenery of Thailand.
After arriving, the sanctuary staff will introduce the work and background of the sanctuary as well as some snacks. Then, you can wear traditional Karen costumes and help to prepare dietary supplements for elephants.
Then you will be properly introduced to rescued elephants in the reserve, and feed them supplements and your bananas. While playing with elephants, interacting with them, taking photos, making sure they eat well, and even observing them, you can also learn about the elephant's past. You will be told about the behavior patterns and characteristics of elephants, so that you will be better connected to them when they understand how elephants get a real moral experience.
Then, you'll have the opportunity to make a large mud spa with the elephants! After that, you will have your own shower and enjoy a delicious Thai meal as a reward for all hard work. A vegetarian selection is also available. When the tour ends, you'll be sent back to your hotel with the real sense of achievement, knowing that you have made contributions for elephant's welfare.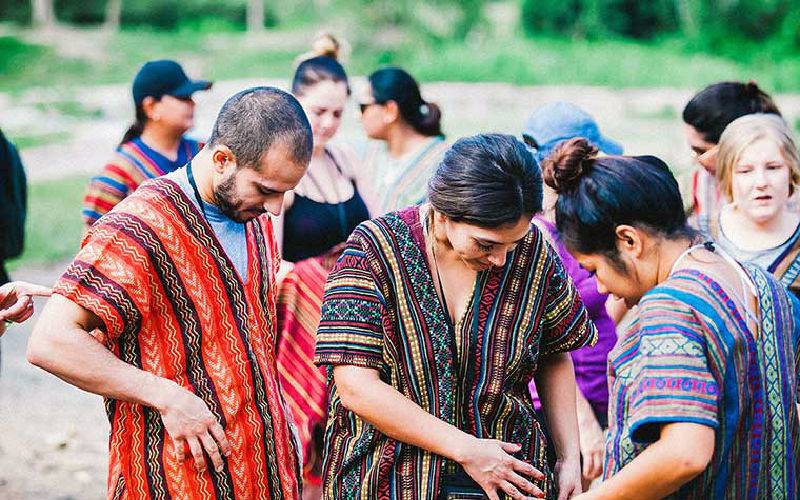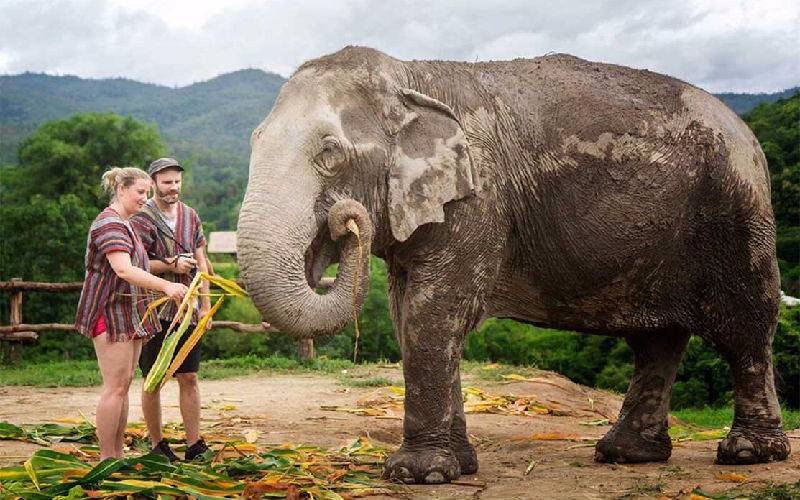 P.S. The experience above is based on full-day tour. For more tour schedule, please refer to specific itineraries.
---
Elephant Jungle Sanctuary in Thailand and its programs
There are four jungle sanctuaries in Thailand. The one in Chiang Mai is the most famous, while if you doesn't plan to northern Thailand, just head to Patthaya. The traffic between Bangkok and Patthaya is convenient. You can have a one-day tour here.

Elephant Jungle Sanctuary Chiang Mai
Half Day Visit ( Morning Visit & Afternoon Visiting)
The morning visit starts from 06:30 – 13:30; the afternoon visit starts from 11:30 – 18:30. You will feed, observe and play with the elephants in their natural habitat as you learn about their behavior and history. Take photos with the elephants. Mud Spa and bathe them in the river.
Full Day Visit (Top reccommended)
On full-day visit, you can spend more time with the elephants in the mud spa, or just watching their natural behavior.
One Day Walk with the Elephants
The walking program begins with a jungle trekking in elephant's natural habitat, after which you will add the afternoon half-day visitors for the rest activiites.
Overnight program is the most comprehensive and unique experience. Through this project, you will experience all the activities in the Elephant Reserve, as well as other real aspects of Thai culture in the area and the natural scenery.
Elephant Jungle Sanctuary Patthaya (Top recocommended)
If you stay in Bangkok, Elephant Sanctuary in Patthaya is the best choice for one-day tour. The programs in Patthaya offers morning and afternoon visit. Special experiences include delightful elephant poop paper program. You will learn about how to make the paper products from elephant poop fibers.
>>See more about Elephant Jungle Sanctuary Patthaya
Elephant Jungle Sanctuary Phuket
The Sanctuary itself has stunning views of beaches and jungles, which visitors can appreciate at their own pace. The programs in Elephant Jungle Sanctuary Phuket also have half-day tour, full-day tour and one –day walk with elephants.
Elephant Jungle Sanctuary Samui
The Samui location will open on 15th March 2019. This newly established sanctuary is just 20 mins from Samui International Airport. Visitor can join in half-day tour here.
Want to see Thai elephants in your Thailand tours? See those itineraries for inspiration. No fixed day. No shopping. Specific day tours can be tailored on your needs. Contact our travel experts for 1-on-1 travel help.
Read more: Elephant Tours in Thailand
---
Elephant Jungle Sanctuary VS Elephant Nature Park
If you want to have an elephant tour in Thailand, you might probably have heard of these two ethical elephant sanctuaries. Both of them offer up close and personal interaction, no riding, tricks or shows. Do you have difficulty deciding between these two elephant sanctuaries? Let's help you to decide now!
Location & schedule: ENP is located some 60km from the city, a few hours of Chiang Mai. They have many single day tours with different themes. You can choose the one you like the most and spend more time with elephants. While if you have time, the better choice is stay overnight.
Foundation: ENP was found in 1990s while EJS is in 2014. ENP has only one park in Chiang Mai. EJS is still is newer and growing. The founder of EJS Robert used to be a mahout who had years of elephant trekking experience but admittedly felt it was wrong. He saw how the elephants were mistreated so he helped to create a home for rescued elephants. A peace land where far away from the riding, tricks and street begging. They are however growing very fast and they have four location in Thailand: Chiang Mai, Phuket, Patthaya and Samui (will be open in Mar. 2019).
EJS is only a 1.5 hour drive away from Chiang Mai and offers free round-way transfer. Their activities are very similar, such as mud bathing, feeding elephant and short trekking with elephants, etc. So if you don't have much time, half-day or full-day tours in EJS is much suitable.
Price: ENP is much higher because they cover a larger land and have over 70 elephants. So they have to spend a lot of more money to support its business.
---
Prices at Elephant Jungle Sanctuary
Full-day tours cost 2,400 baht per adult and 1,800 baht for children aged 3-10 with under 3 going free. The half-day tours cost 1,700 baht per adult and 1,300 baht for 3-10 year olds. Overnight tour costs 4,900 baht per adult, with on-site accommodation provided.
Cost includes
Roundtrip transfers from hotels in urban

English-speaking guides

Snacks

drinking water

Food for you to feed the elephants

Staff photographers
P.S. Specific costs depends on the tour and may change for pick-up hotel distance (SIC or private). Please confirm with our travel experts.
---
What to bring
As it'll be spending most of your time outdoors in rural Thailand, you're advised to bring sun blocks. If your program includes mud bathing, bring your swimsuits and a few change of cloth/shoes.