Wat Yansangwararam Pattaya - Temple of the King
Last Updated: August 14,2019
Wat Yansangwararam refers to the Temple of the Kings, which is the collective name for this large royal religious building. The scenery of the entire temple area is very fascinating. It is a typical Southeast Asian royal garden style. There are tall palm trees and brightly colored flowers, and the statues of the characters appearing inadvertently feature the Buddhist elements. The Wat Yansangwararam will make your travel in Thailand impressive.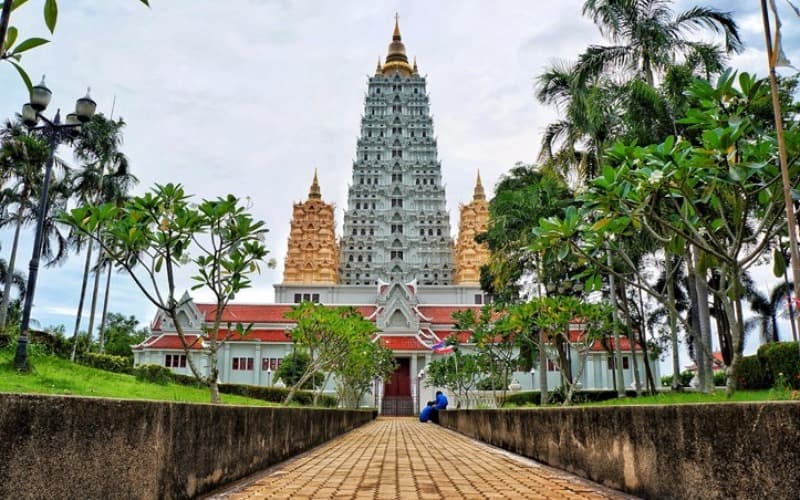 Wat Yansangwararam in Pattaya
When you walk into every Thai temple, you can see the golden light. It is as if the Thai people gave all the gold to the Buddha they worshipped.
Wat Yansangwararam is a place to be worshipped the King of Thailand after the death, but overall it is an imperial garden with the simple design. Inside it is a botanical garden. Wat Yansangwararam is quite large. It is better greened and you can feel it very cultivated on all plants. And it looks like a big bonsai garden. The most eye-catching thing in Wat Yansangwararam is various white gold-plated architectural Buddha statues. Most of the Buddha statues inside are more "enchanting", and they are mainly white-based with some gold-plated decoration. It is said that Wat Yansangwararam has been built with a lot of real gold.
Wat Yansangwararam Architecture

The architectural styles of Wat Yansangwararam are different from those of other Pattaya temples. They are simple and exquisite. It is not as splendid and magnificent and large-scale as other temples. It follows the instructions of the king and it based on the principle of featuring simplicity. It was built into Buddhist temples, abbot buildings, ancestral halls, and comprehensive buildings, pool, kitchen and other necessary houses, and each building is white, meaning being pure and beautiful.
How to Conveniently Play in Wat Yansangwararam
Wat Yansangwararam is surrounded by Khao Chi Chan and Silverlake Vineyard. The temple is very green and is an exquisite royal garden. If you want to play Wat Yansangwararam relaxingly, you need to choose the play way that saves your energy. Entering the gate, you can choose to take a battery car and visit the roadside scenery. The destination is directly to the Waxwork Museum. When you visit the Waxwork Museum, you need to take off your shoes and take off your hat. You can take pictures in the museum. Many buildings are dominated by white color, giving you the simple but holy feeling.
Things to Do in Yansangwararam
As mentioned above, Yansangwararam is a very beautiful garden, the plant landscape is captivating, and the building is also very characteristic, and it is a very awesome temple. So, when you are visiting the Yansangwararam, you must take the beautiful photos there. In addition, don't miss the Temple of Wat Yanasangwararam Woramahawihan, where the relics of the Thai sorghum are placed here, and don't miss the Waxwork Museum, where 20 statues enshrined inside are famous monks in the history of Thailand. These wax figures are the same size as the real ones and they are very lifelike.
Where Is Wat Yansangwararam
Wat Yansangwararam is located in Na Jomtien Km 160, Sukhumvit Road, Pattaya, Thailand. It is 2.7km away from Khao Chi Chan, and 4.0 km from Nong Nooch Tropical Botanical Garden. Therefore, when you make a trip to Wat Yansangwararam, you can include the Khao Chi Chan or Nong Nooch Tropical Botanical Garden into your Wat Yansangwararam itinerary so as to fully have fun in your Pattaya tour.
Dress Code
As Thailand is a Buddhist country. There are dress codes for visitors who are to visit the Wat Yansangwararam. Before going into Wat Yansangwararam, you need to take off your shoes. The length of the skirt needs to reach the ankles. It is not acceptable to wear vents skirt. So, it is best for you to wear long trousers to visit the Wat Yansangwararam. Otherwise, there will be a staff member who will pull you to the side and wrap you a cloth as a skirt.
Guide to Wat Yansangwararam
Here are some tips for you to keep in mind when you are making a visit to Wat Yansangwararam:
Opening hours of the temple: all day long
Reference playing time in the temple: 1.5 hours
No photos are allowed in the temple.
Visit Thailand with UME Travel
We have carefully designed some Thailand tours including the sacred and elegant temples to give you some suggestions. Treat them simply as inspirations, because we will follow all your particular interests and tastes to create uniquely itinerary for you.
Temples in Thailand