Thai Temple Etiquette
Last Updated: September 23,2019
Visiting the ornate and majestic Thai temples is really highlight of any trip to Thailand and they are the best places to appreciate the best demonstrations of Thai architecture. Besides being popular attractions, Thai temples are also the hearts and souls of the communities, although you do not have to practice Buddhism, you should show your respect to the places. All temples in Thailand are open to visitors of all religions and you will be warmly welcomed by monks and followers there. You won't need a suit and speak Thai but, however there are some basic rules of etiquette you should follow when you make a visit to one of temples. We have written an etiquette guide for you to read before exploring the temples in Thailand. The etiquettes are not complicated and doesn't take much effort of you but it is very appreciated by the monks and locals alike.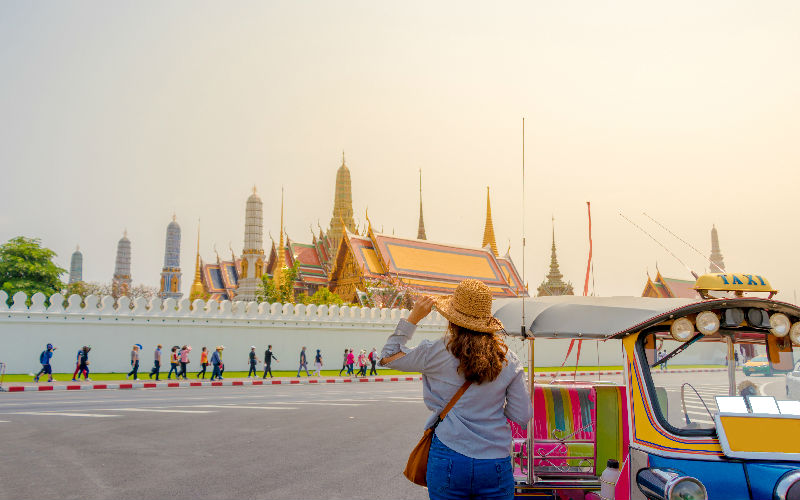 Dress Modestly
You are not allowed to wear whatever you like when you pay a visit to temples in Thailand. You are expected to dress modestly. If you fail to do so, you will offend Thai worshippers. Men are required to wear long-sleeved or short-sleeved shirts and long pants. Tank tops or sleeveless are forbidden. Women must wear shirts, skirts or pants covering the knees and shoulders should be covered. In some very strict Bangkok temples, torn jeans or legging are also banned and crop tops and see-through clothes are not suitable as they defeat the object of covering up.
Take off your shoes, hats and sunglasses before entering a temple
Feet and shoes are considered to be dirty in the Thai culture, so you should always take off your shoes before entering a temple in Thailand no matter it is the a famous one like Emerald Buddha Temple or a tiny temple in rural villages. There are usually have a place for leaving your shoes. Don't worry, your shoes are safe and no one will steal them. In order to show your respect to the Buddha, you have to take off your hats and sunglasses when you are getting into the temple.
Be quiet and keep the noise down
Temple is the spiritual place as church for Christians and mosque for Muslims. People come here for praying and meditating so it is better to avoid loud chatter and it is better to set your mobile phone on silence while visiting the temple. You are expected to behave yourselves to avoid disturbing other prayers or monks. In other words, don't interrupt the serenity of the sacred site by loudly speaking or laughing. But it doesn't mean you can't do anything. Taking photos, talking in low voice, walking and enjoying the beauty of the site are allowed. Do remember: don't make too much noisy.
Step over the threshold

You will notice every door inside the temple usually has a threshold raised from the ground and Thai people always step over it. They never stand on them as they believe there are holy guardian spirits living inside to keep out evil spirit so they avoid stepping on it to disturb them or show disrespect to them.
Be respectful in the temple
You should be reverent when in the temple. Thais show their respect to Buddha by making "Wai" 3 times. If you don't know how to do it, you can bow before the Buddha or a monk. Keep your head below the Buddha images to show respect.
Do not point either with your finger or your feet
It is a rude manner in Thailand if you pointed with your finger in Western way. If you want to point out something in a temple, use your right hand with the palm facing upwards. Feet are considered dirty so if you sit to talk to the monk on the floor, you should cross your legs or kneel with your toes backwards in order to keep your feet not pointing to the monk or Buddha statue. And please remember, when sitting, never sit higher than the monk.
Don't touch the Buddha statue
Buddha statues are sacred objects in Thailand so it is regarded disrespectful to touch the statues. Keep a respectful distance while visiting and taking a picture.
Get permission before taking pictures
Taking pictures in most of the temples in Thailand is allowable, but in some worship area might not. So, look for the rules of the temple written outside on the noticeboard or ask somebody before taking a picture. Please do not take photos while worshipers are praying.
Food and drinks
Do not eat anything during your visiting a temple. Alcohol and smoking is forbidden in the anywhere of a temple.
Give a donation
You will find a small donation box nearly in every temple in Thailand. The money is used for the maintenance and construction of the temple. If you enjoyed your visit, donating a small amount of money would be appreciated.
Advice for women
Don't touch a monk even his robes as monk has very restricted disciplines and one of them is "not to touch any women". If you need to pass something to a monk, you should either give it to a man to pass on to the monk, or you can put it on a special cloth the monk provides to you.

Women should avoid sit next to a monk which is prohibited.

Some areas in the temple are not allowed women to enter.
Thai temples are magnificent architectures and interesting to visit. Just follow the above etiquette rule you can enjoy very freely. If you do make a mistake, do remember to smile and apologize and all will be forgiven.
Visit Thailand with UME Travel
We have carefully designed some Thailand tours including the sacred and elegant temples to give you some suggestions. Treat them simply as inspirations, because we will follow all your particular interests and tastes to create uniquely itinerary for you.
Temples in Thailand