Wat Phra That Renu Nakhon: " Elegant chedi in a rural village"
Last Updated: January 10,2020
Renu Nakhon, a small quite village, just lies in west of the Mekong river, neighboring Laos, in Nakhon Phanom province, in Isan, known as the northeastern Thailand. It is a place rare visited by foreign tourist, however, the 36-meter high and over 8-meter wide, elegantly designed chedi is sparkling in this rural area.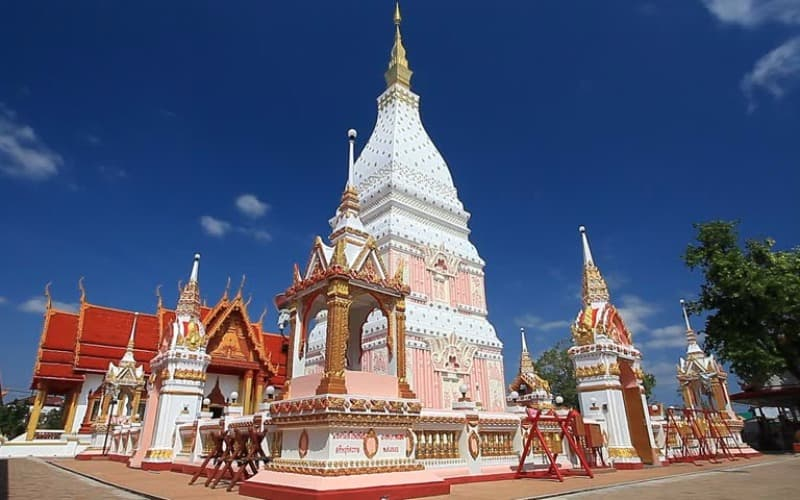 You might like to book: Thai Temple Tours
The chedi is based on a much older and very highly reserved chedi of Wat Phra That Phanom. The chedi named Phra That Renu constructed in 1918 in Laotian style mainly in white and gold. It has niches on all four sides.
In the ordination hall of the temple complex displays a highly revered golden Laotian style Buddha image.
The temple has a cabinet containing ancient Buddhist scriptures which are known as the Tripitaka containing the teachings of the Buddha, written in Pali or Sanskrit language. Some items used for Buddhist ceremonies once belonged to the Royals of Nakhon Phanom are also on display.
Renu Nakhon village is very known for the handicrafts of silk and cotton products that the Phu Thai people who live here produce. The products are sold on the temple grounds. If you are interested in the handicrafts, you can explore the village where you can see how people are working, weaving their products. The grounds of the Wat Phra That Renu Nakhon is one of the places where Phu Thai people sell their cotton and silk products.
How to go to the Wat Phra That Renu Nakhon
The Wat Phra That Renu Nakhon is in the small rural village, around 50km in the south of the Nakhon Phanom town in Nakhon Phanom province in northeastern Thailand. The quickest and best way to get there is by air. There are scheduled flights to Nakhon Phanom town from Don Mueang airport of Bangkok. There is no train station in Nakhom Phanom and the nearest train stations are in Udon Thani and Nong Khai which are not very convenient.
Opening hours
The Wat Phra That Renu Nakhon is open during daylight hours very day.
Visit Thailand with UME Travel
We have carefully designed some Thailand tours including the sacred and elegant temples to give you some suggestions. Treat them simply as inspirations, because we will follow all your particular interests and tastes to create uniquely itinerary for you.
Temples in Thailand