Khlong Muang Beach
Last Updated: July 22,2019
Khlong Muang Beach is not far from the lively Ao Nang Beach, but there are few people here and it is very quiet. The beach sand is dense and beige, and the sea is clean and clear. There are only a few shops on the beach, showing the relatively primitive state of the beach. Sometimes there are many small crabs that will dominate the beach, which are very cute.
With blue sky, white clouds, waves, sun loungers in the shade, and almost deserted beaches, at Khlong Muang Beach, it is the feeling of a leisurely vacation. For the children, it is more practical to change into a swimsuit to play with the water, to feel the feeling of the waves rushing through the body, and to play until the sun sinks, which will be very enjoyable. Going north along KlongMuang Beach to the corner, it is the best place to watch the sunset. The sun lies behind the clouds, bringing a strange separation and fusion between the blue sky and the evening sun. In the urban forests, sometimes you don't even know when to change day and night; and in front of the sea of the Khlong Muang Beach, the magnificent spectacle of day and night will be so deep in your eyes, which is engraved in memory.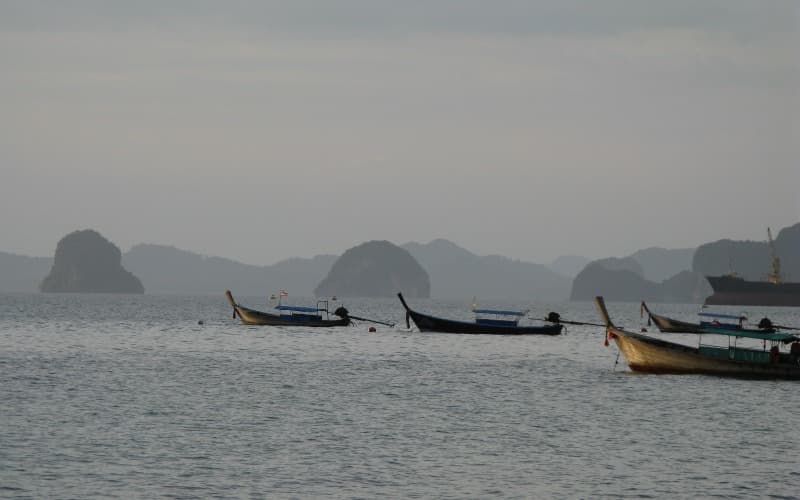 Khlong Muang Beach is a lot better than the beaches of Ao Nang and Ao Phra Nang beach, and it is surrounded by five-star hotels. There are also some homestays. The beach is picturesque, especially the sunsets that splash on the beaches of low tide, which is especially shocking. Through the coconut grove on the side of the road, you can see the sunset which is so beautiful and you will feel it unbelievable.
Khlong Muang Beach is absolutely cost-effective, the sand of the beach is delicate, the quiet environment is suitable for vacation, and there are many people from Europe and America traveling on the beach. There are a lot of small crabs after the beach is low tide. After the high tide, the beach is surrounded by diving areas, and it is suitable for snorkeling. In short, Khlong Muang Beach is a great place to spend a holiday, and it is much better than Ao Nang Beach, and the sunset is also more beautiful than that of Ao Nang.
You might like to book: Thailand Beach Tours