Laem Sor Pagoda: "Golden pagoda in a quiet beach in Koh Samui"
Last Updated: September 23,2019
Laem Sor Pagoda is a less known attraction in the southwestern part of Koh Samui, at the end of the rocky beach of Bang Kao very close to Bang Kao village. The pagoda is shining like a golden beacon in the sun, when contrast with the blue waters of Samui it looks dramatically beautiful. It is not made from gold, instead it made of bright yellow tiles.
Due to its remote location, Laem Sor Pagoda is quite and rarely visit, yet it is well worth a trip out to see and it well suit for some relaxation. The pagoda is a holy shrine to Buddha and a place for locals to come to worship, pray and give offerings to Buddha.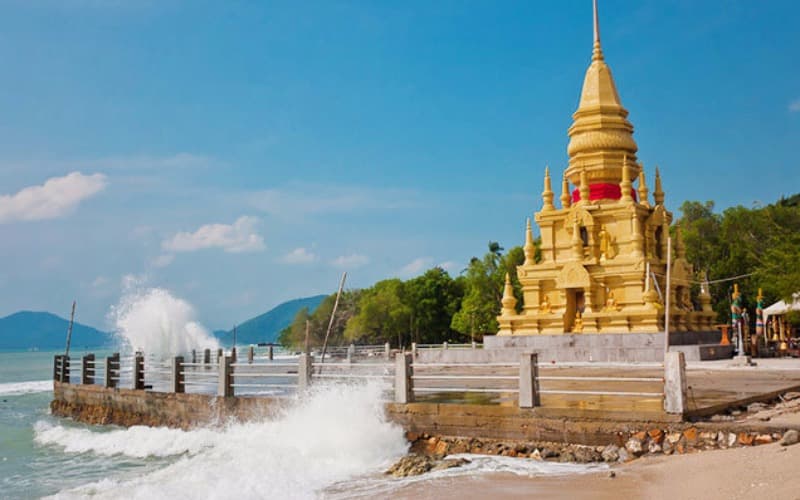 You might like to book: Thai Temple Tours
Two giant statues guarding the entrance
At the entrance of the pagoda stands two very colorful giant guarding statues. Both of them are holding a large sword guarding a golden colored Buddha image behind them.

Boat hut

Follow the road, about a hundred meters away from the pagoda, you will find a building called the 'boat hut'. It is a glass building. You can see through the glass, a figure of a monk who built the temple and sitting proudly in a small boat.
The monk

The monk is high revered by the locals and they come to the temple to pray directly to him. Some visitors purchase a small boat from the store nearby and make a wish or pray to the monk.
Visitor center
There is a small forest and a lake on the other side of the pagoda with some tables and benches where visitors can have a rest there. It is a great place to enjoy the relaxation in this tranquil, peaceful environment, in the meanwhile you can read all kinds of information about the pagoda.
Wonderful views from the top of the hill

There is a white pagoda located on a hill just west of the Laem Sor pagoda which also belongs to the temple complex. It takes a bit of a climb to get there, but once you get there, you will have the greatest views of the surrounding area – south of Koh Samui.

As it located on a beach, the Laem Sor Pagoda has no entrance fee and you can visit any time during the daylight. You can make small donations as you like.

As it is a scared Buddhist temple, visitors must pay their respect to it, so it is better to dress appropriately and respectfully.
Koh Samui is a beautiful island with many amazing views, and the pagoda is no exception. It is no doubt a very special shrine and well worth a visit.
Visit Thailand with UME Travel
We have carefully designed some Thailand tours including the sacred and elegant temples to give you some suggestions. Treat them simply as inspirations, because we will follow all your particular interests and tastes to create uniquely itinerary for you.
Temples in Thailand