Viharn Sien (Anek Kusala Sala) – Chinese Temple in Pattaya
Last Updated: September 23,2019
Viharn Sien temple Pattaya officially called Anek Kuson Sala bestowed upon King Bhumibhol Adulyadeli (Rama IX) is a very beautiful and unique three-story Chinese style temple situated on the same ground with the Wat Yansangwararam, however it is very different from that one. Now the temple is in use as a museum. It houses the greatest collections of Chinese art and antiquities outside of China.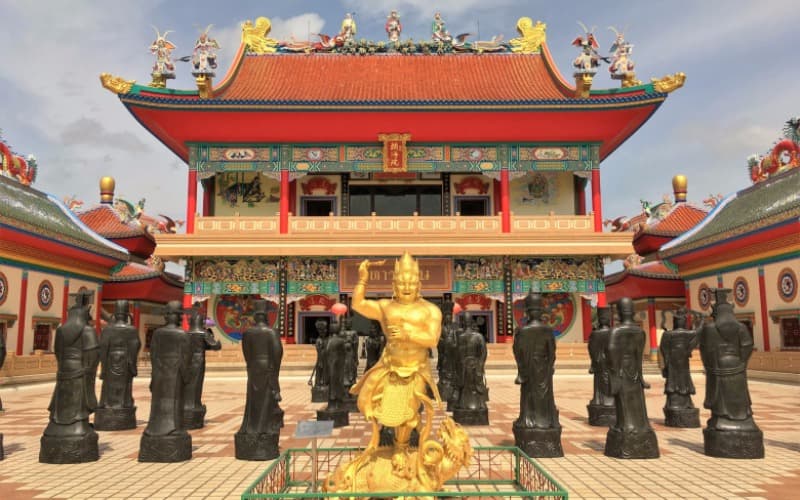 The temple was built in 1987 by the Chinese-Thai community to honour King Bhumibol Adulyadei of Thailand on his 60th birthday. It took six years to build and it was finally opened in a fabulous ceremony by the King himself on 24th December 1993. The temple was founded by master Sa Nga Kulkobkiat, who born in Bangkok in 1925 but raised in China. He initiated, designed and supervised the temple and he also created another Viharn Sien in Chaozhou, Guangdong Province, China. He died in the year of 2003 and after his death, a large bronze statue of him was placed by the entrance.
The temple is a vault of significant religious and cultural objects. It has a massive collection of bronze statues, paintings, jade carvings and countless other pieces of Thai and Chinese art and culture relics. The objects displayed on the grounds of the temple are over 1,000 pieces. The Chinese government has also donated a large number of pieces for permanent display at the temple including replicas of "Terracotta Warriors".
You might like to book: Thai Temple Tours
A journey into Thai and Chinese religious culture
At the entrance of the building, there are a number of Chinese mythological figures and two big Chinese style stone lions. When you go inside, you will see a collection of magnificent Chinese pottery from ancient dynasties, and one of them from Shang dynasty, 3,000 years ago. There are 18 Shaolin monks on display as well. The monks are all displaying a martial art form. With 15 centuries history, the Shaolin Temple in China is famous worldwide.
Some very precious items can be found in the temple as a number of replicated figures of terracotta warriors and horses from the tomb of Emperor Qin Shi, the first of emperor of China. This is one of the very few places where terracotta warriors can be seen outside of China.

On the second floor of the museum, where you will find more statues of Chinese gods as well as the outdoor exhibition telling the Chinese way of life. There is also a place showcasing Thai cultural artifacts, such as wooden models of traditional Thai houses, Thai puppets, Thai instruments, Khon masks and other handmade wooden sculptures.

The third floor displays a collection of Buddha images from both Mahayana and Theravada sects. Murals also can be found on the walls depicting scenes from the previous incarnations of the Buddha.

How to go to Viharn Sien
The temple is situated on the same ground with Wat Yansangwararam off Sukhmvit road on the kilometer 160 exit. It is about 20km from the city Pattaya.
Opening hours
The temple opens daily from 8:00am to 5:00pm
A trip to Viharn Sien can be perfectly combined with Wat Yansangwararam and Buddha Hill or Nong Nooch tropical gardens. They are all very closed.

Visit Thailand with UME Travel
We have carefully designed some Thailand tours including the sacred and elegant temples to give you some suggestions. Treat them simply as inspirations, because we will follow all your particular interests and tastes to create uniquely itinerary for you.
Temples in Thailand