Wat Khunaram: "Mummified Monk of Koh Samui"
Last Updated: September 23,2019
Wat Khunaram is a one of the most remarkable temple kept quite from the beaches and the crowds of Koh Samui. It is famous because of the revered mummified monk displayed in the temple.
Mummified Monk at Wat Khunaram in Koh Samui is an unusual sight yet offering a unique opportunity to learn Thai Buddhist and culture.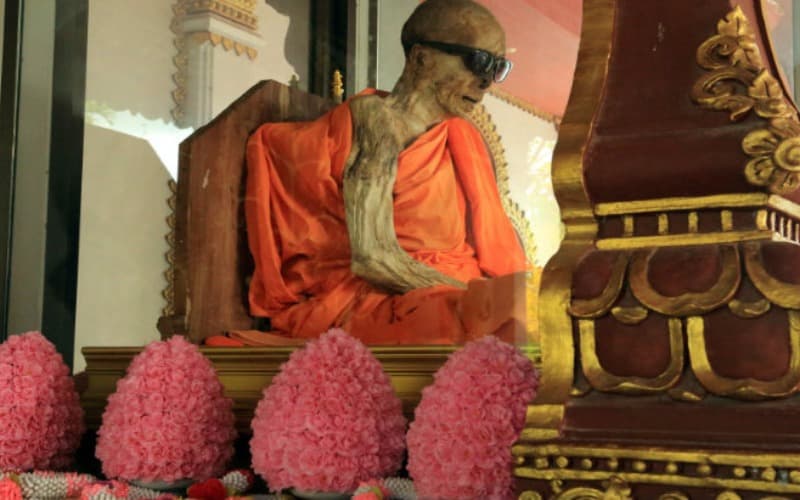 You might like to book: Thai Temple Tours
Loung Pordaeng – Mummified monk of Koh Samui

On display in an upright glass casket and surrounded by candles, incense sticks, flowers and fruit offerings is the body of the most famous monk of Koh Samui, Loung Pordaeng. He died in 1973 in a seated meditative position, and ever since his body has been displayed in the temple and his body has not shown little sign of decayed until now, after 40 years. Maybe, some visitors from Western country will be shocked or scared once they see a body in full view in a temple, but for Thai people far from being frightened, it is something to reflect upon and be worshiped and the dead one is seen as an opportunity to be reborn in a better life and one step closer to nirvana. They highly accept of the end of life as the natural order of things. There are some other mummy monks in Koh Samui and throughout Thailand, however, Loung Pordang is the most revered among them.
Loung Pordaeng was born in 1894 in Koh Samui. Following Thai customary for young boys, he ordained as a monk in his early 20s. After spending 2 years at Wat Samret as a monk he disrobed and married a local woman, with whom he had six children. When his children were grown up, Loung Pordang was approaching the age of 50, then he decided to return to the monastic life. He was given the monk's name Phra Khru Samathakittikhun. He immersed his rest life into studying Buddhist texts and meditation. He spent some time in Bangkok to studied meditation techniques and Buddhist scriptures then he returned to Koh Samui and spend some time in a cave meditating before he returned to Wat Khunaram temple and became the abbot.

Loung Pordaeng was outstanding in meditation skills and he was also an excellent teacher with lots of followers. It is said, when he was 79, he predicted his death. he told his followers that if his body were decayed he would be cremated, but if not, he wanted his body to be kept in a glass casket in the temple on display as a visual reminder of the Buddha's teachings. For Thais, both the life and death of Loung Pordang serves as an inspiration for future generations to follow the Buddha's teachings.

In the last week of Loung Pordaeng's life, Loung Pordang stopped eating, drinking and speaking to any others. He sat in a deep meditative state and finally, he died while meditating in 1973 at the age of 79.

Why did Loung Pordaeng's body not decompose?

Normally, a body would decompose very fast in a hot and humid climate like that in Koh Samui. However, the body of Loung Pordaeng is still staying well preserved 40 years after his death. The only noticeable change to the body has been the dried out of his eyeballs which is ugly so the mummified body is now wearing sunglasses. It is really a miracle. Why? It is believed that his healthy diet, simple life and long meditation sessions might be the explanation.
Active Wat Khunaram

Wat Khunaram is an active temple for local Buddhist people. They come here to prey and make merit. Although the temple is not as beautiful or impressive as some others in Koh Samui or in Thailand, it is really worth a visit because of the remarkable mummified monk. What more, the Buddhist amulets can be bought here.
How to go to Wat Khunaram
Wat Khunaram is located between the Na Muang Waterfall and Hua Thanon on Route 4149, 6km west of Lamai beach and 13km south-east of Nathon Pier in Koh Samui. You can get there by songthaew public bus.
Opening hours

Wat Khunaram is open for visitor daily during daylight hours.
Early morning or late afternoon are the best times to visit the temple when it is most active with monk chanting and merit-making.
Remarks

Although admission is free, donations for temples maintenance are appreciated.
Since the temple is a sacred place for worship, please dress respectfully by wearing long pants or skirts that cover the knee, and long sleeved shirts cover shoulders.
Visit Thailand with UME Travel
We have carefully designed some Thailand tours including the sacred and elegant temples to give you some suggestions. Treat them simply as inspirations, because we will follow all your particular interests and tastes to create uniquely itinerary for you.
Temples in Thailand