The Sanctuary of Truth Pattaya
Last Updated: October 30,2019
The Sanctuary of Truth is a magnificent wooden structure standing right on the beach in North Pattaya. It is perhaps the most iconic structure in Pattaya which began to constructed in 1981 and is not expected to be finished until the year 2025. It is the only one all wood sculpture building all around the world and a must visit place in Pattaya.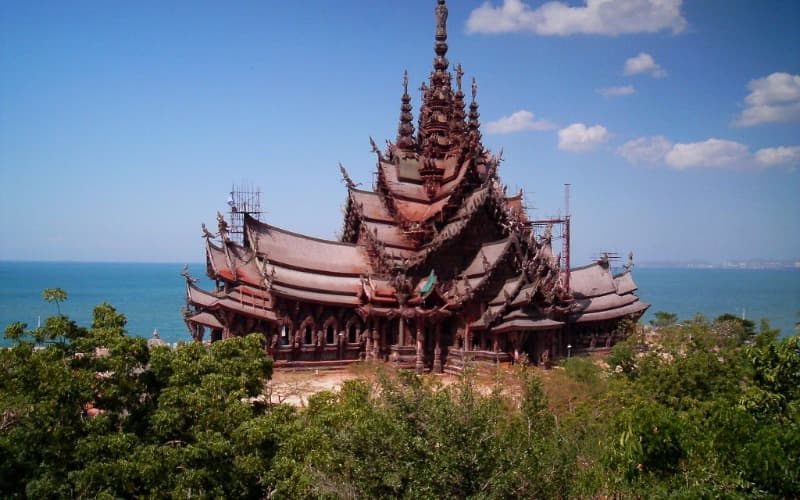 Highlight:
You might like to book: Thai Temple Tours
Thai wood carving
The awe-inspiring 105-metre-high Sanctuary of Truth is entirely made of teak wood without any metal nails, and all of the exquisite carvings are made by hand using traditional Thai woodworking techniques. A large number of woodcarvers are working here every day carving out the various vivid figures of people, elephants, creatures, scenes and deities from mythology. It is the unique structure in the world and no matter viewed from the inside and outside this is an extremely beautiful structure. It is neither like a temple nor a palace which is looked like mixture of both.
The architectural style not struck to one religion
The architectural style of the Sanctuary of Truth is not struck to one religion. It was conceived from the vision that human civilization has been nurtured and inspired by religious and philosophical truth, especially by Buddhist and Hindu beliefs. Elaborate carving figures from beliefs and legends of Thai, Chinese, Indian and Cambodian can be traced at each of four corners. The creator of the structure wanted to pay tribute to the seven creators man cannot exist without through constructing this building: Heaven, Earth, Father, Mother, Sun, Moon and Stars. All of these are deeply embedded with ancient Buddhist, Hindu, Brahman and other spiritual and philosophical elements. It is an art wonder even if without faith. It also creates strong sense of harmony and reverence which occurs naturally when you come in.
The Sanctuary of Truth is created by a Thai tycoon named Khun Lek Viriyaphant who was keen on preserving Thai culture and history. He also created the Ancient city of Muang Boran and Erawan Musum. He wanted to use the wooden art to express beliefs of Buddhist, Hindu and the eastern philosophy. Some carvings are telling stories about battle between wisdom and ignorance, good and evil and some others are representing scenes from ancient Indian epics.
How to visiting the Sanctuary of Truth?
It is better to join a tour group or having a private English speaking tour guide, who will be able to explain clearly about the ideas and concepts behind the structure. Please definitely spend some time to enjoy the hand crafts of the wood carvings which are fabulous and you can not see in any other places in the world as the sanctuary is a monument to Thai craftsmanship.
How to get to the Sanctuary of Truth?
The Sanctuary of Truth locates at the relaxing Rachvate cape of Naklua Pattaya City. It is not on one of the songthaew routes in Pattaya. It is better to take a taxi and ask the driver to wait for you until you finish the visiting. The best way is that UME Travel arrange a private tour for you to there.
Opening hours
The Sanctuary of Truth opens daily from 8:00am to 5:00pm
11:30am and 3:30pm are the show times. You can enjoy Thai cultural dance and martial art performance.
Visit Thailand with UME Travel
We have carefully designed some Thailand tours including the sacred and elegant temples to give you some suggestions. Treat them simply as inspirations, because we will follow all your particular interests and tastes to create uniquely itinerary for you.
Temples in Thailand