Buddhist Temples in Other Area of Thailand
Last Updated: January 10,2020
When we mention Thai temples, we would talk about the temples in Bangkok and Chiang Mai. Actually, there are numbers of magnificent Buddhist temples scattered around in the rest of the country.
Two of the six Thai temples that are of the highest grade of first class Royal Temples are located in areas not much visited by tourists. One is name Wat Phra Phutthabat,the"temple of the Buddha's footprint" in a rural area between the towns of Saraburi and Lopburi, the other is Wat Phra Pathom Chedi in Nakhon Pathom which is regarded as the oldest Buddhist structure in Thailand.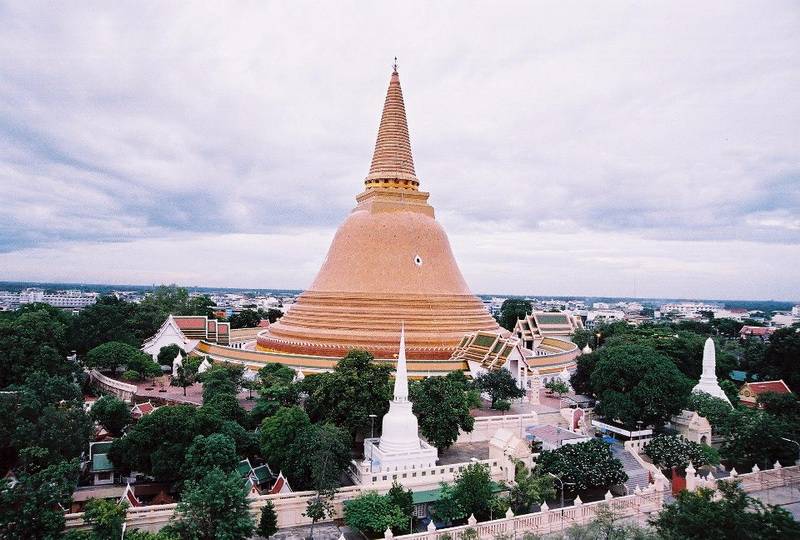 There are also some impressive temples in some area not much visited by foreigners such as the Wat Phra That Phanom and Wat Phra That Renu Nakhon in Nakhon Phanom province in North East of Thailand. The chedis of the two temples are in Lao style. The Phra Maha Chedi Chai Mongkol is regarded the most elegant pagodas in Thailand which is also one of the tallest Thai temples. It is located in a rural and very quiet place about 80km from Roi Et town in North East Thailand.
There are numbers of temples which worth visiting in some not tourist areas such as Ubon Ratchathani province: Wat Phra That Nong Bua, a temple which is quite similar with the Mahabodhi temple in Bodhgaya in India, where the Buddha reached enlightenment.
Temples in North Thailand
Wat Ngam Muang

Wat Klang Wiang

Wat Rong Khun (The White Temple)

Wat Phra Kaew Don Tao

Wat Suchadaram

Wat Phra That Lampang Luang

Wat Ton Laeng

Wat Hua Khuang

Wat Phra That Chang Kham

Wat Phra That Hariphunchai

Wat Ku Kut

Wat Hua Wiang

Wat Phra That Doi Kong Mu

Wat Phra Si Rattana Mahathat

Wat Phra That Cho Hae
Temples in central Thailand (excluding Bangkok)
Temples in Khmer Style
Buddhist Temples in Thailand
Please check out Thailand Tours here and start learning about our itineraries now: