Wat Plai Laem: "A temple with Chinese Buddha statues"
Last Updated: September 23,2019
The colorful Wat Plai Laem is one a famous modern pieces of architecture on Koh Samui which was completed in 2004. This is a complex built in Thai-Chinese style, although some buildings as the ubsosot are traditional Thai style architecture. Wat Plai Laem has two giant and colorful Buddhism statues which will catch your sights immediately when you enter the temple.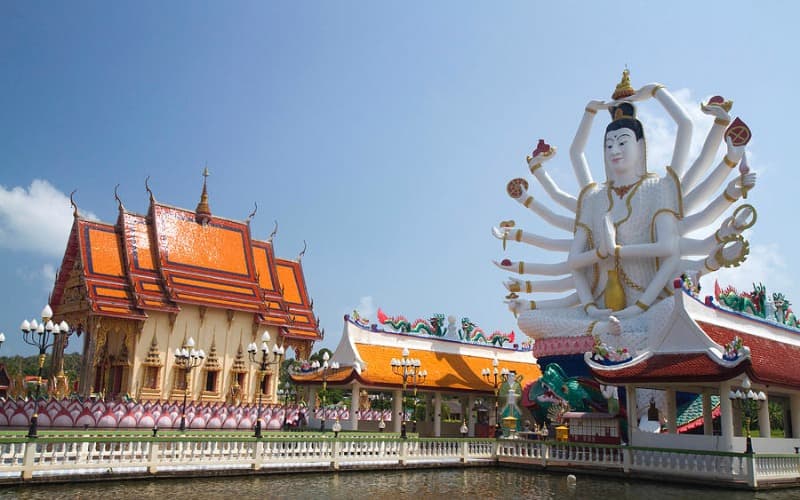 You might like to book: Thai Temple Tours
Guanyin – the goddess of mercy
one of the giants is Guanyin statue seated in the center of the temple grounds, forming a solemn and serene atmosphere. Originally, the worship of Guanyin is from ancient China, but her influence has spread across the east and southeast Asia in generations since. Guanyin is highly revered by Asian people because she is known as the protector of women and children, the poor and the sick. The image of Guanyin has 18 arms which means she can help lots of people at one time. Legend of Buddhist said that Guanyin actually has a thousand arms. Her arms show her ability to reach out and offer help around the world. She is also regarded as a fertility goddess and lots of people coming to the temple pray for her help in bearing healthy baby. Guanyin is also believed to protect the sailors at sea.
Guanyin statue is flanked by two long halls where feature colorful mural paintings telling Buddhist mythological stories.
Statue of laughing Chinese Buddha – Maitreya Buddha

Another eye catching giants is the laughing Chinese Buddha, called Maitreya Buddha. The figure of the Buddha is always fat and laughing as it is regarded the appearance of the Buddha in the future, so it represents wealth and prosperity. This 30 meters' high very impressive statue is in red, white and gold very beautiful
Temple buildings

The main prayer room of ubosot is sited in the middle of a man-made lake. The ubosot is the place where ordination take place as well. A seated Buddha image is set in the ubosot and the mural in the room are very beautiful telling the stories of the Buddha's life.
There are some other beautifully decorated buildings in the grounds of the temple and each one has Buddha statue and images in it.
The man-made lake
There is a man-made lake which is full of big fish surrounded the Guanyin and Laughing Buddha statues as well as the ubosot. The fish in the lake are very anxious to be fed. Visitors can buy some food which is about 10 Baht or make some small donations to the temple then can get some food in return. Feeding the fish is a fun activity for children.
Local people also release fish or turtles into in the lake that they bought in the market. It is considered an act of merit.
An active Buddhist temple

The Wat Plai Laem is an active temple, Thais come to pray, pay respect and make merit and it is a temple can learn some beliefs and customs of Chinese Buddhism. It is near the Wat Phra Yai – Big Buddha, so you can arrange to visit the two temple together.

How to get to Wat Plai Laem

Wat Plai Laem is located on the North East corner of Koh Samui close to Wat Phra Yai, the big Buddha temple and adjacent to some of the best beaches of Maename Beach and Bophut Beach in the north.
The easiest way to get there from Lamai, Chaweng, Bo Phuket or Big Buddha beach is by songthaew or let UME Travel arrange a private tour for you.

Opening hours

It opens daily during sunlight hours.
It will get very busy during Chinese holidays and festival as it is a Chinese-Thai temple. Dress respectfully is required which means no bare shoulders, no sleeved shirts, short pants, and short skirt.
Visit Thailand with UME Travel
We have carefully designed some Thailand tours including the sacred and elegant temples to give you some suggestions. Treat them simply as inspirations, because we will follow all your particular interests and tastes to create uniquely itinerary for you.
Temples in Thailand