Traveling to Krabi for the First Time
Last Updated: June 08,2020
If you have never been to Krabi in the past, this will be the best starting point. All the information you needed for the trip is right here; from where to stay to what you can do and how to do while you are there. Aside from that, you will also discover the dull but the crucial useful stuff that will be required to make it happen. From Krabi flight timetables to advice on how to arrange your things and to economic planners. On a more serious note, we've got you covered on all sides to make sure you enjoy your stay in Krabi!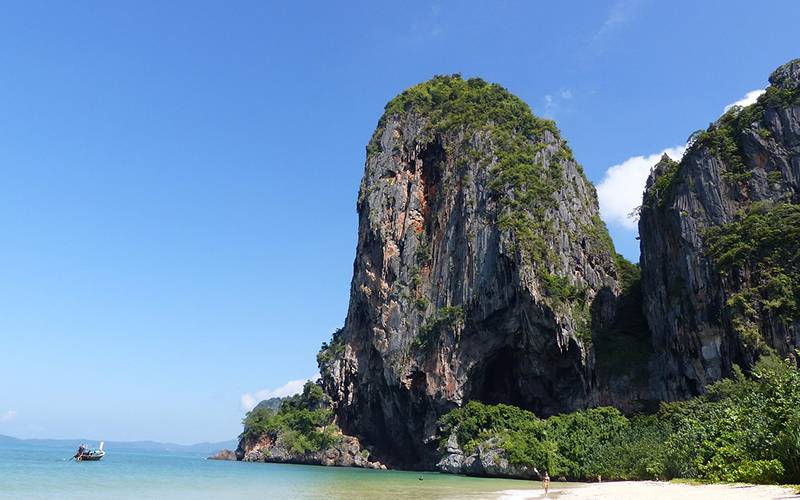 Best Krabi Visiting Time
The best time to visit Krabi is between November and May. The skies are crystal clear with the bright shining sun during these months. June marks the start of the wet season, and this continues till November of every year. If choose to visit Krab during this period, be ready for regular showers and alternate days of sunshine.
Krabi has Nice Beaches
The primary thing that attracts visitors on a regular basis is her natural landscapes and islands with crystal clear waters that will leave an impression on you if you are a lover snorkeling or diving like your girlfriend.
Read:
Top 10 best krabi daytrip - Beaches & Caves
On getting to this beach, going on a 20 minutes trip of the sandy places requires motorbike, songthaew or tuk-tuk rental. Although the beach is not that impressive, notwithstanding you can link up with other beaches via a boat from here.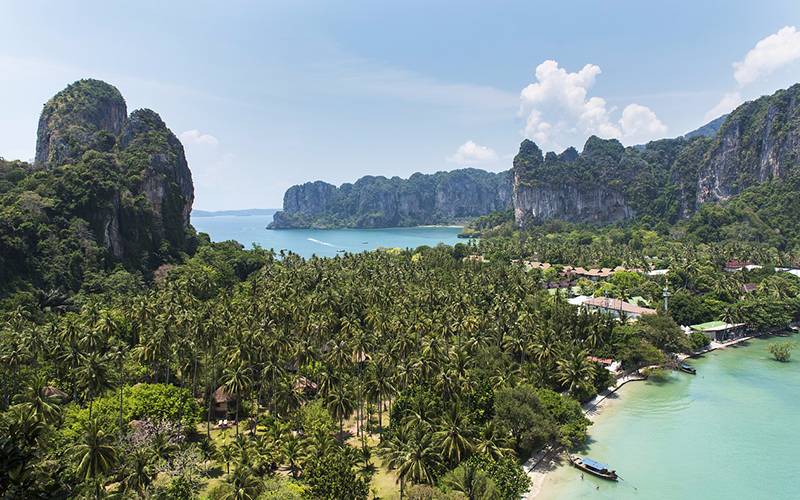 These two are the most famous beaches and getting to these places is simple. Just get on one of the long-tail boats that leave the towns of Krabi and Ao Nang. Be ready for the sight of exceptional limestone cliffs, caves, white sand beaches, and lagoons right here.
This particular island remains untouched by development, and should be stopped at if you are a dense jungles admirer as well as gorgeous, white sand beaches. The beach has a relaxed feel that makes it suitable for families or couples that are looking for a tropical hideaway.
Being the location for the famous film titled 'The Beach' thus has turned this beach into an essential destination for travellers. Aside from that, the beach is also renowned for merriment and diving sceneries. In a nutshell, Koh Phi Phi is full of amazing aquatic life, turquoise waters and limestone-filled mountains.
If you are in search of a suitable place for a short day tour, head over to Koh Hong because of its lovely corals and green waters. Though you are not allowed to stay overnight on this beach because it is part of Than Bok Khorani National Park.
Things to Do in Krabi

See Outstanding Beauty at ThungTeao Forest
If you love nature and you really want to explore then visit the Thung Team Forest where you would see different species of plant and animals. The Thung Teao is also known as the Natural Park and in this park, there is a Crystal Lagoon with another name called Emerald Pool with warm and completely clear water where you can swim and admire the waterfall. The Pita Gurney bird that was extinct but we think it still might be seen in the park.
Spend an Afternoon Rock Climbing
There are plentiful limestone rocks in Krabi, climbers around the world come to this area to scale it. Where sports climbing is practiced, there are several schools that provide to beginner climbers. For beginners, it is much safer for them as there are permanent hooks that are placed on the rocks, you will only fall a maximum of 50 cm when you lose your grip. There are more than 700 climbs available for experienced climbers ranging from easy to professional.
With this name, you already know what to expect in these islands. A tour to four dissimilar islands, these tours takes place on a long boat that stops at each location giving you time to explore, swim, eat and sunbathe. The longboat takes 40 people plus the tour guide making sure everyone enjoys themselves. The names of this island are; Tup island, Chicken Island, Poda island and the Phra Nang Cave with each of them unique to its title.
A Step Back in Time at Krabi Town
With the world changing every day, you see people trying to meet up to it standard but this town retains its look from the time it was built to now so if you want to see something old in this new world of ours Krabi town is the place to be. They see fresh catches made each day at their restaurant tables and they still retain their originality by having local bars and places you can eat also. For a dependable local feel, you should visit this town.

How Long Can You Stay in Krabi?
If what you have in mind is just exploration, two days and one night is enough for you to look around the island. Even though Krabi is very small, it remains an excellent stopover terminus for itinerants as it offers an entrance to all the other islands.
While on your Krabi tour, there are a collection of various islands you can visit, each with their gorgeousness and uniqueness and filled with soft white sand, lush jungles, crystal blue waters, waterfalls and sharp limestone cliff that will inspire you to think that you're in Jurassic Park. There is a preposterous quantity of postcard-suitable portrait taking chances, thus ensure the batteries of your devices are fully charged.
Snorkelling around these beautiful islands is a memorable experience. We even discovered a petite family of 'Nemo' and 'Ellen DeGeneres' fishes. I was also blaming myself for not carrying a water-resistant camera!
We viewed the sunset at Railay Beach with an eat al fresco which was super passionate before heading home but not until one last snorkelling.