Traveling to Siem Reap for the First Time
Last Updated: January 09,2019
This travel guide is aimed at helping those traveling to Siem Reap for the first time to have a successful trip and the opportunity of visiting some impressive temples.    
The Best Time to Visit 
For many tourists who are very picky and fancy a particular season for their trips, they must be aware that there are two specific seasons in Cambodia; the first one is the wet season, and it runs from May to October, while the second one which is the dry season runs between November and April. We highly recommend that you schedule your tour based on your climate inclination. For the best climatic situations, you can pick any date between June and August, which is widely considered as the perfect time to visit both Cambodia and Siem Reap city.
How to Reach Siem Reap
With an international airport at Siem Reap, air travel is the most suitable way to get to Siem Reap. You can get to your hotel in Siem Reap from the Airport via a tuk-tuk or make an arrangement alternative with your preferred hotel, where you are going to stay.
Where to Go
One of the primary reasons why tourists come to Siem Reap is to visit the Angkor temples. For those coming for the first-time visit, it's vital to understand that there Siem Reap temples are more than one. The most well-known of all these temples is the one at Angkor Wat which is just one of numerous temples spread across a large area. To visit these temples, you'll need to purchase an Angkor permit. Below are the prices of the different types of Angkor pass :
One Day Permit – USD 37
Three Days Permit– USD 62
Seven Days Permit– USD 72
If you intend seeing all the temples, my advice for you is to go for the 7-day pass. But if all you want to do is visit just the first temples, then the 3-day pass will suit you. I've itemized the four most prominent temples below. Visiting only those four alone will still leave you with a comforting Angkor familiarity. In the time past, the 3-Day and 7-Day passes must be used consecutively, i.e., the week-long pass is valid for only for a week from the date of purchase but with the latest development, the 3-day pass is okay for any 3 days within one week, while the 7-day pass is valid for any 7 days within one month of purchase. This makes it a lot more beneficial to get a multiple day permit because I'm confident that not everyone wishes to visit the temples on consecutive days.
TIP: You may want to buy your pass at 5 pm the day before you intend to use it. You'll be permitted to enter into the park free of charge to watch the sunset from the Phnom Bakheng Temple.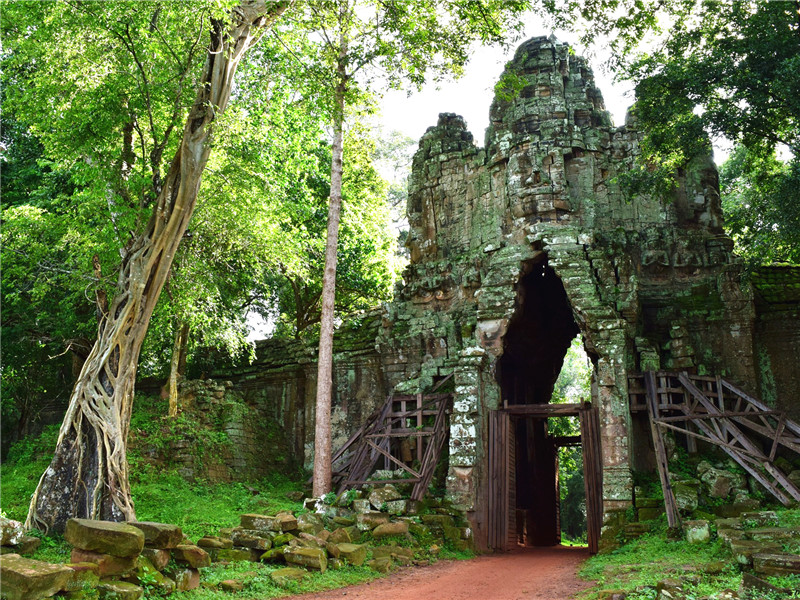 How Much Money is Required for a Tour?
Since Cambodia is a low-cost place, one can say with all confidence that with a total expenditure of approximately US100 dollars, you can spend each day like a monarch. If you avoid eating in large hotels, a daily budget of USD50 should enough while you'll still have some changes to by souvenirs. If you have a budget, you have better to do a tailor-made tour which will control your budget while giving you the best & most suitable experience. All your requirements will be taken into account. You can see the following best-selling tour and get ideas for your Cambodia tour. Then, contact our 1-1 travel consultant for a wonderful tailor-made tour!
More than 90% Tourists will choose to visit Thailand or Vietnam together with Cambodia. It's will be more interesting and the connection is also very smooth. Thinking about the mix of an ancient temple in jungle and splendid beaches in Thailand in the other day! Wonderful! See the following ideas and we will plan a unique Indochina tour for you.
Where to Eat

A neon-lit linkage of streets and alleys crowded with eateries, clubs, and bars, the Pub Street is the heartbeat of Siem Reap. This is where all the action collates; therefore it can get pretty loud and energetic. Many of the bistros here feel over visited and a little bit a usual occurrence but it's a great spot to dine and wine. 
A Trip Advisor award recipient, Viroth's is a stunning restaurant that's impeccable for serenity, low-lit dinners. It's within the proximity of Soria Moria along Wat Bo Boulevard. Despite its sophisticated ambiance and great Cambodian recipe, it's still relatively economical, with dinner for two at just USD 20. If you fancy a quiet atmosphere away from the commotion that is on Pub Street, then Viroth's is the right choice for you!
Soria Moria Boutique Hotel (Wednesdays)
Fortunate for us, Soria Moria offers Dollar Wednesdays where every article on their tapas menu and bar list can be gotten for just one US dollar. I recommend going early for dinner because of its popularity. We had the bruschetta among a few other kinds of stuff.
Where to Purchase Gifts & Keepsakes
Psah Chah (Ancient Market)
With various merchandises including dried packaged fruit, silver, spices, shirts, scarves, etc.  the Old Market is undoubtedly the best place to buy souvenirs in Siem Reap. Check out all these beautiful spices! 
The market is situated about few short blocks from the Old Market.  The Night Market is similar still somewhat more fashionable and without any food items. Some of the things you can get in this market include modern knickknacks, Cambodian folk art, jewelry, as well as counterfeit Beats by Dr. Dre and other things that might have dropped off the back of a tuk-tuk. 
Where to Exchange Currency
As cited earlier, the de facto currency in Cambodia is United State dollar thus if you're flying in with USD in hand, then you're good to go. If you're coming in with another type of currency aside USD, ensure to exchange it only to USD and not KHR. There's no point in changing it to KHR since all transactions will be in USD.
Another option is to withdraw USD from an ATM. The rates are modest. Just be sure to advise your bank you'll be using your ATM card overseas, so you don't run into any problems. In my experience, my ATM card works on some machines but not in others.
How Long to Stay in Siem Reap
Siem Reap is all about remarkable temples. If you are planning to visit temples, a trip of 3 days/nights is all but appropriate.
Where to Stay in Siem Reap
Many hotels existed in Siem Reap that offers to lodge at most excellent prices. With all features and amenities being offered at numerous hotels in Siem Reap, there is no shortage of selections for people coming to Siem Reap. One of those hotels is the almighty Grand Bayon Siem Reap Hotel.