Traveling to Southern Thailand for the First Time
Last Updated: January 09,2019
Majority of Thailand's most popular resorts are sited in Southern Thailand- on both the west part facing the Andaman Sea shoreline and the side facing east on the  Gulf of Thailand coast, south of Chumphon.  Southern Thailand is also regarded as the mecca of every single visitor coming to South East Asia. Going to Thailand without exploring the beaches as if you didn't go at all! Do not worry because the UME Travel has got you covered with an insider's guide to Southern Thailand Island Hopping.            
Places to Visit
Even though several southern Thailand cities have airfields, deciding where to begin your Southern Thailand can be quite overwhelming. Firstly, tourists must determine if they won't stick to the islands in the sea of Andaman or those at the Gulf of Thailand or both. We've broken done all Southern Thailand islands below for your perusal;       
The Central Gulf Seashore 
The major tourist terminus in the Gulf Coastline with Ko Samui beaches, diving at Ko Tao,  the full moon festivities at Ko Pha Ngan, the natural magnificence of the Ang Thong Aquatic Park and untouched shore and beaches of Pathiu, Chumphon.
Some tourist destinations on this coast include Khao Lak, Surin Islands,  Similan Islands, the southern Ko Chang, and Ranong (renowned for its speedy visa-runs to Myanmar).
This place is regarded as the original Thai paradise island which has now been developed although it still retains a lot of stunning beaches. Also, the site also has delightful limestone rock developments of the Phang Nga Bay.
The Krabi jurisdiction is characterized with sandy beaches that are as white as snow, crystal clear water, captivating coral reefs, waterfalls, and caves among numerous islands.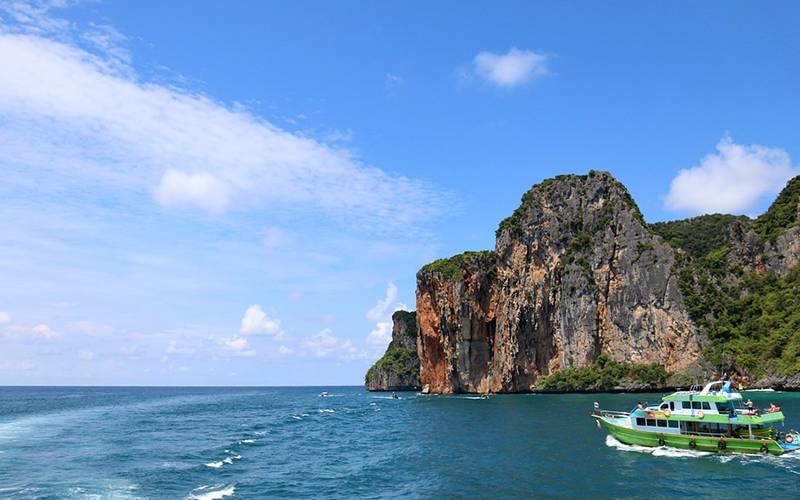 This place consists of some really picture-postcard tropical islands in the Ko Tarutao archipelago and the Trang islands.
You can find attractive beaches and nature which is prevalent among the Malaysian sightseers in this place. Due to the on-going separatist tussles in the three profound southern provinces, it would be better to avoid the area.  
When to Visit the Southern Thailand
Avoid going to Southern Thailand between July and October as this is considered to be the rainy season and flood is common on the islands during this time. Meanwhile, if you do find yourself in Southern Thailand during these periods, make sure you are on your way to Phuket Town by October because that is the time the country celebrates the Nine Emperor Gods Festival, popularly called the Vegetarian Festival. The celebrations held in Phuket Town are categorically unreal, with hurting processions and rituals held throughout the entire week.
What to Do
Cruising / Island Hopping
There are several islands in the southern Gulf of Thailand including the Ang Thong National Marine Park which offers a gorgeous seafaring ground. Island hopping is an excellent way to sightsee stating from the entrance of Chumphon to Koh Tao, Koh Phangan, and Koh Samui. High-speed ferries and catamaran leave the ports of Chumphon throughout the whole day. 
On the west coast, you also will be able to locate several attractive sailing zones, like Phang Nga Bay, Phi Phi islands, Similan islands, etc.  Some charter companies provide day trips and overnight expeditions from Phuket to Phang Nga and other islands within the proximity of Phuket. There are hundreds of islands at Phang Nga Bay alone, and if you explore them, it will take you more than a day trip. A great way to inspect this cruising ground is to charter a sailing boat for some weeks.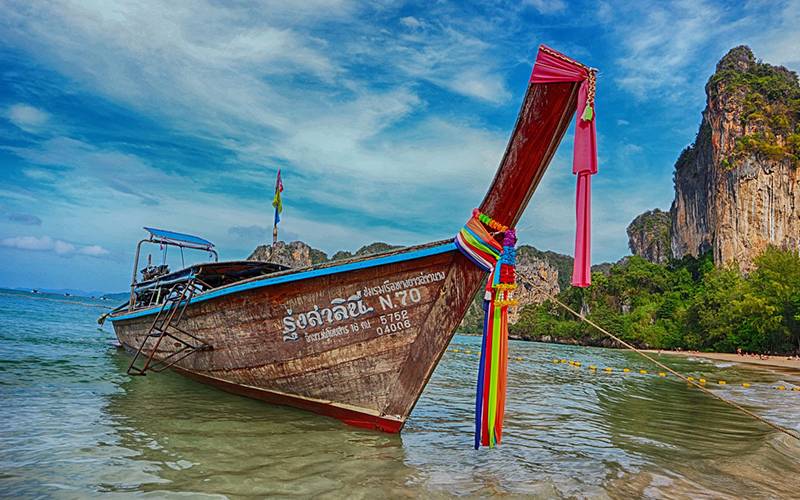 Go Rock Mountaineering
Though the white sand beaches are undoubtedly stunning and the limestone cliffs protruding, especially from the Krabi Sea's gleaming surface, one of the area's most notable qualities. One jurisdiction where these cliffs are found in abundance is in Krabi, where remarkable topographical structures beautify the Andaman Sea. Aside from being stunning, these rock formations and similar ones are impeccably perfect for hikers. One of the most famous areas in Krabi is the Railay Beach. There are quite some packages obtainable through tour groups, with as little as half-day tours available together with three-day-long mountaineering excursions. The tour visitors resolution will depend on the amount of available time they have in addition to their skill level. 
Diving
The reefs around Ko Lipe are fundamentally intact because they have been protected by being inside Thailand's oldest National aquatic Parks.
Where to Sojourn
Launching an eccentric sequence on the most excellent places to stay on the beach around the world, UME selects most great Thai beach resort.
Sai Thong Resort, Koh Tao
Even though the neighboring gulf islands of Samui and Phangan have been drawing beach-loving travellers over an extended period, the smaller Koh Tao has only lately emerged as one of Thailand's front-page destinations. Predominantly Tao is renowned for its diving – shallow waters, epic corals natural currents and whale sharks pull in the multitudes – with abundant scuba-diving schools established here.
Just along the Andaman Sea coast, south of Krabi Town, the landscape turns into a combination of mangroves and enticing islands. The biggest of these is Koh Lanta, accurately famed for its close diving sites and its beaches, which are typically long, sweeping affairs, gently inclined into the warm Andaman Sea. Relax Bay, home of same name resort, a French-owned endeavour complete with a variety of private and relaxed wooden beachside cottages and big tents.
Bamboo Chalets, Koh Phayam
The northern end of Thailand's Andaman Sea shore leads to the border of Burmese and the sea-frontline town of Ranong. From here it's a two-hour boat trip to Phayam Island, well-known for its cashew nuts and outstanding beaches; indeed, Phayam is perhaps the only place on earth where you can relish full-moon beach revelry and a yearly Miss Cashew Nut tournament.
Reaching Southern Thailand
You can get to this place with two options; either by air or by water.  
There are international airfields in Hat Yai, Phuket, Krabi, and on the island of Ko Samui, though you are more possibly reaching the province by first flying to Bangkok and after that taking a connecting flight to your destination.
The final leg of trips to the majority of the islands and some of the more remote coastal spots will be by boat which is possible via long distance boats from nearby Bangkok. 
Travelling by ferries is now possible in the hi season (i.e., between Nov. and May) from Phuket and island hop your way through coastline all the way to Malaysia and Indonesia.
This is now possible without even touching the mainland, Phuket (Thailand) to Padang (Indonesia).