Top 10 Bangkok Attractions for Adults
Last Updated: February 11,2020
As the biggest cith in Thailand, Bangkok is a perfect place for vacation. So it should undoubtedly be on the list of things to do in Bangkok, especially for couples. The serene atmosphere and the well trained Thai staff alway satisfies every tourist. Its combined city view, sparkling temples, modern malls and interesting nightlife will bring all people unexpected experiences. Here we list the top ten adult activities you can enjoy in Bangkok tour, so that you can experience the most fun out of your trip.
After-Dark Shopping Experience
Bangkok's night market is one of the simplest and most enjoyable local lifestyles in Bangkok. These night markets are spread across the city, offering a wide range of snacks, local crafts, products and entertainment. Dark-shopping in small vendors also means incredible bargains with the locals.
New, larger night markets sprout every year, but none of these is bigger than the original Rot Fai Market and Chatuchak Weekend Markets in the east of the city. Old night bazaars are still very popular for vintage fashion fanatics, such as the Patong Night Market, a good choice for old-fashioned items, mix cheap food or evening drinks.
Siam Niramit Cultural Show & Dinner
Thailand is no doubt one of the most attractive countries in Asia, with a venerable history and legend. It has more than 700 years of fascinating culture, custom and tradition. How can a visitor read this epic novel in such a short time? Siam Niramit is a perfect way to appreciate the rich and unique culture of Thailand. Siam Niramit Cultural Show is a world-class performance of cultural heritage and Thai art. The show has more than 100 performers, gorgeous costumes and an exclamation point of view, being listed in the Guiness World Records. It is a must-see spectacle through which you can get an overall idea of the four dynasties of Thailand and its culture. This show is highly recommended as a start to a historical tour, providing a great introduction to the following visit.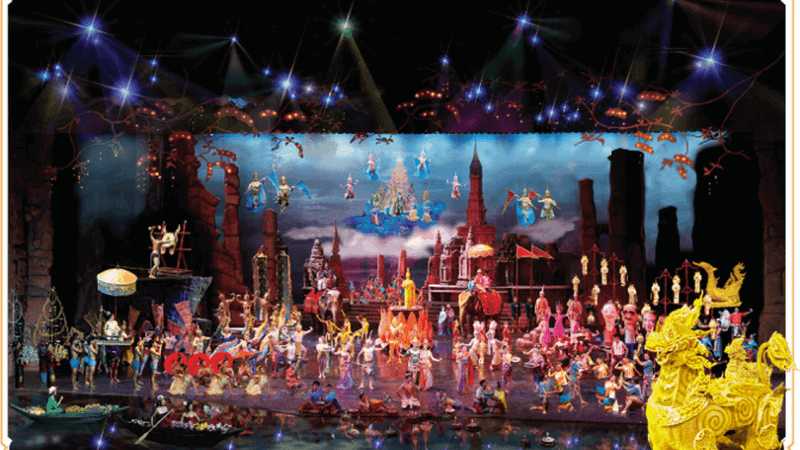 Bangkok Ladyboy Shows
Ladyboy is a very common culture in Thailand. Bangkok is the center of transgender community in Thailand. Ladyboy show is also called cabaret. It is a form of entertainment performed in a various styles of the club or restaurant in Bangkok, and the audience usually will be involved. The performance cannot be neglected if we come to talk Bangkok nightlife culture.
Naughty Night on the Go-Go Trails
Bangkok Go-Go Bars have earned a worldwide reputation. Easy-going but adults-only entertainment, here is the lust-driven dens of sin in Thailand. Those bars located mainly in the areas of: Soi Cowboy in Asok, Nana Plaza, and Soi Patpong in Silom, - take your pick.
Muay Thai Live Shows
For those of you not familiar with the sport but curious about watching an authentic Muay Thai fight just for the experience, there is no better choice than watching a Muay Thai live show in Bangkok. Small sporadic Muay Thai battles take place throughout the city, such as Asiatique, MBK mall and even a go go bar, but for a real experience, head for those three venues: Ratchadamnoen Stadium, Lumpinee Stadium and Channel 7 Stadium. Muay Thai in Bangkok is one of few venues where gambling is allowed and one of few simple pleasures of an zero-distance one-day flighting class for visitors in the birthplace. Very rowdy, very interesting to watch, and makes for a very atmospheric experience for every level of fans.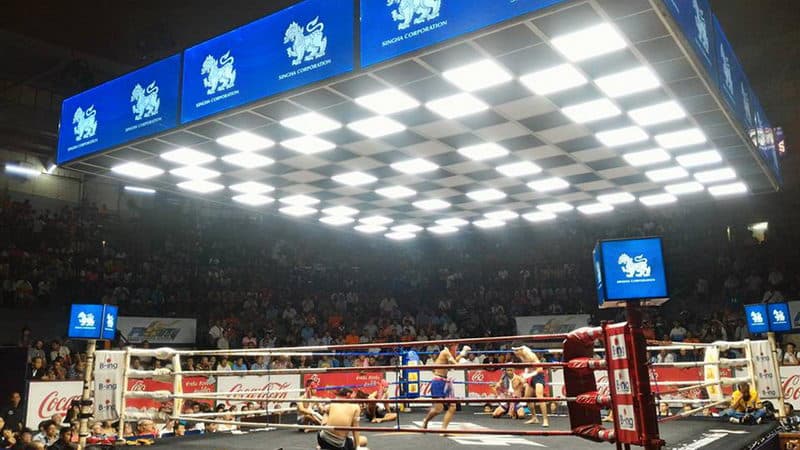 Dinner Cruises on Chao Praya River
The night in Bangkok, especially along the city's spectacular Chao Phraya River, is a miracle. The historic temples and landmarks are slowly spread on your side as the dinner is served in buffet, with a live band, traditional-worn dancers and professional singers to entertain your journey. Chao Phraya cruising provides an eternal memory that is ideal for private parties, leisured cruising or romantic couples.
Book tours:

Evening Wan Fah Dinner Cruise on Chao Phaya River
Full Day Bangkok Hop on Hop off Bus with Chao Phraya River Dinner Cruise
Half Day Bangkok Canal Tour on Chao Phraya River by Long Tail Boat
Customized your all-inclusive Thailand tour
Explore that Food Heaven by Tuk Tuk
Combining local food and tuk tuks! Exploring this food heaven by Tuk Tuk offers a fantastic evening of eating with adventure and a lot landmark views after sunset. You will eat at a selection of local street food vendors and restaurants. This tour is great if you want to spend an evening getting to know the city and its food scene. This tour is not just about food, but also about discovering the local culture through food.
Book tour: Evening Explore Bangkok Old City by Tuk Tuk
Customized your own Thailand tour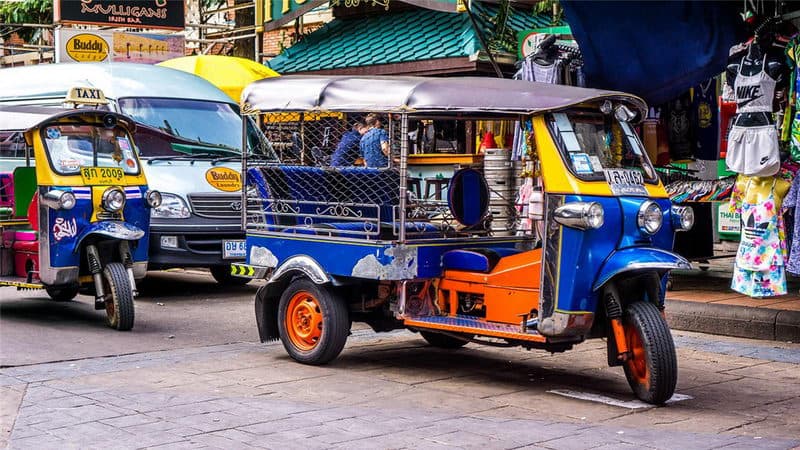 Cocktails at a Rooftop Bar
If you want to go to the best rooftop bar in Bangkok, then Moon Bar Bangkok is your first choice! Here is a wonderful place to watch the Bangkok sunset and take sip of night drinking. The city scenery is amazing! Through its open board, you can see the whole Bangkok city night scene, including the Bangkok newly built tallest skyscraper – the MahaNakhon which is designed by famous German architect Ole Scheeren. The Moon Bar Bangkok is at sixty-first floor, and there are about 50 seats, but make sure you get there before 6 p.m., otherwise you will have no seat. The shortcoming is that after the evening is could be very crowded and the price of beverage is very high.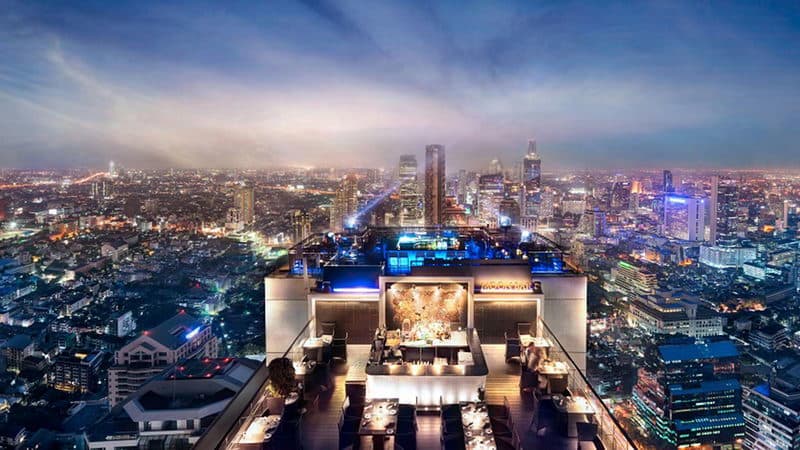 Red Sky Bar locates at the 55 layer of Centara Grand Hotel, just behind Central World shopping mall and the traffic is very convenience. The Sky Bar has two layers, indoor and outdoor, but on sunny days, most people choose the outdoors. Outdoor performance area is backed by a large halo and the big circle will keep changing the color. There are also live blue or jazz performance and the singer sings very well. The second layer is also open, the location is more private with a laying bed or a separate table. It is toward the Bangkok night scenery so that suitable for quiet chat with people and whispers between couple. Taking a sip of soft wine in bar, it is a luxury experience sitting in 55 layer below the heavy traffic noise of the city of sunlight while in the 55 layer, the air is comparatively a faint quiet, full of contradictions and beauty. Every 5-7 p.m. there have happy hour buy 1 get free 1, but available only check out before 7 p.m.. Happy Hour is the best time for you can watch the sunset and the night view at a time!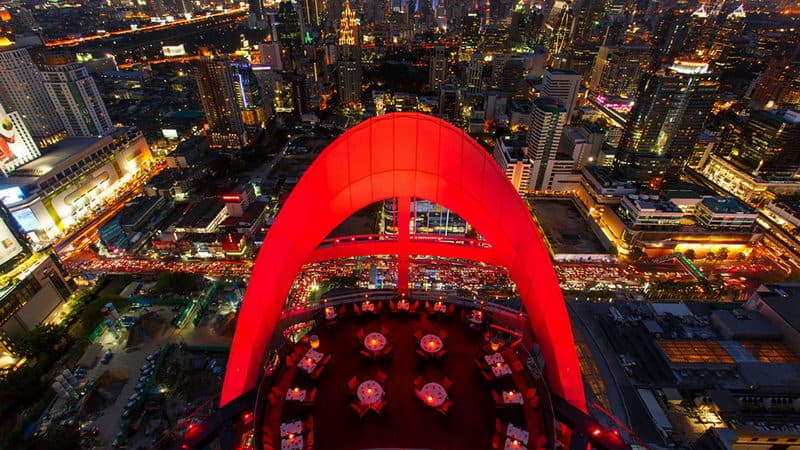 Thai Cooking School
The majority of the hand-on programs starts in the morning, taking advantages of a cooler outdoor temperature. The food market is a good way to introduce the Thai culture and lifestyle to the chef students. Your guide will explain Thailand's taste and customs, local vegetable, meat, fish, and production, and find unique ingredients, of course, Thai-style bargaining! You will learn the world-renowned Thai dishes in its birthplace with a local chef from preparing to cooking and finally eat it up your harvest!
Book tour: Half Day Sompong Thai Cooking Class
Read more on how to plan a Thai cooking class tour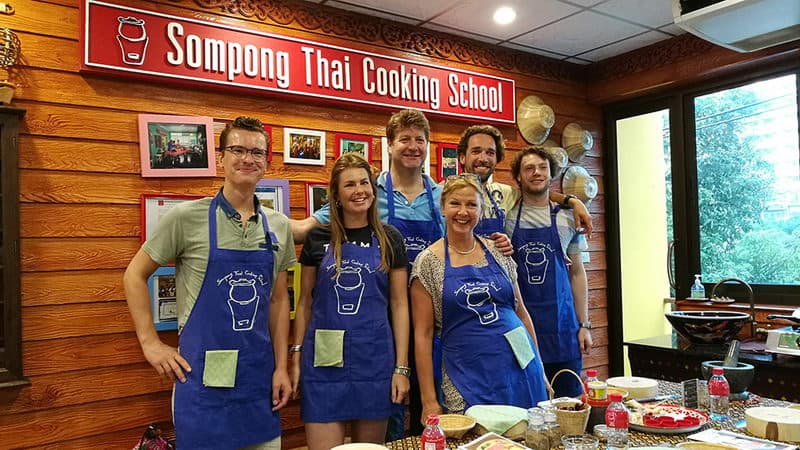 Gay Nightlifes
Silom is considered the main gay area of Bangkok. Soi 2 is dedicated to dance clubs such as DJ, Freeman and expresso, Soi 4 offers a looser atmosphere, with balcony bars, Sphinx and Telephone Pub. Most foreigners tend to flock around this area more than others. Confidently pick a bar and find a table with the best viewing position. The best time is after 9 pm.
Travel to Bangkok with UME Travel

If you can't decide where to go or how to plan, don't hesitate to contact our experts. We will help you maximize your travel experience and provide you with the best travel time and places you want to see. Here are some sample tours. They can be customized to meet your interests. For more ideas from our Best Thailand Tour.
Also read
Songkran (Water Festival) In Thailand 2018/2019
Ultimate Bangkok Travel Guide for First Time Visitors