5

Super Experiences!

Our genuine experts explored the destinations time and again and finally worked out the itinerary taking you to experience the highlights in various ways that others might miss.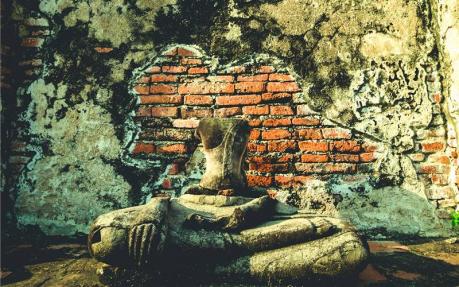 Our knowledgeble local guide will take you back to Ayutthaya period to discover the unbelievable Thai-Burma war and to see how the historical Ayutthaya became ruins.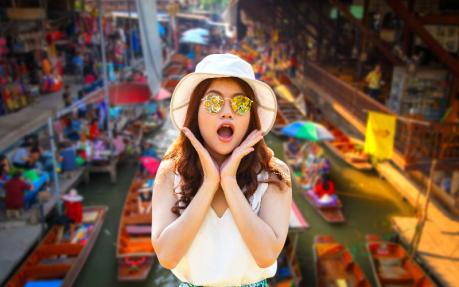 Take a traditional long tail boat to experience the floating village then start your in-depth exploration to bargain in the 100+ years floating market by paddle boat.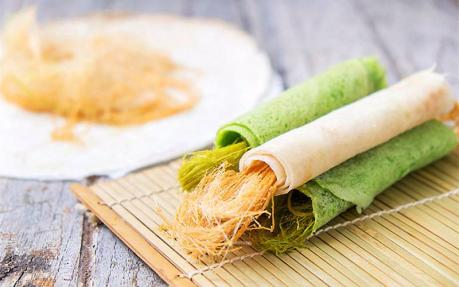 Ayutthaya is the center for the production of "Sweet Angel Hair"(Roti Sai Mai). Normal tour to Ayutthaya will always skip this special local snack , but we will not miss it!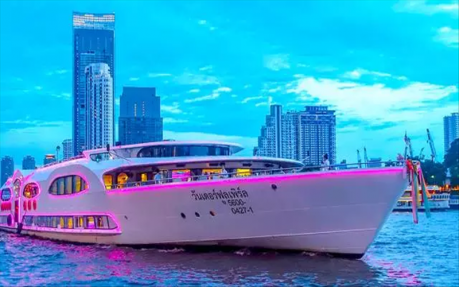 Board a comfortable scenic cruise on Chao Phraya River. Enjoy the amazing scenery alongside in the meanwhile enjoy your dinner lunch on board!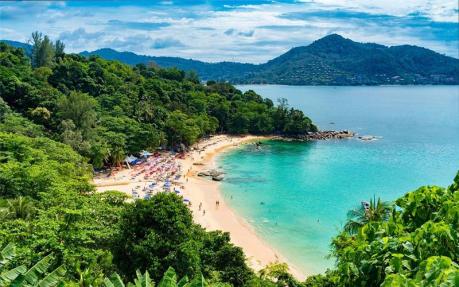 Plenty of free time ensures you could add any optional acctivities at any time during your trip in Phuket. Free and Flexible!
Itinerary Details
The following itinerary is for your inspiration. Our experts will customize your own tour according to your interests, schedules, hotel tastes and budget. All can be tailor-made!
You Can
Extend/cut down length
Adjust activities to your interests
Change a hotel
Everything you want
Accommodation
3 Nights in Bangkok
3 Nights in Phuket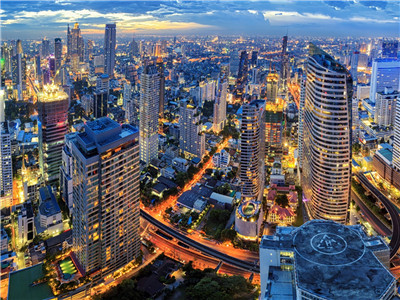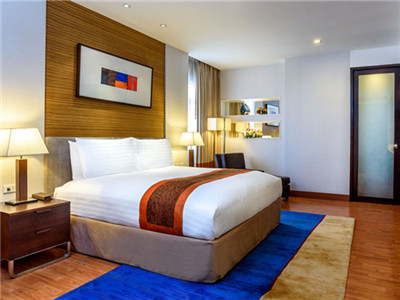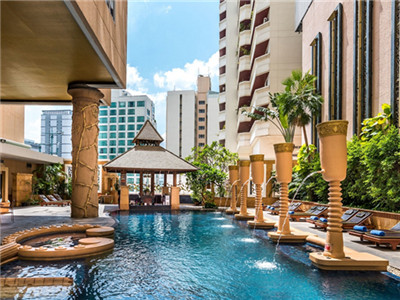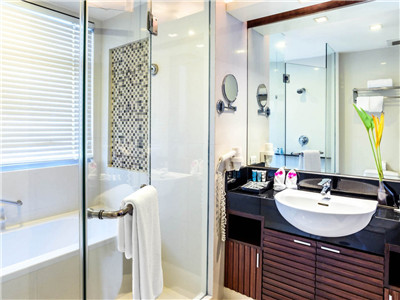 Grand Sukhumvit Hotel Bangkok – Managed by Accor
Why this Hotel:
Within walking distance from Nana Skytrain Station
Easy access to shopping, dining and entertainment options
36 sqm spacious deluxe room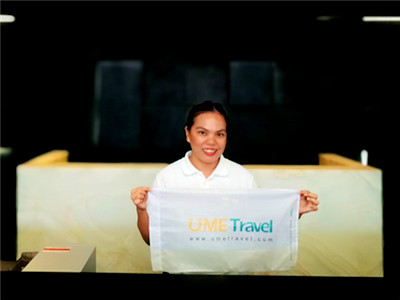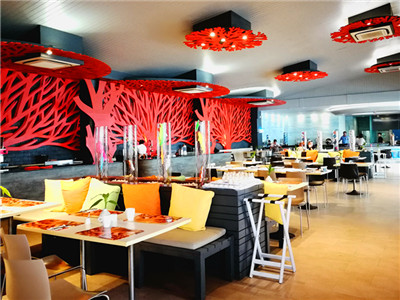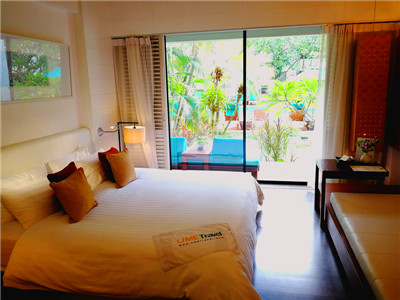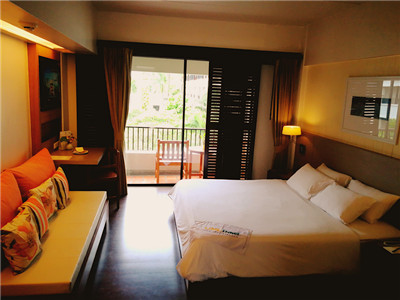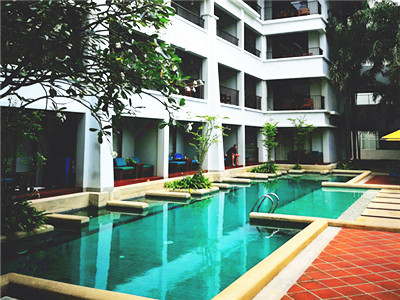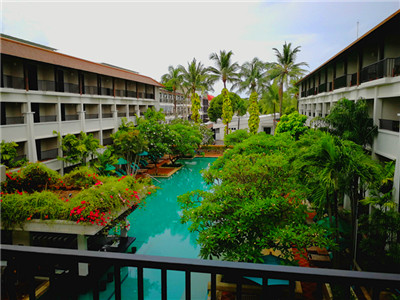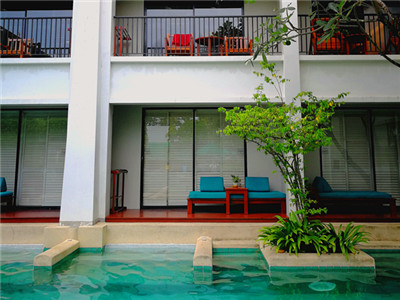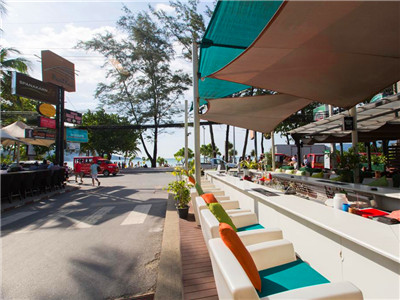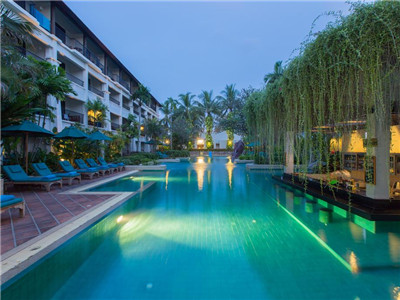 Banthai Beach Resort & Spa
Why this Hotel:
2 minutes walk from Patong Beach
500 m away from the Jungceylon Mall
Very close to nightlife district Bangla Road
Free shuttle service to Phuket Town
35 sqm spacious superior room
What's included
Day1-3
Grand Sukhumvit Hotel Bangkok – Managed by Accor
Day4-6
Banthai Beach Resort & Spa
Carefully selected accommodation with breakfast
Accommodation based on two people sharing (for each person not sharing a room, the single supplement will be added)
Well screened Hotels

Handpicked hotels with good service and spacious room.

Super nice location

Downtown location with convenient transportation and many good restaurants nearby.
All mentioned internal flights, trains, and cruises
Private & air-conditioned vehicle with ample space
Best-time flight

No early get up. No late arrival.

Better seats

Select seats for you as spacious as possible, such as exit row or bulkhead with more legroom.
All meals specified in the itinerary
Satisfying food

Your special request on food can always be satisfied, no matter it relates to religion or medical purpose!

Local specialities

Traditional local food is delicious and its specialities are worth searching out with our local guide!

Little snack

Wanna try authentic local snack? Please follow us!
Bottles of drinking water and cold towels per guest per day
City map & SIM card (unlimited internet)
24/7 helpline while you are travelling
All excursions specified in the itinerary
All entrance fees specified in the itinerary
I was planning a trip with my girlfriend. We were considering what country to visit for much time; luckily we have enough time because we have a store of our own. Finally we decided to start from east, Thailand where is famous for young people. We had visited 3 hot cities in Thailand, Bangkok Ayutthaya and Phuket. We took part in some Thai style local performance, trust me, very interesting!! Especially my wife is ecstatic with beaches where is beautiful and crowded but rich sunshine and boundless. Wow ~ here we specially thank the ume travel who provide us a upgraded room in Phuket after they know (my trip advisor Alieen) we will get married in the near future, they arranged a honey-moon room for us in advance. What a great service and surprise!!
"Thanks that my friends recommended the UME Travel to me!! It really made me a memorable and terrific trip for my 35th birthday with my family! Originally I want this trip to Australia; however my wife and kids take Southeast Asia. 'Cause they want to explorer something fresh they didn't meet. We had traveled many countries before except Asia, FAR AWAY FROM US. This time, I followed them. We followed this 7 days tour; it is just suitable for us. Not so long, not too short, the pace of trip is just right. We especially were attracted by the amazing temples in Bangkok, gold everywhere, just fancy that!! How a splendid palace as it is!! Warm advice for the ones will visit here, NO shorts and exposed arms. However our little boy is crazy about the beach, 'cause HE IS A CHILD. No child can escape the charming beaches. If you have kids, be sure take them to the Phuket Island. Will not be regretful. Since the weather is a bit hot in Thailand, our guides Sam kindly prepare mosquito repellent for us. Just pass our thankfulness to him. If having next travel in SA, we will contact the UME absolutely.
It couldn't be better that my friends, me and my childhood friends have common time!! We are separately for long time thanks to the busy and stupid working. We wanted to seize this chance to have a travel. Where to go is up to me. I check some countries on google, UME as a simple but essential words appears in front of me, at a glance for few mintues. Feel not bad. At a resulte, it proved It is more than NOT BAD, but professional. They made this itinerary for us according to our request. Quick but accurate, that'c correct, these are the places what we hope to visit!! We loved Ayutthaya, we have never seen culture heritage in such beautiful and elegant way. Walked around the ruins of several ancient temples, it is worth of the honor of UNESCO world heritage. Plus, we had explorer the floating market where we have never visited before. That's really fantastic for us from USA. Our guide is very friendly and led us to get something good to eat. This tour with UME travel from start to end, everything is perfect!! And thank Alex, an expert who is very professional with travel.
We, me, my husband and some friends heard something amazing and interesting of Thailand from my friends who had visited Southeast asia not long ago. Therefore we arranged a oversea trip to Thailand. Really not disappointed us!! We took UME travel recommended by them as well. When we arrive in Bangkok air port, everything goes well. We visited the 3 cities Bangkok, Ayutthaya and Phuket. What a great sight!! You can experience local life in the floating market, yes, FLOATING market, even, when the train across the market, the vegetable under the railway will not be hurt by the train! That's interesting!
Not bad a trip for me! Everything is okay under the help of UME travel and Alieen who made proposals for me. And payment is convenient for me. I meet UME for lucky among a lot of travel agency. Since I travel alone, they arrange everything for me! Alieen is working seriously and she replied me quickly, I just paid within 2 weeks, forget it then. Alieen warmly remind me of the travel date!! You guys did good job!
As a Qualified travel buff, Im so glad to write comment for UME travel! Thanks Alex who made travel proposals for me with couple times change and updates! He kept patient with me since I invited another 5 friends, we are black, white and yellow groups. However for me, this is the first time to Thailand really. They trust me!! When we arrived in Thailand, from air-port to the hotel, there is nothing bad cases happen to us but happy all the time! We have private car and driver. We visited Bangkok, the capital of Thailand. Yeah, amazing buildings we have never seen before. It seems the temple made of Gold!! We had learned history from another ancient city, even in the ruins; the whole city was transmitting the sense of grace and mystery. The time on the beaches is what we love the most. With the pleasant enough sunshine, soft sands, and beach chairs, we spend our daytime on the beach; we can play games, surf, swim, anything we would like to do!! However we spend the night in local pubs, vibrant enough for young people! We will visit again the Phuket island or other islands in Thailand!!
We find the UME is really good and professional! Great trip in Thailand! The payment is secure and quick. Our guide is very friendly and helpful. We enjoyed the interesting Bangkok and taste yummy local food!! Having our relaxing time in Phuket at last. Time flies fast! Marked this site for the trip in the future.
We had a great trip with UME in Thailand!! Actually for my girlfriend's birthday, she is from Asia, lol. I completely understand what she loved the most, so I decided this surprise trip for her originally. 'Cause she mentioned that she has never gone to Thailand before but heard much about that amorous country, she wanted to see what the hell Thailand is. UME had arranged 3 places for us since we don't have much time for long-time travel. 1 The Capital Bangkok, where is popular and well-known. 2 In the ancient city (sorry I cant remember its name accurately, that's too hard for me), we had a sight of the beauty of the ruins, especially the place where a buddha' image was surrounded on the roots of a tree. That's really incredible! 3 We had good times in Phuket. By chance, it is the right day arrived in Phuket is my wife's birthday. I have told my trip consultant Phoebe about this. Wow ~ friendly UME team prepares a big cake in advance in our room beyond our expectation. Thanks so much about thoughtful arrangement! So happy this trip!
Wow ~ what a terrific trip! We had this trip with my wife, 'cause we just married and spent honey moons in Thailand for 7 days. Originally we don't know where to visit, we just checked on Google, UME in front of us. It seems like a professional travel team and really it is! They made a perfect plan for us, so we started from Thailand! We loved this tour very much, since we had enjoyed the Thai Style temples, culture and beaches. We have enough leisure time for ourselves, that's really good!! Thanks Alieen, our trip advisor who did make perfect trip for us!!
What an incredible beach Patong! We had walk through the Patong Beach, the water is crystal clear. If you enough time, yeah, you must have enough time in Phuket, rent a diving outfit, you can see the colorful fish in the ocean. We tasted the food on the snack strand, so cheap and taste well. Finish our trip on the island is perfect! Highly recommend this tour!!
1 Writing comments is my favorite after finish our trip! Thanks UME team provided miracle tour for us! In particularly thank Alex, my tour consultant. He is warm and careful. He kept quick reply about questions we put, he is so professional that you didn't have chances even to think about what you will meet or what you should worried, and everything is in his hand! Good job sir! 2 We had visited Bangkok and Ayutthaya (that's difficult to pronounce it), knew about the Thai culture and history from the perfectly splendid temples and Buddha, you will be surprised at the ancient city where is full of ruins, but distinctive you might never seen. 3 the Phuket is what we love the most! Just fancy that you will have freedom times on the lazy beach, where you are out of boring or busy work, out of boisterous city…you had better go to the beach in the morning or evening to avoid high temperature. Walking along the watch, whatever which beaches, the ocean and sands are exact SOFT AND WARM. There are some coffees.
I felt that Im in Maldives If my guide didn't remind me of this is Thailand tour! Because that really beautiful a beach we found in Phuket with my guide and driver. Sam, my guide told me it is called freedom beach, where is amazing and graceful. The food is fresh as well. It is a place suitable for relaxing.
Wow ~ what a terrific trip! We had this trip with my wife, 'cause we just married and spent honey moons in Thailand for 7 days. Originally we don't know where to visit, we just checked on Google, UME in front of us. It seems like a professional travel team and really it is! They made a perfect plan for us, so we started from Thailand! We loved this tour very much, since we had enjoyed the Thai Style temples, culture and beaches. We have enough leisure time for ourselves, that's really good!! Thanks Alieen, our trip advisor who did make a perfect itinerary for us!
This is a fantastic tour with my family! We visited the Thai temples and ruins. They are full of Thai tastes. However the most we loved is the moment on Phuket Island. Among all of islands in Phuket, the Kata beach is the best one in my opinion. Compare with the Patong beach, Kata is more silent, that's why we stay here. Many people lies on the beach for sunbathing, we as well. The beach is wide and stretched, and the sand here is powdery and white. There are some restaurant offering fresh seafood, we tasted delicious disk. Although the Kata is south to Karon and Patong, it is alive in the evening. Don't miss the Phuket, if you travel in Thailand!
Carrie was a great guide and we learned so much about Kyoto and its traditions. We went to places my nephew and I with private transfer and guide service, and we had a great time! The UME staff was very kind & professional, attentive to all of our needs, and ensured we had a great time. Highly recommend!!
The local guide who guided us on this tour was interesting and spoke excellent English. We mainly stayed on Beach. The beach in Phi Phi and Krabi was beautiful and the sunset was lovely. Bring an underwater camera if you have it, and bring your regular camera/cell phone for taking pictures from the boat. I highly recommend there.
Really fascinating tour. Very beautiful temples and architecture in Bangkok and Ayutthaya we visited. Just bring your walking shoes and have fun!!
We wanted to join in an ethical elephant program so we add one in Phuket. It was a really great experience!!! It was a fun day with elephants on the water. The elephant were soooo good!!! Overall my girlfriends and I have a wonderful experience! The travel advisor and staff were all great!
We just went to Thailand in June. Lots of fun. Staff friendly and helpful. Definitely coming back
We booked this tour all via E-Mail. Correspondence was prompt and reply's to all my questions I had about the tour had been well awnswered. Quite impressed.
We took the private tour on May, 2019. The contact after booking online with Ms. Carrie was very good, and we looked forward to having another exciting time in Aisa. We were not disappointed.
Had a great tour! Guide Sern showed us everything and gave a lot of background information. We had also a safe driver! Absolutely recommendable!
We had Jack for our tour and he was exactly the man for us - informative, chill & knew all the great spots, even had enough time for an extra temple. We had a nice Thai lunch, adequate water and toilet breaks, interesting info and lovely sights. Would definitely do again!
Carrie was very friendly and knowledgeable about what was happening in our tour. We wanted to experience more of a local feel than a typical tourist might be happy with. We started in the city around the river and canals and then headed for the countryside to see a bit more of an authentic Thai experience. We also fully realised that it would be a little more expensive than group tour and public transport. Happy to pay for the comfort and security and local information/history in the short time we had in Thailand. It did worth the price.
Oka was absolutely superb, a great 7-day tour designed for me, lots of variety with hghlights been the monkey island and elephant park.
We​ wanted to​ do something different in Thailand but​ weren't sure what! We​ contacted Carrie she recommended​ a​ alms giving activities and a trekking trip​.​Just​ WOW!  We​​ got to​ experience​ real culture​ as​ we​ seen local people go about​ their day; It was also great to find a wow waterfall in the mountains. The pictures on the website do not reflect the real expereince - this company is absolutely stunning. 
I contacted Carrie in help of organizing something comfortable for my families. I traveled with kids in the 2 bedroom villa with private pool. Very spacious and kids were happy to have their own bedroom. thanks for this!
We visited Thailand at the start of July and booked this tour just 1 week before we leave. From the time of inquiry, Carrie was very quick to respond to all questions. Was very pleased her recommendations and service lived up to the quality and experience we received. 
This was our first fully customized tour. We found it a really GOOD EXPERIENCE. Introduction and itinerary to the country were good. Great for a first timer, I can't recommended UME and the Thai private tour guide company enough. Thanks Again
Our children and the adults enjoyed THE SEA TOUR very much and thank Pheobe for all her info and suggestions.
It would be great to have such a professional company to know how to help with our problem as a first-timer in this beautiful country.
Awesome way to see authentic Thailand! These guys came highlighly recommended and still exceeded our expectations. We loved every minute of our tour. We booked directly in their official site via email which was simple, efficient and we got a great rate.
The crew were extremely knowledgable and helped us plan our tour so we could see all amazing part of thailand. 
Booked with Carrie for an island tour and sunset dinner to propose to my girlfriend towards the end of May. It's also her birthday. Carrie helped to organize something special for us! She suggested the romantic dinner trip with private chef and band. We had the most amazing evening. thanks for this!
All the crew were great fun and really interesting
Our tour guides Sern was very friendly and fun. He made us feel very comfortable and was very informative as well. The tour was all in all very beautiful with gorgeous sights and delicious food. I highly recommend Peach and the services of UME Travel.
Went beyond our expectation.
The guides & drivers were awesome and all the accommodations were wonderful, all with relaxing pools. 
We found UME Travel on the Internet. Our travel advisor Carrie replied us very soon. With a numerous information that we hardly got by ourselves. Upon arrival, we liked that our guides showed me foods that I would not have been able to find, identify or order, as well as some of her favorite spots for local snacks that were simple and delicious. She knows her countrry's history and has the most pleasant demeanor. We also fully realised that it would be more expensive than if we did this on our own with taxi or public transport and/or walking. Happy to pay for the comfort and security and local information/history.
Would recommend this customized trip to anyone wanting a fantastic and authentic expereince.
Professional, knowledgeable, and Reliable private tour!
Alex at UME has been very helpful! He helped us organized everything, just few days before our travel and we did not have to worry about anything. We really loved our private trip, we need not wait for other people and we could do whatever we want and enjoy our trip. That's so cool! We love it!
Diana Liu was incredibly helpful. We look forward to more travel with UME!
Carrie is super good, very nice person, professional and fast. She did her best to design our dream holiday. Everything is detailed and precise. I will continue to recommend her service.
We would like to thank UME Travel for a wonderful trip. Diana was a joy to work with, in planning a vacation that took into account all our interests and was able to give us so much more than we expected.
Phoebe did an amazing job at planning our trip to Thailand. She helped make suggestions, also made sure that she included all of our requests. We will definitely book our next China tour with Phoebe. Thanks Phoebe!
Phoebe was so professional in planning our trip to Thailand and she was so helpful with suggestions to make our Thailand trip so wonderful!
We really spent a wonderful holiday in Thailand! Great experience!
Super exclusive experience! Exceeded our expectations! We will definitely be using UME Travel again!
Working with UME Travel was amazing! We really enjoyed having every detail worked out before hand, so we could arrive to our trip with zero stress and worries. Every guide, Mr. Pubes in Bangkok, Mrs. MAAM in Chiang Mai and Mrs. Mookda in Phuket are all terrific. We enjoyed every second of our trip.
It was an excellent experience. Everything went well as planned no surprises. The private tours were superb. They are knowledgeable, professionals, everyone on time.
A fantastic trip! Everything is so well organized by UME Travel.
Great price! Very well organized! Unforgettable experience! Perfect trip!
Carrie has great knowledge about Thailand and she was extremely helpful in planning our holiday which exactly meets requirements.
Our consultant Phoebe is extremely knowledgeable and she was always patient and courteous. We are vegetarians and the meals she arranged for us have met our requirement.
Working with Diana was very happy and easy. She is very professional and easygoing. The guides and drivers in Thailand were fantastic. Our guide Birdy is our good friend now.
Phoebe was extremely helpful. We have never had such comfortable service in any other touring company before.
Very happy with UME Travel and Carrie our trip advisor who always promptly answered our questions and found good hotels and helpful guides for us. She set up a very enjoyable holiday for us.
Thanks to UME Travel! Our private tour to Thailand has exceeded our expectations.
service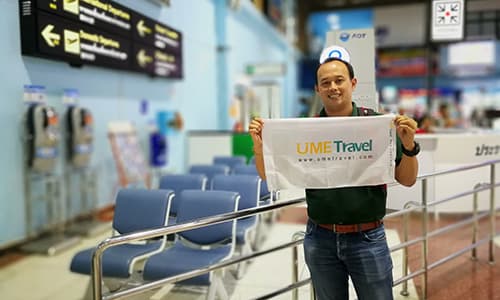 Professional Guides & Drivers
We offer professional private tour guides with over 10-year experience, well-performed vehicles less than 5-year service life and licensed drivers with 5-year practice. Each of our employees undergoes rigorous screening before they can join our network.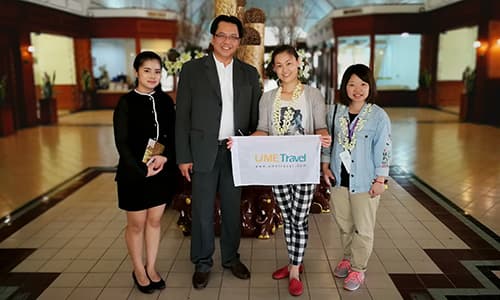 Well-selected Scenic spots and Hotel
All the hotels we advised have been inspected by our team and we spend time each year to top up our knowledge on the spot. Continuing Positive feedbacks on them from former customers because of their outstanding and unique characters.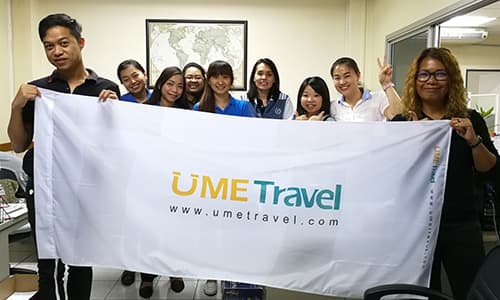 Local Available 7/24
You will have our local team's urgency contact number and we are available whenever and wherever. If you meet any problem or need any help, just make a phone call and everything will be settled down at a time.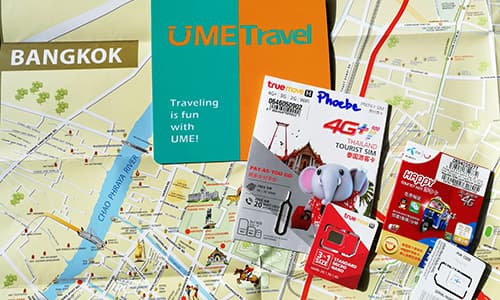 Warm Welcome Kits
We provide the welcome kits for each customer, you will receive the SIM card, city map, a bottle of drinking water and a cool towel per guest per day for FREE. Get all first-step information and useful tips in one profile and make your first tour simple and easy.