Top 15 Things to Buy in Thailand
Last Updated: June 08,2020
It will be a really thrill thing when you buying things that only can get in that country you are travelling. Undoubtedly Thailand, the land of smile, is such a kind of country with a great variety of "featured Thailand goods". From bustling open-air village food markets, street vendors, noisy night markets, floating markets to boutique shops, department stores and upmarket specialist shops, with traditional handicrafts, accessory jewelry, beautifully-designed clothing, antiques and much more to choose from, just follow UME's Thailand shopping guide, you will definitely find your admired things to bring back home and in the mean while enjoy the blissful shopping experience. Please remember: nothing is ever more fun than hunting down things to buy in Thailand. And make sure to bring along a huge, empty suitcase on your Thailand trip!
Read more on: Guides on Shopping & Market in Thailand

1. Thai Silk
Due to its splendid color and high quality, Thai silk is one of the most popular products in Thailand. The silk products are usually expensive because the individual thread is too thin to use along and the threads should be combined by hand to make them strong enough. Luxurious Thai silk products come out in all colors of rainbow and these soft fabric is then transformed into cloth, scarfs, cushion covers, ties, skirts, pillow cases, bag and so on. There are two ways to tell its authentic: holding a silk item up to a strong light source and looking at it from different angles. The real one's color is shifting. You can also test it by pulled it through a ring on your finger. If it goes through smoothly and easily, it is real. The high-quality silk products can be bought at Jimi Thompson house in Bangkok. If you travel to Chiang Mai, you will be luck, as the majority of the silk is produced in and around Chiang Mai and you can find it at any market you visit there. The products are so beautiful in bright colors and they are very good souvenirs for family and friends.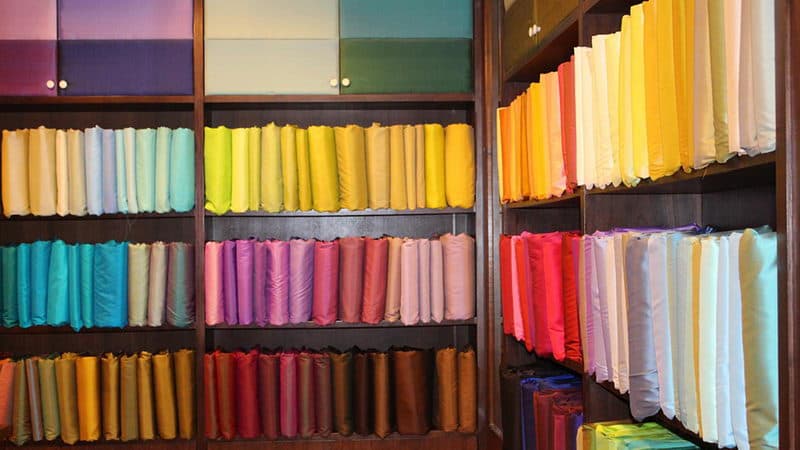 2. Thai Coconut oil
Thailand is the motherland of coconut and coconut oil is widely practice in this country. In recent years this magic oil has been gaining more and more popularity all around the world. It is an effective natural beauty product with numerous benefits. It can help in protecting your hair from damage, moisturizing your skin and boosting your energy; it can act as a sunscreen and you can even drop some into your morning tea or coffee for better taste. Thai coconut oil is ranked among the best in this planet and it is a gift can be easily get for your family and friends when you are travelling around Thailand. The oil is available throughout Thailand. You can easily find bottles for sale with English labels in the hotel gift shops, night markets, boutique shops in the street. The high price one tends to indicate higher quality and all of them are packaged in English telling your whether it is for external use or for cooking grade.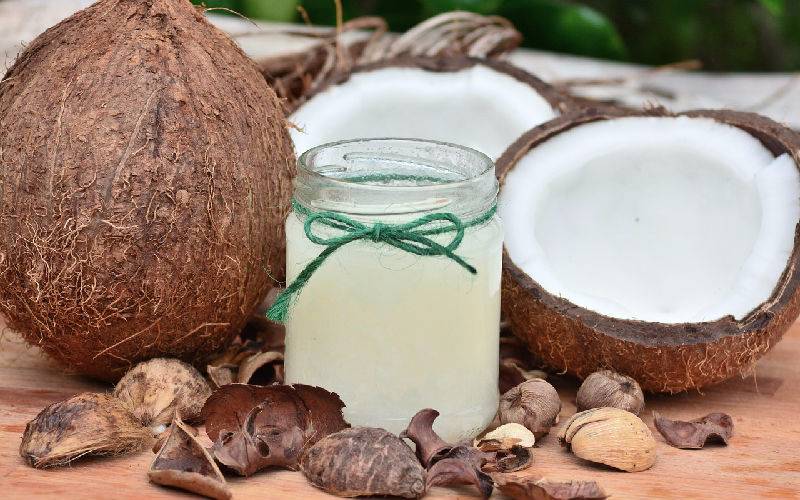 3. Everything made by coconut
Coconuts abound in Thailand especially in Koh Samui. The creative Thai people not only regard the coconuts as fruit, but also recycle the rest part of the them after eating. They carve them into new art works of monkey statues, soap dishes, candle holders, wind chimes, salad spoons and so on. It also be made into coconuts fruit spread, jam, candies and more. Koh Samui is the right place that you can find absolutely anything you want or you did not imagine before from a coconut. Before tourism, they were the island's main industry. Indeed, anything can be made from a coconut.
4. Fruit Soap
Handmade fruit soaps are very special, gorgeous, vivid carved small soaps. They are not only good looking but are also have all kind of fruit fragrance. They are made from a special formula that includes the juice-extracts of the actual fruit. There is a huge selection of granges to choose from like watermelon, pineapple, mango, lychee, mangosteen and even durian. Locals buy them for decoration and tourists buy them as souvenir or gifts to family and friends but both of them do not actually use them while showering. You can find them in every night markets, boutique shops, hotels and airports in Thailand. Chatuchak Market, a weekend market in Bangkok has all kinds of these fruit soap. The Mango soap is one of the most popular ones, only cost US$1 each.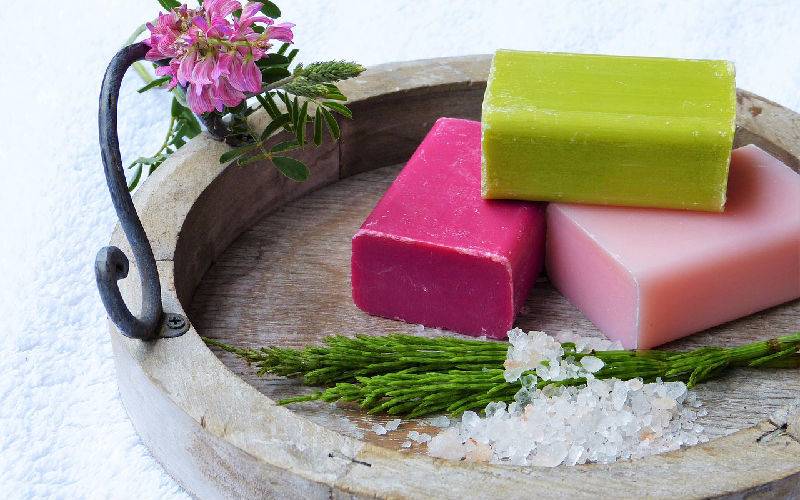 5. Thai Spa Products
A lot of tourists visit Bangkok for Thai massage and spa which is well-known all around the global. Just a 60 mins massage session will make you refresh just like you are reborn. After a session of massage in Oasis Spa, Asian Herb Association or Health Land Spa, you can purchase spa products or essential oils and bring home. Essential Oils are highly concentrated liquids made by extracting either the healthful or fragrance compounds from plants. Essential oils of plants like lavender, lemon balm are very popular ones and can be brought anywhere, but if you're looking for something regional and special, the coconut oil is a good choice. Please make sure to buy them from a reputable vendor, because knockoff oils are quite common.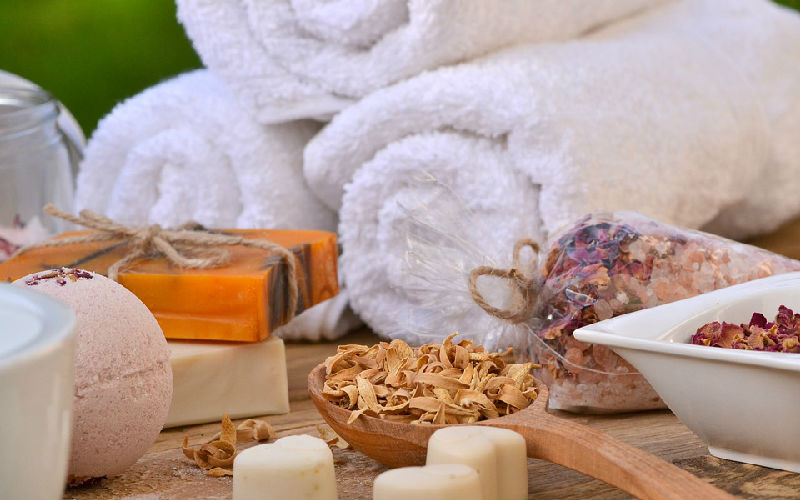 UME Travel has prepared some tours including Thai spa during your time in Thailand, in the meanwhile you can buy some high quality Thai spa products.
6. NaRaYa Bags
NaRaYa is a famous local brand, selling high quality hand-made fabric bags and pouches with various colors and designs. Their flagship design is the silk bag with a big ribbon attached in the middle of the it. NaRaYa draw more and more eyes from all around world in recent years. Lots of female tourists like it very much for its elegant and colorful design and it goes well with all kind of clothes even the casual one. What more it is not expensive. You can easily find NaRaYa stores in Bangkok's major shopping malls. Its flagship store is at Central World Plaza. Its upmarket brand 'Nara' has a shop at Suvarnabhumi T2 departure transit area, at Sheraton Grande Sukhumvit B1 and at Baan Jim Thompson.
7. Elephant Pants
It is said that you haven't really "been" to Thailand unless you get yourself a pair of bohemian style elephant pants from the night market. Because of it is very comfortable, airy and convenient, it is quite popular among the backpackers.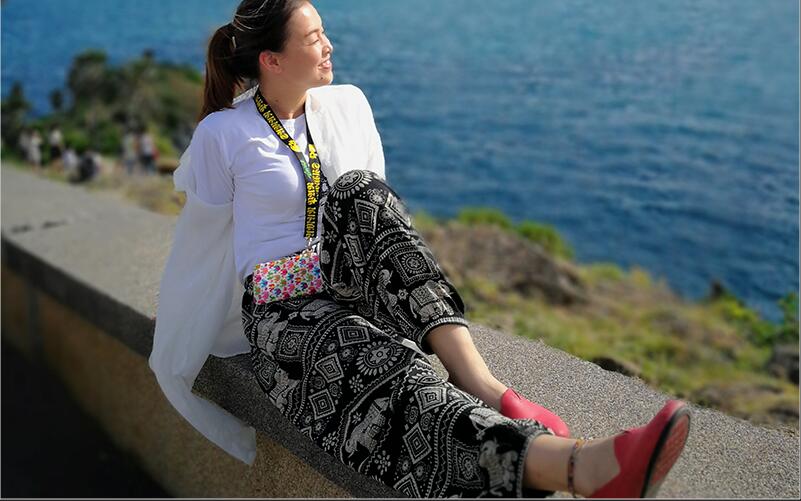 Picture: Our local guide Eva in Phuket. She was in traditional elehant pants.
8. Thai Herbal Inhaler
This inhaler is very popular among Thai people. Tourists from western countries like it too as it is known to be the quickest and cheapest inhaler relieving of the block noses, vertigo, flu, and headaches. It is also best for those who have rhinitis. It comes with the nasal inhaler stick on one side and a camphor- eucalyptus balm oil. Because of its small packaging size, it is really convenient to carry around. You can find it at any convenience stores like 7-eleven or Family Mart. The most famous brands are Poy Sian Inhaler and Peppermint Field.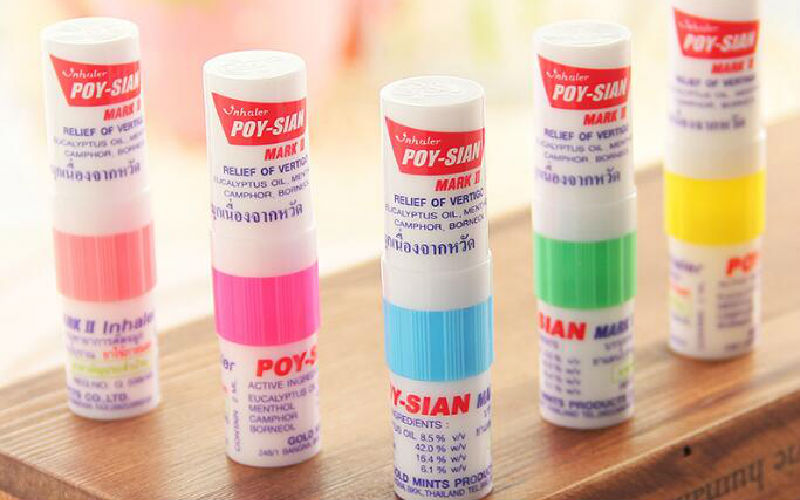 9. Thai Silverware
Thailand is famous for its high-quality silver with a quite reasonable prices. Wualai Road in Chiang Mai is home for best silversmiths in Thailand. You can find some traditional silver shops with various handmade silverware such as jewelry of all kinds, bowls in various sizes, cups, serving trays and other worthwhile items for souvenirs, either give to family or friends or to keep it yourself.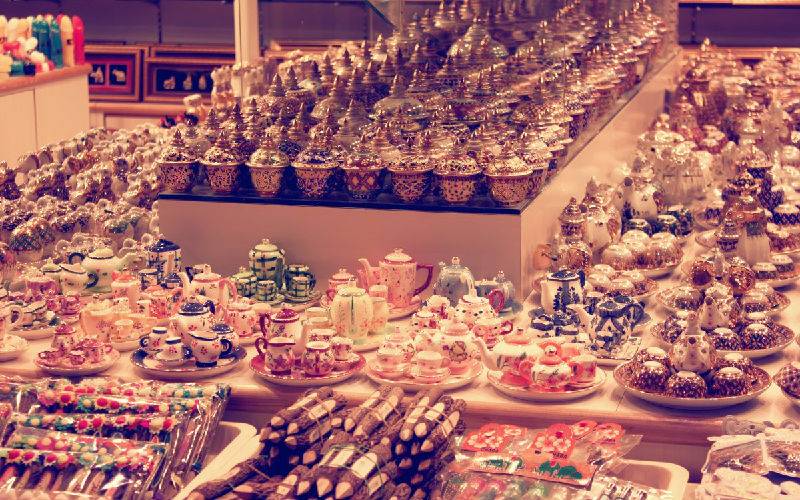 UME Travel has prepared a tour including observing silverware working process during your time in Chiang Mai.
10. Hill Tribe Crafts
If you travel to Chiang Mai, you should not miss the visit to a hill tribe village. The traditional tribe crafts have become more and more popular among tourists as a souvenir because it is handmade and unique. The crafts are from beautiful purses and bags to bedspreads, pillow cases and more.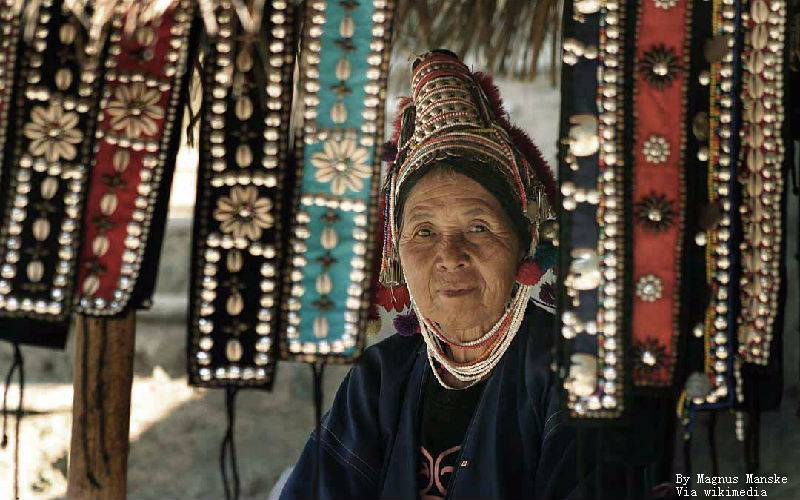 The designs of crafts in different tribe are different and each product is a unique work of art. The hill tribe crafts are excellent gifts or souvenirs for yourself to keep in your living room to remember your wonderful time in Thailand.
11. Handmade Sa Paper Umbrella
These handmade umbrellas have been produced in Thailand for centuries. They are the most distinctive and well-known northern Thailand crafts made from natural, durable Sa (mulberry) Paper. The designs are often bird motifs or floral and they are always painted in bright colors and each one of them is a unique work of art. It could not be better to displayed it as a decorative piece at home. If you are brave enough, you can take it out when it is raining as it is water proof. Other products made from Sa Paper are decorative fans and screen. San Kamphaeng in Chiang Mai is the best place to buy the umbrella or other Sa Paper products where you can watch the products being made from start to finish as well.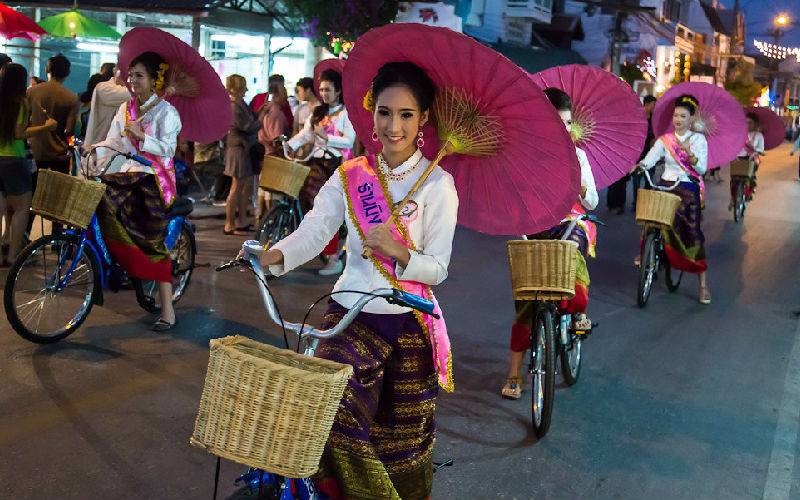 Picture: The local beauty queens ride bikes while holding traditional umbrella during the Bosang Umbrella Festival.
12. Thai Triangle Pillows

This typical triangle pillow is always showing its Thai style. You may not find it in any other country. This traditional triangle pillow is stuffed with organic fibre or straw and it is quite multifunctional. It can be used as a lounger, a leaning cushion or even a spare bed when unfolded out.
13. Antiques
Chiang Mai has been the culture and economy center of northern Thailand for centuries so that it is the best places to hunt for genuine Thai antiques. There are many places sell high quality counterfeits at a price for real ones. You have to pay attention to it. Although there are plenty of fakers around, the real elegant antiques are always with a certificate of authenticity from the Fine Arts Department. The upper floor at Viang Ping Plaza in the Night Bazaar is a good place for you to start your hunting for the real pieces. Those spoil antique lovers never miss Ban Tawai, the craft and antique center of Northern Thailand. However, the export of the genuine antique is highly controlled by the government and you have to apply for a special permit to bring the real things out of the country.
14. Dried Thai Spice Packets
These individually pre-packed dried spices are especially for Thai food lovers and budding chefs who want to bring home the impressed authentic Tom Yam Gong soup.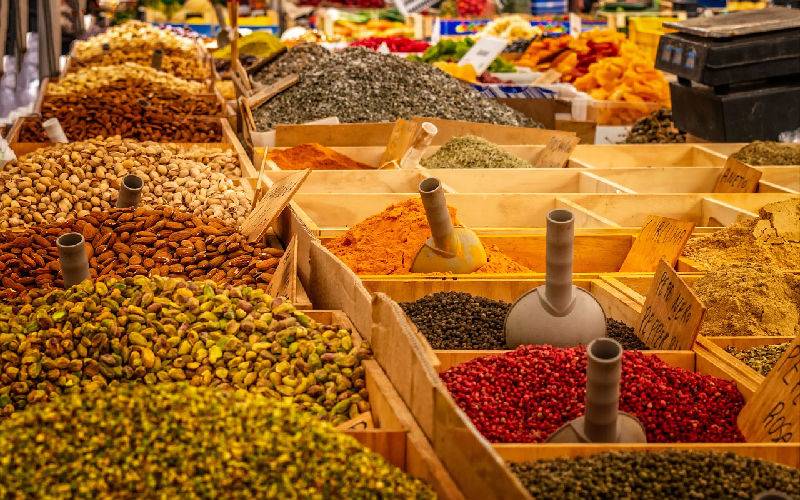 You can choose different packages for various soups and dishes in the convenience stores like 7-eleven or Family Mart or night markets.
UME Travel has prepared some tours including cooking class.
15. Wooden Furniture and Carvings
Chiang Mai is well-known furniture capital of Thailand. Most of furniture are elegant with fancy wooden carvings and made up from teak. Just browsing is tremendous fun. If there is something catch your eyes and stop your feet, you can take it home. Every shop there is ready to assist in international shipping.
In conclusion, most of handicrafts are made in Chiang Mai. You really will come across these beckon authentic crafts in other places like Bangkok, Phuket, and Koh Samui, etc. Bearing in mind that most of them are transported from Chiang Mai in the north. Chiang Mai has everything you need to turn your house into a Lanna style palace. From elegant teak furniture to Thai silk products to antiques to fruit soaps to brilliant umbrella… The craft district Ban Tawai has the wildest range of items and also has an excellent shipping and logistics network assist you to ship your purchases back home.