Wat Pho in Bangkok: the Temple of Reclining Buddha
When you talk about the Royal temples in Thailand, six temples are in the top slot, Wat Pho is also one of them and it is of a topnotch quality. When someone visits this place personally, they get to understand that neither pictures nor narrations could do justice to the mesmerizing sight this place is.
Wat Pho Bangkok
The Temple of the Reclining Buddha or Wat Phra Chetuphon is positioned at the back of the Temple of the Emerald Buddha. For the ones who are visiting this place the very first-time need to make visiting this place their topmost priority. As a matter of fact, in the whole city, this is said to be the biggest temple facilities. The reason for it being this famous is the huge reclining Buddha which is approximately 46 meters long and is totally shielded by a gold leaf. From the Grand Palace, this place is merely on a ten minutes' walking distance. It is a genuine recommendation to come to Wat Pho secondly since despite the very eminent golden Buddha is placed here, most people don't explore and roam around the remaining the complex. No doubt, the traditional Thai massage is this places' forte and thoroughly soothing. In fact, Wat Pho is labeled as one of the notable epicenters of relaxing massage in Thailand, so the visitors enjoy this place a lot.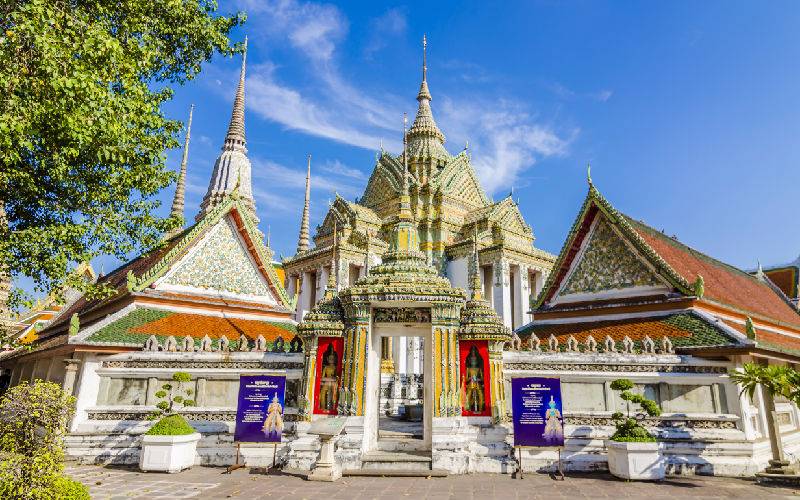 Picture: Wat Pho is named after a monastery in India where Buddha is believed to have lived.
Reclining Buddha
Reclining Buddha is the magnetic monument for all the people visiting Wat Pho.It is so massive that the measurements leave you in an amazement. It is said to be15 meters tall and 46 meters long. It looks like an epic building has been squeezed to make a sculpture. The feet only are 5 meters long. The feet of Buddha are skillfully ornamented in the famous mother-of-pearl artworks of auspicious 'laksanas' (characteristics) of the Buddha. 108 is a substantial number, it refers to the 108 positive as well as the constructive actions and symbols that made Buddha lead a perfect life. In order to stay respectful to the holy place, it's an obligation to take your shoes off. For a good luck and a virtuous omen, it is instructed to purchase a bowl full of coins from the entrance of this temple and ultimately drop them amongst the other 108 bronze bowls placed along the wall. If ill luck has it and your wishes don't really come true, the money goes will be utilized for the assistance of monks as well as the renovation and preservation of Wat Pho.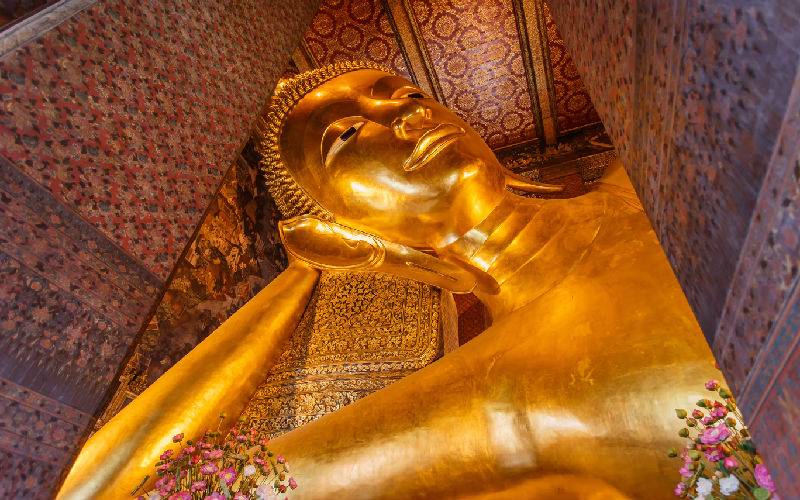 Picture: Reclining Buddha gold statue face. Wat Pho, Bangkok, Thailand
History of Wat Pho
With more than 1,000 Buddha images Wat pao is tagged as the biggest temple complex in Bangkok. Most of these images were transported from many abandoned temples such as Ayutthaya and Sukhothai upon the orders of King Rama I.
Once the basis of Bangkok in the Ko Rattanakosin were laid in 1782 and the creation of the Grand Palace culminated, King Rama I decreed to construct the Wat Pho. Precisely this temple was made on the site of an older, Ayutthaya era temple famously known as Wat Photharam which is situated almost next to the Grand Palace.
The restoration and expansion of this temple complex were done during the reign of King Rama III and this nearly took 16 years to get concluded.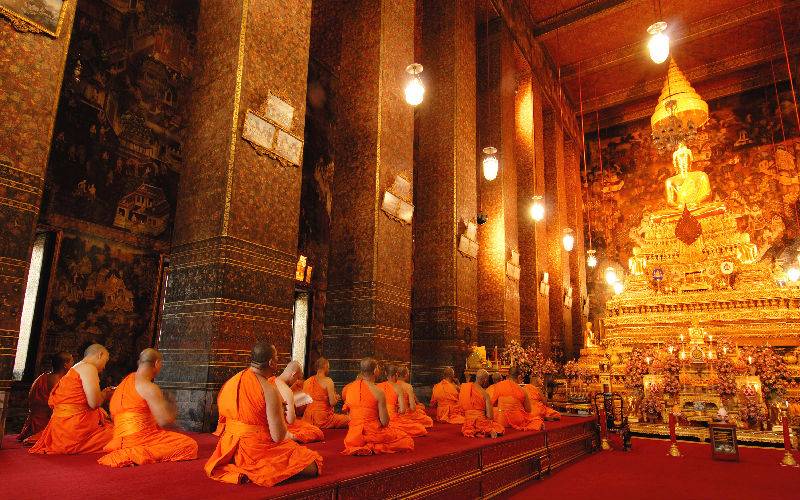 Picture: Beautiful golden buddha statue and monks in Wat Pho Temple.
Wat Pho massage, Thai spa
Wat Pho has been recorded as the first public university in Thailand. It specialized in areas such as science, religion, and literature. However, currently, it is renowned as a traditional center, especially for massage and medicine. Once you have taken a walk around the temple, you will find out that there is no comparison to such a soothing foot or head or full body massage. If you've never tried the special Thai massage, this place is a must-have to be your sanctuary. It's fairly unlike other average places for different therapeutic massages thereby tend to be revitalizing. It incorporates many yoga poses so as to sack out tension from the body and finally improving the overall blood flow. This is one of the most highlighted activities in this temple, therefore it is strongly recommended that you drop in for your treatment and to book a spot you'll have to wait for a long time.
Wat Pho massage price
The price range for a regular massage at the temple will cost you around 250 Baht which is approximately 6.49 USD and that too for 30 minutes. If you wish to have an hour-long massage then it will cost you about 400 Baht which is 10.39 USD, the same for a 45-minute foot massage.
Location
Maharat Road. This is in a close proximity of the river which is about a half mile south of the Grand Palace, Old City (Rattanakosin) 
Wat pho entrance fee: The entrance to the temple costs 100 baht, this has been happening since December 2012 
Opening hours: Tourists can visit any time between 08:00 and 17:00. The Massage services are also available until 18:00.
Wat Arun Wat Pho Dress Code
It's obligatory for all the visitors to dress up aptly. It is strictly prohibited to reveal skin, wear off shoulders and dresses shorter than knees. One has to take their shoes off to go inside most of the buildings especially when it comes to the temple complex. It's therefore ideal to wear something that you can take off without much hassle.
How to get to wat pho
The boat is the most stress-free means of transportation to get to Wat Po. It's ideal to use the special River Express called Chao Phraya to the Tha Thien pier, once you reach there you can choose to walk in the market and then up the street. Wat Po is situated across the juncture, towards the right side. However, to your left, there is the rear wall of the Grand Palace.
Also, visit the Grand Palace & Wat Arun
If you plan to stopover at Wat Pho, it can be very conveniently joined with two other Bangkok tourist attractions. These attractions are the Grand Palace as well as the Wat Phra Kaew (Emerald Buddha temple). There is also an enormous Wat Arun, also known as "The temple of Dawn". Note that the Temple of Dawn is Situated at the other side of the river.