Wat Pho in Bangkok: the Temple of Reclining Buddha
Last Updated: August 09,2019
The Wat Pho or "Temple of Reclining Buddha" officially named Wat Phra Chetuphon Wimonmangkhalaram is one of the most attractive temples in Thailand. It is one of the six highest grade Royal temples. Located just behind the Grand Palace and Wat Phra Kaew, the Emerald Buddha Temple, it is a must-visit for any first-time visitor in Bangkok due to the giant reclining Buddha measuring 46 meters long covering in a gold leaf it housed.
Highlights:
Visit The 15-meter-tall, 46-meter-long Reclining Buddha.

Take a relaxing foot or head and shoulder massage after a walk around the temple.
You might like to book: Thai Temple Tours
Wat Pho: Oldest and largest temple in Bangkok
Wat Pho is the oldest temple in Bangkok which existed before Bangkok was established as the capital. Originally it was an Ayutthaya era temple named Wat Photharam next to the Grand Palace. King Rama I ordered to construct the Wat Pho on the site in 1782. It was renovated and enlarged during the reign of King Rama III, which took more than 16 years to complete and now it is 80,000 square meters.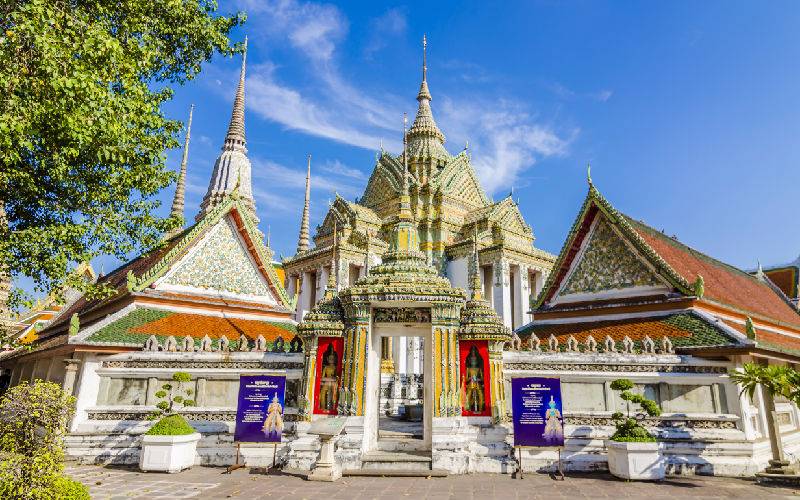 Picture: Wat Pho is named after a monastery in India where Buddha is believed to have lived.
46 meters long gold reclining Buddha
The highlight for most people visiting Wat Pho is, of course, the giant reclining Buddha named Phra Phuttha Saiyat which is 15-meter-tall, 46-meter-long and it was built during the reign of King Rama III in 1832. It is so large, as if it has been squeezed into the house. Although people like to call the image as the sleeping Buddha or lying Buddha, the posture of the Reclining Buddha shows the passing of Buddha into final Nirvana after death. The Buddha has a pair of large feet and the soles of the Buddha's feet are about 5-meter-long and 3-meter-high and exquisitely decorated in mother-of-pearl illustrations of auspicious. They are in 108 segments showing great detail the 108 auspicious characteristics of the Buddha. At entrance of the Reclining Buddha preserving hall, you will see coins are selling in a bowl, and if you would like a little good luck, you can purchase a bowl of coins then you can drop them one by one in the 108 bronze bowls which line the length of the walls. The ringing sound of dropping the small pennies is very clear and melodious, even if your wishes don't come true, your money will go towards to help the monks renovate and preserve Wat Pho.
Except the giant Reclining Buddha, Wat Pho houses more than 1,000 Buddha images which is more than any other Thai temples. Most of them were brought from the abandoned temples in Sukhothai and Ayutthaya ordered by King Rama I.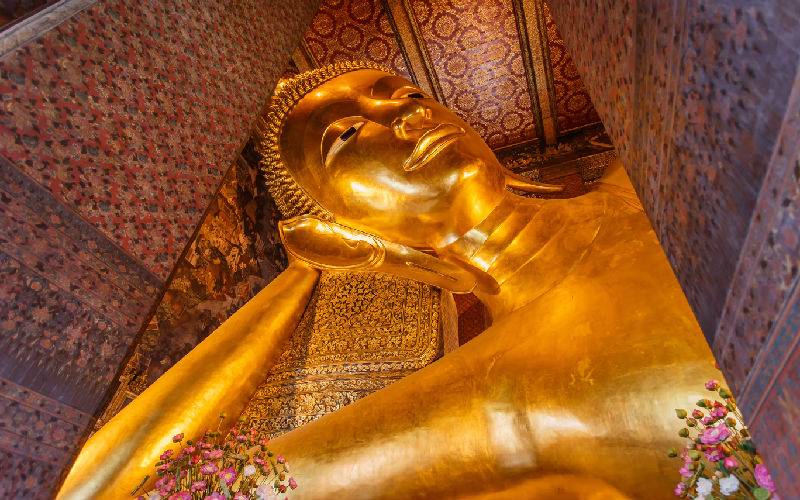 Structures of the Wat Pho
If the reclining Buddha doesn't impress you much, the temple complex of Wat Pho must be. It contains a large number of structures including an ordination hall, where the principal Buddha image of the Wat Pho is housed; a number of viharns for monks to live in and a scripture hall with almost 100 exotically beautiful chedis. The four largest ones among them are dedicated to the first four kings of the Chakri dynasty. Some of the bone ashes of King Rama I to IV are contained in them.
The main structures of the ubosot, the viharns and the Reclining Buddha are in the north close to the Grand Palace. The monks private living quarters and a school is at south end. The huge Chinese warrior statues are guarded at entrances of the wat.
There is a small garden next to the Reclining Buddha where you will find a Bodhi tree which is a descendant of the Bodhi tree from Bodhgaya in India under which the Buddha reached enlightenment.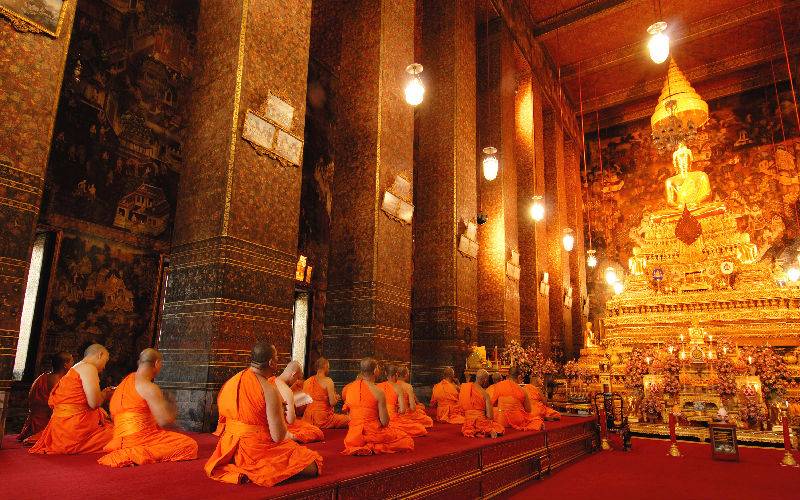 Birthplace of Thai massage
Wat Pho has been recorded as the first public university in Thailand and maintains the title as the earliest center for public education, specializing in science, religion, Thai medicine and literature. A Thai massage school was founded here and it is still existed today and you will find stone statues showing various massage techniques around it.
Once you have taken a walk around the temple, you will find out that there is no comparison to such a soothing foot or head or full body massage. If you've never tried the special Thai massage, this place is a must-have to be your sanctuary. It's fairly unlike other average places for different therapeutic massages thereby tend to be revitalizing. It incorporates many yoga poses so as to sack out tension from the body and finally improving the overall blood flow. This is one of the most highlighted activities in this temple, therefore it is strongly recommended that you drop in for your treatment and to book a spot you'll have to wait for a long time.
Wat Pho is open every day from 8am until 5:00pm.
After a walk around this large temple you might feel a little bit tired then there is nothing quite like a relaxing massage no matter for foot, shoulder or head. Our private tour guide will assist you to book a massage during your visit. You will have a distinctive Thai massage you will never have in anywhere else. Although Wat Pho closes at 5:00pm but the Massage service is available until 18:00
Things you should be aware during your visit to Wat Pho:

Shoes should be taken off when you entering any structure of the temple complex. So we recommended that you'd better wear shoes that can be easily removed.

Appropriately clothes are required. Men must wear long pants and long-sleeved or short-sleeved shirts. Tank tops or sleeveless are forbidden. Women must wear pants or skirts falling below the knee and should not wear a top that reveals bare shoulders.

Taking photographs is permitted in any area of the complex.
There are some other attractions in Bangkok around the Wat Pho. A visit to Wat Pho and Reclining Buddha is a good start to other attractions such as the Grand Palace, the Temple of the Emerald Buddha, Wat Arun and Bangkok National Museum.
Visit Thailand with UME Travel
We have carefully designed some Thailand tours including the sacred and elegant temples to give you some suggestions. Treat them simply as inspirations, because we will follow all your particular interests and tastes to create uniquely itinerary for you.
Other temples in Bangkok