Transportation in Vietnam
Last Updated: January 09,2019
Getting to Vietnam
A number of travelers prefer reaching Vietnam by means of a plane or bus, however, there is an availability of train links from China and boat connections from Cambodia via the Mekong River.
Entering Vietnam
Formalities at Vietnam's international airports are in general smoother in comparison to the land borders. Therefore crossing overland from Cambodia and China is now relatively hassle-free. If someone intends to cross the border between Vietnam and Laos that can be quite slow.
Passports
The traveler coming to Vietnam must have a passport that should be valid for six months upon the arrival. However, travelers from certain countries and nationalities need to arrange for a visa in advance. More on: How to Apply for A Visa to Visit Vietnam
Air
The state-owned carrier Vietnam Airlines(www.vietnamairlines.com.vn) has flights to 17 countries, mainly UK, Germany, France, and Australia. The airline has a modern fleet of Airbuses and Boeing and has a good recent safety record.
Airports
There are five international airports in Vietnam in total. However other airports that it has including that of Hue, are officially categorized as 'international' but have no overseas connections (other than an odd charter).
Cam Ranh International Airport (in Nha Trang) is located 36km south of Nha Trang, with flights to Hong Kong, Chengdu, and Seoul.
Danang Airport (in Danang city): International flights to Lao airports including Pakse, Savannakhet, and Vientiane; also Kuala Lumpur, Siem Reap, Singapore, Tokyo and airports in China including Hong Kong, Guangzhou and Nanning. If a traveler is entering through Danang airport, it is only possible to fly from Bangkok.
Noi Bai Airport (35km northwest of Hanoi, for both International and Domestic flights): Serves the capital Hanoi.
Phu Quoc International Airport (in Phu Quoc island): International flights are available only to Hanoi, HCMC, and Singapore.
Tan Son Nhat International Airport (in Ho Chi Minh City, for both International and Domestic flights) For Ho Chi Minh City.
If in case a traveler doesn't find a direct flight to Vietnam, the best way out is taking a flight to Bangkok or Hong Kong and afterward getting a connecting flight on arrival. For leisure one can stay there for several days (recommended for shopping) before catching a flight to Vietnam. They are the two supreme pivots of Southeast Asia (availability of multiple flights on daily basis). It's easy for any traveler to depart at a flexible time and have a significant chunk of saving after the ticket purchase.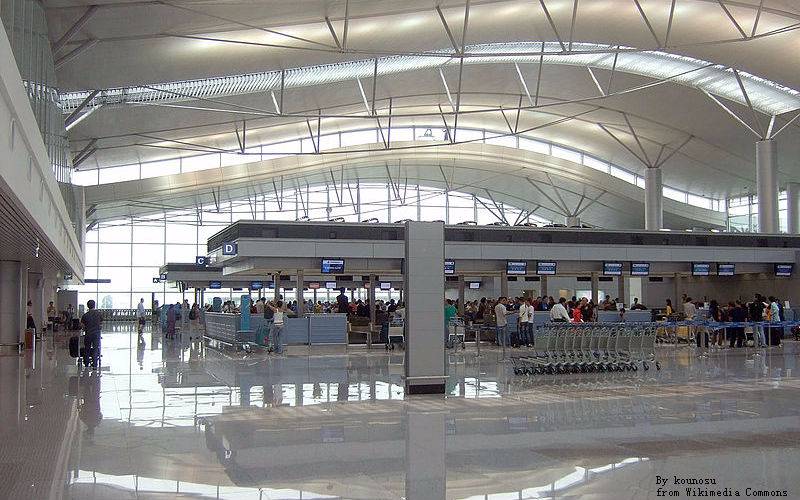 Picture: Tan Son Nhat International Airport check.
Tickets
It's considerably difficult to get reservations for flights to/from Vietnam during holidays, particularly Tet, which falls between late January and mid-February.
Land
Vietnam shares land borders with Cambodia, China, and Laos. Along with that, there are a number of border crossings each neighbor which are open to the foreigners.
Border Crossings
There are set Standard times during which the foreigners and travelers are permitted to cross borders. They are usually 7 am to 5 pm daily. 
Several legal money exchanging facilities are also available on the Vietnamese side of these border crossings. These money exchanges are equipped to deal with US dollars and some other key currencies, including Chinese renminbi, Lao kip, and Cabodian riel. However, the travelers need to be very cautious of the black marketers, as they have been notoriously expert for short-changing and outright theft.
Visitors may be asked for an immigration fee of about $1 or $2 at the borders. 
Cambodia
Cambodia and Vietnam share a long frontier with seven border crossings. A one-mont visa will be issued to the visitors at all the borders at $25. However, it is common for some borders to overcharge a bit. One-month Cambodian visas are issued on arrival at all border crossings for US$30, but overcharging is common at all borders except for Bavet. Cambodian border crossings are officially open daily between 8 am and 8 pm.
China
There are currently three borders where foreigners can cross. They are Vietnam and China, Lao Cai and Mong Cai , and Huu Nghi Quan (the Friendship Pass). It is necessary to arrange a Chinese visa in advance. Chinese are one hour ahead.
Laos
There are multiple overland crossings between Laos and Vietnam – making it conveyed to move to Laos. Visitors can get a thirty-day Laos visa which is available at all borders.
The best method is to try to use direct city-to-city bus connections between the countries, as it will reduce the potential hassle especially if you travel using local buses. The only exception would be the transport scams (e.g. serious overcharging) that too from the Vietnam management side. Deceitful drivers have occasionally stopped in the middle of nowhere to renegotiate the price.
Transport links on both sides of the border can be hit-and-miss, so don't use the more remote borders unless you have a lot of spare time and the required patience.
Bus
The bus connection creates a linkage between Vietnam with Cambodia as well as Laos and China. The most popular way to and from Cambodia is using international buses via the Moc Bai-Bavet border crossing. When it comes to Laos, many travelers take the long nightmare bus between Vientiane and Hanoi via the Cau Treo crossing or the easier route from Savannakhet in southern Laos to Hue in central Vietnam via the Lao Bao border crossing.
Two daily buses also link Hanoi with Nanning in China. Passengers always have to get off the buses at borders to clear immigration and customs.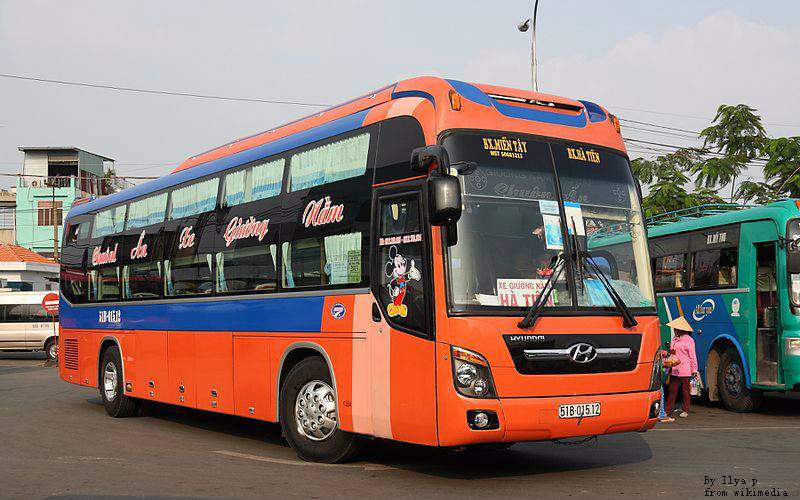 Picture: Sleeper bus in Vietnam
Car & Motorcycle
It is theoretically possible to travel in and out of Vietnam by car or motorbike, but only through borders that are shared with Cambodia and Laos. However, bureaucracy makes this a real headache. It is generally easy enough to take a Vietnamese motorbike into Cambodia or Laos but very difficult in the other direction (and the permits are costly). It's presently not possible to take any vehicle into China. People on a car or motorcycles will need the vehicle's registration papers, liability insurance, vehicle's registration papers, and an International Driving Permit. The Carnet De passage en douane can temporary wave the import duty. 
Train
Several international trains create a link between China and Vietnam. A trains travels from Hanoi to Nanning and goes to Beijing afterwards. The most scenic stretch of railway is between Hanoi and Kunming via Lao Cai; there are presently four daily trains from the Chinese border town of Hekou to Kunming. However, no train links Vietnam to Laos or Cambodia. 

Picture: trains with soft seats.

River
There's a river border crossing between Vietnam and Cambodia on the banks of the Mekong. 
There are several boats crossings between Chau Doc in Vietnam and Phnom Pehn in Cambodia via the Vinh Xuong-Kaam Smnor border. Several luxury riverboats with cabins run all the way to the temples of Angkor at Siem Reap in Cambodia.
Get around Vietnam
Air
Domestic routes
Domestic flights are operated by Pacific Airlines (airline code: BL – www.pacificairlines.com.vn) and Vietnam Airlines (mostly), the state-owned flag carrier with a modern fleet of Airbuses and Boeings. They offer a number of daily flights and give many options for air travel throughout the country at a very reasonable price (if you manage the bookings early). But due to the low infrastructure, flights are always overbooked and cannot be reserved by overseas travelers. Cancellations and periodic flights are common. So the rational way to avoid any hiccups is to have a travel agent so as to book as well as secure domestic flights. They will also make it a point to regularly inform you about the flight status. 
Generally, it is dependent on the airliners' policy but when travelers are in Vietnam, they should reconfirm the tickets 48 hours or 24 hours prior o their departure time so as to avoid any delay, cancellation or unsecured seat (automatically canceled by the system).
Boat
Vietnam possesses a large water body and has a vast number of rivers that are at least partially navigable, but the most important by far is the Mekong and its tributaries. Beautiful day trips through boats are possible on rivers in Hoi An, Tam Coc, Danang, Nha Trang, Hue, and even HCMC.
Boat trips are also possible on the sea. Cruising the islands of Halong Bay is a must for all the visitors to northern Vietnam. The lovely Cham Islands in Vietnam are the best excursion points. In the southern areas, trips to the islands of Nha Trang and Phu Quoc are also recommended.
Visitors can also avail the fast boat connection to travel to Con Dao Islands from Mekong Delta.
Note many boat trips are seasonal and are subject to weather conditions.
Car & Motorbike
Owning your own means of transportation gives you maximum flexibility to visit remote regions and it gives you the liberty to stop wherever and whenever you wish. Hiring a car always includes a driver. Moreover, hiring a Motorbike is also a good value and this can be self-drive or accompanied by a driver.
Bicycle
Bikes are a great way to get around Vietnam, particularly when you get off the main highways. In the countryside, Westerners on bicycles are often welcomed enthusiastically by locals who don't see many foreigners pedaling around.
Long distance cycling is one of the unique perks while traveling in Vietnam. Worried about the safety? Well, majority of the roads in Vietnam are flat and in good shape. You can also take the bicycles with you while traveling in train baggage or on top of the bus – this may take about $1-$2 for small trips. 

Picture: Rickshaw in Hochiminh city.
Bus
Buses are the major source of transportation in Vietnam that reach the far-flung corners of the country. There are multiple types of buses by modern traveling agencies that run on all the main highways of Vietnam. Though, you will also find local buses on the way, but it is not recommended to use them. 
Most travelers never visit a Vietnamese bus station at all, preferring to stick to the convenient, tourist-friendly open-tour bus network.
You can barely cover about 50 KM/hour through bus in Vietnam. In simple words, buses in Vietnam are never speedy irrespective of the traveling company.
This is due to the large number of traffic, pedestrians, animals, and markets.
Road condition
Vietnam has the second largest number of a motorcycle in the world - first being Taiwan. During the peak hours of the weekends, holidays, an infinite number of motorbikes is visible on the roads. Traffic jams on the day are also common in the city, especially during working hours. The street dust and loud whistles will make you exhausted along with the road traffic in Vietnam. Most roads are in a relatively poor shape which makes driving here even riskier.
More articles that you may like:
How to plan your first time travel to Vietnam
Top 10 places to visit in Vietnam