Wat Saket in Bangkok - The Temple of the Golden Mount
A trip to Wat Saket Bangkok or as it is popularly known as Phu Khao Thong is a must. It is a Buddhist temple where you will find countless Buddha relics. The best time to visit this temple is during Loy Krathong as you will be able to witness the annual, week-long fair held by the temple.
History of Wat Saket Bangkok
The golden mount or Wat Saket is part of the ancient heritage of Thailand. The temple traces its roots back to the time of Ayutthaya, approximately to around 1767 A.D. Formerly, this temple was known as Wat Sakae but during the reign of King Rama I, Wat Saket was restored. Wat Saket was frequently used as cremation grounds for the poor. When Bangkok was hit by a fatal epidemic while King Rama II was on the throne, bodies of thousands of people were brought in this temple for cremation. The full name of the temple is Wat Saket, Ratcha Wora Maha Wihan.
The Golden Mount at Wat Saket
Wat Saket is built on a synthetic or man-made hill, with Golden Mount being its most popular landmark. Each year Loy Krathong in November, thousands of people come to this part to pay their respects and worship. In order to reach the Golden Mount, you have to climb up a flight of 300 steps. It is recommended to go during the evenings, or when the sun isn't at its peak or else the climb becomes difficult.
At the base of Golden Mount, a cemetery is nestled between drapes of vines and shabby trees, which gives the site an eeriness to it. In addition, past the spooky graveyard on top, you will be greeted by a wall of bells and a breathtaking view of Bangkok.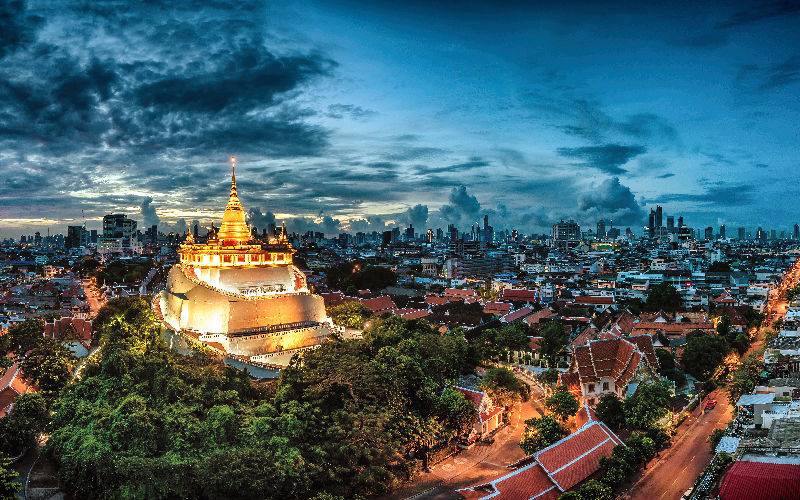 Picture: Wat Saket, The Golden Mount Temple, Bangkok at night.
Temple Fair at the Golden Mount
Each year in November, Loy Krathong or the Siamese festival is celebrated all throughout Thailand. This festival is celebrated right after the Buddha pilgrimage or worship ceremony. The beginning of the festival is marked by covering the golden Buddhist stupa is in red cloth, followed by a vigil procession. 
For tourists, this is the best possible time to experience a local culture and celebration of a significant event. The streets are decorated with lanterns, flags, local food kiosks are set up and festival game stalls add to the charm. If you do not go to Wat Saket before sundown, you must wait hours on end to enter the temple grounds. 
Details of The Golden Mount (Wat Saket)
If you are planning your trip for Wat Saket, it is best to know the following details.
Opening Hours: 9:00 – 17:00
Wat Saket entrance fee is 50 Baht. 
Appropriate Attire: While there are no set rules, out of respect people dress in modest clothing. 
Best time to visit: Early mornings or Evenings to avoid heat, especially during the festival.