Erawan Shrine in Bangkok, Thailand
Last Updated: August 06,2019
Erawan Shrine is the major attraction for tourists and locals in downtown Bangkok. Most of the people visit the Erawan Shrine with wishes that they hope will come true and will bring them good luck. However, there are some people who are interested to have a look and take some pictures. only visit the place to capture some pictures.
Erawan Shrine Bangkok
There are golden states in Erawan Shrine which have four faces of the Brahma the Hindu God which is named as Than Tao Mahaprom. There is a glittering canopy under which the statue sits, and it is surrounded with offerings of candles, incese and flowers. It is said that the Braham will make your wishes come true and bring good luck. This is the reason many people visit the place with different offerings. Most people come with garlands of marigold and other famous flowers. In the shrine, there is a statue of Phra Phrom which is the Thai representation of Hindu God Braham. This is the Erawan Shrine is also called the Pha Phrom.
There is a different type of fortune that is represented by each of the four faces. Hindus come to pray for their wishes to be granted. You will find the Erawan Shrine is crowded most of the time.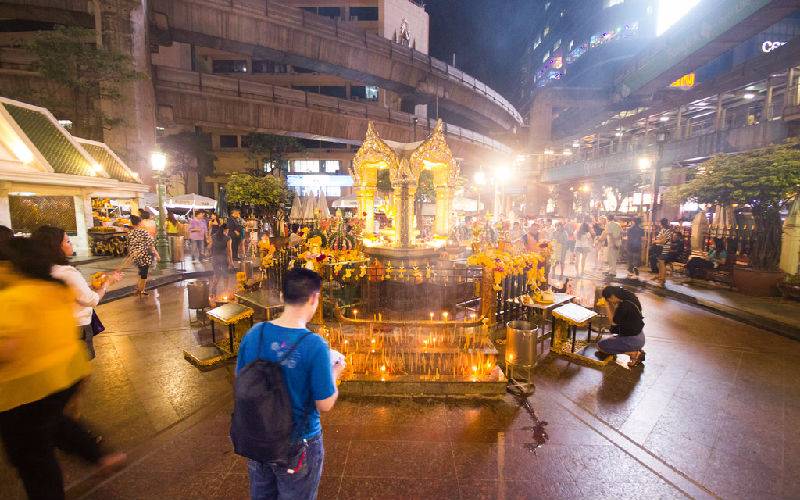 Erawan shrine history
In Thailand, there is an animist custom known as spirit house which is erected next to the famous building of appeasing spirits. The construction has been displaced. Erawan Shrine is known as the large spirit house which is most extravagant as compared to other locations.
Erawan Shrine is owned by the one who built Erawan hotel in 1956. In 1987 the hotel was privately owned by Grand Hyatt. According to history, it is said that the Erawan hotel's construction was plagued by mishaps, deaths and some serious injuries. Most of the astrologers said that this hotel was not constructed in an auspicious way. In order to make the things right, a statue of Braham was introduced. The Erawan Shrine is the shrine of Braham which is places outside the hotel in 1956. After that, the hotel progressed and evolved. That is why the house spirit is the most visited place in Bangkok because it is believed that it can make things right for anyone. Airavaya is the Thai name for Erawan which means the three-headed elephant which Brahma used to ride on.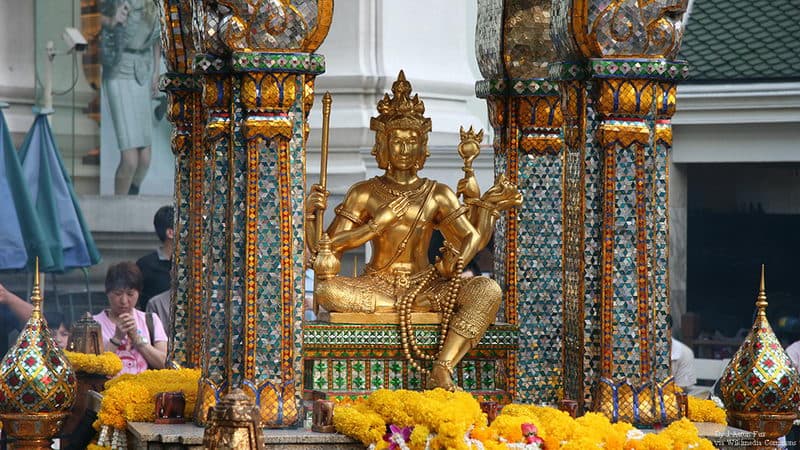 Erawan shrine opening hours
The visiting hours are from 06:00 to 24:00
Erawan shrine location

You can easily find the Erawan Shrine on the Northwest corner of the famous Grand Hyatt of Erawan property which is located near Chit Lom stop you can reach through skytrain.
How to go to Erawan shrine
The Erawan Shrine is located on one of busiest intersections in Ratchaprasong intersection. You can use the BTS Skytrain station Chitlom or Siam to reach Erawan Shrine. You will have to cover some area by foot between these stations which are the perfect spot if you want to capture a photograph of Erawan Shrine.
Erawan shrine Bangkok dress code
There is no strict dress code.
Visit Thailand with UME Travel
We have carefully designed some Thailand tours including the sacred and elegant temples to give you some suggestions. Treat them simply as inspirations, because we will follow all your particular interests and tastes to create uniquely itinerary for you.