Similan islands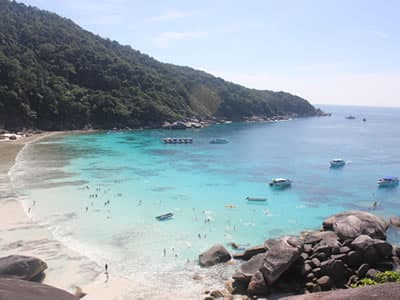 Found 70 km off the coast of Phang Nga province, the Similan islands are one of Thailand's most spectacular destinations, with rich marine life and colourful seascapes ideal for diving and snorkelling. With Malay roots, the word "similan" means "nine" in local Moken (sea gypsy) language after the nine tiny islands of the Similan archipelago. Along with magnificent underwater sights, the Similans boast some of the finest white sand, turquoise water beaches in Thailand, and even a few hiking trails and viewpoints.
Officially protected as part of Mu Koh Similan National Park, an area of 140 square kilometres that also includes Ko Bon and Ko Tachai, the Similans have remained free of private development. In the air, rare birds such as sea eagles, kingfisher, and the endangered nicobar pigeon may be spotted. In the water, sea turtles, rays, moray eels and whale sharks are commonly seen along with a vibrant community of tropical fish.
Though the Similans have avoided the fate of other islands in the Andaman like Ko Phi Phi and Ko Lipe, their natural beauty being buried under extensive hotel development, certainly the pressures of mass tourism are starting to be felt here. The Similans have become extremely popular and both the waters and beaches can at times feel like something of a theme park.
Though tour operators are subject to licensing and controls, alarms have been raised that the number of visitors arriving daily to the islands far exceed their capacity. In early 2015, park officials were quoted as saying they would limit visitor numbers to 200 a day on Tachai and 250 a day on Similan (# 8) island, but it's estimated that some 1,000 people arrive to each daily. Inevitably, coral degradation and beach trash are starting to appear.
With that said, the beauty of this place should be enough to put up with a few crowds, and although it's an expensive trip, we think these nine Andaman islands are still well worth it. If you cherish serene solitude, consider sticking around for a night or two as the scene quiets down after the day trip speedboat tours head back to the mainland in the afternoons.
See more attractions
More attractions that you might interested in.
Best Phuket Tour Packages
Whether you want a leisure time on beaches, adventure world under the water, have a particular passion for wildlife or combine your Phuket Tour with other destinations in Thailand. Choose from the following tour packages and customize your perfect trip with the help of our specialists.
Completed Phuket Travel Guides
Allow us to be your ultimate Phuket travel guide. Here's the list of our insider's guides to Phuket.
Tailor-made Thailand Tours
Receive a free quote within 24 hours - Already more than 183,063 satisfied customers!
Create My Trip Now !