Railay Beach
Last Updated: July 11,2019
It takes about 10 minutes to get to the Railay Beach from Ao Nang Beach by taking the long tail boat, which takes 200 baht for round trip. The beach here is very thin and soft, and the beach is almost full of foreigners. There are places for eating and buying emergency supplies along the beach, such as pure water and diving swimming equipment. The Railay Beach here is delicate and shaded, so you can enjoy the sun bath on the beach. The sea water quality is clear and you can take the rowboat. Eating on the Railay Beach is a little expensive, but it can be tolerated. After all, you can enjoy the sea view while having a meal.

Railay Beach has a magical feature, that is, you can experience the rock climbing, as there are still a lot of mountains, and there are many rock-climbing coaches so that you don't have to worry about the safety. Children can also climb. Railay Beach is said to be a rock-climbing sanctuary. It is a paradise for rock climbers all over the world. There are many rock-climbing schools near the beach. You can take a thousand Baht to learn climbing for 1 day. So, Railay Beach is very popular with rock climbers, because there are many like-minded people on the island where there are places for rock climbing.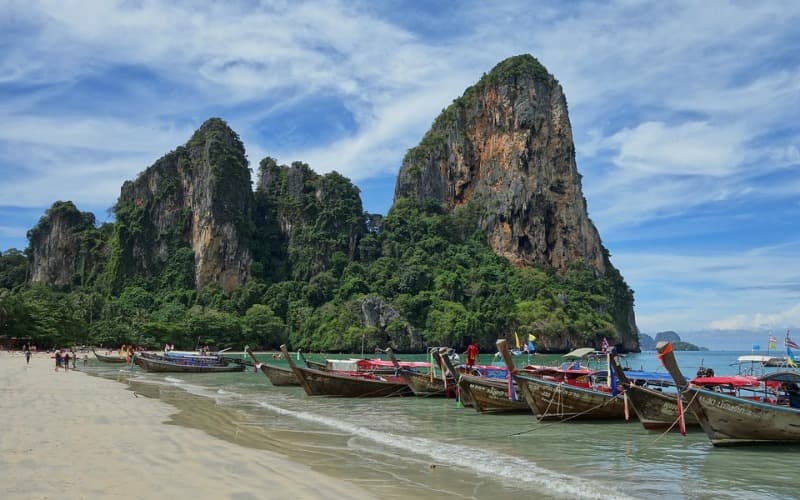 Railay Beach is beautiful, the beach is white, the sand is very delicate, and the sea is very clean. There are many caves in the hills here. You can go there and have a look. Although it is not particularly good looking, it is very special.
Railay Beach is distributed under the rock wall, which has a special flavor. It is a paradise, and it is also a good place to watch the sunset, making it suitable for vacation. Many tourists feel that Railay Beach is indeed the most comfortable place in Krabi Thailand.
You might like to book: Thailand Beach Tours