Naiyang Beach
Last Updated: July 12,2019
Naiyang Beach is the longest beach on Phuket, with a coastline of 10 kilometers and the longest coral reef in Phuket, as well as abundant shallow sea creatures. It is the first choice for locals and tourists to hold picnics on weekends. There are also many roadside vendors who sell local snacks such as green papaya salad on the beach. At dusk, sitting on the beach, eating snacks and enjoying the magnificent sunset, you will feel it very pleasant. At the same time, Naiyang Beach is also a turtle protection area. From November to February of the following year, the turtles gather in groups to lay their eggs and become a wonder of the Naiyang Beach. At the Songkran Festival in April each year, there is an interesting traditional activity of releasing the hatched turtles into the sea.

Naiyang Beach is also a part of the National Nature Park. There are very few foreign tourists here. Most of the young people in Thailand like playing here, taking advantage of the coolness of the evening, picnicking or walking on the beach. Because the coastline of Naiyang Beach is long, the view on the beach is very wide. When the weather is good, you can watch the awesome sunset view, so it is one of the best sunset spots in Phuket.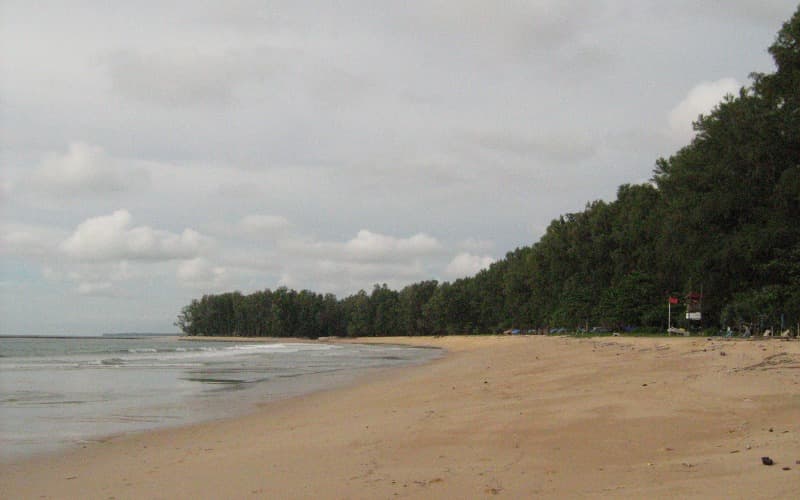 Naiyang Beach is very quiet and very close to the life of the locals. The water quality and sandy quality are not as good as Patong Beach, but the snack restaurants near the beach are very cheap and much cheaper than that of Patong Beach.
The Pullman Hotel in Naiyang Beach is very close to the airport and takes only a dozen or twenty minutes' drive to arrive at the Naiyang Beach. The hotel is very beautiful, the beach is also very beautiful, and you can enjoy dinner under the sunset of the seaside in the romantic atmosphere, making it especially suitable for couples. If you are looking for somewhere quiet to enjoy the honeymoon, Naiyang Beach will be one of the best choices for you in Phuket.
You might like to book: Thailand Beach Tours