Kata Noi Beach
Last Updated: July 12,2019
Kata Noi Beach is away from the excitement and hustle and bustle of Patong Beach, and this small treasure place can bring your delightful change. It is more suitable for a family tour there as it is quieter, and it is a small but perfect beach. Beach loungers or umbrellas can be rented with small daily fee there. The seawater is calm and warm, but the tides can people a cool feeling again and again during their trips to Kata Noi Beach.
The beach of Kata Noi Beach is beautiful, and it is perfect for a stroll along the beach or take a rest for a few hours on the beach. The sand of Kata Noi Beach is golden, the water is crystal clear and the flow is not too strong. There are some reefs on the left side of the beach and lots of fish on the right side. The beach is not crowded, making the Kata Noi Beach quiet. Kata Noi Beach is a must-see attraction during your travel at Phuket. If you choose to snorkel, you can also see some fish. There aren't many shops selling food near the beach, but this is indeed one of the better beaches in Phuket.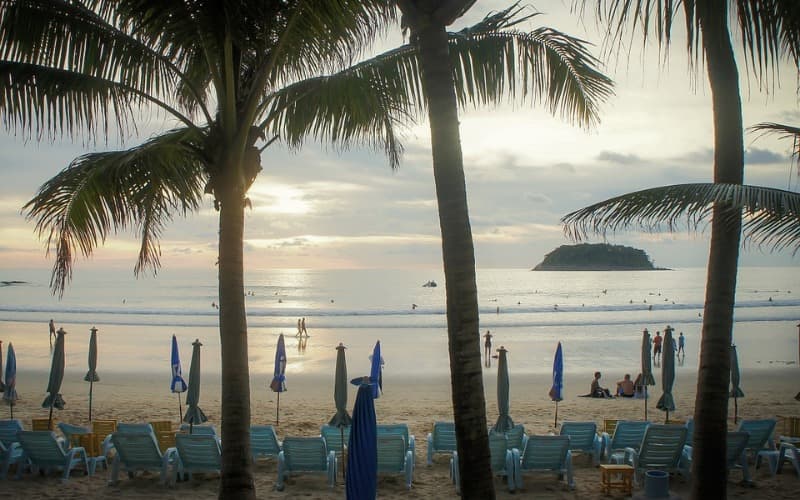 If you want to stay away from the crowds and just want to enjoy in the clear sea water, then come to Kata Noi Beach and enjoy yourself there. The sand here is very thin and white, as if it were floury. Walking barefoot on the beach will make the fine rubbing sound, and your feet will feel very comfortable.
Although the Kata Noi Beach is not large, the coastline is longer than Kata Beach and the horizon is wider. And there are very few tourists, which is very suitable for taking pictures. If you are looking for a quiet place that is suitable for family tour, Kata Noi Beach seems to your ideal choice that can make your stay there a pleasant one. Don't hesitate to make your trip to the Kata Noi Beach if you want to enjoy a comfortable summer vacation.
You might like to book: Thailand Beach Tours