Songkran Festival Tour Packages
Thai New Year 2022 - Songkran Festival
Songkran Festival is one of many of Thailand's Buddhist Festivals and Public Holidays while it is also the Thai new year. Songkran Thailand is a celebration that embraces goodwill, love, compassion. and thankfulness, using water as the means of expression. People will splash water on each other for good luck and wish for plenty of rain in the year ahead, so it is also called the Water Splashing Festival, or Songkran water festival.
Songkran Dates 2022-2024
Thai New Year is celebrated on April 13 every year, which is also the date Songkran Festival takes place. Normally the Songkran festival is officially observed as a three-day national holiday from 13 to 15 April, but the celebrations will often last an entire week!
Here you can easily find the date and plan your Songkran & Thai new year 2022 trip. If you have decided to join in one of the following carnivals, contact UME and we will arrange the whole trip for you!
YEAR
2022
2023
2024
DATE

Wednesday, 13 April

Thursday, 14 April

Friday, 15 April

Thursday, 13 April

Friday, 14 April

Saturday, 15 April

Saturday, 13 April

Sunday, 14 April

Monday, 15 April
Songkran Meaning
Songkran is an ancient Sanskrit word, a language dating back thousands of years which means "stepping into", "entering", or "approaching". A Song-Kran-year means when the sun enters Aries again after the 12 months are completed, this signifies the start of the solar New Year, which is also the start of the Thai Buddhist new year. While other Southeast Asian countries celebrate a similar traditional new year holiday, Thailand's Songkran is the most well-known around the world.
Songkran Legend
The legend of the Songkran festival is said to have an interesting story being told in Thailand.
The story goes that there was a god named Kabilla Phrom who loved to bet, he challenged an intelligent 7-year-old boy called Thammabal to solve riddles, on the condition that if the boy could solve them, the god would give him his head. But if the boy failed to come up with the right answers within seven days, he would lose his head to the god.
The three riddles were: where did a person's aura exist in the morning, where was it at noon, and where did it appear at night? The boy could not figure out the answers for the passing six days. Fortunately, while he was lying in despair, a couple of eagles on the palm trees disclosed the answers while they were laughing at the boy and discussing how they would soon feast on the boy.
On the day of judgment, the boy answered the riddles correctly by just repeating what he had heard from the eagles. In the morning, a person's aura appeared on his face, so he washed it. At noon, it was at his chest, so he wore perfume there. And at night, his aura moved to his feet, so he bathed them.
The god kept his words and cut off his own head. However, his head was believed to be imbued with strange powers: If it should touch the ground, the earth would catch fire; if it were to be left in the air, there would be no rain and if it were to be dropped into the sea, the sea would run dry.
To save the earth from these calamities, the god's seven daughters agreed to take turns to carry their father's head on a golden tray around Mount Meru every new year on Songkran Day before setting it in a cave at Mount Krailat with many offerings.
The seven Ladies of the Songkran festival are named after the seven days of the week. Each year, Songkran Day will fall on one of the seven days.

How do local people celebrate Songkran Festival?
Songkran is celebrated by everyone, everywhere throughout Thailand, and is a time for people who have moved to other cities or towns to travel back home and spend time with their families. Public transportation and hotels can be fully booked up months in advance, and so it is a good idea to plan as far ahead as possible.
13th April - Grand Songkran Day & Thai National Elderly Day
It is the first day of the year according to the Thai lunar calendar. People will ready them for the new year by cleaning their house and public places like temples and schools to get rid of any bad luck from the previous year.
Another main activity on this day is bathing rites of Buddha images. It is important to note that when bathing the rites of Buddha images, the water is poured not onto the head of the image but rather the torso and body.
The first day of Songkran is also the Thai National Elderly Day.it is a time to pay respect to elders. During this ritual, young people pour fragrant water into their elders' palms as a gesture of humility and to ask for their blessings. The elders in return, give the children their blessings, typically along with a jasmine floral garland.
14th April - Thai National Family Day
On the second day, people will make merit by offering alms to monks to commemorate late ancestors, while releasing birds and fish will also be a part of the merit-making activities. Many people will also bring sand to the temple to build a sand pagoda as a kind of personal pagoda and a fun family way to make a spiritual offering.
15th April - New Year begins
On the third day of Songkran, people typically start the day by visiting their local temple to present food and clothing to the monks, who then pray for them. They also partake in other rituals believed to bring good luck for the New Year.

Popular places to celebrate the Songkran Festival
Here are a range of popular tourist destinations to experience Songkran and create unforgettable memories, both in traditional and modern style:
Bangkok - Khao San Road
Crowded and wild, Khao San is the place to be to experience crowds armed with water guns while enjoying pumping music from the local establishments.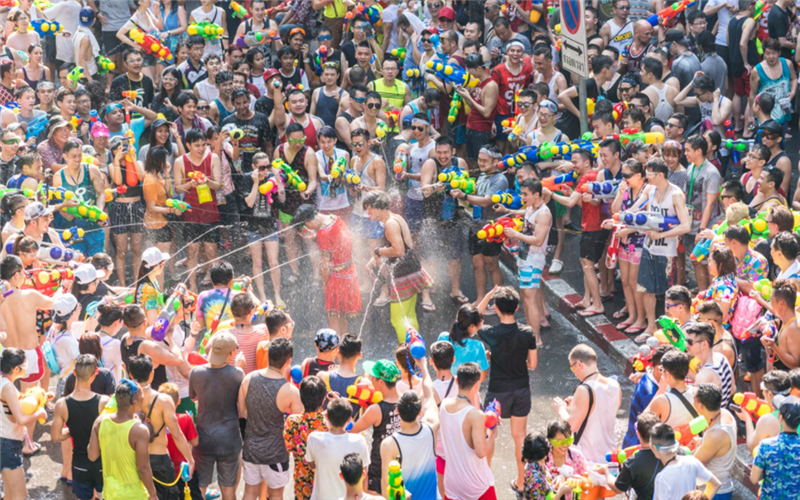 Bangkok - Silom Road
Silom Road is usually known to have the largest and wildest Songkran crowds in Bangkok. This 5 km length street is packed on two levels with thousands of young Thais and tourists carrying anything that can spray water.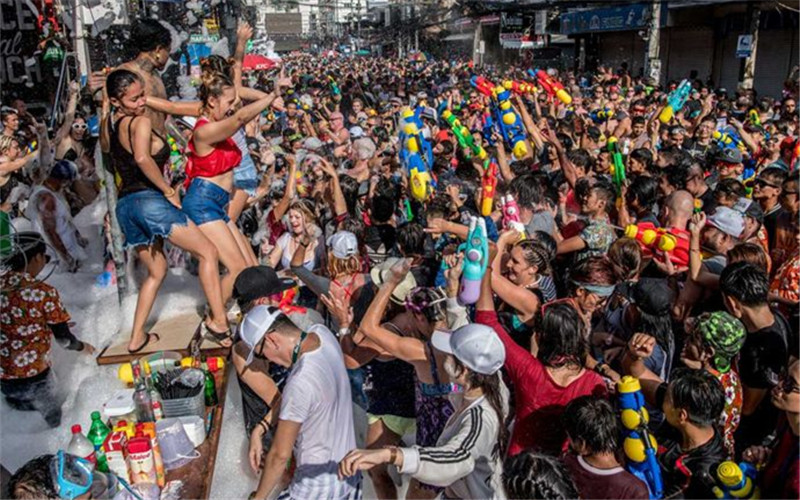 Bangkok - Wat Arun
During the Songkran Festival, local people will bring sand to the temple and form sand pagodas in any design, and with any decorations they like, this activity is considered to merit as the sand can be used for construction or restoration by the temple. After building the sand pagoda, people can also watch the bathing rites of Buddha images and join the merit-making activities.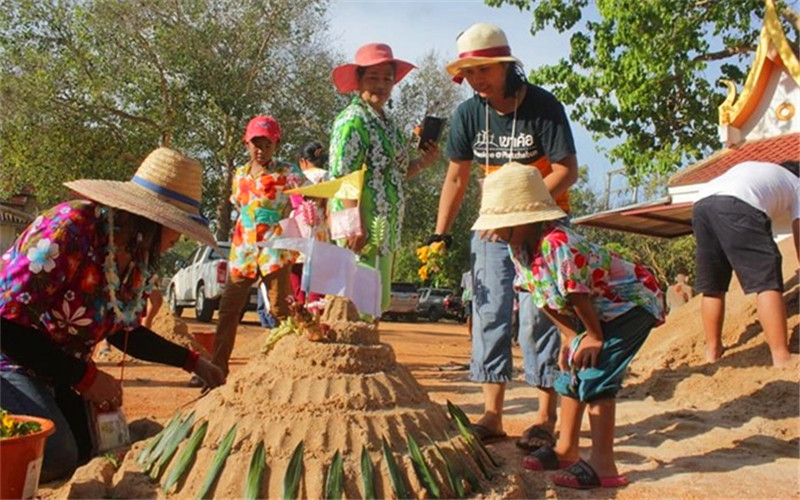 Bangkok - RCA Club Street
RCA is well known as the best place for nightclubs in Bangkok. You will find many nightclubs that jump with partygoers every night of the week. Most of the clubs & bars will hold special activities for the Songkran Festival, they may have the firetrucks at their outdoor area with the incredibly powerful water hoses, they may put a big rubber swimming pool in the middle of the dancing hall to supply your 'bullets', they may use the foam machine to create white foam for the crazy night, just to choose one of the many bars and enjoy yourself!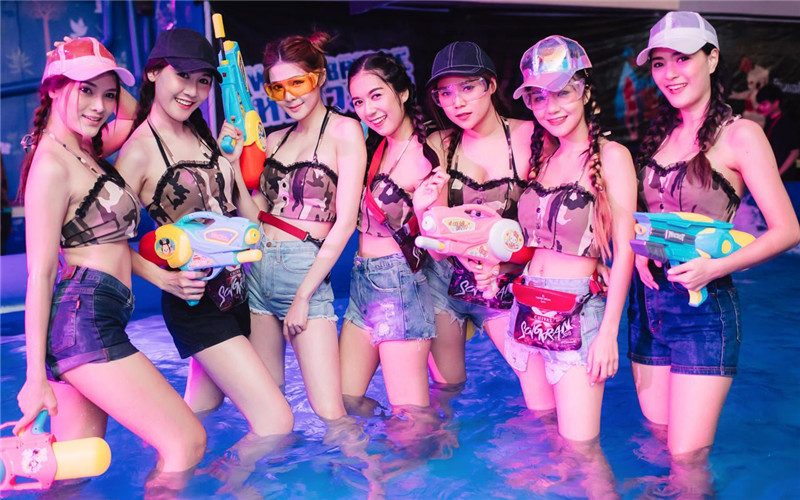 Pattaya - Walking Street
The Songkran Festival in Pattaya is unlike anywhere else in Thailand, the water fight will last a week-long from 13th April to 19th April, especially on 17th, 18th, and 19th. The Pattaya Walking Street will be the most popular street during Songkran, where Thai and foreign tourists come together to share smiles while simultaneously soaking each other with water.
Ayutthaya - Ayutthaya Historical Park
If you are looking for a more traditional Songkran experience, Ayutthaya is a good choice. Here you can enjoy a fair share of water games with elephants spraying anyone insight, which is said to banish bad luck.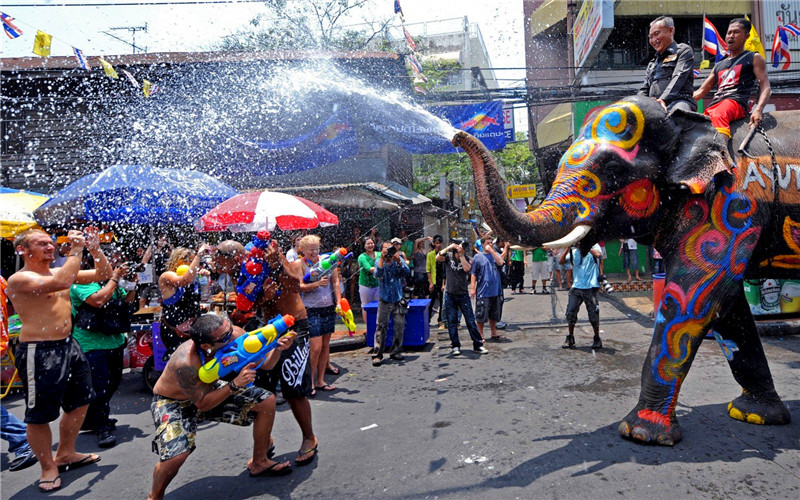 Chiang Mai - Thapae Gate
Thapae Gate is a major entrance into Chiang Mai's Old City, you will find large stages set up here during Songkran with various performances and competitions. No matter Thais or foreigners, young or old, they will all throw themselves into this watery carnival.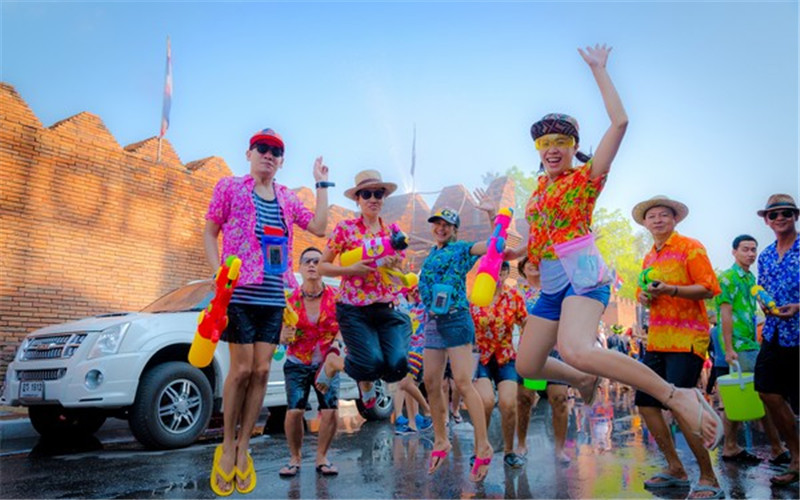 Koh Samui - Chaweng Beach
The center of the Songkran action on Koh Samui is Chaweng Beach, where Thai and foreign tourists come together to share smiles while simultaneously soaking each other with water. Meanwhile, the local community holds traditional ceremonies, where monks pray for the residents to have good luck in their lives. Young children also hand senior community members wreaths to ask for blessings.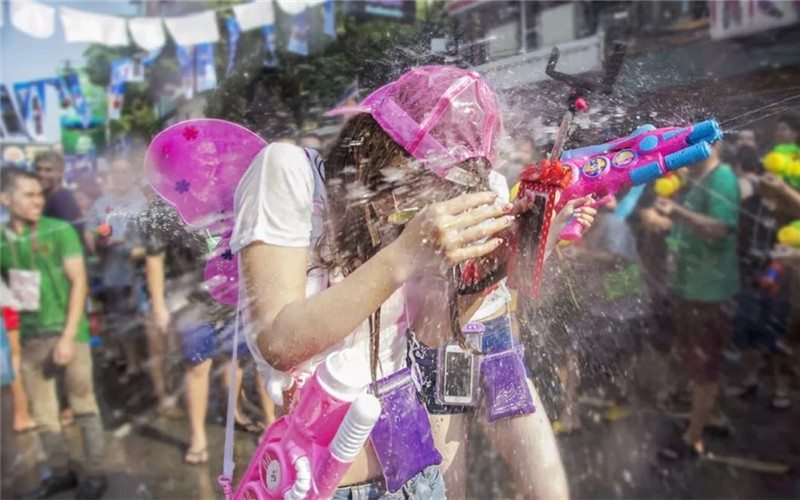 Start planning your tailor-made holiday by ​contacting one of our specialists...
Monica

Steven

Natasha

Dan