Kamala Beach
Last Updated: July 12,2019
If Patong Beach is more suitable for young couples or single visitor to drink for carnival, watch banshees, watch Muay Thai, and celebrate the night, then Kamala Beach, which is known for its cleanliness, is quieter and more peaceful for visitors there. Being isolated from the world is a great pleasure in travel. You walk there and won't let people know, just quietly enjoy the charm and beautiful view in Kamala Beach.

Kamala Beach is located 6 km north of Patong Beach, south of Surin Beach and is about 10 minutes by car from Patong Beach. The best time to come to the Kamala Beach is from November to April of each year, when it is warm and suitable for to play there.
Kamala Beach is the only major beach in Phuket that maintains the original appearance of the original fishing village, and the east side of the beach is the Phuket Fantasia. Perhaps for this reason, it is attracting many tourists. The tsunami has caused serious trauma to this place, but now everything has recovered quickly. The fishermen are still fishing here, and the local bars are still open to welcome visitors and islanders.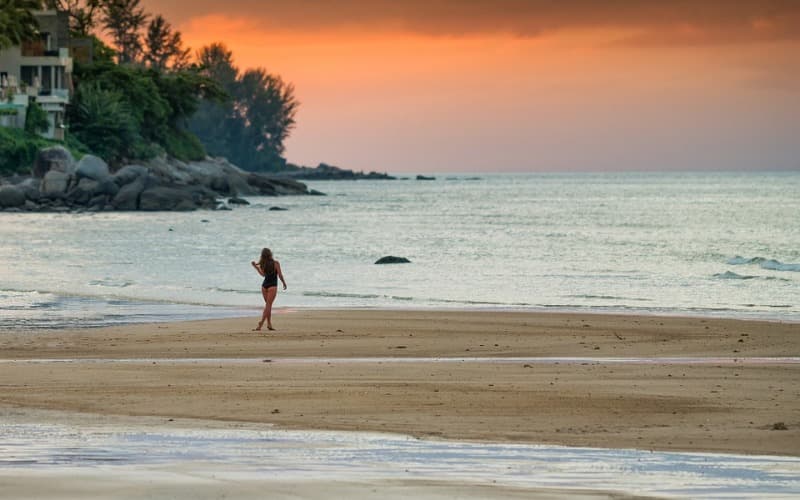 The bay near Kamala Beach is magnificent, the turquoise waters are quiet and clear, and the waves of the sea let you go straight to sleep. Palm trees and pineapples grow in the north end of the rocky and leafy beach. However, compared to several other beaches in Phuket, the sand in the Kamala Beach is not the best. There are many branches and sundries on the beach, so try not to walk barefoot on the beach to avoid being scratched.
At sunset, in addition to enjoying the beauty of the setting sun, you can see the fishing boat which are full of fishes on Kamala Beach. There is a ThLongpa Street behind the beach with rows of lodges and restaurants. Many tourists who like long-term travel often choose to stay there and the atmosphere is good.
You might like to book: Thailand Beach Tours