Rawai Beach
Last Updated: July 12,2019
Located on the southeastern tip of Phuket, Rawai Beach has shallow waters, rough beaches and more coral rocks. It is not suitable for swimming and therefore has fewer visitors. There are many leafy towering trees on the shore around the beach. It is especially quiet when compared to other lively beaches in Phuket.

Rawai Beach is close to the fishing port of Phuket and has many seafood stalls. The ingredients are fresh and cheap. Local Thais often come to Rawai Beach with a few friends at noon or in the evening, call some grilled seafood and green papaya salads sold by nearby seaside vendors, then sit on the beach mats and chat while picnicking to enjoy the cozy life there.
Boats and long tail boats are docked at Rawai Beach, and boats can be rented to go to the nearby islands such as Coral Island. Going south from Rawai Beach, you will arrive at the promthep Cape, one of the best spots to enjoy the sunset. Going north, you will arrive at the Chalong Port, and many speedboats leading to the islands near the East Coast such as Coral Island, Racha island and Phi Phi Island are starting from such place. There are many hotels and resorts in the Rawai Beach area. The environment is relatively quiet. There are also convenient stores and restaurants in the surrounding area. It is a little pity that the transportation here is not convenient to go to other attractions.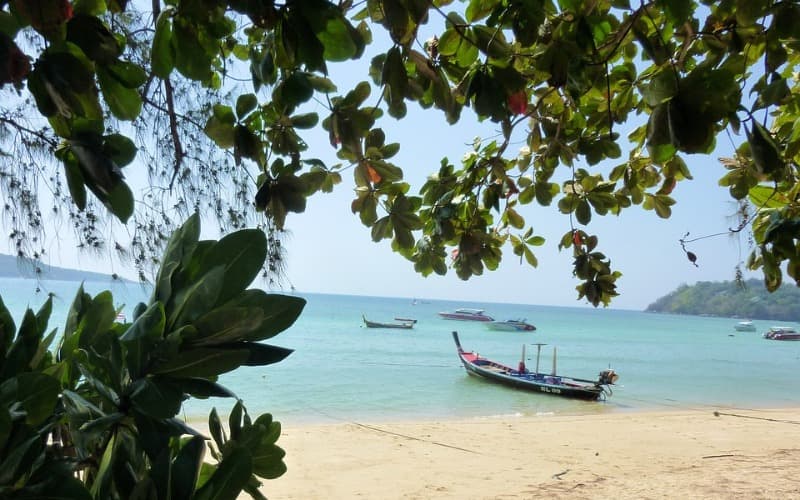 Rawai Beach is not suitable for swimming, but taking photo here is good. Walking along the beach, there is a bridge that extends into the sea, which is very artistic. The water is very clear, there are a lot of small fish inside, and there are so many small crabs.
Rawai Beach seafood is half cheaper than Patong and can be processed next to it. It is a good place to enjoy the beach and taste delicious seafood, as it is a market place for Phuket fishermen and suitable for enjoying eating seafood.
You might like to book: Thailand Beach Tours