Phuket Sail Tour Packages

9 days Phuket - Khao Sok - Krabi
From $ 1699

10 days Phuket - Koh Phi Phi - Krabi
From $ 1399

City: Phuket
From $ 106.00
Different Types of Phuket Sailing Trips
A Phuket sail tour is considered to be one of the must-do things on everyone's list in Thailand. On a Phuket sail tour, you will enjoy swim, snorkel, sunbathe at your leisure, and admire uninterrupted views over the pristine island scenery.
If you are looking for a unique experience and a different way to see the beautiful Islands around Phuket, below is just a small introduction of some of the different types of Phuket sailing trips that are on offer for you to explore Islands around Phuket.
1. Phang Nga Bay Big Boat Canoeing Tour
Live out your inner 007 with this tour that takes you straight to the iconic James Bond Island from the movie, 'The Man with the Golden Gun', and get to explore the rest of the beautiful Phang Nga Bay while you're at it! You will feel more involved when travel to the pristine Ao Phang Nga National Park by a big boat tour rather than a speedboat. Although both of the boat tours have packed the beach fun, snorkeling, and swimming. But a canoeing activity through limestone caves with the security of a guide will only be provided by the big boat tour.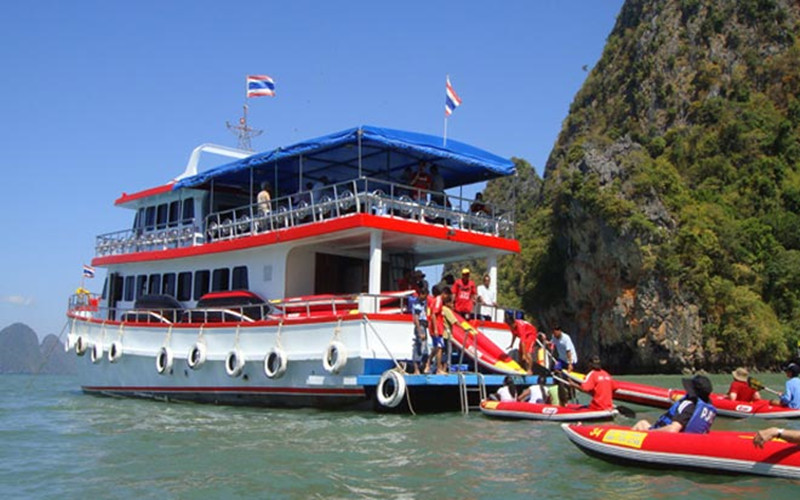 2. Phi Phi & Bamboo Island Speedboat Tour
Speedboat tours to the Phi Phi islands are a popular tourist attraction. This tour will be much crowded than a Phang Nga Bay tour. A speedboat is highly recommended in this tour, as the capacity of the speedboat is 20-40 pax, but it will have 300+ pax for a cruise ship. Although you can move around more freely on a cruise ship, it only takes half of the time to reach the destination when taking a speedboat. What's more, the big cruise ship will stop at the port on Phi Phi, and travelers need to change to a 2-deck big wooden boat to do a further exploration from the cruise ship.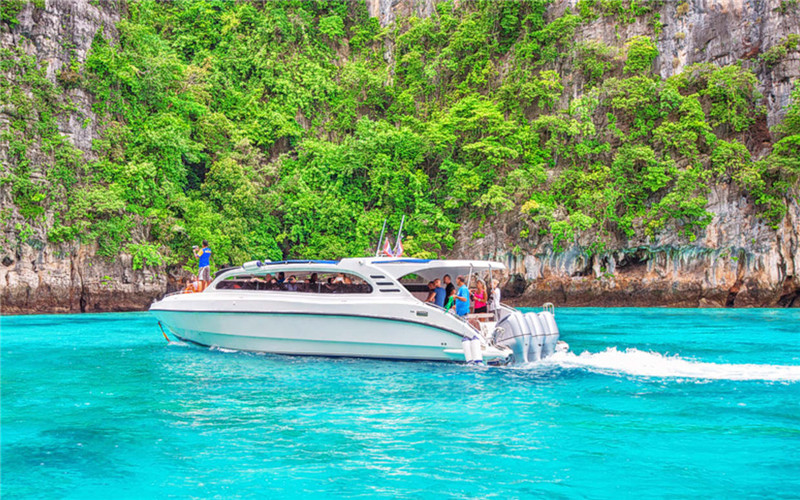 3. June Bahtra Sunset Dinner Junk Boat Cruise
Sail away from Phuket to the calm and picturesque waters of Phang Nga Bay on-board a traditional Chinese junk boat, the "June Bahtra". From the deck, you can sit back and relax and enjoy stunning panoramic views whilst sailing through the waters of Phang Nga Bay.
You will also get an opportunity to take a longtail boat to explore the mangroves and local villages when arriving at Phang Nga Bay.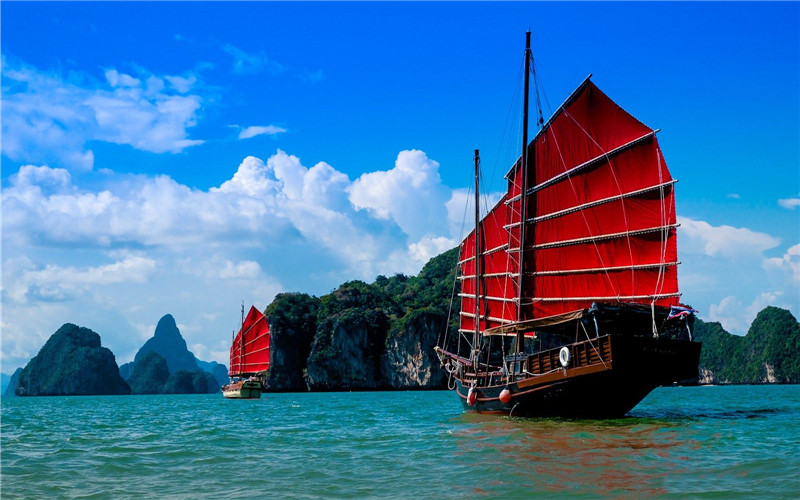 4.Phi Phi Island Longtail Boat Tour
If you would like to spend one or two nights on Phi Phi Island, then a longtail boat tour that starts from Phi Phi Island will be the best choice. You can take a longtail boat to explore the beaches around the island, enjoy the crystal clear water by swimming or snorkeling. The highlight of this tour is a hilarious experience with the cheeky monkeys on the famous Monkey Beach. You will also have a look at the Viking Cave from outside where local people harvest the swiftlet birds' nests and relax on the beach at Maya Bay to avoid the crowds.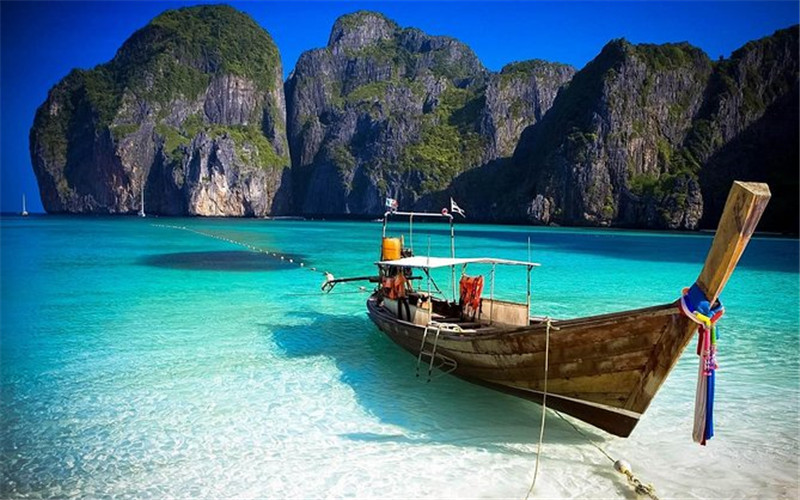 5. Racha & Coral Island Catamaran Tour
Sail across the beautiful Andaman sea to explore Racha Island and Coral Island aboard a luxurious catamaran! The fine white beaches of Coral Island will offer you a great spot for sunbathing and basking in the warm waters and ambiance of the island. You can also enjoy some thrilling activities such as riding a banana boat, speedboat, kayaking, or parasailing! An arrival at Racha Island will provide you the opportunity to explore the vibrant marine life underwater by snorkeling for free or availing of the sea walking package. You can gaze in wonder at various sea creatures and colorful coral reef kingdoms as you drive down to the ocean's depths.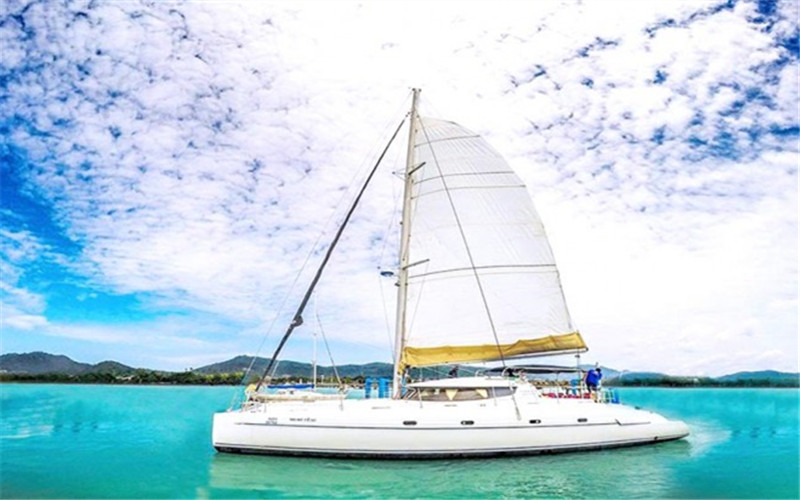 6. Similan Island Speedboat Tour
Similan Islands only open once a year (November to next April every year), if you got an opportunity to visit this island, you should cherish the chance. The Similan Islands are wonderful, all the islands are so rich in marine life, clarity that you can see 30 meters deep in seawater which color turtle is sitting on the rock. You will get close to marine life by snorkeling itself, and it is quite a popular diving spot also.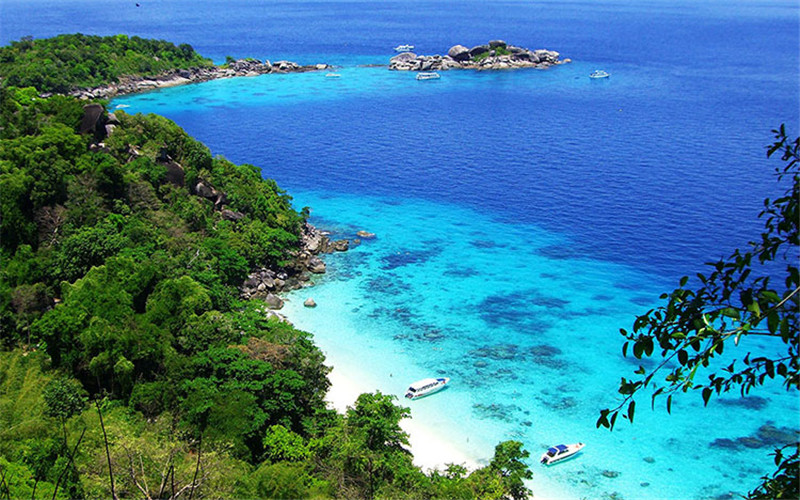 7. Phuket Sunset Party Cruise
You will sign up for an unforgettable party cruise departing from Phuket every Saturday afternoon. A live DJ and enough space to hold 70 guests will make it a truly amazing party experience! The tour package includes a 5-hour Phuket sunset party cruise, delicious Thai food buffet, fruit & bar snacks, live DJ & firework show, and a 2-hour free bar.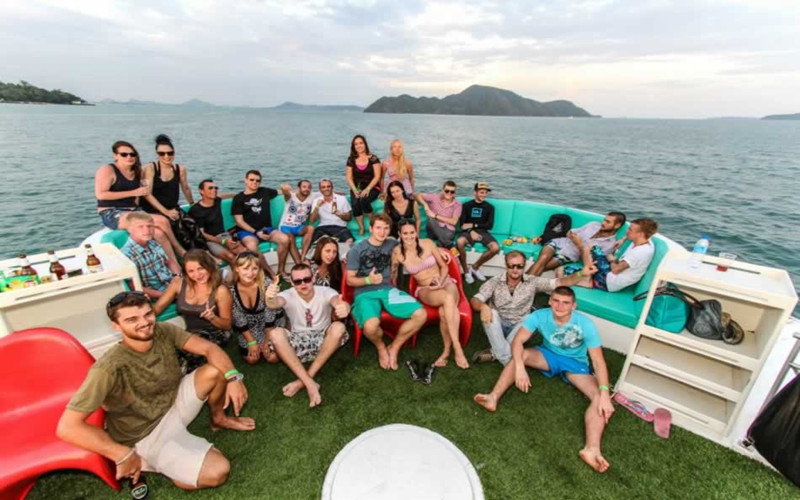 8. Hype Luxury Boat Club
The Hype Boat Club day trips are a fantastic experience, this catamaran tour will take you sailing around the southern islands of Phuket. Whilst onboard you can sit back and relax with your welcome cocktail and indulge yourself with delicious finger food, a choice of spirits, and champagne. The catamaran is so spacious it even has its own dance floor and lives DJ.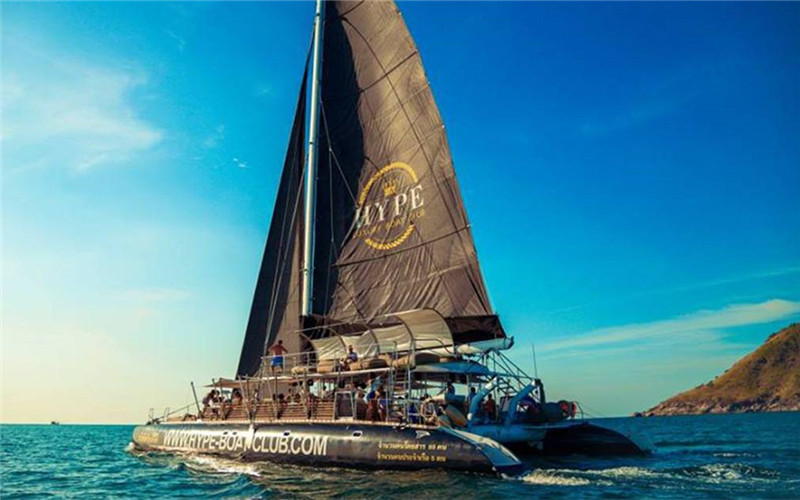 Start planning your tailor-made holiday by ​contacting one of our specialists...
Monica

Steven

Natasha

Dan