Elephant Sanctuary near Bangkok: Pattaya Elephant Jungle Sanctuary
Last Updated: January 10,2020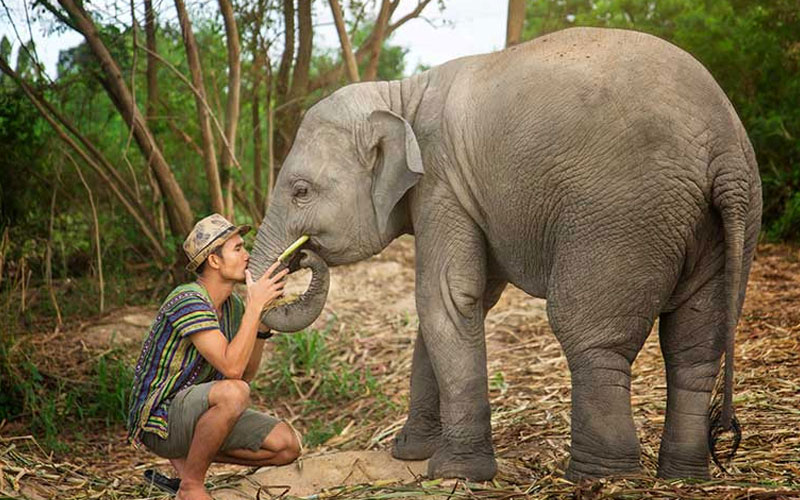 Are you looking for some special experience or some eco tours like no other, in Thailand? Then Go to visit the elephant sanctuaries. Are you looking for an elephant sanctuary in Bangkok? Oh, no, Bangkok is an international metropolis, where you can't find any natural elephant sanctuary. The nearest one is in Pattaya: Elephant Jungle Sanctuary Pattaya! Located deep in heart of jungle in Pattaya, around 2.5 hours' driving from Bangkok, you will experience life with the elephants in the nature like very few tourists will ever have the opportunity to do.
Pattaya Elephant Jungle Sanctuary is an ethical, sustainable eco-tourism project and it is the first established elephant sanctuary in Pattaya offering a rare opportunity for humans to interact with elephants in a "elephant friendly" environment. Visitors will feed them, get in the water with them. It is all about being eco-friendly and doing things elephants enjoy. The elephants in the sanctuary are retired from shows or injured and mistreated rescued from neglectful and cruel owners. The sanctuary focuses on providing as many elephants as possible with good health, happiness and freedom that the elephants are truly deserved. In the sanctuary, the elephants are free to roam, no bull-hooks are used and the elephants are not made to perform.
>>Do you know that Elephant Jungle Santuary have 4 locations in Thailand? See the overview of Elephant Jungle Santuary in Thailand.
Programs and Activities at Pattaya Elephant Jungle Sanctuary


Pattaya Jungle Sanctuary has a half-day visit program in the morning or in the afternoon. The programs depend on which part of the year you visit there and the current needs of the sanctuary. Anyway, the sanctuary always offers visitors a variety of different enjoyable activities. You will spend quality time with elephants in their natural home as well as get an opportunity to learn their history and behavior, and create wonderful lifelong memories with these amazing creatures.
Half Day Program:
06:30-07:00 am /12:30-13:00 pm: Pick up from your hotel in the city of Pattaya city.

07:00 am / 13:00 pm: Drive about 1 hour southeast of Pattaya City to Satthahip District.

07:30 – 08:00 am / 13:00-14:00 pm: Arrive at Pattaya Elephant Jungle Sanctuary. Enjoy a welcome drink, snack, and an introduction about elephants before changing into traditional Karen clothing and assisting with the preparation of natural dietary supplements for elephants.

08:00 am /14:00 pm: Meet the elephants. Feed them with prepared food and administer dietary supplements as you learn their stories. Afterwards, walk them with your guide through the Sanctuary; play, interact, and take photos with the elephants in a natural setting while you learn about their lifestyle and behaviors.

09:00 am / 14:45 pm: Mud spa with the elephants. Get muddy with the elephants applying a healthy cosmetic mud treatment to their skin.

09:45 am / 15:15 pm: Join the elephants in a specially constructed out door 'Elephant Shower Room' and cool them down when you bathe them for refreshing. You also can swim with the elephants and play with them in the water when you help bathe and brush them. Once they are clean, you can take some photos with them before change clothes.

10:15 am / 15:45 pm: Take a shower, dry off and change clothes.

10:30 am / 16:00 pm: Eat some snacks and seasonal fresh fruit, freshly cooked Pad Thai. You can learn how to make Elephant poop paper before saying goodbye to the lovely elephants.

11: 00 am / 16:30 pm: Leave Pattaya Elephant Jungle Sanctuary after enjoying once again the impressive rural scenery as you drive back to your hotel.

11:45 – 12:30 am / 17:30 -18:00 pm: Drop off at your hotel in Pattaya City.
Prices at Pattaya Elephant Jungle Sanctuary
The price is 2,500 baht for an adult, and 1,900 baht for a child.
Included:
Pick up and drop off at your hotel in Pattaya

English Speaking Tour Guide

One traditional Thai buffet meal

Drinking Water

Food for feeding Elephant
Excluded:
Remark & Tips:
Location: 3/347 Pattaya 3 Rd, Bang Lamung Chon Buri 20150, Thailand
Operate Everyday

FREE transfer service between hotel and sanctuary within the following areas: Pattaya city, Jomtien Beach

WHAT TO BRING: Hat, Sun cream, Sun Glasses, Insect Repellent, Bathing Suit, Towel, Comfortable Walking Shoes, Change of Clothes and Camera with a water proof bag (Optional)

At the sanctuary, you are allowed to spend as much time as possible with the elephants. Therefore, there is not a definite schedule and the times shown here are approximations except the pick-up times.
UME Travel can book the half day trip in the Sanctuary for you. The prices are subjected to change, please ask our trip advisors before make reservation. Make an inquire here now !
We also have prepared some tour packages including an excursion to Pattaya Elephant Jungle Sanctuary for your reference:
Visitors from Bangkok to Pattaya Elephant Jungle Sanctuary
As many visitors in Bangkok would like to spend some time closely with the giant elephants, and Pattaya Elephant Jungle Sanctuary is quite near Bangkok. UME Travel would like to share some ideas here:
Visitors from Bangkok by buses or minivans
Please book the buses or minivans 2 days in advance.

It takes about 2.5 hours for the buses or minivans to go to Pattaya from Bangkok, we suggest you book the buses or minivans departing at 09:00 and arriving at Pattaya at 12:00 for afternoon visit. UME Travel can arrange the private transfer for you.
Visitors from Bangkok by private car or Taxi
The meeting point in Pattaya: Bang Lamung District, Chon Buri close to Pattaya Elephant Jungle Sanctuary.

The meeting time: 07:30 for half day program in the morning and 12:30 for afternoon visit.

It takes about 2.5 hours' drive from downtown of Bangkok to meeting point in Pattaya. So visitors who want to do some volunteers' work in elephant sanctuary near Bangkok, we recommend the half day program in the afternoon at Pattaya Elephant Jungle Sanctuary.
What's Good About Pattaya Elephant Jungle Sanctuary
There is no elephant riding, trekking, or performance at Pattaya Elephant Jungle Sanctuary

Free transfer service between your hotel and the sanctuary.

Informative and entertaining English speaking guides.

The sanctuary is near Bangkok and visitors do not need go very far to get this awesome and unique experience.

Offering a photography service at no extra charge and you can access through the link on the EJS Facebook page.
Where is Pattaya Elephant Jungle Sanctuary
The sanctuary is in the nearby Satthahip District just south of the main Pattaya City. It takes about 1 hour to drive from the downtown of Pattaya. You can find it on this Google map.
Address: 3 347 Pattaya 3rd Rd, Muang Pattaya, Amphoe Bang Lamung, Chang Wat Chon Buri 20150, Thailand
Read more: Elephant Tours in Thailand